La ambiciosa propuesta de Macron para Europa
PARÍS – En un ambicioso y visionario discurso que pronunció en la Sorbona esta semana, el presidente francés Emmanuel Macron presentó un plan para contrarrestar la oleada de nacionalismo xenófobo que recorre Europa. Propone construir una "Europa soberana, unida y democrática", donde los ciudadanos vuelvan a sentirse comprometidos con la idea de Europa.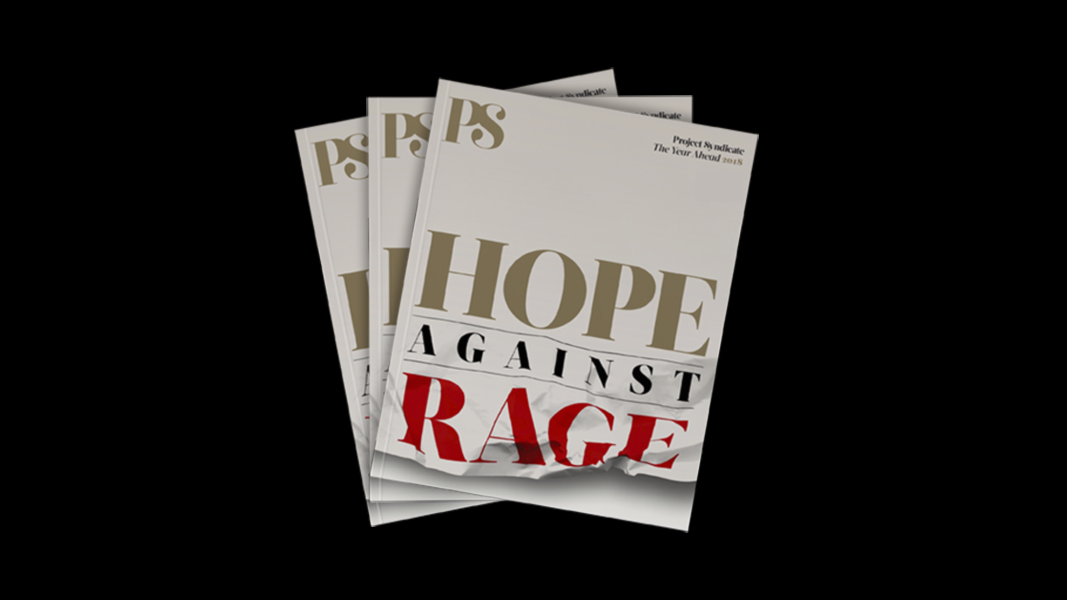 The Year Ahead 2018
The world's leading thinkers and policymakers examine what's come apart in the past year, and anticipate what will define the year ahead.
El discurso de Macron fue un esperado llamado a la acción para una Unión Europea que se enfrenta a numerosas crisis y amenazas. Pero en la cuestión crucial y controvertida de arreglar la eurozona, sus propuestas fueron decepcionantes. Y le costará mucho convencer a sus homólogos europeos más cautos, en particular la canciller alemana Angela Merkel, cuyo espacio de maniobra se redujo como consecuencia de la pobre actuación de su partido en la elección federal del fin de semana pasado.
Sin embargo, Macron hizo una poderosa y clara defensa de la renovación de la UE. Una UE que acepte la globalización y la innovación, y al mismo tiempo proteja a los europeos y se esfuerce más en prepararlos para un mundo cambiante. Que promueva los intereses y valores europeos frente a un dominio exclusivo de Estados Unidos y China. Y que fortalezca la seguridad, ante una Rusia cada vez más revanchista, el terrorismo islamista y el aislacionismo estadounidense del presidente Donald Trump.
Macron combinó grandes ideas y un sinfín de propuestas concretas para una cooperación más estrecha en defensa, migración, medioambiente, innovación, educación y un largo etcétera. Mejor aún, delineó una estrategia política para la implementación de sus propuestas, y especuló con que si logra hacerla realidad, la Gran Bretaña del Brexit "pueda un día encontrar otra vez su lugar" en una UE remozada, a la par de nuevos miembros de los Balcanes occidentales.
El plan de Macron prevé que cada estado miembro de la UE celebre convenciones democráticas para debatir las prioridades de los ciudadanos, cuyas ideas se incorporarán a un proceso más amplio con participación de las instituciones y los gobiernos de la UE decididos a remodelar Europa, que acelerarán entonces la integración, impulsada por un revitalizado motor francoalemán.
Ahora es el turno de Alemania. Si el plan de Macron fracasa, es muy posible que Europa sucumba al nacionalismo. Eso sería devastador para Alemania, país cuyo éxito económico, identidad política y seguridad se basan en una UE fuerte y funcional.
Macron es el presidente francés más proalemán que pueda imaginarse; y reforzó su credibilidad encarando difíciles reformas del mercado laboral y con la presentación de un presupuesto de una prudencia teutónica. Alemania cometería un error estratégico monumental si dejara caer en saco roto sus propuestas.
Por desgracia, la política interna alemana acaba de ponerse más complicada. Macron eligió el momento del discurso, después de la elección, de modo de influir en las negociaciones para la formación de una coalición de gobierno en Alemania, con la esperanza de que Merkel use el cuarto (y probablemente último) mandato para pulir su legado con la aprobación de audaces reformas europeas. También esperaba que la Unión Demócrata Cristiana (CDU) de Merkel mantuviera la amplia alianza con los socialdemócratas (SPD) y su líder, el expresidente del Parlamento Europeo, Martin Schulz.
Pero los votantes alemanes tenían otros planes. La CDU y su aliado bávaro, la Unión Social Cristiana (CSU), perdieron apoyo, y el SPD salió tan mal que decidió regresar a la oposición. Al mismo tiempo, la ultraderechista y antieuropeísta Alternativa para Alemania (AfD) irrumpió en el Bundestag con el 13% de los votos, y juró "dar caza" a Merkel.
Merkel, ahora políticamente debilitada, deberá tratar de anudar una frágil coalición con los verdes, eurófilos que aplaudieron el discurso de Macron, y los liberaldemócratas (FDP), euroescépticos que le fueron hostiles. Y mientras la AfD la ataca por derecha, tendrá en su propio partido rivales compitiendo por ser sus sucesores. En este contexto, hasta el logro de pequeños consensos será políticamente arduo.
Los planes de Macron para la reforma de la eurozona serán el elemento más contencioso. El presidente francés quiere crear un presupuesto común (financiado con el impuesto de sociedades) que se usaría para hacer inversiones y proveer una protección anticíclica, bajo supervisión de un ministro de finanzas europeo responsable ante los representantes de los países de la eurozona en el Parlamento Europeo.
Pero Alemania descree de lo que considera una "unión de transferencias", en la que los impuestos de sus contribuyentes se usen para financiar a países pródigos que no remodelaron sus economías a la manera alemana. Merkel no quiere un estabilizador fiscal keynesiano, sino un pequeño fondo común para ayudar a los gobiernos de los estados miembros a implementar reformas difíciles. Y mientras Macron imagina un ministro de finanzas que actúe como contrafigura política del presidente del Banco Central Europeo, Mario Draghi, Merkel prefiere que su función se limite a hacer cumplir la disciplina fiscal nacional.
El peligro ahora es que Macron sólo consiga un presupuesto común simbólico, a cambio de controles más estrictos a los presupuestos nacionales, lo que resultaría económicamente dañino y políticamente tóxico. También se perdería la oportunidad de implementar las reformas que la eurozona realmente necesita, y que incluyen una mayor integración de los mercados financieros, la simplificación del proceso de reducción de deudas bancarias y estatales, más flexibilidad fiscal y mecanismos de ajuste económico más equilibrados.
La idea más prometedora de Macron es "devolver Europa a sus ciudadanos". En mi libro European Spring [La primavera europea], sostengo que para hacer cambios en una UE defectuosa y tecnocrática, se necesitan dirigentes audaces, iniciativa política, movimientos de base y más experimentos de democracia deliberativa. Macron propuso las cuatro cosas.
Macron tiene razón al señalar que muchas veces la burocracia de la UE parece remota, anodina e ineficaz; pero también la tiene cuando rechaza la celebración de referendos que polarizan a los ciudadanos en torno de elecciones binarias simplistas. Las grandes convenciones democráticas abiertas que propuso para la primera mitad de 2018 pueden servir para inyectar nuevas ideas en un debate gastado, legitimar reformas audaces y sumar presión a los gobiernos recalcitrantes.
Las convenciones también pueden fomentar el surgimiento de nuevos movimientos políticos como el de Macron (La República en Marcha), capaces de traer caras nuevas a la política, facilitar la apertura de unos sistemas de partidos cerrados y corruptos, y comenzar a reconstruir la confianza de la gente en los políticos. Y también reforzar la capacidad de Macron para impulsar sus reformas, mediante la presentación de candidatos en elecciones nacionales y paneuropeas.
El plan de Macron es sobrecogedor por su vastedad. Pero también lo son los retos a que se enfrenta Europa. Tal vez Macron pretenda lograr demasiado de una sola vez; pero crear una UE más democrática, dinámica y unida es un premio por el que vale la pena luchar.
Traducción: Esteban Flamini