Macrons Herausforderung für Europa
PARIS – In einer ehrgeizigen, visionären Rede an der Sorbonne in dieser Woche hat der französische Präsident Emmanuel Macron seinen Plan zur Bekämpfung der Welle des fremdenfeindlichen Nationalismus in Europa vorgelegt. Er will ein "souveränes, geeintes und demokratisches Europa" aufbauen, in dem die Bürger wieder ein Gefühl der Verbundenheit mit der europäischen Idee empfinden.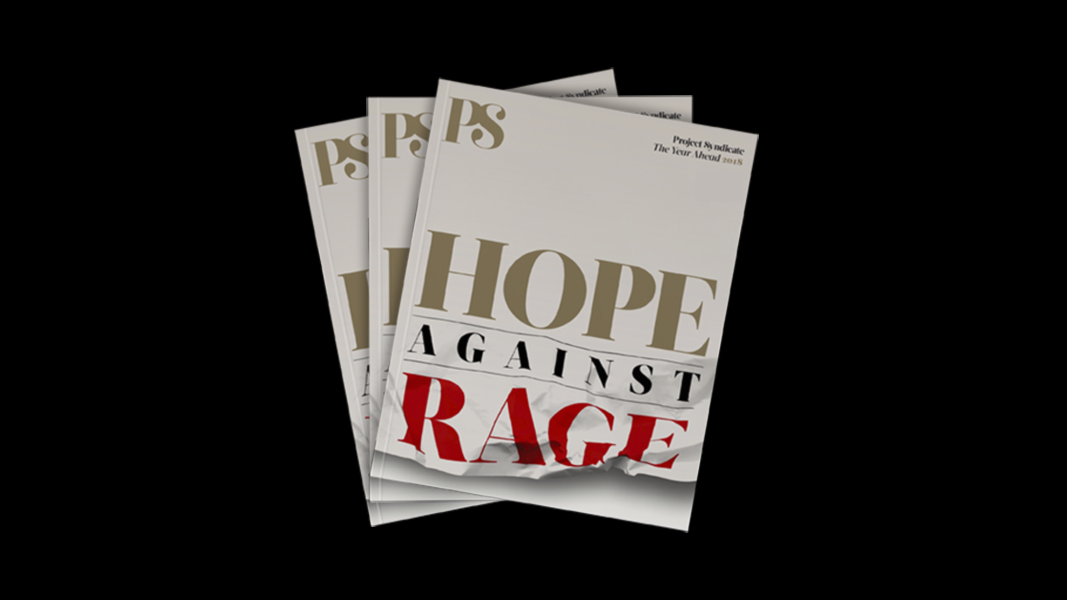 The Year Ahead 2018
The world's leading thinkers and policymakers examine what's come apart in the past year, and anticipate what will define the year ahead.
Macrons Rede war ein willkommener Mobilisierungsaufruf für eine Europäische Union, die sich vielen Krisen und Bedrohungen ausgesetzt sieht. Doch in der wichtigen, kontroversen Frage der Reparatur der Eurozone waren seine Vorschläge enttäuschend. Und er wird sich schwer tun, seine vorsichtigeren europäischen Amtskollegen für seine Ideen zu gewinnen, nicht zuletzt Bundeskanzlerin Angela Merkel, deren politischer Spielraum durch das schlechte Abschneiden ihrer Partei bei den Bundestagswahlen am letzten Wochenende stark eingeschränkt wurde.
Trotzdem argumentierte Macron in überzeugender, positiver Weise für eine erneuerte EU. Diese EU nimmt die Globalisierung und Innovation an und schützt zugleich die Europäer, indem sie ihnen hilft, sich an eine Welt im Wandel anzupassen. Sie fördert europäische Interessen und Werte in einer Welt, die ansonsten von Amerika und China dominiert wird. Und sie sorgt in einer Zeit des zunehmenden russischen Revanchismus, des islamistischen Terrorismus und der Abwendung Amerikas unter Präsident Donald Trump für mehr Sicherheit.
Macron hat große Ideen mit vielen konkreten Vorschlägen für eine engere Zusammenarbeit in den Bereichen Verteidigung, Migration, Umwelt, Innovation, Bildung usw. kombiniert. Und was noch besser ist: Er hat eine politische Strategie zur Umsetzung seiner Vorschläge skizziert. Macron sinnierte, dass, falls er Erfolg hat, Brexit-Großbritannien möglicherweise eines Tages zusammen mit neuen Mitgliedern aus dem westlichen Balkan wieder seinen Platz in einer reformierten EU finden könnte.
Im Rahmen von Macrons Plan würde jeder EU-Mitgliedstaat demokratische Kongresse abhalten, um die Prioritäten seiner Bürger zu debattieren. Deren Ideen würden dann in einen umfassenderen Prozess eingehen, der die Institutionen und Regierungen der EU einbezieht, die Europa umgestalten möchten. Koalitionen hierzu bereiter Regierungen würden sich dann schneller integrieren, wobei ein wiedererstarkter französisch-deutscher Motor den Prozess vorantreiben würde.
Jetzt ist Deutschland am Zug. Europa könnte durchaus dem Nationalismus anheimfallen, falls Macrons Plan scheitert. Für Deutschland, dessen wirtschaftlicher Erfolg, politische Identität und Sicherheit auf einer starken, funktionierenden EU beruhen, wäre das verheerend.
Macron ist der deutschlandfreundlichste französische Präsident, den man sich vorstellen kann, und er hat seine Glaubwürdigkeit erhöht, indem er schwierige Arbeitsmarktreformen in Angriff genommen hat und einen geradezu teutonisch soliden Haushalt vorgelegt hat. Deutschland würde einen monumentalen strategischen Fehler begehen, wenn es sich nicht ernsthaft mit seinen Vorschlägen auseinandersetzt.
Unglücklicherweise hat sich die innenpolitische Lage in Deutschland gerade verkompliziert. Macron hatte den Zeitpunkt seiner Rede mit dem Ziel gewählt, die Koalitionsverhandlungen im Gefolge der Wahl zu beeinflussen. Er hoffte, dass Merkel ihre vierte und vermutlich letzte Amtszeit nutzen würde, um ihr politisches Erbe durch kühne europäische Reformen aufzupolieren. Macron zählte außerdem darauf, dass Merkels CDU ihre Große Koalition mit der SPD und ihrem Vorsitzenden, dem ehemaligen Präsidenten des Europaparlaments Martin Schulz, fortsetzen würde.
Doch die deutschen Wähler hatten andere Pläne. CDU und CSU verloren an Unterstützung, und die SPD schnitt derart schlecht ab, dass sie sich für den Rückzug in die Opposition entschied. Zugleich stürmte die rechtsextreme, EU-feindliche Alternative für Deutschland (AfD) mit 13% der Stimmen in den Bundestag und hat geschworen, Merkel zu "jagen".
Die nun politisch angeschlagene Merkel muss versuchen, eine widerspenstige Koalition zusammenzuschustern, die sowohl die europhilen Grünen als auch die euroskeptische FDP umfasst. Erstere begrüßten Macrons Rede, während Letztere ablehnend reagierte. Und während die AfD Merkels rechte Flanke attackiert, werden sich nun Rivalen innerhalb ihrer eigenen Partei in Stellung bringen, um sie zu beerben. Vor diesem Hintergrund sind selbst kleine Kompromisse politisch riskant.
Macrons Reformpläne für die Eurozone werden dabei der größte Zankapfel sein. Macron will einen Haushalt für die Eurozone einrichten, der durch Einnahmen aus der Körperschaftsteuer gespeist wird. Der gemeinsame Haushalt würde für Investitionen dienen und bei Konjunkturabschwüngen ein Polster bieten. Er stünde unter der Aufsicht eines Finanzministers für die Eurozone, der den Vertretern der Euroländer im Europäischen Parlament Rede und Antwort stehen würde.
Doch Deutschland betrachtet dies mit Skepsis. Für Deutschland läuft der Vorschlag auf eine "Transferunion" hinaus, bei der seine Steuerzahler Geld an verschwenderische Länder zahlen würden, die es versäumt haben, ihre Volkswirtschaften nach deutschem Vorbild zu reformieren. Merkel würde einen kleinen gemeinsamen Fonds vorziehen, um den Mitgliedstaaten bei der Umsetzung schwieriger Reformen zu helfen, und keinen keynesianischen fiskalpolitischen Konjunkturstabilisator. Und während Macron ein Finanzminister vorschwebt, der ein politisches Gegenstück zum Präsidenten der Europäischen Zentralbank Mario Draghi darstellt, hätte Merkel es lieber, dass die Rolle auf die Durchsetzung von Haushaltsdisziplin in den Mitgliedstaaten beschränkt wäre.
Die Gefahr ist nun, dass Macron im Austausch gegen eine noch schärfere Kontrolle der nationalen Haushalte, die sich als wirtschaftlich schädlich und politisch toxisch erweisen würde, nur einen symbolischen Haushalt für die Eurozone bekommt. Er könnte außerdem seine Chance verpassen, jene Reformen umzusetzen, die die Eurozone tatsächlich braucht. Dazu gehören eine tiefer gehende Integration der Finanzmärkte, ein einfacheres Verfahren zur Abschreibung der Schulden von Banken und Regierungen, mehr fiskalpolitische Flexibilität und ausgewogenere wirtschaftliche Anpassungsmechanismen.
Macrons vielversprechendste Idee besteht darin, "Europa seinen Bürgern zurückzugeben". In meinem Buch European Spring argumentiere ich, dass eine unvollkommene, technokratische EU kühne Führer, politische Entrepreneure, Basisbewegungen und mehr Experimente mit deliberativer Demokratie braucht, um erfolgreich Veränderungen herbeizuführen. Macron hat alle vier vorgeschlagen.
Macron verweist mit Recht darauf, dass die EU-Bürokratie häufig abgehoben, wenig inspirierend und ineffektiv erscheint. Aber er lehnt zugleich zu Recht Volksbefragungen ab, die mittels grob vereinfachender binärer Entscheidungen eine Polarisierung der Bürger herbeiführen. Die großen, offenen demokratischen Kongresse, die er für die erste Jahreshälfte 2018 vorgeschlagen hat, könnten frische Ideen in eine abgestandene Debatte bringen, mutigen Reformen Legitimität verleihen und widerspenstige Regierungen unter Druck setzen.
Derartige Kongresse könnten zudem neue politische Bewegungen wie Macrons eigene La République En Marche! fördern. Diese könnten neue Gesichter in die Politik einführen, zur Öffnung verkrusteter, korrupter Parteisysteme beitragen und beginnen, das Vertrauen der Bevölkerung in die Politiker wiederherzustellen. Sie könnten Macron zudem mehr Einfluss verschaffen, seine Reformen durchzudrücken, indem sie Kandidaten bei nationalen und EU-weiten Wahlen aufstellen.
Macrons Ehrgeiz ist enorm, wenn nicht gar einschüchternd. Doch dasselbe gilt für Europas Herausforderungen. Macron versucht möglicherweise, zu viel auf einmal zu erreichen, doch eine demokratischere, dynamischere und geeintere EU ist ein Preis, für den es sich zu kämpfen lohnt.
Aus dem Englischen von Jan Doolan