Een jonge staat in een onzekere wereld
ALMA-ATA – Midden november was Kazachstan gastheer van de derde jaarlijkse 'Astana Club,' een nieuw onafhankelijk en onpartijdig platform voor dialoog tussen internationale captains of industry, politici, vertegenwoordigers van de media, en andere deskundigen over de 'cruciale kwesties die alle landen van Eurazië raken.' Dit evenement belichaamt het buitenlandse beleid van Kazachstan de afgelopen twintig jaar, op een moment dat dat beleid ongekend getest zal gaan worden.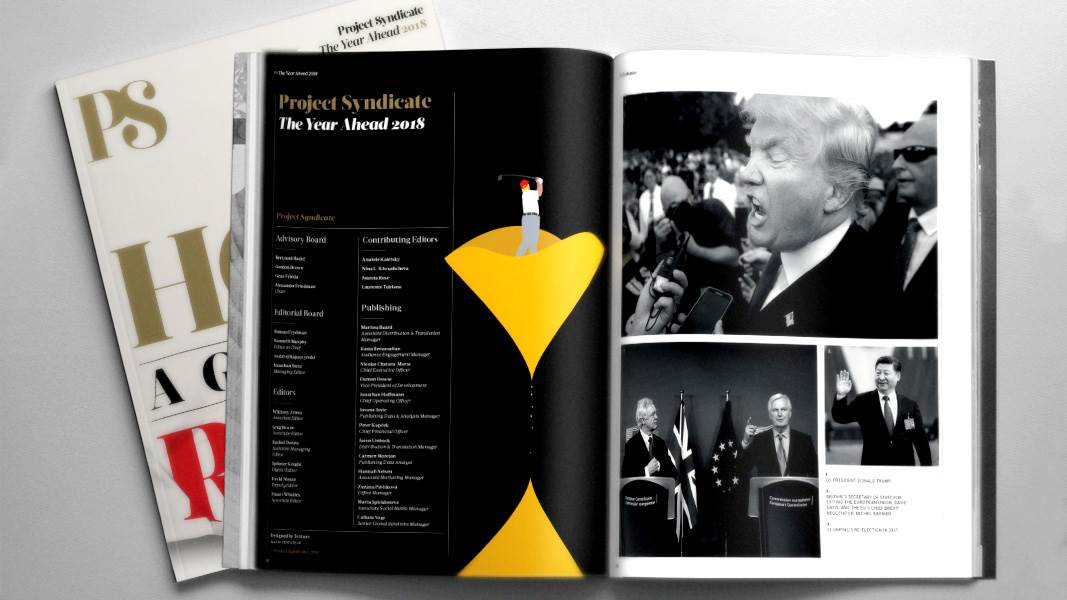 The Year Ahead 2018
The world's leading thinkers and policymakers examine what's come apart in the past year, and anticipate what will define the year ahead.
De deelnemers aan de Astana Club van dit jaar waren net zo eminent als ze divers waren. Ze omvatten vertegenwoordigers van vooraanstaande denktanks in Europa, Azië, de Verenigde Staten, en het Midden-Oosten; voormalig presidenten zoals Abdullah Gül van Turkije en Danilo Türk van Slovenië; voormalig Europees Commissaris Benita Ferrero-Waldner; Indiaas parlementslid Shashi Tharoor, en CEO van Channel One Russia Konstantin Ernst.
De discussies werden gevoerd in het Nazarbajev Centrum, gehuisvest in een indrukwekkend en futuristisch gebouw ontworpen door de beroemde Britse architect Norman Foster. In een scene die deed denken aan de intergalactische assemblee in Star Wars zaten de deelnemers aan een grote tafel met een kaart van Eurazië om de opkomende wereldorde, rivaliteiten tussen grootmachten, sancties, nucleaire proliferatie, en regionale integratieprojecten te bespreken.
Deze combinatie van statusbevorderende public relations en de voorziening van publieke goederen die de discussies van de Astana Club karakteriseert is al lange tijd een factor in het buitenlandse beleid van Kazachstan. Zo is Kazachstan bijvoorbeeld om de drie jaar gastheer van het Congres van Wereldleiders en Traditionele Religies, waarvoor het Foster de opdracht gaf om nog zo een indrukwekkend en futuristisch gebouw te bouwen, het Paleis van Vrede en Verzoening.
Het Kazachse leiderschap heeft er verder hard aan gewerkt om zichzelf in de frontlijn van de internationale non-proliferatiebeweging te positioneren. En in oktober van dit jaar werden in hoofdstad Astana gesprekken gevoerd over de Syrische crisis, in aanwezigheid van vertegenwoordigers van de Syrische regering en een aantal gewapende verzetsgroepen – dit ondanks de afstand van Kazachstan tot de tragische ontwikkelingen in dat land.
Deze benadering kwam al snel na de onafhankelijkheid van Kazachstan in 1991 naar voren, toen het land de Conference on Interaction and Confidence-Building Measures in Asia initieerde, gemodelleerd naar de Conferentie over Veiligheid en Samenwerking in Europa (nu de OVSE). Dit reflecteert de waardering van Kazachstan voor de liberale wereldorde waarin het in 1991 geboren werd – een orde die toentertijd net een enorme stimulans had gekregen door de ineenstorting van de Sovjet-Unie.
Kazachstan heeft er nooit genoegen mee genomen om niet meer dan een erkend lid van de liberale wereldorde te zijn. Het wilde een voorbeeld zijn, niet alleen door onderdeel van multilaterale regimes en organisaties te zijn, maar ook door een eigen bijdrage te leveren.
Daarom wilde Kazachstan graag het voorzitterschap van de Organisatie voor Veiligheid en Samenwerking in Europa (OVSE) bekleden, wat het in 2010 kreeg, en ondernam het een lastige maar tenslotte succesvolle campagne om niet-permanent lid van de Veiligheidsraad te worden in 2017-2018. Kazachstan streeft zelfs na om uiteindelijk de geavanceerde economieën in de Organisatie voor Economische Samenwerking en Ontwikkeling te vergezellen.
Maar de internationale gemeenschap waar Kazachstan zo hard indruk op probeert te maken is fundamenteel aan het veranderen. Rusland, de grootmacht die naast Kazachstan ligt, heeft de regio ontregeld met zijn invasie van Oekraïne, waar het illegaal de Krim annexeerde en een oorlog in de oostelijke Donbas-regio begon.
Wat het probleem nog groter maakt is dat het er op lijkt dat er niet op de Verenigde Staten onder Donald Trump gerekend kan worden om Rusland in bedwang te blijven houden of de liberale wereldorde van na 1945 die ze zelf creëerden te garanderen. Op zijn positie gekomen door een golf van volkswoede kan er niet eens op gerekend worden dat Trump de regels ervan nog volgen zal.
De Europese Unie is net zo getroffen door interne politieke uitdagingen – inclusief de onderhandelingen met het Verenigd koninkrijk over terugtrekking uit het blok – die voortkomen uit een golf van anti-establishment en nationalistisch sentiment. China heeft geprobeerd in het vacuüm van mondiaal leiderschap te stappen – en heeft hiervoor verrassend grote goedkeuring van de rest van de wereld ontvangen.
Dit soort tektonische verschuivingen zijn al schokkend genoeg voor de grootmachten die ze veroorzaken; voor kleinere landen kunnen ze echter nog desoriënterender werken. Ook al verwelkomen sommigen de teloorgang van de Westerse hegemonie, het is een feit dat onvoorspelbaarheid voor een land als Kazachstan gevaar impliceert. Het helpt hierbij niet dat de opkomende machten minder gebonden zijn aan internationale normen en conventies voor mensenrechten, en ze daarom minder snel zullen naleven.
Kazachstan werd onafhankelijk op een moment dat de internationale samenwerking, vrije handel, en collectieve veiligheid werden aangemoedigd, en heeft er lange tijd aan meegewerkt om deze principes te ondersteunen. Alhoewel de overheid van Kazachstan, net zoals andere jonge staten in de regio, achterloopt in het bevorderen van democratie en mensenrechten, heeft het ze in ieder geval niet volledig gedwarsboomd.
Op dit moment probeert Kazachstan op koers te blijven. Maar als de hedendaagse trends doorzetten raakt het wellicht uit de richting.
Vertaling Melle Trap