Ein junger Staat in einer unsicheren Welt
ALMATY – Mitte November war Kasachstan Gastgeber des dritten alljährlich stattfindenden "Astana Clubs," einer neuen unabhängigen und unparteiischen Plattform für den Dialog zu "entscheidenden Fragen, die alle Länder Eurasiens betreffen", an dem sich internationale Führungskräfte aus der Wirtschaft, Politiker, Medienvertreter und andere Experten beteiligten. Dieses Ereignis ist Ausdruck der kasachischen Außenpolitik der letzten zwei Jahrzehnte und kommt zu einem Zeitpunkt, da diese vor nie dagewesenen Bewährungsproben steht.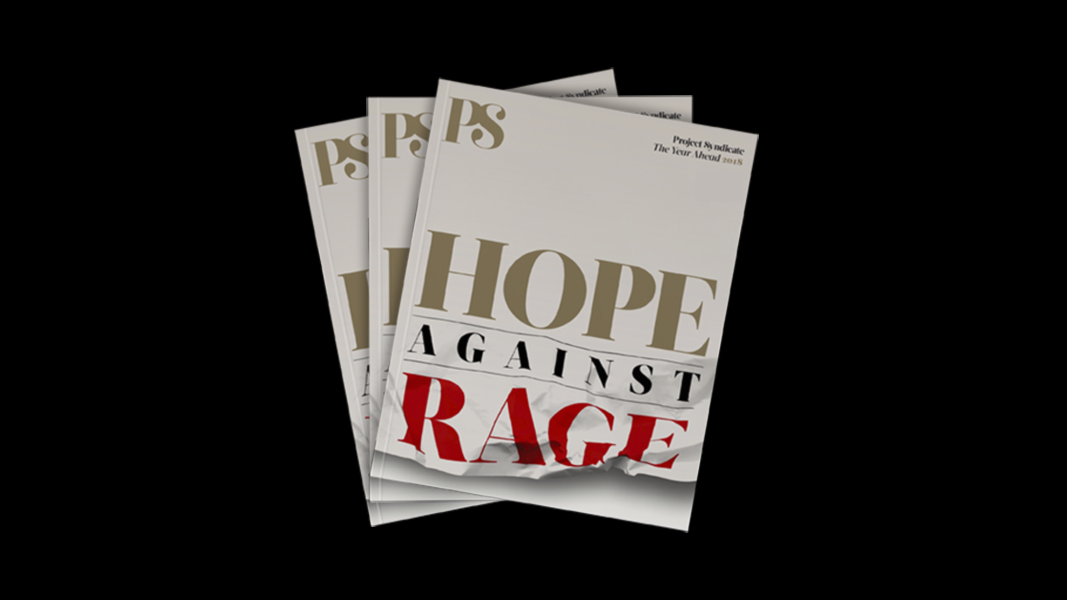 The Year Ahead 2018
The world's leading thinkers and policymakers examine what's come apart in the past year, and anticipate what will define the year ahead.
Die diesjährige Teilnehmerschaft am Astana Club war ebenso hochrangig wie vielfältig. So fanden sich neben Vertretern führender Denkfabriken aus Europa, Asien, den Vereinigten Staaten und dem Nahen Osten auch ehemalige Präsidenten wie Abdullah Gül aus der Türkei und Danilo Türk aus Slowenien ein. Zu den weiteren Teilnehmern zählten die ehemalige EU-Kommissarin Benita Ferrero-Waldner, der indische Parlamentsabgeordnete Shashi Tharoor und Konstantin Ernst, Chef des russischen Fernsehsenders Perwy kanal.
Die Diskussionen fanden im Nasarbajew-Centre statt, das in einem imposanten, futuristischen Gebäude des renommierten britischen Architekten Norman Foster untergebracht ist. An diesem Ort, der an den galaktischen Senat in Star Wars erinnert, nahmen die Teilnehmer an einem großen Tisch rund um eine Landkarte Euroasiens Platz, um die neu entstehende Weltordnung ebenso zu diskutieren wie die Rivalitäten zwischen Großmächten, Sanktionskriege, nukleare Weiterverbreitung und regionale Integrationsprojekte.
Diese Kombination aus einer nach Anerkennung strebenden Öffentlichkeitsarbeit und der Bereitstellung öffentlicher Güter prägte die Diskussionen im Astana Club und sie war auch lange Zeit ein Merkmal der kasachischen Außenpolitik. So veranstaltet Kasachstan beispielsweise alle drei Jahre einen Kongress der führenden Vertreter der Weltreligionen und traditioneller Religionen. Der Veranstaltungsort ist ein weiteres von Foster geplantes imposantes, futuristisches Gebäude – der Palast des Friedens und der Versöhnung.
Kasachstans Führerschaft leistete auch einen Beitrag, das Land an die Spitze der internationalen Bewegung der Nichtweiterverbreitung zu bringen. Und im vergangenen Oktober fanden in der Hauptstadt Astana Gespräche zur Krise in Syrien statt, an denen Vertreter der syrischen Regierung und einiger bewaffneter Oppositionsgruppen teilnahmen -  trotz der Distanz Kasachstans zu den tragischen Entwicklungen in diesem Land.
Dieser außenpolitische Ansatz bildete sich kurz nach der Unabhängigkeit Kasachstans im Jahr 1991 heraus, als das Land die Konferenz für Interaktion und vertrauensbildende Maßnahmen in Asien ins Leben rief, die nach dem Vorbild der Konferenz über Sicherheit und Zusammenarbeit in Europa (heute OSZE) entstand. Diese Vorgehensweise ist Ausdruck der Wertschätzung Kasachstans für die liberale Weltordnung, in die es 1991 hineingeboren wurde – eine Ordnung, die damals mit dem Zusammenbruch der Sowjetunion gerade enormen Auftrieb erhalten hatte.
Kasachstan gab sich nie damit zufrieden, ein akzeptiertes Mitglied dieser liberalen Weltordnung zu sein. Man wollte als Beispiel vorangehen, sich nicht nur multilateralen Arrangements und Organisationen anschließen, sondern auch selbst einen Beitrag leisten.  
Aus diesem Grund strebte Kasachstan den Vorsitz der Organisation für Sicherheit und Zusammenarbeit in Europa (OSZE) an, den es 2010 auch innehatte, und es verfolgte eine schwierige, aber letztlich erfolgreiche Kampagne, um in den Jahren 2017-2018 nicht ständiges Mitglied im UNO-Sicherheitsrat zu werden. Überdies möchte Kasachstan in den Kreis der Industrieländer als Mitglied der Organisation für wirtschaftliche Zusammenarbeit und Entwicklung aufgenommen werden.
Doch die internationale Gemeinschaft, die Kasachstan so nachdrücklich zu beeindrucken versucht, macht gerade einen grundlegenden Wandel durch. Russland, die Großmacht in Kasachstans Nachbarschaft, hat mit seiner Invasion in der Ukraine und der unrechtmäßigen Annexion der Krim sowie dem Krieg in der östlichen Donbass-Region für Irritation in der Region gesorgt.
Verschärft wird das Problem noch dadurch, dass man auf die Vereinigten Staaten unter Präsident Donald Trump offenbar nicht zählen kann, wenn es darum geht, Russland weiterhin in Schranken zu halten oder die von den USA geschaffene liberale Weltordnung nach 1945 zu garantieren. Von einer Welle des Volkszorns in sein Amt getragen, kann man sich nicht einmal darauf verlassen, dass sich Trump an die Regeln dieser Ordnung hält.
In ähnlicher Weise ist auch die Europäische Union mit internen politischen Herausforderungen konfrontiert – wie etwa den Austrittsverhandlungen mit Großbritannien – deren Ursprung in steigenden Ressentiments gegen das Establishment und einer zunehmend nationalistischen Stimmung zu suchen ist. China versucht hinsichtlich globaler Führerschaft in die Bresche zu springen – was vom Rest der Welt mit überraschend großer Zustimmung aufgenommen wird. 
Derartig starke Verschiebungen sind schon für Großmächte irritierend genug; für kleinere Länder können sie aber noch stärker desorientierende Wirkung haben. Obwohl einige den Niedergang der westlichen Hegemonie durchaus begrüßen, ist es eine Tatsache, dass Unberechenbarkeit für Länder wie Kasachstan eine Gefahr darstellt. Es ist auch nicht hilfreich, dass sich Schwellenländer internationalen Normen und Konventionen im Bereich Menschenrechte weniger verpflichtet sehen und es daher auch weniger wahrscheinlich ist, dass sie diese durchzusetzen versuchen.
Kasachstan erlangte seine Unabhängigkeit zu einer Zeit, da internationale Zusammenarbeit, Freihandel und kollektive Sicherheit gefördert wurden und das Land hat lange Zeit daran gearbeitet, diese Prinzipien zu unterstützen. Obwohl die Regierung Kasachstans wie auch andere junge Staaten in der Region hinsichtlich der Förderung von Demokratie und Menschenrechten hinterherhinkte, hat man zumindest vermieden, sich völlig davon zu verabschieden.
Im Moment versucht Kasachstan den eingeschlagenen Kurs beizubehalten. Wenn allerdings die Trends von heute anhalten, könnte das Land davon abkommen.
Aus dem Englischen von Helga Klinger-Groier