Un estado joven en un mundo incierto
ALMATY – A mediados de noviembre, Kazajstán fue sede del tercer "Club Astaná" anual, una nueva plataforma independiente e imparcial para el diálogo entre líderes empresariales, políticos, representantes de medios y otros expertos internacionales sobre las "cuestiones críticas que afectan a todos los países de Eurasia". El evento encarnó la política exterior de Kazajstán en los últimos veinte años, en un momento en el que esa política va camino a enfrentar pruebas sin precedentes.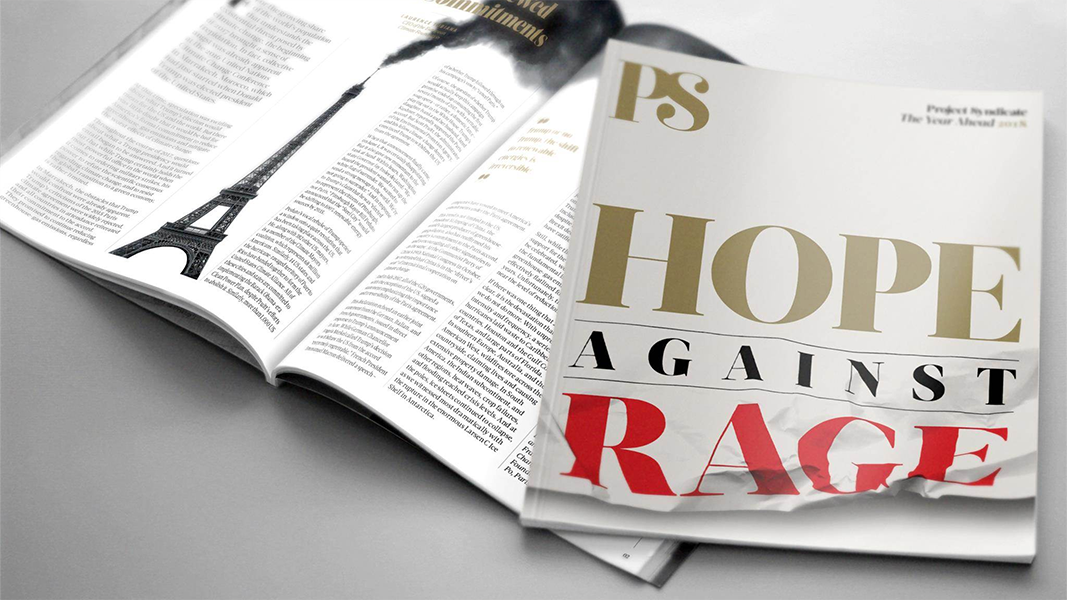 The Year Ahead 2018
The world's leading thinkers and policymakers examine what's come apart in the past year, and anticipate what will define the year ahead.
Los participantes en el Club Astaná de este año eran tan diversos como de alto perfil. Entre ellos había representantes de los principales grupos de expertos de Europa, Asia, Estados Unidos y Oriente Medio; ex presidentes, como Abdullah Gül de Turquía y Danilo Türk de Eslovenia; la ex comisionada europea Benita Ferrero-Waldner; el miembro del parlamento indio Shashi Tharoor; y el CEO de Channel One Russia, Konstantin Ernst.
Las discusiones tuvieron lugar en el Centro Nazarbayev, que se encuentra en un edificio imponente y futurista diseñado por el renombrado arquitecto británico Norman Foster. En una escena reminiscente de la asamblea intergaláctica de La guerra de las Galaxias, los participantes se sentaron frente a una gran mesa en torno de un mapa de Eurasia para discutir el orden del mundo emergente, las rivalidades de las grandes potencias, las guerras de sanciones, la proliferación nuclear y los proyectos de integración regional.
Esta combinación de relaciones públicas en busca de estatus y la provisión de bienes públicos que caracteriza las discusiones del Club Astaná ha sido, desde hace mucho tiempo, una característica de la política exterior de Kazajstán. Por ejemplo, cada tres años Kazajstán es sede de un Congreso de los Líderes de las Religiones Mundiales y Tradicionales, para el cual encomendó a Foster la construcción de otro edificio imponente y futurista, el Palacio de la Paz y la Reconciliación.
Los líderes de Kazajstán también se han esforzado por ubicarse al frente del movimiento de no proliferación internacional. Y este pasado mes de octubre, se llevaron a cabo conversaciones en Astaná, la capital, sobre la crisis siria, con representantes del gobierno sirio y algunos grupos opositores armados que asistieron -a pesar de la distancia de Kazajstán de los acontecimientos trágicos en ese país.
Esta estrategia surgió poco después de la independencia de Kazajstán en 1991, cuando el país inició la Conferencia para la Interacción y Medidas de Generación de Confianza en Asia, modelada en base a la Conferencia sobre Seguridad y Cooperación en Europa (hoy la OSCE). Y es un reflejo de que Kajazstán valora el orden mundial liberal en el cual nació en 1991 -un orden que, en ese momento, acababa de recibir un impulso importante, con el colapso de la Unión Soviética.
Kazajstán nunca se conformó con ser un miembro aceptado del orden mundial liberal. Quería ser ejemplar, no sólo sumarse a regímenes y organizaciones multilaterales, sino también hacer su propio aporte.
Es por eso que Kazajstán buscó la presidencia de la Organización para la Seguridad y la Cooperación (OSCE) en Europa, que obtuvo en 2010, y llevó adelante una campaña difícil pero finalmente exitosa para convertirse en un miembro no permanente del Consejo de Seguridad de las Naciones Unidas en 2017-2018. Llegado el caso, Kazajstán aspira a sumarse a las economías avanzadas en la Organización para la Cooperación y el Desarrollo Económico.
Pero la comunidad internacional a la que Kazajstán con tanto esfuerzo intenta impresionar está atravesando un cambio fundamental. Rusia, la gran potencia del vecindario de Kazajstán, ha desestabilizado a la región con su invasión de Ucrania, en la que ilegalmente anexó a Crimea y empezó una guerra en la región Donbas del este.
Para agravar el problema, pareciera que no se puede contar con Estados Unidos, en la presidencia de Donald Trump, para seguir poniéndole un freno a Rusia o suscribir el orden mundial liberal post-1945 que creó. Al haber llegado al poder en una ola de furia popular, ni siquiera se puede contar con que Trump siga sus reglas.
La Unión Europea también está aquejada por desafíos políticos internos -que incluyen negociaciones con el Reino Unido por su retiro del bloque- que surgen de un aumento del sentimiento anti-establishment y nacionalista. China ha buscado interferir en la fractura del liderazgo global -y se encontró con una aprobación sorprendentemente fuerte del resto del mundo.
Esos movimientos tectónicos son bastante irritantes para las grandes potencias que los generan; para los países más pequeños, hasta pueden llegar a ser más desorientadores. Aún si algunos reciben con beneplácito la muerte de la hegemonía occidental, el hecho es que, para un país como Kazajstán, la imprevisibilidad implica peligro. No ayuda que las potencias emergentes estén menos comprometidas con las normas y las convenciones internacionales sobre derechos humanos, y por ende sean menos proclives a querer aplicarlas.
Kazajstán alcanzó la independencia en un momento en el que la cooperación internacional, el libre comercio y la seguridad colectiva eran estimulados, y se ha esforzado desde hace mucho tiempo por respaldar esos principios. A pesar de que el gobierno de Kazajstán, al igual que otros estados jóvenes en la región, se ha demorado en promover la democracia y los derechos humanos; por lo menos ha evitado descartarlos por completo.
Por ahora, Kazajstán está intentando mantener el curso. Pero si las tendencias de hoy continúan, podría perder la dirección.