¿Es esto la conciencia de un conservador?
CAMBRIDGE – En un discurso reciente que concitó mucha atención en Estados Unidos y el resto del mundo, el senador estadounidense Jeff Flake, un republicano de Arizona, anunció que no se presentará a la reelección. Para dar por buena la defensa que hizo Flake de su decisión, hay que creer que el deber máximo de un senador estadounidense es hablarle claro al poder, denunciar la "conducta imprudente, escandalosa e indigna" del presidente, que "debilita nuestra democracia", y después renunciar.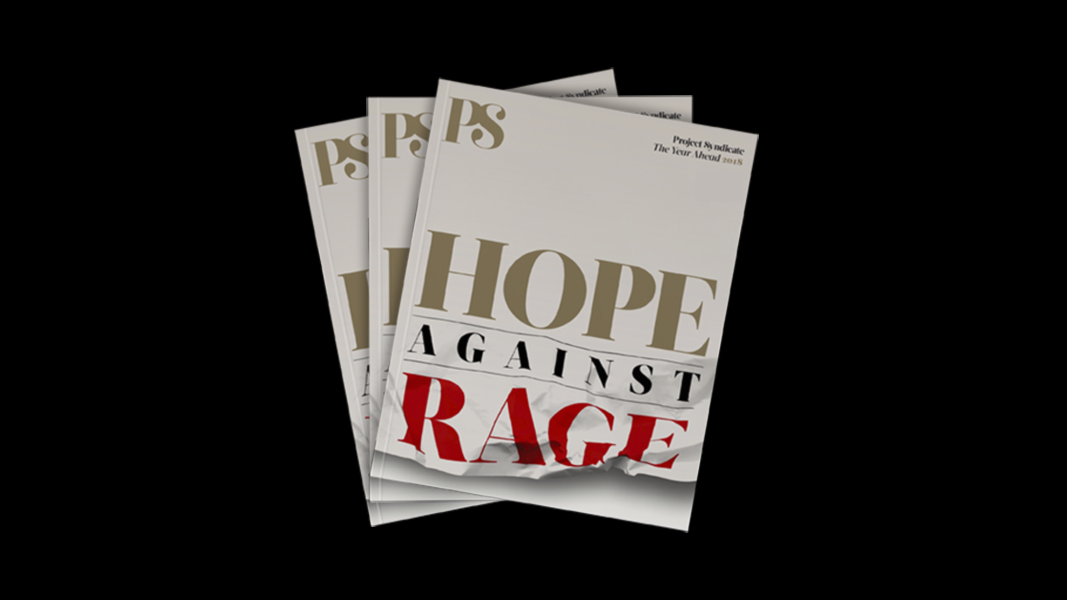 The Year Ahead 2018
The world's leading thinkers and policymakers examine what's come apart in the past year, and anticipate what will define the year ahead.
Al parecer, muchos medios importantes creyeron precisamente eso y colmaron de elogios la apasionada jeremiada de Flake. Según un analista político de la CNN, fue "el discurso político más importante de 2017, y uno de los más potentes del Senado en tiempos modernos". Tanto TheNew York Times como The Washington Post dieron al discurso un lugar destacado en portada.
Pero si le creemos a Flake cuando dice que actúa por principios, debemos preguntarnos: ¿qué principios? Si es verdad que, como dice Flake, la democracia misma está en peligro y hay que defenderla, entonces ¿por qué tiró la toalla?
Flake señala que las palabras y acciones del presidente Donald Trump se pasan de la raya todo el tiempo y son una mancha para la presidencia. Pero las groserías de Trump ya son suficientemente conocidas. Añade que no seguirá siendo "cómplice o silente". Sin duda es un gesto loable, pero entonces, ¿por qué se demoró tanto? Todo estadounidense tiene el derecho (en realidad, el deber) de denunciar amenazas a su país.
Pero un senador no es un ciudadano cualquiera. Flake es uno de cien miembros del órgano legislativo máximo de Estados Unidos. Comparte con sus colegas el poder de votar por sí o por no las propuestas que haga el presidente. Puede redactar y ayudar a definir leyes que en su opinión sean de interés público. Y si en algún momento la Cámara de Representantes de los Estados Unidos pidiera el juicio político de Trump, Flake sería uno de cien jueces encargados de decidir el fatídico caso.
Es comprensible que un senador para quien el presidente en funciones es una amenaza seria a la República haga sonar la alarma. Pero que anuncie al mismo tiempo que renuncia no tiene sentido, sobre todo porque como senador, tiene un poder que le es propio para actuar, además de hablar. Si la terrible advertencia de Flake es cierta, entonces debería quedarse en vez de huir.
Pero la razón verdadera por la que Flake eligió huir en vez de pelear está oculta a la vista de todos. Las encuestas muestran que conseguir la reelección en 2018 se le iba a hacer difícil. Tras haber sido blanco de ataques sucesivos de Trump y del ex jefe de estrategia de la Casa Blanca y actual presidente ejecutivo de Breitbart News, Steve Bannon, es posible que ni siquiera ganara una primaria republicana.
Es verdad que nadie está obligado a someterse a las vicisitudes de la política electoral, ni se puede culpar a alguien por no querer participar en la tóxica política actual en Washington. Como ciudadano, agradezco los servicios de Flake en el Congreso. Pero para convencernos de que el discurso y la decisión de renunciar son en aras del país y se basan en principios, tiene que explicarnos cuáles son.
Según el imperativo categórico de Immanuel Kant, la acción basada en principios es aquella que, de ser emulada por otros, crearía un mundo en el que todos querríamos vivir. ¿Quiere Flake vivir en un mundo en el que todos los legisladores que discrepan de Trump ya se alzaron, lo denunciaron encendidamente y abandonaron el cargo?
No está claro si lo de Flake es un llamado a boicotear la política electoral o simplemente una advertencia a otros para que no intenten dar batallas perdidas. En cualquiera de los casos, alguien ocupará su lugar en el Senado. ¿Piensa Flake que su reemplazante estará más capacitado que él para ejecutar los deberes cruciales del servicio público?
En su libro de 2017, Conscience of a Conservative [La conciencia de un conservador], Flake incluye una afirmación audaz: "nos hemos alejado tanto de nuestros principios que ya no sabemos lo que los principios son". ¿Habrá que releer esta frase en clave de acto fallido y suponer que él también perdió la brújula moral?
En el discurso, Flake citó al presidente republicano Theodore Roosevelt como su modelo en materia de "conciencia y principios". Pero quien haya leído a Roosevelt sabe que él no hubiera huido de la lucha actual. En abril de 1910, Roosevelt pronunció en la Sorbona de París el discurso "La ciudadanía en una república", en el que declara: "Los críticos no importan. El mérito es de los hombres que entran al ruedo, los que se entregan a una causa noble y que si en el peor de los casos fracasan, lo hacen con la frente en alto; nada tienen que ver con los tibios y los tímidos que no conocen ni victorias ni derrotas".
Ahora, eso es un principio digno de defensa, en Estados Unidos y en cualquier república.
Traducción: Esteban Flamini