La conscience d'un conservateur ?
CAMBRIDGE – Dans un récent discours, très remarqué aux États-Unis et à l'étranger, le sénateur américain Jeff Flake, républicain de l'Arizona, a annoncé qu'il ne briguerait pas sa réélection. Pour comprendre le raisonnement de Flake expliquant sa décision, il faut penser comme lui que le premier devoir d'un sénateur est de dire la vérité au pouvoir, en l'occurrence de refuser le « comportement inconséquent, injurieux et dégradant » du président, qui « sape les fondements de notre démocratie », puis de démissionner.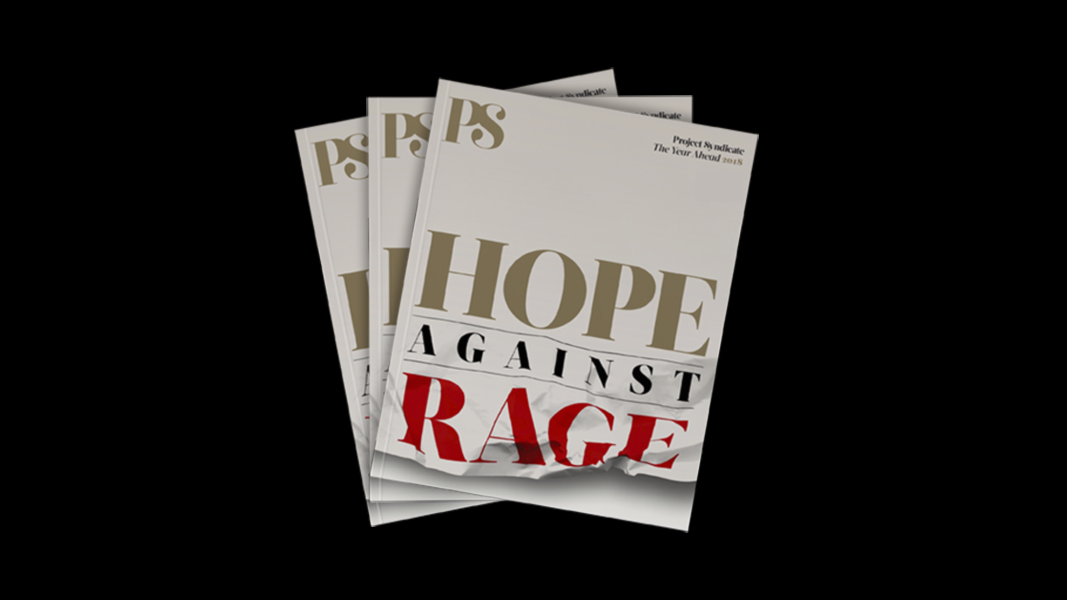 The Year Ahead 2018
The world's leading thinkers and policymakers examine what's come apart in the past year, and anticipate what will define the year ahead.
Nombre de grands médias semblent le croire, qui n'ont pas tari d'éloges sur le lamento passionné de Flake. À en croire un analyste de CNN, il s'agit ni plus ni moins du « discours politique le plus important de 2017 – et d'un des plus percutants de toute l'ère contemporaine au Sénat ». Le New York Times, comme le Washington Post, l'on fait figurer en une.
Mais si nous prenons Flake au mot, c'est-à-dire si nous croyons que les principes doivent guider l'action, nous devons demander : quels principes ? Si Flake a raison d'affirmer que la démocratie est en péril et que nous devons « nous lever pour le dire haut et fort », alors à quoi peut servir de jeter l'éponge ?
Dans son discours, Flake commence par rappeler qu'en paroles comme en actes, le président Donald Trump se situe invariablement au-delà de ce qu'on peut admettre et déshonore la fonction présidentielle. Mais la  grossièreté de Trump, pour quiconque se tient un peu au courant, n'est pas un fait nouveau. Puis Flake déclare qu'il ne restera pas « plus longtemps complice ou silencieux ». Nous ne pouvons que l'en applaudir, mais devons alors nous demander pourquoi il lui a fallu si longtemps pour s'en apercevoir. Tous les Américains ont le droit – et bien sûr le devoir – de s'élever contre ce qui menace leur pays.
Un sénateur n'est pourtant pas un citoyen comme les autres. Flake est l'un des cent membres du plus haut organe législatif du pays. Il partage avec les autres sénateurs le pouvoir de voter « oui » ou « non » aux propositions qui sont faites par le président. Il peut déposer des textes législatifs dont il pense qu'ils servent l'intérêt public et contribuer à leur rédaction. Et si d'aventure la Chambre des représentants des États-Unis met Trump en accusation, il comptera parmi les cent juges sur lesquels reposera l'issue de ce procès fatidique.
On peut comprendre qu'un sénateur, dès lors qu'il considère que le président en fonction constitue une menace grave pour la République, sonne l'alarme. Mais que ce sénateur annonce au même moment qu'il démissionne semble parfaitement absurde, surtout si l'on pense au pouvoir qui est le sien, en tant que sénateur, non seulement de parler, mais d'agir. La pressante mise en garde de Flake est un plaidoyer pour la résistance, non pour l'esquive.
Bien sûr, la raison cachée de Flake pour préférer la fuite à l'affrontement saute aux yeux. Les sondages montrent qu'il serait en fâcheuse posture pour se faire réélire en 2018. Après avoir été la cible des attaques de Trump, puis de l'ancien conseiller stratégique de la Maison-Blanche, l'actuel directeur de Breitbart News, Steve Bannon, il pourrait même être battu par son concurrent républicain lors des primaires.
Certes, personne n'est obligé d'« endurer les coups et les revers » d'une campagne électorale. Et l'on ne peut non plus blâmer personne de se tenir à l'écart de la vie politique vénéneuse qui est aujourd'hui celle de Washington. En tant que citoyen, je sais gré à Flake des responsabilités qu'il a exercées au Congrès. Mais s'il veut nous faire croire que son discours et sa décision de démissionner sont dans l'intérêt supérieur du pays et fondés sur un principe, il doit alors nous expliquer quel est ce principe.
Pour répondre à l'impératif catégorique d'Emmanuel Kant, le principe qui détermine une action doit être tel que cette action, si elle est reproduite par tous, puisse créer un monde dans lequel tous nous voulons vivre. Flake veut-il vivre dans un monde où tous les législateurs en désaccord avec Trump se seront déjà manifestés, se seront déjà exprimés avec vigueur, puis auront quitté leurs fonctions ?
On ne sait pas si Flake appelle au boycott de la campagne électorale ou se contente d'alerter ses collègues des dangers à se présenter à des élections qu'ils pourraient perdre. Quoi qu'il en soit, quelqu'un le remplacera au Séant. Il n'est donc pas inutile de se demander si son successeur sera mieux armé que lui pour assumer les devoirs fondamentaux du service de l'État.
Dans son livre paru en 2017, Conscience of a Conservative, Flake affirme sans ambages que « nous nous sommes tellement éloignés de nos principes que nous ne savons même plus ce que sont ces principes ». Doit-on désormais lire là l'involontaire confession d'un homme qui aurait perdu sa boussole morale ?
Dans son discours, Flake cite le président républicain Theodore Roosevelt comme le modèle de la « conscience et des principes » auxquels lui-même il aspire. Mais ceux qui ont lu Roosevelt savent qu'il ne se serait pas détourné des combats d'aujourd'hui. « Ce n'est pas la critique qui compte » disait Roosevelt dans son discours Citizenship in a Republic (« De la Citoyenneté en République », prononcé à la Sorbonne, à Paris, en avril 1910. « Le mérite appartient à celui qui est dans l'arène – continuait-il – à celui qui se donne à une cause digne et qui, au pire, s'il échoue, échoue du moins après avoir osé, de sorte que sa place ne sera jamais avec les âmes froides et timides qui ne connaissent ni la victoire ni la défaite. »
Aujourd'hui, voilà bien un principe sur lequel les États-Unis, comme toute autre république, doivent s'appuyer.
Traduction François Boisivon