¿Qué mueve las protestas en Irán?
LONDRES – El repentino brote de agitación civil que se extendió por varias ciudades de Irán desde fines de diciembre tomó a casi todos por sorpresa, incluidos el gobierno reformista del presidente Hassan Rouhani, muchos ciudadanos y los observadores. Las protestas, que comenzaron en Mashhad (una importante ciudad religiosa en el noreste del país, bastión de los enemigos conservadores de Rouhani), no tardaron en contagiarse a numerosas ciudades más pequeñas, con una velocidad e intensidad que pocos hubieran podido predecir.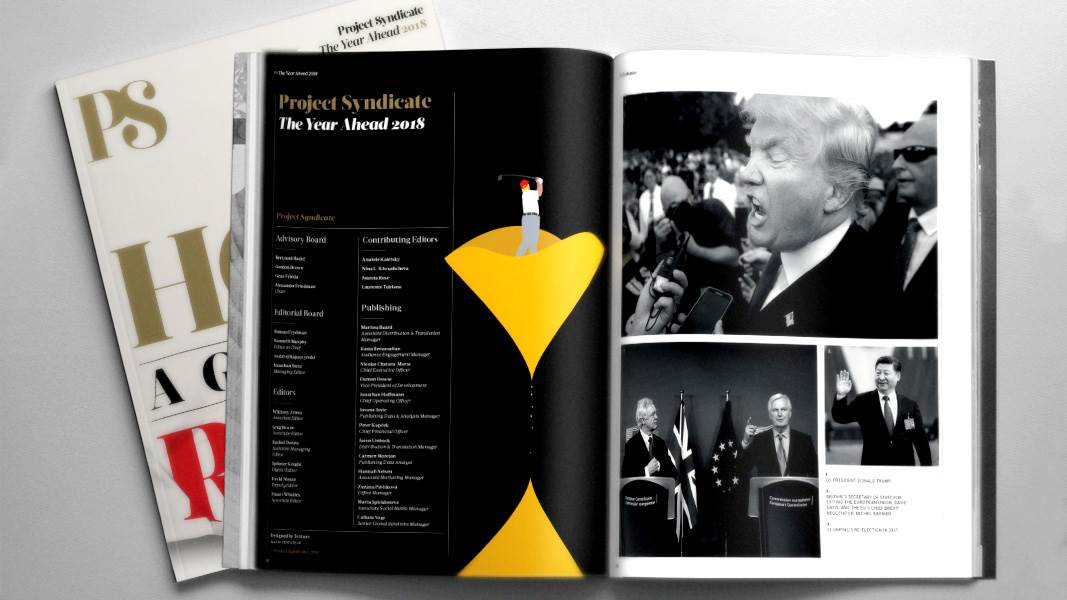 The Year Ahead 2018
The world's leading thinkers and policymakers examine what's come apart in the past year, and anticipate what will define the year ahead.
Al principio las protestas eran por el aumento del costo de vida y las crecientes disparidades económicas y sociales, pero pronto se transformaron en un rechazo al régimen mismo; y aunque el descontento apuntó más que nada al aparato religioso comandado por el Líder Supremo iraní (el ayatolá Ali Khamenei), los reformistas tienen tanto en juego como sus rivales conservadores.
Los reformistas iraníes no están acostumbrados a ser blanco del malestar popular, como lo son ahora. Es frecuente que en las elecciones presidenciales canalicen el descontento popular hacia la esperanza de un futuro mejor. Pero ese papel histórico choca de frente con la responsabilidad que ahora tienen de restaurar la ley y el orden en las áreas urbanas de Irán.
Rouhani fue reelegido para un segundo mandato hace apenas siete meses, con una contundente mayoría del 57% de los votos en una elección con amplia participación. Los últimos acontecimientos parecen señal de que muchos iraníes jóvenes dudan de que Rouhani pueda traer más prosperidad y un régimen islamista más moderado que el que ofrecen sus rivales conservadores.
Tal vez el mayor riesgo de la oleada de agitación tenga que ver con los planes de reforma económica de Rouhani. Las protestas estallaron a pesar de dos años de modesta mejora de la economía iraní. Pese a las restricciones impuestas por los bajos precios mundiales del petróleo y el anémico ingreso de inversiones extranjeras, los indicadores económicos vienen yendo en la dirección correcta desde enero de 2016, tras el levantamiento de muchas sanciones internacionales como consecuencia del acuerdo que limitó el programa nuclear iraní en 2015.
Según el Fondo Monetario Internacional, el PIB iraní está creciendo a un ritmo anual de poco más de 4%, con señales alentadoras de que tras el fin de las sanciones, el crecimiento se está extendiendo a los sectores no petroleros. El año pasado hubo un pico de 12,5%, que se debió ante todo a una recuperación de la producción y exportación de petróleo. La inflación sigue siendo alta, alrededor del 10%, pero es una gran mejora respecto de los altos niveles de la época de las sanciones.
Pero por supuesto, entre los indicadores económicos y el sentimiento de la gente no existe una relación lineal. Es habitual atribuir la inestabilidad y la agitación política a las malas condiciones económicas, pero la realidad suele ser más compleja. En Oriente Medio, por ejemplo, tanto la Revolución Islámica de 1979 en Irán como los levantamientos de la Primavera Árabe en 2011 fueron precedidos por alzas inéditas del precio del petróleo, que auguraban más prosperidad en la región.
Sin embargo, las mejoras a la economía iraní posteriores al acuerdo de 2015 sobre el programa nuclear estuvieron muy por debajo de las expectativas. La principal decepción parece ser que el crecimiento no logró hacer mella en los asombrosos niveles de desempleo en Irán. La tasa total de desempleo se mantiene cerca del 13%, mientras que el desempleo juvenil (que las estadísticas oficiales sitúan en 29%, pero que probablemente es más cercano al 40%) es uno de los más altos del mundo.
Hoy, esto es uno de los principales motivos de malestar popular, en particular entre la juventud urbana desafecta, que fue uno de los motores de la reciente oleada de agitación. El más alto desempleo se da entre personas con educación universitaria, en particular mujeres. Si bien hoy en Irán entran a las universidades más mujeres jóvenes que varones, la tasa de participación femenina en la fuerza laboral iraní el año pasado no superó un escaso 15%, menos aún que el 20% de hace una década.
Uno de los desafíos centrales para el gobierno de Rouhani sigue siendo la creación de empleo. Se prevé que sólo el año entrante ingresarán al mercado laboral unas 840 000 personas, así que el solo hecho de estabilizar el desempleo en el corto plazo será tarea difícil. Y con más del 40% de la población con edades de entre 15 y 34 años, tampoco será fácil sumar empleos suficientes a más largo plazo.
Vistas en este contexto, las recientes protestas perjudican a los reformistas iraníes, al debilitar el monopolio que tienen sobre la esperanza y generar un conflicto entre las políticas neoliberales del gobierno (que buscan resolver los problemas económicos de Irán) y el objetivo de afianzar el apoyo popular. Y también hay riesgo de que pierdan terreno político ante los rivales conservadores, que previsiblemente promoverán una estrategia de seguridad de "mano dura", contraria al relajamiento gradual de restricciones iniciado por Rouhani.
Pero no todo son malas noticias para los reformistas. Al anhelo de empoderamiento económico de muchos iraníes se le contrapone el temor de muchos más a que el país caiga en la anarquía y el caos. A diferencia de las protestas de 2009, y sabedora del resultado generalmente decepcionante de los levantamientos de la Primavera Árabe, hasta ahora la clase media iraní ejerció la prudencia y observó las manifestaciones con aprensión y a distancia.
Paradójicamente, este factor miedo (más que la esperanza de cambio de los iraníes desafectos) puede ser lo que todavía salve la agenda de Rouhani.
Traducción: Esteban Flamini