Co je hnacím motorem íránských protestů?
LONDÝN – Rychlé rozšíření občanských nepokojů v íránských městech a velkoměstech, které započalo na konci prosince, překvapilo téměř všechny – reformně orientovanou vládu prezidenta Hasana Rúháního i řadu občanů a pozorovatelů. Protesty započaly v Mašdádu, velkém nábožensky založeném městě na severovýchodě země, jenž je baštou Rúháního konzervativních nepřátel, a zachvátily řadu menších měst s rychlostí a urputností, které čekal jen málokdo.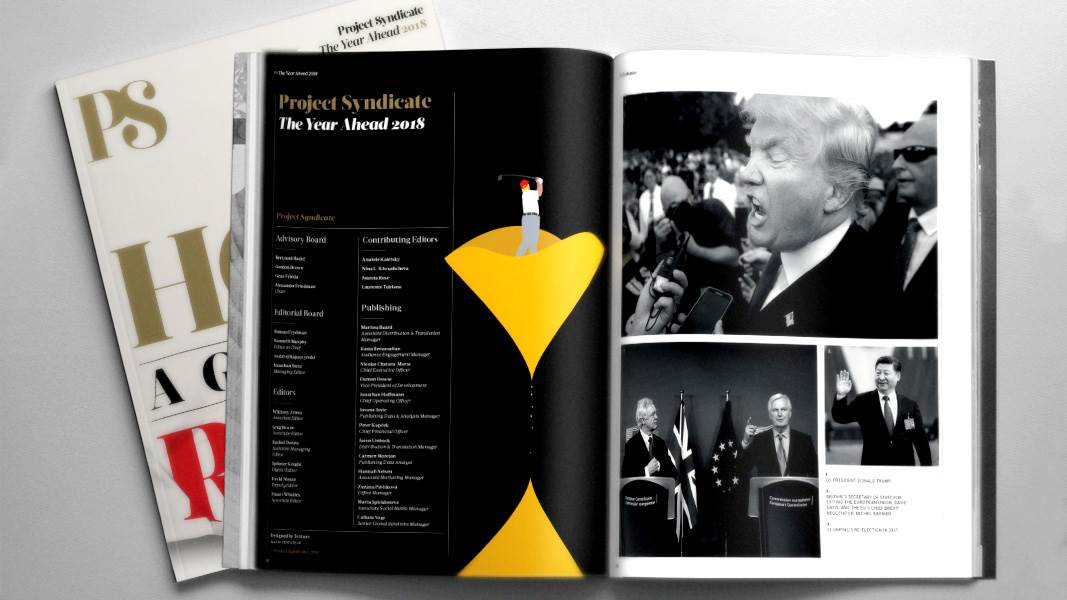 The Year Ahead 2018
The world's leading thinkers and policymakers examine what's come apart in the past year, and anticipate what will define the year ahead.
A protože je přiživovaly rostoucí životní náklady a rozšiřující se hospodářská a sociální nerovnost, záhy přerostly v odmítnutí režimu jako takového. Zloba je sice do značné míry namířena i proti klerikálnímu establishmentu pod vedením íránského nejvyššího vůdce ajatolláha Alího Chameneího, avšak pro reformátory je v sázce stejně mnoho jako pro jejich konzervativní soupeře.
Íránští reformátoři nejsou zvyklí být terčem frustrace občanů tak jako nyní. V prezidentských volbách se politickým reformátorům opakovaně dařilo přetavit nespokojenost obyvatel ve sliby nadějnější budoucnosti. Tato historická role je však v rozporu se současnou zodpovědností reformátorů obnovit právo a pořádek v městských oblastech Íránu.
Rúhání byl sotva před sedmi měsíci podruhé zvolen, když si při vysoké volební účasti zajistil výraznou většinu 57% hlasů. Nedávné události jako by nasvědčovaly tomu, že mnozí mladí Íránci pochybují, zda Rúhání dokáže zajistit větší prosperitu a umírněnější verzi islamistické vlády, než jakou nabízejí jeho konzervativní rivalové.
Vlna neklidu zřejmě nejvíce ohrožuje Rúháního plánované hospodářské reformy. Protesty vypukly navzdory dvěma letům mírného zlepšování íránské ekonomiky. Ačkoliv zemi sužují nízké světové ceny ropy a chudokrevný příliv zahraničních investic, hospodářské ukazatele se pohybují správným směrem už od ledna 2016, kdy bylo po uzavření dohody omezující íránský jaderný program o rok dříve zrušeno mnoho mezinárodních sankcí.
Podle Mezinárodního měnového fondu roste íránský HDP ročním tempem těsně nad 4%, přičemž existují povzbudivé náznaky, že se růst v postsankční éře rozšiřuje i na neropné sektory. Loni dosáhl růst 12,5%, především díky zotavení ropné produkce a exportu. Inflace sice zůstává vysoká a pohybuje se kolem 10%, avšak i to představuje výrazné zlepšení oproti vysokým hodnotám v době, kdy platily sankce.
Mezi hospodářskými ukazateli a náladou veřejnosti samozřejmě neexistuje lineární souvislost. Konvenční teorie sice připisuje politický chaos a nestabilitu hospodářským těžkostem, avšak realita bývá málokdy tak jednoduchá. Například na Blízkém východě předcházel íránské revoluci v roce 1979 i povstáním arabského jara v roce 2011 nevídaný boom cen ropy, který měl za následek vyšší prosperitu v regionu.
Zlepšení íránské ekonomiky po uzavření jaderné dohody v roce 2015 ovšem silně nesplnilo očekávání. Největším zklamáním zřejmě byla skutečnost, že růst nedokázal snížit ohromující míru nezaměstnanosti v zemi. Celková míra nezaměstnanosti dosahuje téměř 13%, přičemž nezaměstnanost mladých lidí – oficiální údaj zní 29%, ale ve skutečnosti se pravděpodobně blíží 40% – patří mezi nejvyšší na světě.
Tento pocit křivdy je dnes jádrem frustrace obyvatel, zejména rozčarovaných mladých lidí z měst, kteří pomohli rozdmýchat nejnovější vlnu nepokojů. Nezaměstnanost je nejvyšší mezi lidmi s univerzitním vzděláním, zejména mezi ženami. Na íránské univerzity dnes sice nastupuje více mladých Íránek než Íránců, avšak participace ženské pracovní síly dosahovala loni neduživých 15%, oproti 20% před deseti lety.
Tvorba pracovních míst zůstane hlavním úkolem Rúháního vlády. Protože se očekává, že na trh práce vstoupí pouze v příštím roce 840 000 lidí, bude stabilizace nezaměstnanosti v krátkém časovém horizontu náročným úkolem. V zemi, kde je více než 40% obyvatel ve věku 15 až 34 let, nebude zvýšení počtu pracovních míst v dlouhodobém měřítku nikterak snadné.
V tomto kontextu oslabily nedávné protesty íránské reformátory tím, že narušily jejich monopol na naději a vrazily klín mezi neoliberální politiku vlády, vedenou s úmyslem řešit hospodářské problémy země, a jejím cílem prohloubit podporu obyvatel. A íránští reformátoři riskují také ztrátu politického teritoria ve prospěch svých konzervativních soupeřů, od nichž lze očekávat tvrdý přístup k bezpečnosti na úkor Rúháního postupného uvolňování restrikcí.
Pro reformátory však existuje i jistá naděje. Mnozí Íránci prahnou po větší hospodářské moci, avšak zároveň se mnozí z nich obávají možného sklouznutí do anarchie a chaosu. Na rozdíl od protestů v roce 2009 a u vědomí všeobecného zklamání z výsledku povstání arabského jara zatím íránská střední vrstva prokazuje obezřetnost a demonstrace sleduje s obavami a zpovzdálí.
Paradoxně je to právě faktor strachu – spíše než naděje na změnu u rozčarovaných Íránců –, co by mohlo Rúháního agendu ještě stále zachránit.
Z angličtiny přeložil Jiří Kobělka.