Что движет протестами в Иране?
ЛОНДОН – Быстрое распространившаяся волна гражданских беспорядков, которые начались в иранских городах в конце декабря, застала врасплох почти всех – не только реформаторское правительство президента Хасана Рухани, но и большинство граждан и экспертов. Протесты начались в Мешхеде, крупном религиозном городе на северо-востоке страны, который играет роль оплота консервативных противников Рухани, а затем перекинулись на множество небольших городов, причём с такой скоростью и яростью, которую мало кто мог ожидать.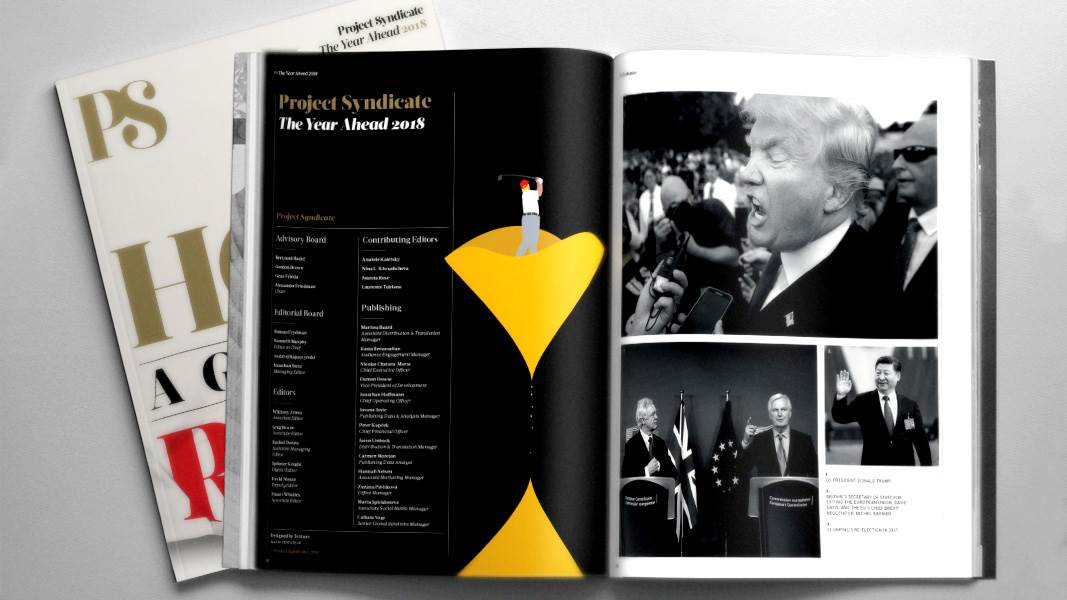 The Year Ahead 2018
The world's leading thinkers and policymakers examine what's come apart in the past year, and anticipate what will define the year ahead.
Спровоцированные ростом стоимости жизни, а также уровня экономического и социального неравенства, эти протесты быстро превратились в борьбу с самим режимом. Недовольство оказалось во многом направлено против религиозного истеблишмента во главе с высшим руководителем Ирана аятоллой Али Хаменеи, тем не менее, для реформаторов угроза этих протестов столь же высока, как и для их противников из консервативного лагеря.
Иранские реформаторы не привыкли быть мишенью народного гнева, как это происходит сейчас. На президентских выборах политическим реформаторам неоднократно удавалось погасить народное недовольство обещаниями более светлого будущего. Однако эта привычная для реформаторов роль противоречит их текущей задаче – восстановить законность и навести порядок в иранских городах.
Рухани был избран на второй срок всего лишь семь месяцев назад: при высокой явке он получил убедительное большинство голосов – 57%. Но последние события позволяют сделать вывод, что многие молодые иранцы начали сомневаться в способности Рухани обеспечить рост процветания, а также более мягкое правление в сравнении с вариантом, который предлагают его выступающие за жёсткие подходы соперники.
Прокатившаяся волна беспорядков поставила под угрозу запланированные Рухани экономические реформы. Протесты начались, несмотря на два года сравнительного улучшения состояния иранской экономики. Начиная с января 2016 года, вопреки низким мировым ценам на нефть и слабому притоку иностранных инвестиций, экономические показатели страны начали меняться в лучшую сторону, потому что после заключения в 2015 году соглашения об ограничении иранской ядерной программы были отменены многие международные санкции.
По данным Международного валютного фонда, годовые темпы роста ВВП Ирана слегка превышают 4%, причём есть обнадёживающие признаки, что после отмены санкций рост экономики не ограничивается одной лишь нефтяной отраслью. В прошлом году темпы роста достигли 12,5%, главным образом благодаря восстановлению объёмов добычи и экспорта нефти. Уровень инфляции остаётся высоким (около 10%), однако он значительно ниже уровней, наблюдавшихся во время действия санкций.
Да, конечно, линейной зависимости между экономическими показателями и общественными настроениями не существует. Традиционно считается, что причиной политических беспорядков и нестабильности являются экономические трудности, однако реальность редко оказывается столь однозначной. На Ближнем Востоке, например, беспрецедентный бум нефтяных цен, предвещавший рост процветания  в регионе, предшествовал не только Исламской революции 1979 года в Иране, но и восстаниям Арабской весны 2011 года.
Впрочем, улучшение состояния иранской экономики после заключения ядерного соглашения 2015 года не оправдало ожиданий. Наверное, наибольшим разочарованием стало тот факт, что рост экономики не привёл к снижению невероятно высокого уровня безработицы. Хотя общий уровень безработицы составляет примерно 13%, безработица среди молодёжи является одной из самых высоких в мире: согласно официальным данным, она равна 29%, но в реальности эта цифра, скорее, ближе к 40%.
Именно в этом главная причина народного недовольства, и это особенно касается городской молодёжи, которая собственно и подняла волну беспорядков. Особенно высок уровень безработицы среди обладателей университетских дипломов, в первую очередь среди женщин. Сегодня в университетах Ирана учится больше девушек, чем юношей, однако уровень экономической активности женщин в Иране в прошлом году составил всего лишь 15%, что меньше 20% десять лет назад.
Создание рабочих мест будет по-прежнему главной задачей правительства Рухани. Ожидается, что в одном только 2018 году около 840 тысяч человек выйдут на рынок труда, поэтому даже просто стабилизировать уровень безработицы в краткосрочной перспективе будет нелегко. А поскольку более 40% населения Ирана находятся в возрастной категории от 15 до 34 лет, создание достаточного числа новых рабочих мест не станет более лёгкой задачей и в долгосрочной перспективе.
С этой точки зрения, прошедшие протесты ослабили иранских реформаторов, поскольку они подорвали их монополию на надежды лучшего будущего и вбили клин между неолиберальной политикой правительства, призванной решить экономические проблемы Ирана, и его задачей расширения народной поддержки. Реформаторы Ирана рискуют также уступить политическую арену своим консервативным соперникам, от которых можно ожидать политики железного кулака в вопросах безопасности вместо постепенного ослабления ограничений при Рухани.
Впрочем, у реформаторов ещё есть надежда. Хотя многие иранцы стремятся улучшить своё экономическое положение, ещё больше граждан Ирана испытывают страх перед возможным скатыванием страны в анархию и хаос. Иранский средний класс помнит о разочаровывающих итогах восстаний Арабской весны и – в отличие от протестов 2009 года – пока что демонстрирует осторожность, наблюдая за нынешними протестами с осторожностью, как бы со стороны.
Парадоксально, но именно этот фактор страха, а не надежда на перемены недовольных иранцев, даёт надежду на спасение политической повестки Рухани.