¿Las perspectivas económicas de Europa son más brillantes de lo que parecen?
LONDRES – En el año transcurrido desde que el presidente norteamericano, Donald Trump, escaló la guerra comercial de Estados Unidos con China, los responsables de las políticas y los mercados financieros han estado obsesionados con los peligros para las economías de ambos países. Sin embargo, la verdadera amenaza que plantea el conflicto para la economía global reside en otra parte.
A pesar de todos los titulares espeluznantes sobre que la guerra comercial puede causar una recesión en Estados Unidos o algún tipo de colapso en China y sus vecinos asiáticos, los datos económicos recientes revelan un panorama muy diferente: a las economías de Estados Unidos y China les ha ido bastante bien y están en línea con las tendencias que ya estaban bien establecidas antes de la escalada de la guerra comercial. La principal víctima ha sido un observador inocente: Europa.
La distribución inesperada del daño se puede ver claramente en las revisiones trimestrales del Fondo Monetario Internacional de sus proyecciones económicas. Las últimas revisiones, publicadas a fines de julio, prevén un crecimiento global del 3,2% en 2019, comparado con 3,7% en la proyección de octubre de 2018 del FMI. Pero esta revisión a la baja no es atribuible ni a Estados Unidos ni a China. Se espera que la economía china crezca el 6,2%, exactamente la tasa prevista hace un año. El pronóstico para el crecimiento de Estados Unidos es del 2,6%, 0,1 punto porcentual más alto que hace un año. Las proyecciones para Japón y otras economías asiáticas en general tampoco se han modificado. Esto hace que Europa sea responsable de prácticamente toda la desaceleración global.
El FMI ahora espera que el crecimiento de la eurozona alcance el 1,3% este año, 0,6 puntos porcentuales menos que su pronóstico de hace un año, y se espera que el crecimiento alemán represente apenas 0,7%, comparado con una tasa del 1,9% prevista hace un año. En consecuencia, si hay alguna región que pronto hará que el mundo entre en una recesión es Europa, y específicamente Alemania, no Estados unidos, China o Asia.
Hay tres motivos por los cuales la economía europea ha sufrido mucho más este año que cualquiera de los beligerantes en el conflicto Estados Unidos-China. Para empezar, Europa es extremadamente vulnerable al daño colateral de una guerra comercial, porque es más dependiente del comercio. Las exportaciones representan el 28% del PIB de la eurozona, comparado con sólo el 12% para Estados Unidos y el 19% para China.
Es más, la respuesta política de Europa a los shocks económicos casi siempre es errónea. Cuando Estados Unidos o China experimentan un shock que amenaza con reducir el crecimiento económico, por lo general responden con un estímulo preventivo y contra-cíclico de la demanda. En respuesta a la guerra comercial, la Junta de la Reserva Federal de Estados Unidos casi de inmediato revirtió el curso de su política monetaria y empezó a recortar las tasas de interés. China ha expandido sus políticas monetaria, fiscal y crediticia para garantizar que el consumo, la construcción de viviendas y el gasto en infraestructura compensen las exportaciones y la inversión privada perdidas. En Europa, por el contrario, la respuesta política ante una demanda débil tiende a ser pro-cíclica: cuando el crecimiento flaquea, en lugar de expandir la política fiscal, los gobiernos europeos aumentan las tasas y recortan el gasto público para "controlar" los déficits presupuestarios. Y los reguladores financieros ajustan las condiciones crediticias obligando a los bancos a aumentar su capital e incrementar sus previsiones para préstamos riesgosos.
Subscribe now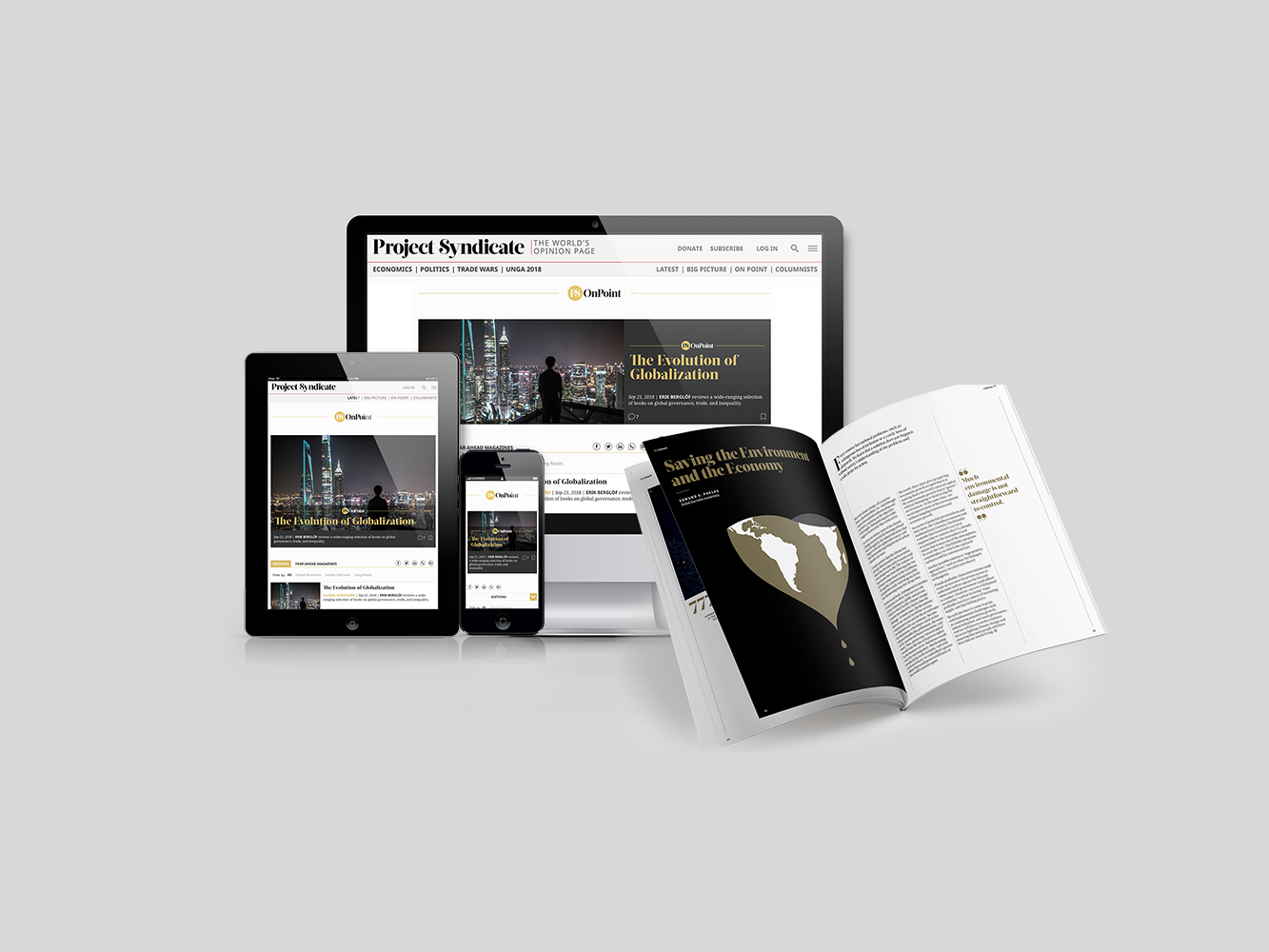 Subscribe now
Subscribe today and get unlimited access to OnPoint, the Big Picture, the PS archive of more than 14,000 commentaries, and our annual magazine, for less than $2 a week.
Tercero, Europa se ha visto perjudicada por dos sacudidas políticas internas que fueron aún más nocivas que la guerra comercial entre Estados Unidos y China. El choque presupuestario del verano pasado entre la Comisión Europea y el nuevo gobierno populista de Italia revivió los miedos de un colapso monetario y bancario aún peor que la crisis del euro que estalló hace diez años. Y en marzo, al tiempo que amainó el riesgo italiano, un Brexit sin acuerdo de repente surgió como una amenaza grave.
Ahora pasemos a las buenas noticias. Dos de los tres motivos para el mal desempeño de Europa –políticas macroeconómicas equivocadas y un conflicto con Italia o Gran Bretaña- avanzan hacia una resolución. Y si bien la exposición excesiva al comercio global –especialmente en Alemania- continúa, al menos la excesiva dependencia de las exportaciones por parte de Europa está empezando a ser reconocida como una vulnerabilidad estructural, no una señal de "competitividad" o de salud económica fundamental.
Empezando por la macroeconomía, hoy se está debatiendo seriamente un alivio de la política fiscal en casi todos los países europeos, al interior de la nueva Comisión Europea y en el Banco Central Europeo. Si bien la reticencia a cualquier expansión fiscal importante sigue siendo fuerte en Alemania, la mayor economía de la eurozona, es probable que la resistencia allí se derrumbe bajo la presión combinada de un crecimiento económico débil, el temor de los partidos populistas, las demandas de inversión verde y una crítica cada vez más aguda de la Comisión Europea y del BCE. Y aún si Alemania se aferra al recorte fiscal uno o dos años más, el resto de Europa avanzará hacia tasas más bajas y un gasto público más alto por una razón que no se reconoce habitualmente: la interacción entre la política monetaria y la política fiscal.
La reciente decisión del BCE de reanudar el alivio cuantitativo y mantener tasas de interés negativas sin ningún límite de tiempo garantiza que los costos del servicio de la deuda caerán drásticamente para gobiernos altamente endeudados como los de Italia, España, Bélgica y Francia. Los pagos más bajos de intereses darán a estos gobiernos más margen presupuestario para recortar impuestos o aumentar el gasto público. Esto es esencialmente válido para Italia, cuyos costos por intereses actualmente superan el 3,5% del PIB.
Este entorno fiscal más aliviado ha puesto fin a los conflictos de Italia con la UE por las reglas presupuestarias, que parecían amenazar con una disolución del euro hace unos meses. Al mismo tiempo, la decisión de la Corte Suprema del Reino Unido de revocar la suspensión del Parlamento por parte del primer ministro Boris Johnson prácticamente ha eliminado el riesgo de un Brexit sin acuerdo.
Si el clima político y macroeconómico mejora, Europa debería poder superar la desventaja estructural del exceso de exportaciones y evitar una recesión. Alemania puede ser menos afortunada, porque no se puede curar de su adicción a las exportaciones si no abandona su consolidación presupuestaria errada. Hasta entonces, Alemania estará atascada en su nuevo rol, poco familiar, de ser el rezagado de Europa.
Sin embargo, para el resto del mundo, esto quizá no importe. Lo importante para la economía global es si Europa en su totalidad goza o no de una fuerte recuperación. Las posibilidades de que eso suceda son considerablemente mejores ahora que hace unos meses.