Sind Europas wirtschaftliche Aussichten besser als vermutet?
LONDON – In dem Jahr, in dem Präsident Donald Trump den amerikanischen Handelskrieg mit China auf die Spitze trieb, waren die Politiker und die Finanzmärkte von den Gefahren für die Wirtschaft in beiden Ländern geradezu besessen. Aber die wirkliche Bedrohung der Weltwirtschaft durch diesen Konflikt liegt anderswo.
Trotz der reißerischen Schlagzeilen, der Handelskrieg werde in den Vereinigten Staaten eine Rezession auslösen oder in China und seinen asiatischen Nachbarn zu einer Art Zusammenbruch führen, zeigen die jüngsten Wirtschaftsdaten ein ganz anderes Bild: Die Volkswirtschaften in den USA und China haben sich entsprechend der Trends, die bereits vor der Eskalation des Handelskrieges vorherrschten, recht ordentlich entwickelt. Das größte Opfer war jedoch ein unbeteiligter Zuschauer: Europa.
Diese unerwartete Verteilung der Schäden spiegelt sich in den quartalsweisen Revisionen der Wirtschaftsprognosen des Internationalen Währungsfonds klar wider: Die jüngste von ihnen vom Ende Juli prognostiziert für 2019 3,2% weltweites Wachstum, also etwas weniger als die 3,7% der Projektion vom Oktober 2018. Aber diese Abwärtskorrektur liegt weder an den USA noch an China. Die chinesische Wirtschaft soll, genau wie vor einem Jahr erwartet, um 6,2% wachsen. Die Vorhersage für die USA liegt bei 2,6%, also 0,1 Prozentpunkte über der vom Vorjahr. Und die Projektionen für Japan und andere asiatische Volkswirtschaften bleiben mehr oder weniger unverändert. Dies bedeutet, dass fast die gesamte weitweite Abschwächung auf das Konto Europas geht.
Dieses Jahr soll das Wirtschaftswachstum in der Eurozone laut IWF bei 1,3% liegen, also 0,6 Prozentpunkte unter der Vorhersage des letzten Jahres. Die deutsche Wirtschaft wird nur etwa um 0,7% wachsen, verglichen mit einer Prognose von 1,9% aus dem letzten Jahr. Wenn also überhaupt eine Region die Welt in die Rezession stürzt, sind es nicht die USA, China oder Asien, sondern Europa und insbesondere Deutschland.
Dafür, dass die europäische Wirtschaft in diesem Jahr viel stärker gelitten hat als die Kriegstreiber im US-chinesischen Handelskonflikt, gibt es drei Gründe: Erstens ist Europa extrem anfällig für Kollateralschäden eines Handelskriegs, weil es abhängiger vom Handel ist. 28% des Eurozonen-BIP wird durch Exporte erwirtschaftet, verglichen mit nur 12% in den USA und 19% in China.
Darüber hinaus sind die politischen Antworten Europas auf wirtschaftliche Schocks fast immer falsch. Erleben die USA oder China einen solchen Schock, der droht, dem Wirtschaftswachstum zu schaden, reagieren sie meist mit einer vorbeugenden und antizyklischen Stimulierung der Nachfrage. So hat die Federal Reserve der USA ihren geldpolitischen Kurs aufgrund des Handelskriegs umgehend rückgängig gemacht und Zinssenkungen eingeleitet. Und China hat seine Geld-, Haushalts- und Kreditpolitik gelockert, um zu gewährleisten, dass die Verluste bei Exporten und privaten Investitionen durch steigende Ausgaben für Konsum, Häuserbau und Infrastruktur ausgeglichen werden. In Europa hingegen sind die politischen Antworten auf eine schwächere Nachfrage meist prozyklisch: Stockt das Wachstum, lockern die europäischen Regierungen nicht die Haushaltspolitik, sondern erhöhen die Steuern und verringern die öffentlichen Ausgaben, um die Haushaltsdefizite "unter Kontrolle zu halten". Und die Finanzbehörden verschärfen die Kreditregeln, indem sie die Banken dazu zwingen, ihr Kapital zu erhöhen und ihre Bedingungen für riskante Kredite zu erschweren.
Subscribe now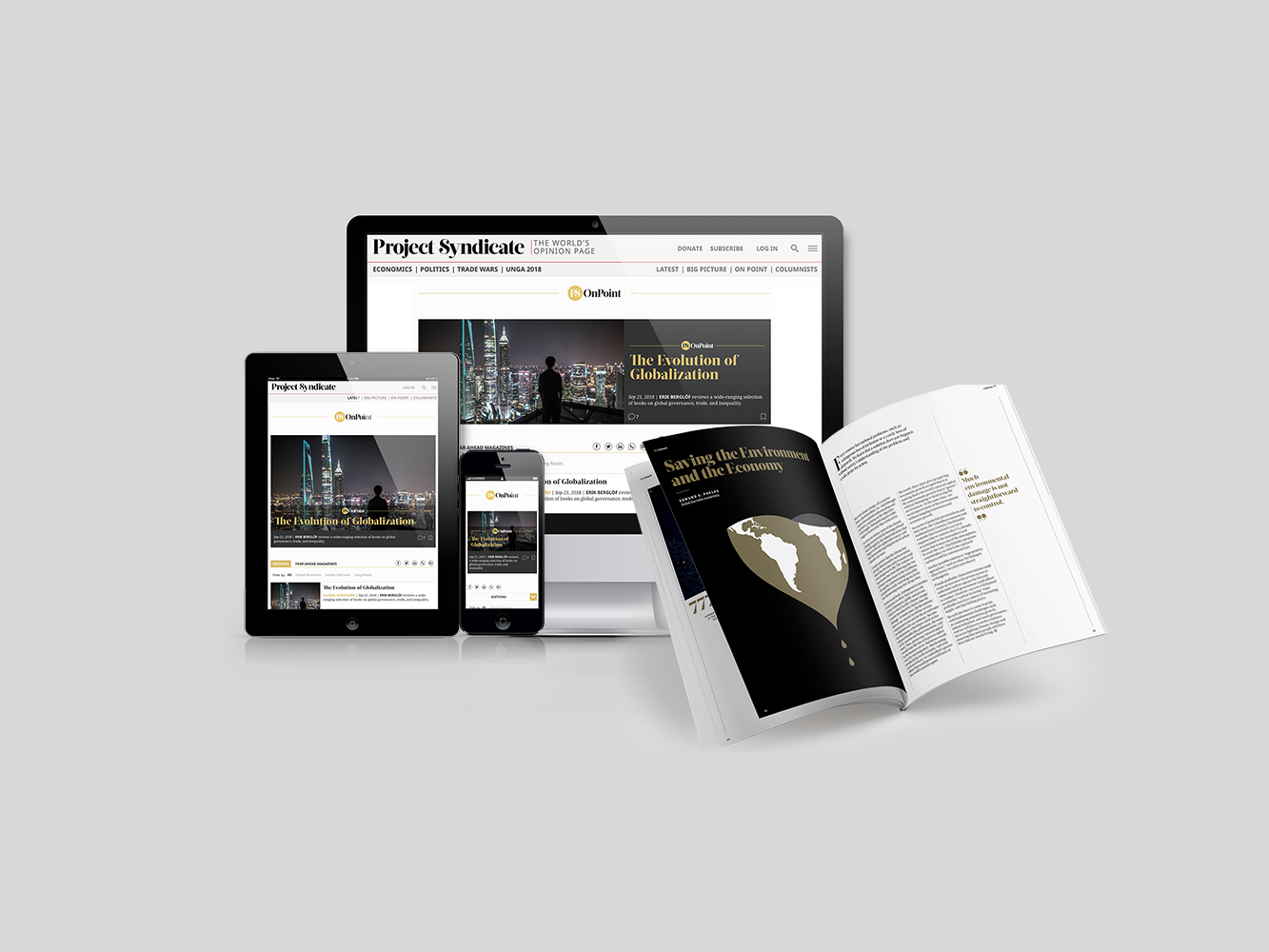 Subscribe now
Subscribe today and get unlimited access to OnPoint, the Big Picture, the PS archive of more than 14,000 commentaries, and our annual magazine, for less than $2 a week.
Drittens wurde Europa von zwei internen politischen Schocks getroffen, die sogar noch verheerender waren als der chinesisch-amerikanische Handelskrieg: Der Haushaltsstreit zwischen der Europäischen Kommission und der populistischen Regierung Italiens ließ die Ängste vor einem Währungs- und Bankenkollaps wieder aufleben, der sogar noch schlimmer werden könnte als die Eurokrise vor einem Jahrzehnt. Und im März, als die Italien-Gefahr zurückging, erhöhte sich plötzlich das Risiko eines Brexit ohne Abkommen. Da die EU fast doppelt so viel nach Großbritannien exportiert wie nach China, könnte ein plötzliches Ende der britischen Handelsbeziehungen genauso schädlich sein wie der Finanzierungsstopp des Jahres 2008.
Und jetzt die gute Nachricht: Bei zwei der drei Gründe für das schwache Abschneiden Europas – der fehlgeleiteten makroökonomischen Politik und den Konflikten mit Italien und Großbritannien – ist eine Lösung absehbar. Und obwohl – insbesondere in Deutschland – die übermäßige Abhängigkeit vom Welthandel andauert, wird jetzt zumindest die Exportabhängigkeit als strukturelle Verletzlichkeit erkannt, und nicht als Zeichen für "Wettbewerbsfähigkeit" oder grundlegende wirtschaftliche Gesundheit.
Beginnend mit der Makroökonomie wird eine Lockerung der Haushaltspolitik jetzt in fast allen europäischen Ländern diskutiert, ebenso wie innerhalb der zukünftigen Europäischen Kommission und bei der Europäischen Zentralbank. Auch wenn die Opposition gegen eine deutliche fiskale Ausweitung in Deutschland, der größten Volkswirtschaft der Eurozone, stark ist, wird sie wahrscheinlich schwächer werden. Die Gründe dafür liegen beim schwachem Wirtschaftswachstum, der Angst vor populistischen Parteien, den Forderungen nach grünen Investitionen und der immer stärkerer Kritik der Europäischen Kommission und der EZB. Und selbst wenn Deutschland ein oder zwei weitere Jahre auf Haushaltskonsolidierung bestehen sollte, wird sich der Rest Europas auf niedrigere Steuern und höhere Staatsausgaben einigen, und zwar aus einem weniger bekannten Grund: der Interaktion zwischen der Geld- und der Haushaltspolitik.
Die jüngste Entscheidung der EZB, quantitative Erleichterungen wiederaufzunehmen und dauerhaft weiter auf negative Zinsen zu setzen, garantiert, dass für hoch verschuldete Staaten wie Italien, Spanien, Belgien oder Frankreich die Kreditkosten drastisch sinken. Müssen sie weniger Zinsen zahlen, bekommen die Regierungen dieser Länder mehr haushaltlichen Spielraum, um die Steuern senken oder die Staatsausgaben erhöhen zu können. Insbesondere gilt dies für Italien, wo die Zinskosten momentan bei über 3,5% des BIP liegen.
Durch diese erleichterten fiskalen Bedingungen konnte der Konflikt Italiens mit der EU um die Haushaltsregeln, der noch vor ein paar Monaten einen Zusammenbruch des Euro befürchten ließ, beendet werden. Gleichzeitig hat die Entscheidung des britischen Obersten Gerichts, die Beurlaubung des dortigen Parlaments durch Premierminister Boris Johnson zu annullieren, das Risiko eines unkontrollierten Brexit erheblich verringert.
Da sich das politische und makroökonomische Klima verbessert, müsste Europa in der Lage sein, das strukturelle Handycap übermäßiger Exporte zu überwinden und eine Rezession zu vermeiden. Deutschland könnte weniger Glück haben, da es von seiner Exportsucht erst kuriert werden kann, wenn es seine fehlgeleitete Haushaltskonsolidierung aufgibt. Bis dahin wird das Land in seiner ungewohnten Rolle als europäischer Nachzügler gefangen bleiben.
Dem Rest der Welt macht das allerdings nichts aus. Wichtig für die Weltwirtschaft ist nur, dass sich Europa insgesamt stark erholt. Und die Chancen dafür sind jetzt erheblich besser als noch vor wenigen Monaten.
Aus dem Englischen von Harald Eckhoff