Die Qualen der Hillary Clinton
WASHINGTON, DC – Es hat im Leben von Hillary Clinton, die eine der gefeiertsten Frauen der Welt ist, Inhaberin einiger der höchsten Ämter der amerikanischen Politik war und möglicherweise der kommende US-Präsidentin sein wird, mehr als genug Leid gegeben. Nachdem ihre Nominierung als Kandidatin der Demokraten vor einem Jahr noch als Selbstgänger betrachtet wurde, tut sie sich bisher sehr viel schwerer als irgendwer – auch sie selbst – das erwartet hatte.
Dabei waren die meisten Probleme, vor denen Clinton derzeit steht, vorhersehbar und ließen sich bereits 2008 erahnen, als sie gegen Barack Obama kandidierte. Andere Probleme hat sie sich selbst zuzuschreiben.
Zunächst einmal ist sie einfach keine besonders gute Politikerin. Clinton ist soweit bekannt die einzige Person, die ihren Wahlkampf zweimal startete. (Der erste Versuch in Iowa, wo sie hinter verschlossenen Türen mit etwa acht Leuten sprach, hatte nicht allzu gut geklappt.) Diese beeindruckende, bemerkenswert intelligente Frau hat einfach nicht den politischen Riecher, den man auf höchster Ebene braucht.
Eine erfolgreiche Präsidentschaftskandidatur erfordert in den USA ein überragendes Maß an Intuition, Reaktionsschnelle und – mehr als alles andere – eine überzeugende Begründung, warum man kandidiert. Es stimmt, dass Clinton zahlreiche Programme anbietet, die sie als Präsidentin vorantreiben würde, doch kann man in Anlehnung an Winston Churchill sagen, dass ihr Pudding kein Thema hat. Einer politischen Botschaft am nächsten kam noch ihr nicht gerade inspirierendes "Ich bin eine Progressive, die die Dinge bewegt."
Im Gegensatz dazu hat sich ihr Rivale, Bernie Sanders, zu einem ernstzunehmenden Kandidaten entwickelt, weil er seinem Wahlkampf eine überzeugende Botschaft gegeben hat: Das System ist manipuliert und wird durch korrupte Regeln zur Wahlkampffinanzierung gestützt.
Die bahnbrechenden Programme, die Sanders propagiert – ein auf dem Solidarprinzip beruhendes Gesundheitswesen und eine Abschaffung von Studiengebühren an staatlichen Hochschulen – sind insbesondere bei jungen Leuten, die ihn mit überwältigender Mehrheit Clinton vorziehen, beliebt, ganz gleich, wie wenig praktikabel sie sein mögen. Clintons Botschaft lautet klein-klein; große Träume seien zu gefährlich. Sanders dagegen predigt eine politische Revolution.
Subscribe now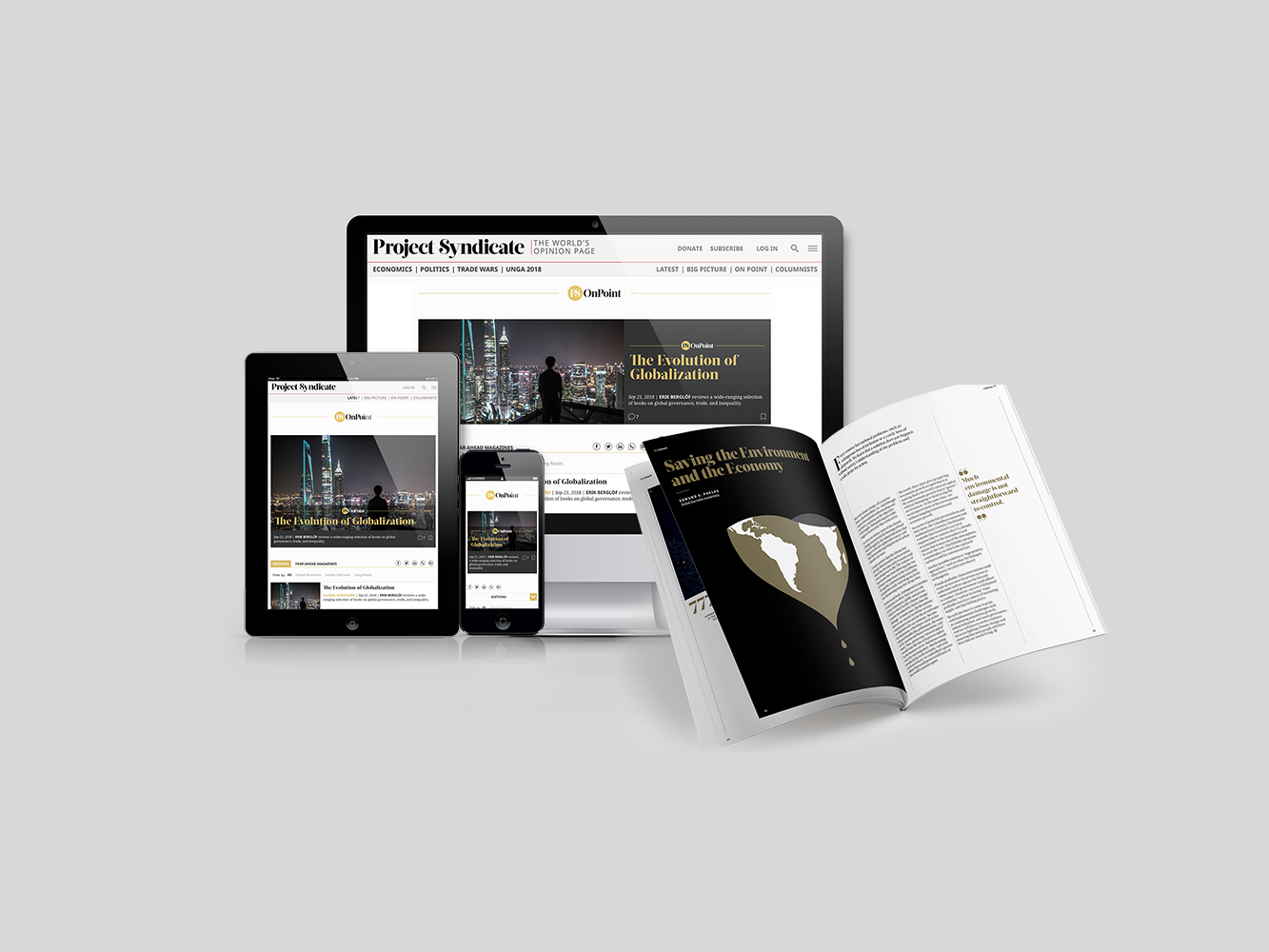 Subscribe now
Subscribe today and get a free copy of our new magazine, Sustainability Comes of Age, along with unlimited access to OnPoint, the Big Picture, the entire PS archive of more than 14,000 commentaries, and our annual magazine, for less than $2 a week.
Dann ist da das Problem der Vertrauenswürdigkeit. Sanders' Integrität scheint außer Frage zu stehen, während Clinton weiter Anlass bietet, die ihre in Frage zu stellen. Sie und ihre Berater sind eindeutig überwältigt von der Wucht der Herausforderung, vor der sie steht.
Sanders kommt herüber als authentisch, Clinton als roboterhaft. Sie scheint manchmal kein Gespür für die Stimmung in der Öffentlichkeit zu haben, besonders was das Thema Geld angeht. Die Wut über die wachsende Kluft zwischen den Superreichen und allen anderen kocht schon seit Jahren hoch, doch kurz vor Beginn ihres Wahlkampfes erklärte Hillary Clinton, dass sie und ihr Mann nach Verlassen des Weißen Hauses "total pleite" gewesen seien. Wenn dem so ist, dann haben sie sich schnell erholt: Bill und Hillary Clinton haben angeblich ein Vermögen von deutlich über 100 Millionen Dollar, das sie sämtlich nach ihrer Zeit im Weißen Haus erworben haben – überwiegend durch astronomische Vortragshonorare.
Nicht anders als andere ehemalige US-Präsidenten – Jimmy Carter ist eine bemerkenswerte Ausnahme – haben die Clintons ihren Ruhm und Einfluss genutzt, um ein Vermögen anzuhäufen. Dabei geht es weniger darum, wie sie an den Großteil des Geldes gekommen sind als darum, wer sie bezahlt hat. Während Bill Geschäfte mit einigen zwielichten internationalen Akteuren gemacht hat, hat sich Hillary einen großen Teil ihres Vermögens als Referentin für Wall-Street-Unternehmen erworben – die als Verursacher der Großen Rezession von 2008 Hauptziel des öffentlichen Zorns sind.
Dies bot Sanders ein ideales Ziel. Er griff dabei die Tatsache heraus, dass Clinton für nur drei Reden, die sie für Goldman Sachs hielt, 675.000 Dollar kassierte. Sanders' Vorwürfe brachten sie aus dem Gleichgewicht; als sie bei einer von CNN organisierten Bürgerversammlung vom Moderator gefragt wurde, warum sie so viel Geld von Goldman Sachs angenommen habe, zuckte die perplexe Clinton nur mit den Schultern und antwortete: "Das war, was sie angeboten haben."
Dann ist da die Kontroverse über ihre Entscheidung, einen in ihrem Haus in Chappaqua, New York, installierten privaten, ungesicherten Server zur Bearbeitung ihrer geschäftlichen und privaten E-Mails zu nutzen, als sie während Barack Obamas erster Amtszeit Außenministerin war. Das Serverthema, das erstmals im März 2015 hochkam, belastet nun ihren Wahlkampf, weil es nicht nur ihr fehlendes Gespür für die öffentliche Stimmung illustriert, sondern – tödlicher noch – einen Mangel an Urteilsvermögen offenbart. Wie könnte ihr unbekannt geblieben sein, dass eine Außenministerin als geheim eingestufte Informationen erhält und beantwortet?
Nachdem der Server öffentlich bekannt wurde, nahm Clinton, wie ihr Mann, Zuflucht zu rechtlichen Spitzfindigkeiten: Sie habe über ihren Server keine Informationen erhalten oder versandt, die "zum damaligen Zeitpunkt als geheim gekennzeichnet waren".
Wer sich mit Clintons Art zu reden auskennt, spürte sofort, dass an der Sache etwas faul war. Das Außenministerium, so erwies sich, hat zwei E-Mail-Systeme – ein als geheim eingestuftes und ein als nicht geheim eingestuftes; als geheim eingestuftes Material kann nicht auf dem als nicht geheim eingestuften System versandt werden und umgekehrt. Um zu vermeiden, dass geheime Informationen an ihren privaten Server verschickt wurden, übermittelten ihre Mitarbeiter sie auf anderem Wege – mündlich oder in Form schriftlicher Zusammenfassungen. Sie waren daher nicht "zum damaligen Zeitpunkt als geheim gekennzeichnet".
Doch haben Prüfer des Außenministeriums hunderte an ihren Server gesandte E-Mails gefunden, die als geheim hätten eingestuft sein sollen. Eine Untersuchung durch das FBI läuft.
Und schließlich hat sich die Aussicht, als erste Präsidentin Geschichte zu schreiben, nicht als der große Vorteil im Wahlkampf erwiesen, den Clinton und ihr Wahlkampfteam erwartet hatten. Wie schon 2008 wollen viele Frauen nichts davon hören, dass sie Clinton unterstützen müssen, bloß weil sie eine Frau ist. Sie betrachten das als Beleidigung ihrer Intelligenz, und insbesondere junge Frauen unterstützen in ihrer Mehrzahl Sanders; sie bevorzugen sein Programm und tun sich schwer mit den Fragen über Clintons Integrität. Die einzige Gruppe Frauen, die Clinton in New Hampshire (wo Sanders sie mit einem Vorsprung von 22 Prozentpunkten besiegte) mehrheitlich für sich gewinnen konnte, waren die über 65-jährigen.
Bei den letzten Vorwahlen in Nevada scheint Clinton ihr mutmaßlicher Vorteil bei den nicht-weißen Wählern – die in Nevada deutlich stärker in die Waagschale fallen als in Iowa oder New Hampshire – zugutegekommen zu sein; Sanders schaffte es dort nicht, insbesondere genügend afroamerikanische Stimmen zu gewinnen, um sie zu besiegen. Dies lässt für die kommenden Vorwahlen Gutes für Clinton erwarten. Doch was die Präsidentschaftswahl angeht, könnten die Dinge anders liegen.
Aus dem Englischen von Jan Doolan