¿Se puede detener el estancamiento sincronizado?
ITHACA – La desaceleración económica mundial se está convirtiendo en un estancamiento sincronizado, en el que algunas economías importantes crecen solamente de manera débil y otras apenas mínimamente, o incluso se contraen ligeramente. Al menos por ahora, los temores de una inminente recesión mundial parecen prematuros. Sin embargo, los responsables de la formulación de políticas tienen poco apetito por realizar reformas fundamentales y espacio limitado para un estímulo macroeconómico eficaz; y, consiguientemente, aparentan estar perdidos respecto a encontrar formas para reactivar el crecimiento.
Las raíces de la desaceleración no son difíciles de discernir. Las persistentes tensiones comerciales, la inestabilidad política, los riesgos geopolíticos y las preocupaciones sobre la eficacia limitada del estímulo monetario continúan erosionando el sentimiento de las empresas y los consumidores, frenando así el crecimiento de la inversión y la productividad. Los flujos de comercio internacional también se han visto directamente afectados. La Organización Mundial del Comercio recortó recientemente su pronóstico relativo al crecimiento del comercio mundial en 2019 del 2,6% a sólo el 1,2%. Además, el Baltic Dry Index, una medida comercial ampliamente reconocida que se basa en las tasas de envío de productos secos a granel, casi se duplicó en los primeros ocho meses de este año, pero desde entonces ha caído un 30%, borrando las esperanzas de un repunte comercial.
Mientras tanto, la incertidumbre global ha mantenido al dólar estadounidense fuerte en relación con la mayoría de las otras monedas principales. Aunque la apreciación del dólar ha quitado algo de presión a las economías no estadounidenses que dependen de las exportaciones o el capital extranjero, ha aumentado el riesgo de una guerra abierta de divisas.   
Al mismo tiempo, no todos los indicadores son sombríos. Los mercados laborales continúan en gran medida saludables, incluso en economías anémicas como la de Alemania, y el consumo de los hogares sigue siendo fuerte en la mayoría de las principales economías. Además, la rápida elevación de los precios del petróleo en el mes de septiembre, que había suscitado preocupaciones de otro shock negativo al crecimiento, se ha replegado desde entonces.
La economía estadounidense refleja esta dicotomía. El desempeño del mercado laboral y el consumo de los hogares siguen siendo relativamente robustos, pero tanto el sector manufacturero como el de servicios se están desacelerando. Las tensiones con los principales socios comerciales, incluidos China y la Unión Europea, y la incertidumbre con respecto al Acuerdo Estados Unidos-México-Canadá, han afectado la confianza, los beneficios y la inversión de las empresas.
A pesar de que Alemania continúa coqueteando con la recesión mientras su gobierno se hace el quite del estímulo fiscal, otras economías europeas han recogido parte de la holgura. Francia, los Países Bajos y España están experimentando un crecimiento modesto y un empleo robusto, a pesar del debilitamiento del comercio. Sin embargo, la economía de Italia parece haberse estancado, y el país continúa azotado por la incertidumbre política.
Subscribe now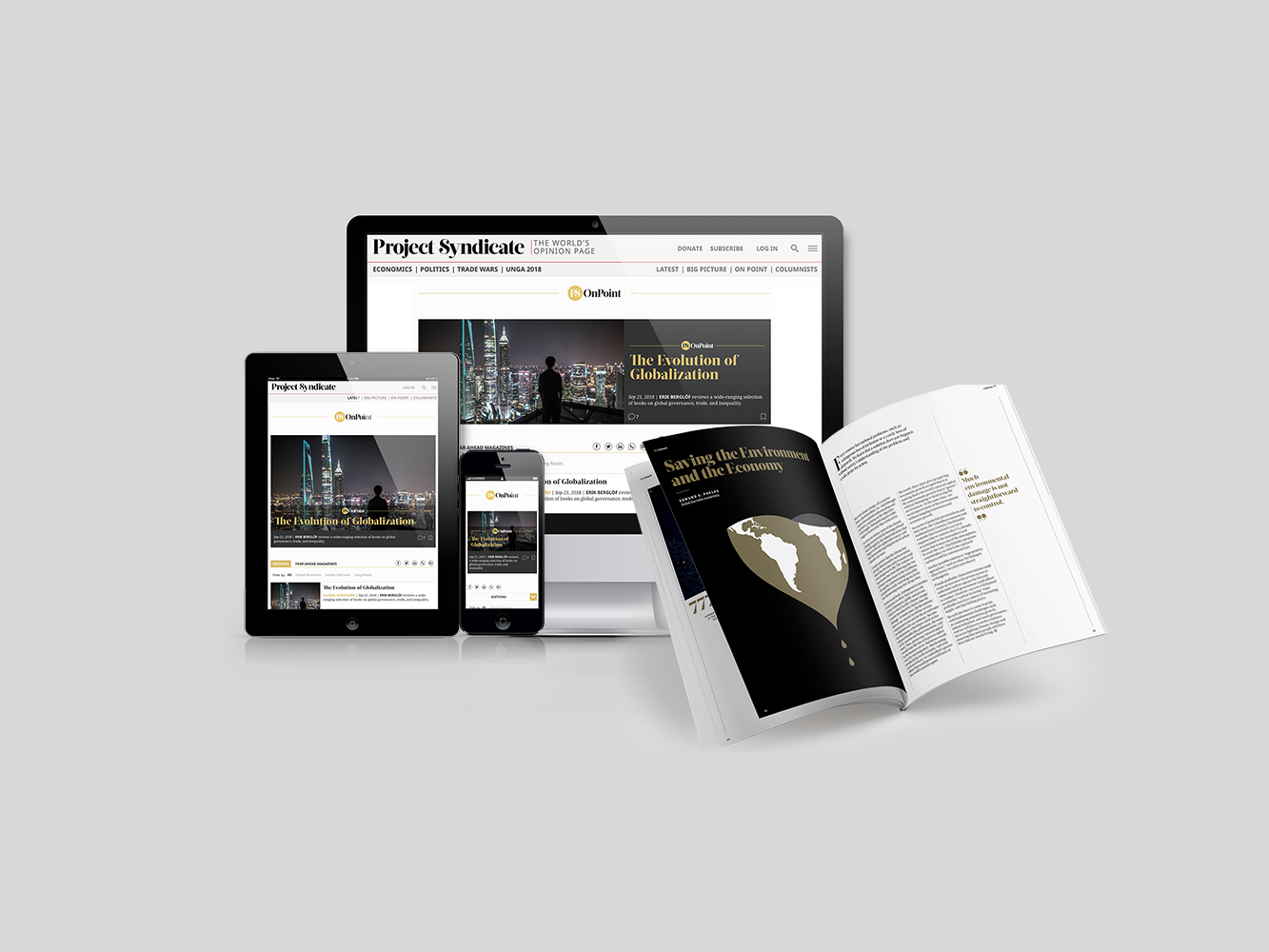 Subscribe now
Subscribe today and get unlimited access to OnPoint, the Big Picture, the PS archive of more than 14,000 commentaries, and our annual magazine, for less than $2 a week.
Japón se enfrenta a múltiples vientos en contra, incluida la débil demanda mundial, los efectos contractivos de un aumento de los impuestos sobre las ventas y una inflación obstinadamente baja. Las condiciones financieras siguen siendo débiles, al igual que la economía real. Los ánimos de las empresas y los consumidores se han desplomado, lo que, junto con los desafíos estructurales, demográficos y fiscales del país, auguran una mayor y más prolongada debilidad económica.
Las incertidumbres relacionadas con el Brexit siguen siendo dominantes en el Reino Unido. Los temores de una salida desordenada de la UE, y la actual agitación política interna, dejan poco espacio para el optimismo sobre las perspectivas económicas a corto plazo del país. La mayoría de los indicadores de la actividad económica del Reino Unido son planos o muestran un crecimiento mínimo.
Sin duda, las bajas tasas de interés en las economías avanzadas, junto con la reciente caída de los precios del petróleo, han ayudado a algunas de las grandes economías de los mercados emergentes. Aun así, la débil demanda mundial y las incertidumbres relacionadas con el comercio, además de las restricciones de la política interna, continúan siendo una carga que afecta su crecimiento.
Por ejemplo, la economía de China se está desacelerando de manera clara, aunque no tanto como algunos temían dada la guerra comercial en curso con Estados Unidos. Pero, no hay una perspectiva clara para una resolución duradera del conflicto, que continúa enfriando los ánimos empresariales chinos y el crecimiento de la inversión privada. La depreciación gradual del yuan frente al dólar ha sido ordenada hasta ahora, pero sólo ha tenido un impacto modesto en el crecimiento. Y, aunque el gobierno de China tiene espacio para más estímulos fiscales y monetarios, los encargados de formular políticas parecen estar dispuestos a dejar que el crecimiento se desacelere gradualmente a un nivel más sostenible, en lugar de aumentar el gasto y facilitar el acceso al crédito, lo que podría generar riesgos financieros a más largo plazo así como también otros tipos de riesgos.
Mientras tanto, la India está experimentando una fuerte desaceleración económica, impulsada en parte por condiciones crediticias ajustadas y un consumo doméstico débil. Recientemente, el gobierno redujo los impuestos corporativos y alivió las restricciones a la inversión extranjera directa, mientras que el Banco de la Reserva de la India ha inyectado un estímulo monetario significativo a través de recortes en las tasas de interés. Pero, sin una visión clara de las reformas económicas del gobierno, es poco probable que estas medidas revivan la inversión privada.
De hecho, el malestar económico se ha asentado en muchas economías clave de mercados emergentes. Brasil se ha tambaleado al borde de la recesión en los últimos meses, ya que el comercio, el empleo y los niveles de confianza siguen estancados. Del mismo modo, la economía de Rusia está experimentando un crecimiento cero o casi cero, según la mayoría de las medidas de actividad. Y, México también registró un crecimiento del PIB cero en el segundo trimestre de 2019. La única nota económica positiva en estos tres países es el crecimiento continuo del crédito al sector privado.
Dado el creciente riesgo de estancamiento, los gobiernos pronto tendrán pocas opciones, y les quedará solamente la opción de proporcionar un mayor estímulo macroeconómico. Para que este estímulo sea efectivo, los formuladores de políticas deberán coordinar las medidas fiscales y monetarias y emprenderlas en conjunto con reformas estructurales más amplias destinadas a mejorar las perspectivas de crecimiento a largo plazo. Sin embargo, si se tiene en cuenta que muchos gobiernos aparentemente carecen de la voluntad política para adoptar ese enfoque, es probable que la política monetaria continúe soportando la pesada y cada vez más insostenible carga de apoyar el crecimiento.
La dependencia constante de las tasas de interés de política que son negativas o muy bajas deja a los sistemas financieros cada vez más vulnerables y tiene poco impacto positivo en el crecimiento. Y, esta compensación desfavorable continuará a menos que los gobiernos asuman un compromiso más amplio con las reformas estructurales y el estímulo fiscal prudente. Si los formuladores de políticas no lo hacen, el estancamiento económico sincronizado continuará y podría dar paso a resultados mucho peores.
Traducción del inglés: Rocío L. Barrientos.
,