Peut-on mettre un terme à la stagnation synchronisée ?
ITHACA – Le ralentissement économique mondial se transforme en stagnation, certaines grandes économies n'ayant qu'une croissance faible, d'autres une croissance quasi nulle - voire même en légère contraction. Jusqu'à présent tout au moins, les craintes d'une récession mondiale imminente semblent prématurées. Mais les décideurs sont peu enclins à enclencher des réformes fondamentales. Par ailleurs, ils disposent d'une faible marge de manœuvre pour une relance macroéconomique efficace et semblent donc à court de moyens pour relancer la croissance.
Les raisons de ce ralentissement sont évidentes. Les tensions commerciales persistantes, l'instabilité politique, les risques géopolitiques et les inquiétudes relatives à l'efficacité limitée de la politique monétaire continuent d'éroder la confiance des entreprises et des consommateurs, ce qui freine les investissements et la croissance de la productivité. Les flux du commerce international sont directement touchés. L'Organisation mondiale du commerce a récemment réduit ses prévisions de croissance du commerce mondial en 2019 de 2,6 % à 1,2 %. En outre, le Baltic Dry Index, un indice commercial largement consulté fondé sur les prix d'expédition des marchandises sèches en vrac, a presque doublé au cours des huit premiers mois de cette année, mais a depuis baissé d'environ 30 %, ce qui a balayé tout espoir d'une reprise du commerce.
Dans l'intervalle, l'incertitude mondiale a maintenu la cote du dollar américain à un niveau fort par rapport à la plupart des autres principales devises. Bien que la valorisation du dollar ait subi certaines pressions des économies non-américaines dépendantes des exportations ou de capitaux étrangers, elle a fait augmenter le risque d'une guerre ouverte des monnaies.
En même temps, la tendance n'est pas unanimement maussade. Les marchés du travail restent en grande partie sains, même dans les économies autrement anémiques comme l'Allemagne et la consommation des ménages reste forte dans la plupart des grandes économies. En outre, l'envolée des prix du pétrole en septembre, qui avait suscité des inquiétudes quant à un nouveau choc négatif sur la croissance, s'est depuis estompée.
L'économie américaine tient compte de cette dichotomie. Les résultats des marchés du travail et de la consommation des ménages sont encore relativement solides, mais les secteurs de l'industrie et des services sont en train de ralentir. Les tensions avec les principaux partenaires commerciaux, notamment la Chine et l'Union européenne et l'incertitude au sujet de l'Accord Canada-États-Unis-Mexique, ont miné la confiance des entreprises, les gains et les investissements.
Bien que l'Allemagne continue à flirter avec la récession alors que son gouvernement évite les mesures de relance budgétaire, d'autres pays européens ont rattrapé une partie de leur retard. La France, les Pays-Bas et l'Espagne connaissent une croissance modeste et un emploi solide, malgré un fléchissement du commerce. Toutefois l'économie de l'Italie n'a pas l'air de se relever et le pays reste en proie à l'incertitude politique.
Subscribe now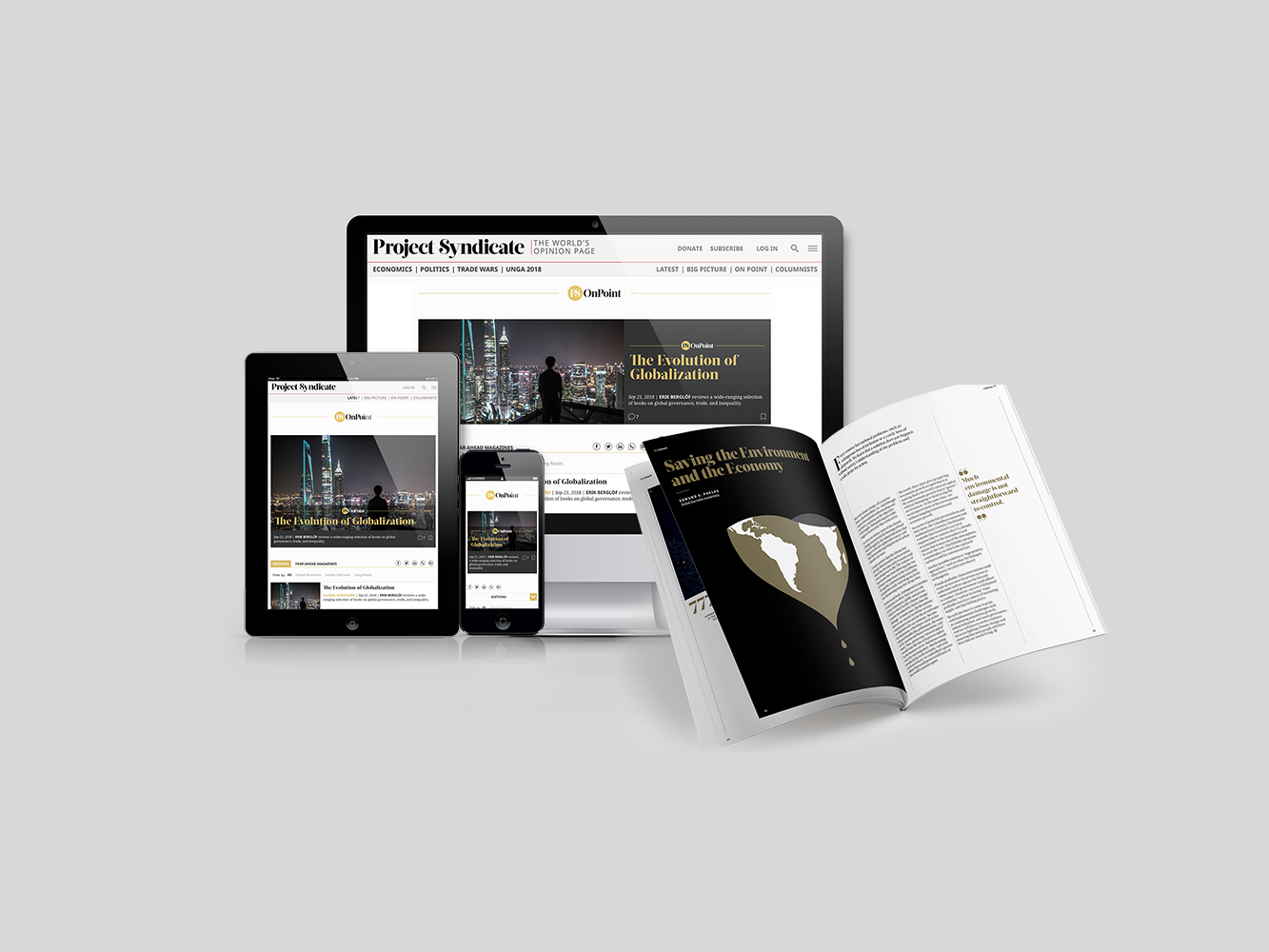 Subscribe now
Subscribe today and get unlimited access to OnPoint, the Big Picture, the PS archive of more than 14,000 commentaries, and our annual magazine, for less than $2 a week.
Le Japon fait face à de multiples difficultés, notamment à la faiblesse de la demande mondiale, aux  effets de contraction d'une augmentation de la taxe sur les ventes et à une inflation obstinément basse. Les conditions financières restent faibles, tout comme l'économie réelle. La confiance des entreprises et des consommateurs a plongé, ce qui, avec les défis structurels, démographiques et budgétaires du pays, laisse envisager une faiblesse économique prolongée.
Les incertitudes relatives au Brexit continuent d'accaparer le Royaume-Uni. Les craintes d'une sortie chaotique de l'UE, ainsi que les troubles politiques qui vont en découler sur le plan national, laissent peu de place à l'optimisme sur le plan économique. La plupart des indicateurs d'activité économique du Royaume-Uni sont soit à plat, soit affichent une croissance minime.
Les faibles taux d'intérêt dans les économies avancées, associés à la chute récente des prix du pétrole, ont bien évidemment favorisé certaines grandes économies émergentes. Toutefois la faiblesse de la demande mondiale et les incertitudes liées au commerce, outre les contraintes de politique intérieure, continuent à peser sur leur croissance.
Par exemple, l'économie de la Chine connaît clairement un ralentissement, bien que ce phénomène ne soit pas aussi marqué que prévu, compte tenu de la guerre commerciale actuelle avec les États-Unis. Mais il n'y a pas de pronostic clair sur un règlement durable du conflit, ce qui continue de décourager le climat d'affaires chinois et la croissance des investissements privés. La dépréciation progressive du renminbi par rapport au dollar a été fluide jusqu'à présent, mais elle n'a eu qu'un impact modeste sur la croissance. Bien que le gouvernement chinois ait les moyens pour davantage de relance fiscale et monétaire, les décideurs semblent prêts à laisser ralentir la croissance graduellement jusqu'à un niveau plus durable, plutôt que de stimuler les dépenses et de faciliter l'accès au crédit, ce qui pourrait créer des risques financiers à plus long terme et d'autres risques.
L'Inde connaît quant à elle un fort ralentissement économique, dû en partie au durcissement des conditions du crédit et à la faible consommation des ménages. Le gouvernement a récemment réduit les impôts et a assoupli les restrictions sur les investissements directs étrangers, tandis que la Banque de réserve de l'Inde a mis en œuvre des mesures de stimulation monétaire importantes par une baisse des taux d'intérêt. Mais sans une vision claire des réformes économiques du gouvernement, ces mesures ont peu de chances de relancer les investissements privés.
En fait, le malaise économique s'impose dans de nombreuses économies clés des pays émergents. Le Brésil chancèle au bord de la récession depuis ces derniers mois, alors que le commerce, l'emploi et les niveaux de confiance restent stagnants. De même, l'économie de la Russie connaît une croissance zéro ou proche de zéro, si l'on en croit la plupart des mesures d'activité. Le Mexique, à son tour, a enregistré une croissance du PIB nulle au deuxième trimestre 2019. La seule note économique positive dans ces trois pays est la croissance continue du crédit du secteur privé.
Compte tenu du risque croissant de stagnation, les gouvernements seront peut-être bientôt forcés de fournir d'autres mesures de relance macroéconomique. Pour que cela soit efficace, les décideurs devront coordonner les mesures budgétaires et monétaires et les effectuer en tandem avec d'autres réformes structurelles en vue d'améliorer les perspectives de croissance à long terme. Mais comme apparemment de nombreux gouvernements n'ont pas la volonté politique d'adopter une telle approche, la politique monétaire risque de continuer à assumer la lourde charge - de plus en plus intenable - visant à soutenir la croissance.
La dépendance persistante vis à vis de politiques de taux d'intérêt ultra-faibles ou négatives rend les systèmes financiers toujours plus vulnérables et a peu d'incidence positive sur la croissance. Ce compromis défavorable va se maintenir, à moins que les gouvernements ne prennent un engagement plus étendu de réformes structurelles et de relance budgétaire prudente. Si les décideurs n'y parviennent pas, la stagnation économique synchronisée va continuer - ce qui pourrait donner lieu à des résultats bien pires.
,