La stagnazione sincronizzata si può fermare?
ITHACA, NY – Il rallentamento dell'economia mondiale si sta trasformando in una stagnazione sincronizzata, laddove alcune delle economie più grandi crescono solo debolmente, mentre altre non crescono affatto, o addirittura registrano una lieve flessione. Almeno per il momento, i timori di una recessione imminente a livello globale sembrano prematuri. Tuttavia, essendo poco propensi a promuovere riforme radicali e avendo poco margine per uno stimolo macroeconomico efficace, i policy maker sembrano a corto di soluzioni per rilanciare la crescita.  
Le radici del rallentamento sono facilmente individuabili. Tensioni commerciali persistenti, instabilità politica, rischi di natura geopolitica e timori circa l'efficacia limitata dello stimolo monetario continuano a erodere la fiducia di aziende e consumatori, frenando gli investimenti e la crescita della produttività. Anche i flussi commerciali internazionali ne hanno risentito in modo diretto. Di recente, l'Organizzazione mondiale per il commercio ha ridimensionato le previsioni di crescita del commercio globale per il 2019 dal 2,6% ad appena l'1,2%. Inoltre, il Baltic Dry Index, un indice molto seguito basato sull'andamento dei costi del trasporto marittimo delle materie prime, è passato da un quasi raddoppio nei primi otto mesi dell'anno a un calo del 30% circa, annullando così le speranze di una ripresa del commercio.    
Nel frattempo, l'incertezza che si respira a livello internazionale ha mantenuto il dollaro statunitense forte rispetto a gran parte delle altre valute principali. Pur avendo allentato un po' la pressione sulle economie non statunitensi che dipendono dalle esportazioni o dai capitali stranieri, l'apprezzamento del biglietto verde ha incrementato il rischio di una guerra valutaria aperta.
Al tempo stesso, però, non tutti gli indicatori rimandano a scenari cupi. I mercati del lavoro continuano perlopiù a godere di buona salute, anche in economie altrimenti anemiche come la Germania, e il livello dei consumi delle famiglie resta elevato in quasi tutte le economie più grandi. Fra l'altro, l'impennata dei prezzi del petrolio registrata a settembre, che aveva sollevato timori di un altro shock negativo per la crescita, è successivamente rientrata.
L'economia statunitense riflette tale dicotomia. L'andamento del mercato del lavoro e dei consumi delle famiglie è ancora relativamente vigoroso, ma sia il settore manifatturiero che quello dei servizi stanno registrando un rallentamento. Le tensioni con i maggiori partner commerciali, tra cui la Cina e l'Unione europea, unitamente all'incertezza sull'accordo tra Stati Uniti, Messico e Canada, hanno sferrato un duro colpo alla fiducia, ai profitti e agli investimenti delle imprese.
Sebbene la Germania continui a flirtare con la recessione mentre il suo governo rifugge lo stimolo fiscale, altre economie europee si sono date più da fare per compensare. La Francia, i Paesi Bassi e la Spagna stanno registrando una modesta crescita e un buon livello occupazionale, malgrado un settore commerciale debole. L'economia dell'Italia, invece, sembra essere andata in arresto, e il paese resta in balia dell'incertezza sul piano politico. 
Subscribe now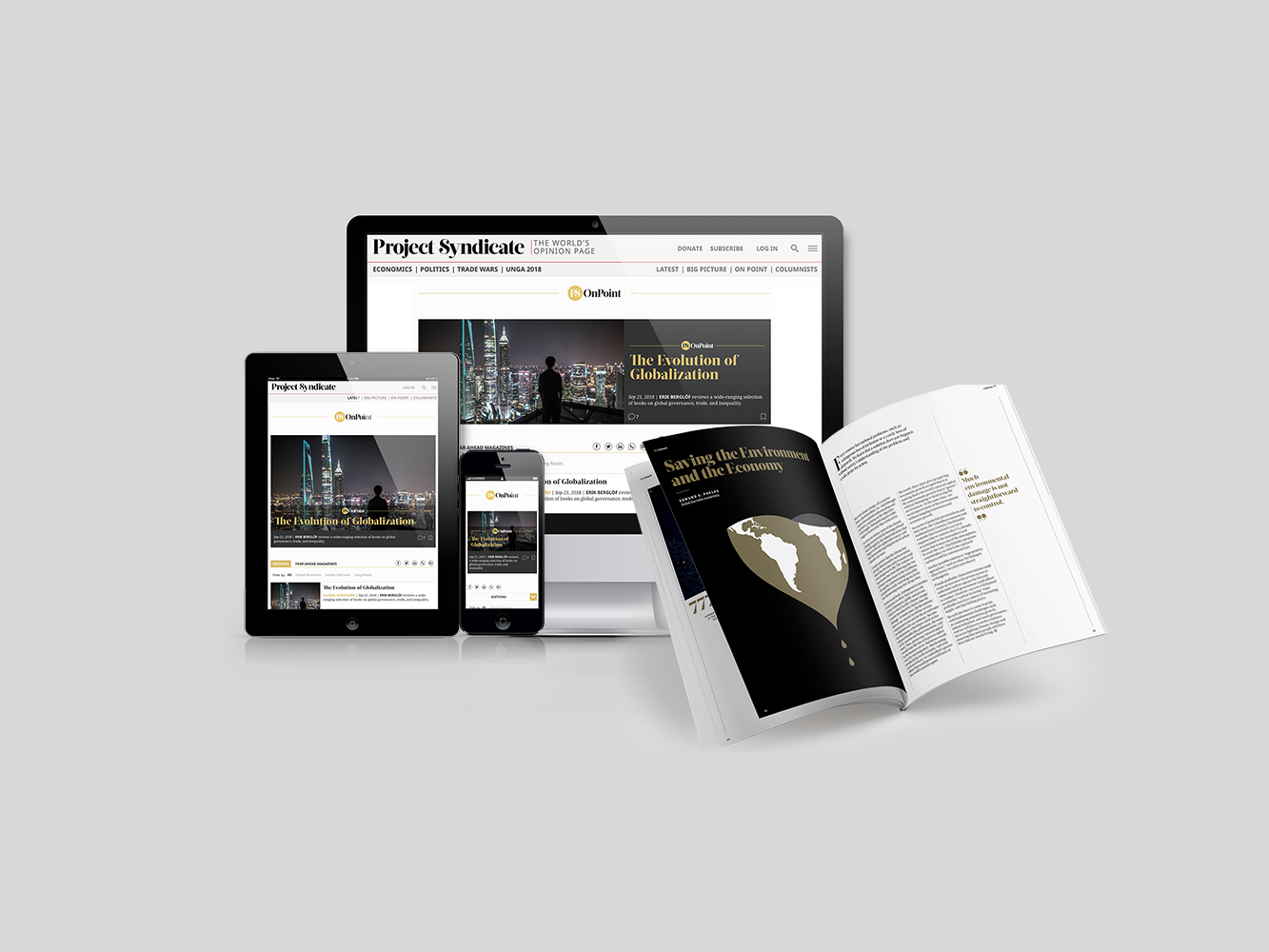 Subscribe now
Subscribe today and get unlimited access to OnPoint, the Big Picture, the PS archive of more than 14,000 commentaries, and our annual magazine, for less than $2 a week.
Il Giappone è alle prese con svariate turbolenze, tra cui una domanda globale debole, gli effetti depressivi di un aumento dell'imposta sul valore aggiunto e un'inflazione ostinatamente bassa. Le condizioni finanziarie restano deboli, così come resta debole l'economia reale. La fiducia delle imprese e dei consumatori è precipitata, il che, unito alle sfide strutturali, demografiche e fiscali del paese, lascia presagire che il periodo di fragilità economica perdurerà ancora.   
Le incertezze legate alla Brexit continuano a dominare la scena nel Regno Unito. Il timore di un'uscita disordinata dall'Ue, e gli attuali tumulti politici interni, rendono poco ottimisti sulle prospettive economiche a breve termine del paese. Gran parte degli indicatori dell'attività economica in Gran Bretagna parla di una crescita minima o piatta.
Certamente, i tassi di interesse a livelli minimi nelle economie avanzate, unitamente al recente calo dei prezzi del petrolio, hanno aiutato alcune grandi economie emergenti. Pur così, una domanda globale debole e le incertezze legate al commercio, oltre a problemi politici interni, continuano a pesare sulla loro crescita.
Ad esempio, l'economia della Cina sta palesemente rallentando, anche se non quanto alcuni temevano data la guerra commerciale in atto con gli Usa. Non vi sono, tuttavia, chiare indicazioni di una soluzione duratura al conflitto, che continua a incrinare la fiducia delle imprese cinesi e a scoraggiare la crescita degli investimenti privati. Il graduale deprezzamento del renminbi rispetto al dollaro finora è avvenuto in maniera ordinata, ma ha avuto un impatto solo modesto sulla crescita. E mentre il governo cinese ha la possibilità di valutare altri stimoli fiscali e monetari, i policy maker sembrano intenzionati a lasciare che la crescita rallenti per gradi fino a un livello più sostenibile invece di promuovere la spesa e facilitare l'accesso al credito, il che, nel lungo periodo, potrebbe incrementare i rischi finanziari e di altro tipo.   
L'India, nel frattempo, sta vivendo un netto rallentamento dell'economia, causato in parte dalle rigide condizioni creditizie e un abbassamento del livello dei consumi delle famiglie. Il governo ha recentemente diminuito le imposte sulle società e attenuato le restrizioni sugli investimenti stranieri diretti, mentre la Reserve Bank of India ha elargito importanti stimoli monetari attraverso il taglio dei tassi di interesse. Ma senza un chiaro piano di riforme economiche da parte del governo, tali misure difficilmente basteranno a rilanciare gli investimenti privati.      
In effetti, in molte importanti economie emergenti si è instaurato un malessere economico. Da alcuni mesi a questa parte, il Brasile vacilla sull'orlo della recessione dal momento che il commercio, l'occupazione e la fiducia continuano a ristagnare. Allo stesso modo, l'economia della Russia sta vivendo una crescita pari o prossima allo zero, secondo gran parte dei parametri dell'attività economica. E, nel secondo trimestre del 2019, anche il Messico ha registrato una crescita del Pil pari a zero. L'unica nota economica positiva che accomuna i tre paesi è la crescita costante dei prestiti nel settore privato. 
Dato il crescente rischio di stagnazione, i governi potrebbero presto non avere altra scelta che elargire ulteriori stimoli macroeconomici. Perché tale intervento risulti efficace, i policy maker dovranno coordinare le misure fiscali e monetarie e implementarle in concomitanza con riforme strutturali più ampie tese a migliorare le prospettive di crescita di lungo termine. Poiché, però, molti governi sembrano non avere la volontà politica di adottare un approccio di questo tipo, è assai probabile che la politica monetaria continuerà ad accollarsi l'onere pesante e sempre più insostenibile di promuovere la crescita. 
Continuare a fare affidamento su tassi di interesse ufficiali bassissimi o negativi rende i sistemi finanziari sempre più vulnerabili e ha scarsi effetti positivi sulla crescita. E questo compromesso sfavorevole è destinato a perdurare a meno che i governi non decidano di assumersi un impegno più ampio nel senso delle riforme strutturali e di un cauto stimolo fiscale. Se i policy maker non lo faranno, la stagnazione economica sincronizzata andrà avanti, con il rischio di possibili risvolti di gran lunga peggiori. 
Traduzione di Federica Frasca
,