Prevengamos la próxima pandemia
SYRACUSE – Los últimos brotes de enfermedades como el ébola y el zika han demostrado la necesidad de anticiparse a las pandemias y contenerlas antes de que aparezcan. Pero la enorme diversidad, resiliencia y transmisibilidad de las enfermedades mortales también pone de manifiesto en los términos más duros las dificultades inherentes a la contención y la prevención.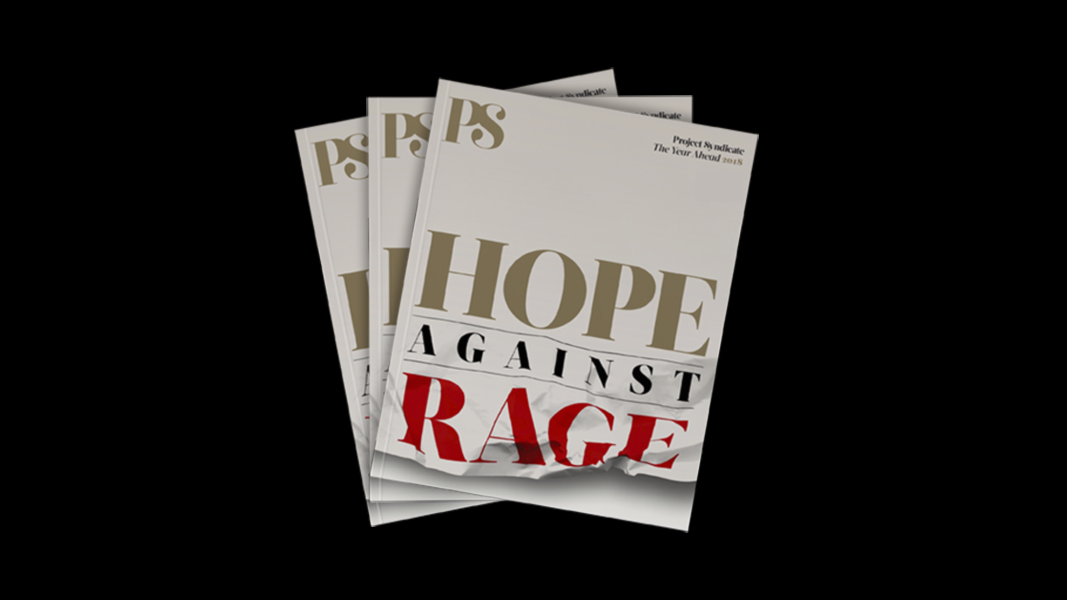 The Year Ahead 2018
The world's leading thinkers and policymakers examine what's come apart in the past year, and anticipate what will define the year ahead.
Una amenaza a la capacidad de prepararnos es el grado de conexión actual. Los brotes masivos de dengue, chikungunya y zika que hubo estos años en el continente americano y el Caribe fueron posibles por la facilidad que hay hoy para los viajes internacionales, que permitió a esos virus viajar como polizones de Oriente a Occidente. Pero hay otra amenaza más mundana: la incapacidad para ponernos de acuerdo en cuestiones de dinero. Cualquiera sea la razón, el hecho es que mientras los seres humanos no consigamos organizar una defensa colectiva e integral, las enfermedades infecciosas seguirán causando estragos, con consecuencias desastrosas.
La creación de una estrategia eficaz de prevención y contención (la biopreparación) es el mejor modo de reducir la amenaza de contagio global. Para estar preparados es necesaria una coordinación entre agencias y proveedores de fondos, que permita crear redes para un veloz despliegue y una administración accesible de vacunas, fármacos y protocolos que limiten la transmisión de la enfermedad. En pocas palabras, prepararse para la próxima pandemia implica no sólo crear capacidad global, sino también financiarla.
Esa es, al menos, la idea. Pero la realidad de la biopreparación es mucho más complicada. Para empezar, la ausencia de financiación dedicada obstaculiza en muchos países la implementación de estrategias de prevención a largo plazo; según un nuevo informe del Banco Mundial, sólo seis países (entre ellos, Estados Unidos) se tomaron la amenaza en serio. En tanto, la escasez de laboratorios y clínicas dificulta en muchas partes del mundo a los funcionarios de salud pública dar respuesta a los brotes de enfermedades. Y es común que muchos proveedores de fondos (incluidos gobiernos y ONG) no hagan compromisos por más de un año, lo que impide una planificación a largo plazo.
Científicos, médicos y actores de la sociedad civil llevan años alertando sobre la falta de inversión confiable, suficiente e institucionalizada en la preparación para afrontar pandemias. Lamentablemente, a la par de estas demandas, la financiación militar para la contención de ataques biológicos intencionales se ha mantenido firme. Es verdad que una acción maligna y deliberada para crear un brote infeccioso podría causar enorme daño, pero no deja de ser algo relativamente improbable. En cambio, los brotes por causas naturales se producen en forma regular y son mucho más costosos, aunque carezcan del sensacionalismo implícito en el "factor miedo" del bioterrorismo.
Hace no tanto, los que nos dedicamos a la prevención de brotes infecciosos nos sentíamos más seguros respecto de la disponibilidad de los recursos necesarios. Pero en muchos lugares, los presupuestos están estancados o incluso disminuyen. Esto ejemplifica una miopía sorprendente, dado que la prevención cuesta menos que la respuesta. Por ejemplo, ¿cuánto hubieran costado la construcción de una infraestructura clínica y de laboratorios y la capacitación del personal para identificar y prevenir el reciente brote de ébola en África occidental? Es difícil dar cifras exactas, pero estoy completamente seguro de que hubiera sido menos que los miles de millones de dólares gastados en la contención del brote. La preparación rinde.
No sólo es alarmante la falta de fondos; también lo son las restricciones al uso de los fondos disponibles. No es infrecuente que un subsidio sólo pueda usarse para determinadas actividades, lo que crea enormes agujeros en la capacidad de los programas para cumplir sus objetivos. Por ejemplo, puede ocurrir que el proveedor de fondos permita la renovación de un laboratorio ya instalado pero no la construcción de otro nuevo; o que los fondos puedan usarse para la compra de un aparato de diagnóstico pero no para capacitar al personal que deberá operarlo. En muchas comunidades de países en desarrollo ni siquiera hay instalaciones físicas para el análisis, la vigilancia o el almacenamiento de patógenos peligrosos. Esta miopía a la hora de proveer fondos, pasando por alto elementos esenciales del panorama general, es malgastar el dinero.
Si a esto se le añade la dificultad de remunerar al personal o garantizar la provisión confiable de electricidad y otros servicios esenciales, queda claro que la preparación contra brotes infecciosos demanda la colaboración a gran escala de la comunidad internacional de donantes. Pero por el momento, la imposición de onerosas normas relativas al gasto y la inestabilidad de los compromisos financieros atan las manos de los que trabajan para impedir que se produzca el próximo brote grave.
La cantidad de obstáculos a que se enfrentan los científicos y los expertos en salud pública en la carrera para contener las enfermedades infecciosas es asombrosa. Para superarlos, debemos redefinir nuestras ideas sobre la preparación y pasar de una postura reactiva a otra más proactiva. La financiación de las medidas de preparación debe asignar fondos suficientes para que realmente tengan el efecto necesario. Hay que flexibilizar las normas de uso. Hay que abrir fuentes de financiación con compromisos multianuales. Hay que dar capacitación adecuada a los proveedores de atención médica y al personal de respuesta inmediata. Y hay que ampliar y reforzar soluciones a largo plazo, como la creación y conexión de sistemas de biovigilancia, para que los profesionales en salud pública de todo el mundo puedan hacer un seguimiento e informe de enfermedades que afectan a seres humanos y animales, y planear defensas en forma conjunta.
La salud pública es un elemento esencial de la seguridad global. No invertir lo suficiente en la prevención de brotes infecciosos nos pone en riesgo a todos, sin importar dónde o cuándo se produzca el próximo.
Traducción: Esteban Flamini