De volgende pandemie voor zijn
SYRACUSE – Recente uitbraken van ziekten als ebola en zika hebben de noodzaak tot het anticiperen en indammen van pandemieën voordat ze eenmaal uitbreken aangetoond. Maar de enorme diversiteit, veerkracht, en besmettelijkheid van dodelijke ziekten hebben ook, in de meest onbedekte termen, onderstreept hoe moeilijk indamming en preventie kunnen zijn.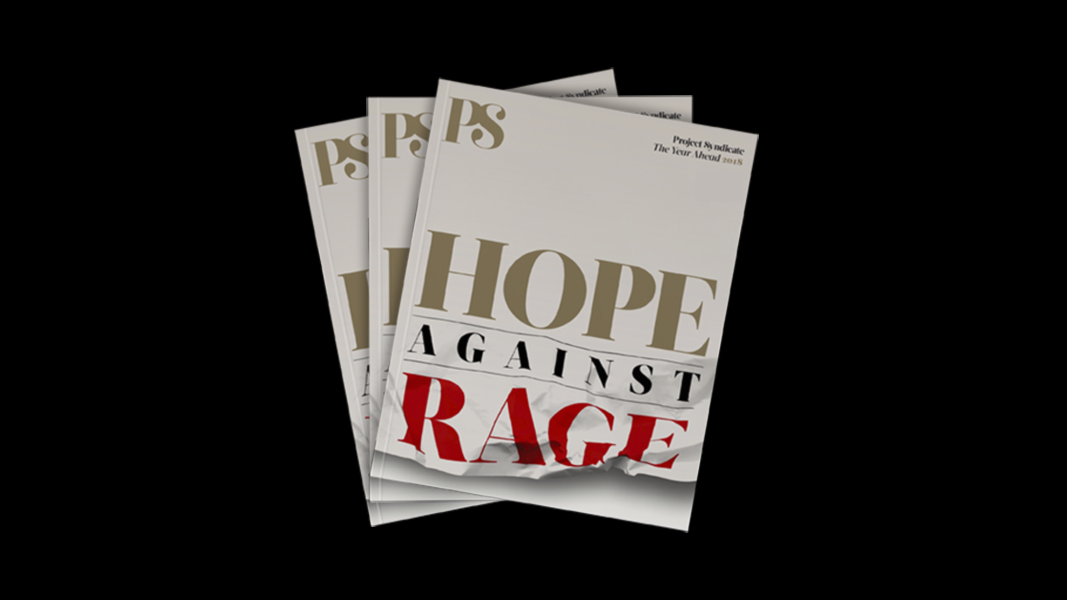 The Year Ahead 2018
The world's leading thinkers and policymakers examine what's come apart in the past year, and anticipate what will define the year ahead.
Eén bedreiging van onze gereedheid is onze verbondenheid. Het was dankzij makkelijk internationaal reizen dat het dengue-, chikungunya-, en zikavirus de afgelopen jaren in staat waren van oost naar west mee te liften, wat grote uitbraken in Noord- en Zuid-Amerika en het Caribisch gebied tot gevolg had. Een andere dreiging is echter banaler: het niet eens kunnen worden over geld. Wat de reden hiervoor ook moge zijn, het is een feit dat zolang mensen niet in staat zijn om een collectieve en algehele defensie te organiseren besmettelijke ziekten dood en verderf zullen blijven zaaien – met desastreuze consequenties.
Het opbouwen van een effectieve preventie- en indammingsstrategie – ofwel bio-geprepareerd zijn – is de beste manier om het gevaar van wereldwijde besmetting te reduceren. Geprepareerd zijn vereist coördinatie tussen instituties en financiers om netwerken op te bouwen die de snelle inzet van en toegang tot vaccins, medicijnen, en protocollen die de transmissie van de ziekte beperken mogelijk maken. Simpel gezegd betekent voorbereiding op de volgende pandemie niet alleen het opbouwen van mondiale capaciteit, maar ook de verantwoording nemen voor de kosten die dit met zich meebrengt.
Dat is het idee tenminste. De realiteit van bio-preparatie ligt veel gecompliceerder. Om te beginnen belemmert het gebrek aan gerichte financiering in veel landen de implementatie van lange termijn preventiestrategieën: een nieuw rapport van de Wereldbank laat zien dat slechts zes landen, waaronder de Verenigde Staten, de dreiging serieus nemen. Ondertussen worstelen functionarissen voor volksgezondheid in grote delen van de wereld om te antwoorden op ziekte-uitbraken, vanwege een tekort aan laboratoria en klinieken. En veel financiers, waaronder regeringen en ngo's, bieden meestal alleen slechts engagementen voor één jaar, wat een langetermijnplanning uitsluit.
Al jaren lang uiten wetenschappers, artsen, en actoren uit het maatschappelijk middenveld hun zorgen over het gebrek aan betrouwbare, zinvolle, en geïnstitutionaliseerde investeringen voor de voorbereiding op pandemieën. Deze pleidooien vallen frustrerend genoeg samen met het feit dat de militaire financiering voor het afslaan van bio-aanvallen, bewust gecreëerd door menselijke actoren, altijd robuust gebleven is. Maar ondanks dat moedwillige en misdadige uitbraken van infectieziekten enorme schade zouden kunnen toebrengen blijven ze relatief onwaarschijnlijk. Natuurlijk voorkomende uitbraken daarentegen komen regelmatig voor en zijn veel kostbaarder, zelfs al hebben ze niet de sensationele 'angstfactor' van bio-terrorisme.
Nog niet zo lang geleden voelden zij van ons die betrokken zijn bij de preventie tegen uitbraken van besmettelijke ziekten zich een stuk zekerder over de beschikbaarheid van de middelen die nodig zijn voor gereedheid. Maar op veel plekken stagneren de budgetten of worden ze zelfs kleiner. Dit is ongelooflijk kortzichtig, gegeven de relatieve kosten van preventie tegenover respons. Wat zou het bijvoorbeeld hebben gekost om de klinische en laboratorium infrastructuur op te bouwen en de training te geven benodigd om de recente ebola-uitbraak in West-Afrika te identificeren en te voorkomen? Precieze cijfers zijn niet beschikbaar, maar ik twijfel er niet aan dat deze kosten lager zouden zijn geweest dan de miljarden dollars uitgegeven aan indamming. Gereedheid betaalt zichzelf terug.
En het is niet alleen het gebrek aan fondsen dat de alarmbellen doet rinkelen; ook restricties op hoe de beschikbare fondsen gebruikt mogen worden doen dit. Het is niet ongewoon dat een gift wordt beperkt tot specifieke activiteiten, wat grote gaten doet vallen in de capaciteit van een programma om aan zijn doelstellingen te voldoen. Een donor kan bijvoorbeeld de renovatie van een bestaand lab toestaan maar niet de constructie van een nieuw; of fondsen kunnen de aankoop van een diagnostische machine steunen maar niet de training van de mensen die deze moeten bedienen. In veel ontwikkelingslanden beschikken gemeenschappen niet eens over de fysieke gebouwen om gevaarlijke pathogenen te testen, monitoren, of op te slaan. Kortzichtige financiering die over de sleutelelementen van het grotere plaatje heen kijkt is slecht besteed geld.
Tel bij deze uitdagingen de moeilijkheid om staf te betalen of om betrouwbare elektriciteit en andere essentiële diensten te garanderen op, en het wordt helder dat de voorbereiding op ziekte-uitbraken een breed engagement van de internationale donorgemeenschap vereist. Maar op dit moment binden te lastige regels voor uitgaven en zwakke financiële engagementen de handen van degenen die er hard aan werken de volgende serieuze ziekte-uitbraak te voorkomen.
Het aantal obstakels waar wetenschappers en experts op het gebied van volksgezondheid mee te maken hebben in de race om dodelijke infectieziekten in te perken is enorm. Om deze te overkomen moeten we herdefiniëren hoe we denken over gereedheid, en verschuiven van een reactieve naar een meer proactieve aanpak. Geld dat geoormerkt is voor gereedheid moet toegewezen worden op niveaus die voldoende zijn om de vereiste impact te hebben. Beperkingen op hoe het uitgegeven mag worden moeten opgeheven worden. Er moeten financieringsbronnen worden aangeboord die engagementen voor meerdere jaren toestaan. Aanbieders van gezondheidszorg en eerste hulp moeten goede training ontvangen. En langetermijnoplossingen zoals het opzetten en met elkaar verbinden van bio-surveillance systemen moeten worden uitgebreid en versterkt om professionals op het gebied van volksgezondheid van over de hele wereld in staat te stellen om menselijke en dierlijke ziekten in de gaten te houden en erover te rapporteren en om samen een defensie te plannen.
Volksgezondheid is een essentiële factor in de mondiale veiligheid. Als we er niet in slagen om voldoende te investeren in preventie van uitbraken van infectieziekten brengen we ons allemaal in gevaar, wanneer of waar de volgende ook plaatsvindt.
Vertaling Melle Trap