Опасность навязчивых идей Германии
ПАРИЖ – В Германии Христианско-демократический союз (ХДС) и его братская баварская партия Христианско-социалистический союз (ХСС) пытаются сформировать беспрецедентную правительственную «коалицию Ямайки» с либеральными «Свободными демократами» (СДП) и партией «Зелёных», а остальные страны Европы с нетерпением ждут, какая именно правительственная программа станет результатом этих переговоров.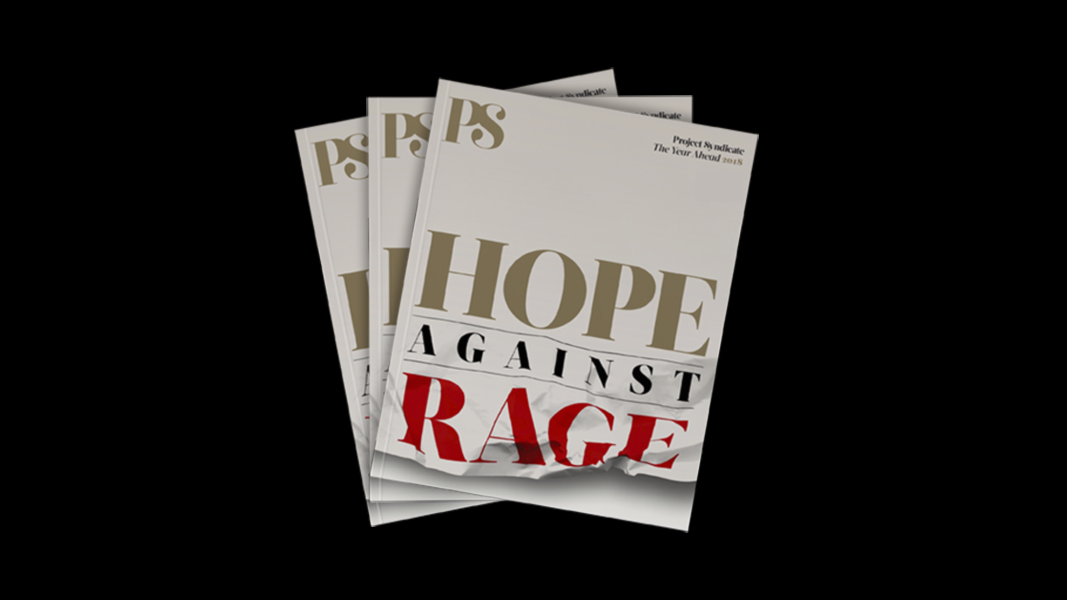 The Year Ahead 2018
The world's leading thinkers and policymakers examine what's come apart in the past year, and anticipate what will define the year ahead.
Для Европы ставки высоки, потому что времена сейчас необычные. Подъём экономического национализма, растущие угрозы безопасности, продолжающийся кризис беженцев – всё это повышает необходимость в коллективных действиях. Китай становится всё более самоуверенным, а администрация президента США Дональда Трампа открыто демонстрирует негативное отношение к Евросоюзу и с подозрением относится к экономической мощи Германии.
Внутри Евросоюза его фундамент подвергается тестированию Брекситом и своевольными правительствами Польши и Венгрии – двух стран, которые, как недавно отметил Констанц Штелценмюллер из Института Брукингса, пользуются всеми выгодами членства в ЕС, но при этом игнорируют соответствующие обязанности.
В таких условиях избрание Эммануэля Макрона президентом Франции в мае стало для Германии большим облегчением. Однако Макрон поставил Германию в некомфортное положение: ей придётся дать ответ на его предложения реформ в ЕС. Призвав к учреждению единого оборонного фонда ЕС, к налоговой гармонизации и созданию общего бюджета стран еврозоны, Макрон перевернул вверх дном статус-кво в Европе.
Вопрос теперь в следующем: сможет ли крупнейшая и самая процветающая страна Европы продемонстрировать те лидерские качества, которые нужны в столь трудные времена. На переговоры о будущей коалиции все партии пришли с весьма различающимися взглядами. В европейских вопросах ХДС канцлера Ангелы Меркель, находящаяся у власти 12 лет подряд, выступает за продолжение текущей политики. Однако позиция более консервативного ХСС сместилась вправо под влиянием конкуренции с популистской «Альтернативой для Германии» (AfD).
Что касается двух других партий, то СДП выбрала в отношении Европы жёсткую линию. Лидеры этой партии считают, что Греция должна выйти из еврозоны, а европейский механизм оказания финансовой помощи странам, испытывающим трудности, должен быть ликвидирован. «Зелёные», со своей стороны, желают углубления европейской интеграции, однако для них это не первоочередной приоритет; кроме того, они являются самой маленькой партией за столом переговоров.
В конечном итоге, на программе нового правительства, скорее всего, отразятся навязчивые опасения, будто другие страны ЕС хотят решить собственные проблемы с помощью немецких денег, а не путём внутренних реформ. Немецкие политики и лидеры общественного мнения практически любое предложение о реформах в ЕС оценивают сквозь эту призму перераспределения доходов. Предлагаемые механизмы, которые совершенно не касаются темы структурных трансфертов, рутинным образом препарируются с целью выяснить, не превратятся ли они в итоге в банкоматы для других стран ЕС.
Например, немцы считают единый бюджет не способом финансирования общественных благ, например, научных исследований или инфраструктуры, а инструментом принуждения Германии оплачивать расходы других стран. Аналогичным образом, единая система страхования от безработицы воспринимается как схема, призванная заставить немцев платить пособия испанским и французским безработным. Программа страхования банковских вкладов видится им способом обязать благоразумных немецких вкладчиков погашать плохие кредиты в Италии.
Да, все эти опасения могут быть вполне разумными. И, конечно, любые предложения надо проверять, чтобы убедиться в том, что они не приведут к злоупотреблениям и недобросовестному поведению. Европейская солидарность это не улица с односторонним движением.
Но в то же время немецкие лидеры должны понять, что их исключительное внимание к проблеме распределения доходов является токсичным. Им стоит вспомнить, как в 1979 году премьер-министр Великобритании Маргарет Тэтчер приехала на европейский саммит и заявила: «Я хочу получить мои деньги обратно». Ту же самую логику мы увидели почти 40 лет спустя во время кампании за выход Британии из ЕС, когда политики, выступавшие за Брексит, лживо утверждали, будто выход из Евросоюза поможет «вернуть деньги» Национальной службе здравоохранения.
Почему Германия стала настолько одержима страхом кому-то переплатить? В бюджете ЕС можно многое критиковать, но едва ли можно сказать, что он несправедлив к Германии. Германия является крупнейшим чистым донором этого бюджета, но лишь потому, что у неё самая большая экономика. В пересчёте на долю в чистом национальном доходе страны вклад таких стран, как Бельгия, Франция и Нидерланды, также является значительным.
Столь же необоснованны и немецкие опасения, будто Европейский стабилизационный механизм (ЕСМ) является каналом распределения скрытых трансфертов. Да, ЕСМ пользуется преимуществами низкой стоимости заимствований, которые, по сути, достаются занимающим странам. Если Греция не сможет выплатить свой долг, участники ЕСМ понесут убытки; и этот риск не учитывается в процентных ставках, которые платит Греция. Но пока что ЕСМ фиксирует только прибыли, а любые потенциальные убытки будут распределяться среди всех его участников, включая, например, Италию. ЕСМ совершенно не является машиной субсидирования, которую финансируют немецкие налогоплательщики.
Эксперты в Германии иногда недовольны так называемыми балансами в системе Tartget2, где регистрируется дефицит и профицит в двусторонних расчётах между национальными центральными банками и Европейским центральным банком. Например, Ханс-Вернер Зинн из Мюнхенского университета утверждает, что система Target превратилась в механизм скрытых операций, выгодных странам-должникам в южной Европе. Действительно, в сентябре чистый профицит Бундесбанка в расчётах с ЕЦБ составил 878 млрд евро ($1,2 трлн), а дефицит Италии и Испании равнялся 432 млрд и 373 млрд соответственно. Эти цифры демонстрируют высокую степень замещения частных потоков государственными.
Но опять же данный механизм не стоит Германии ни одного евро. Наоборот, система Target является, по сути, механизмом коллективного страхования: если национальный центральный банк объявит дефолт, тогда убытки будут распределены между всеми учредителями ЕЦБ. Тем самым, эта система позволяет немецким экспортёрам и дальше продавать свои товары в южной Европе, потому что гарантирует им оплату. Утверждения, что Германии она приносит одни убытки, являются просто ложными.
Политическим партиям всегда полезно реагировать на опасения электората. Но политики обязаны также просвещать избирателей, если их страхи преувеличены или необоснованны. Европе нужна Германия, которая будет блокировать сырые предложения. Но ей также нужна и Германия, способная преодолеть свои мелочные навязчивые идеи и стать подлинным лидером.
Ведя сейчас переговоры о коалиции, немецкие лидеры получили шанс дать оценку новому развитию событий в мире, которое будет иметь далекоидущие последствия как для Европы, так и для Германии. Им предстоит решить, какой путь более рискован – ничего не делать, или же взять инициативу в свои руки. Никто не ожидает радикальных поворотов, «обращения на пути в Дамаск». Но надо надеяться на то, что новое правительство будет более активно предлагать решения насущных проблем.