La obsesión peligrosa de Alemania
PARÍS – Mientras la Unión Demócrata Cristiana (CDU) de Alemania y su partido hermano bávaro, la Unión Social Cristiana (CSU), intentan conformar una "coalición Jamaica" sin precedentes junto con los Demócratas Libres (FDP) y los Verdes, el resto de Europa espera ansiosamente el programa de gobierno que resulte de sus negociaciones.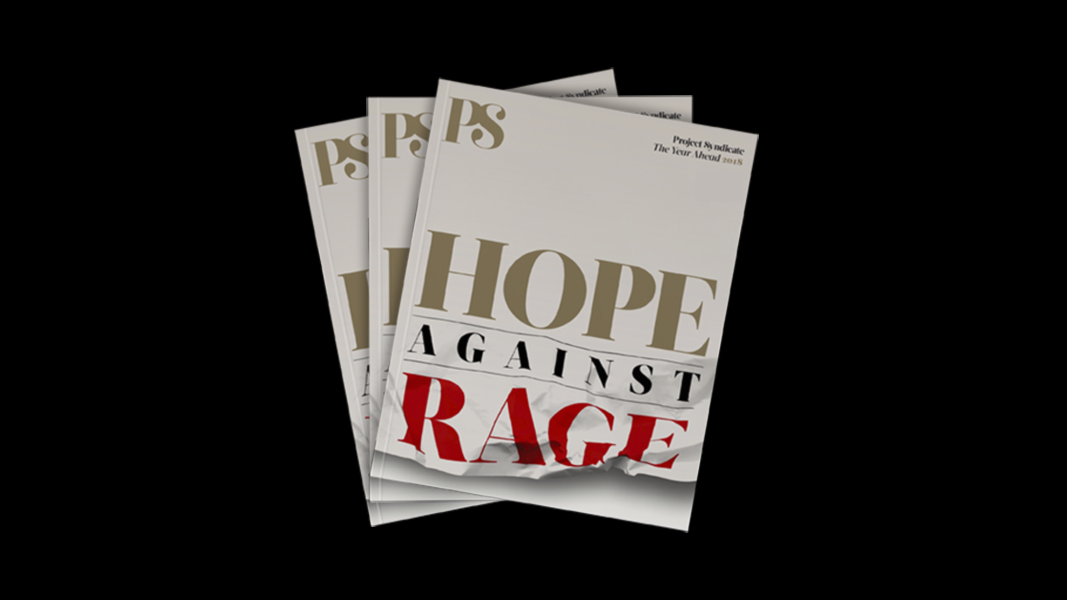 The Year Ahead 2018
The world's leading thinkers and policymakers examine what's come apart in the past year, and anticipate what will define the year ahead.
Las apuestas son altas para Europa, porque estos no son tiempos comunes. El ascenso del nacionalismo económico, las crecientes amenazas a la seguridad y la crisis de refugiados en curso han tornado más necesarias las respuestas colectivas. China se está volviendo cada vez más enérgica, mientras que la administración del presidente norteamericano Donald Trump ha dejado en claro su desdén por la Unión Europea y sus sospechas del poderío económico de Alemania.
En Europa, el fundamento de la UE es puesto a prueba por el Brexit, y por los gobiernos provocadores de Polonia y Hungría -dos países que, como observó recientemente Constanze Stelzenmüller de la Brookings Institution, gozan de los beneficios de pertenecer a la UE e ignoran las obligaciones que ello implica.
En este contexto, la elección de Emmanuel Macron a la presidencia francesa en mayo fue un alivio para Alemania. Sin embargo, Macron ha puesto a Alemania en la incómoda posición de tener que responder a sus propuestas de reformas a nivel de la UE. Al exigir un fondo de defensa común de la UE, una armonización fiscal y un presupuesto conjunto para la eurozona, Macron está cambiando drásticamente el status quo europeo.
La pregunta ahora es si el país más grande y más próspero de Europa ofrecerá el liderazgo que exigen estos tiempos difíciles. Cada partido en las conversaciones de la coalición lleva una perspectiva muy diferente a la mesa. En cuestiones europeas, la CDU de la canciller Angela Merkel, que ha estado en el poder durante 12 años consecutivos, aportará continuidad. Pero la CSU, más conservadora, está siendo empujada hacia la derecha por la competencia del populista Alternative für Deutschland (AfD).
En cuanto a los otros dos partidos, el FDP ha adoptado una línea dura hacia Europa. Sus líderes han sugerido que Grecia debería abandonar el euro y que tendría que desmantelarse el mecanismo de la UE para rescatar a países en problemas. Los Verdes, por otro lado, son proclives a profundizar la integración europea, pero ésa no es su primera prioridad, y son el partido más pequeño en la mesa de negociaciones.
En definitiva, el programa del nuevo gobierno probablemente refleje la sospecha de que otros estados miembro de la UE quieren resolver sus problemas con dinero de Alemania en lugar de con reformas domésticas. Los políticos y los formadores de opinión alemanes evalúan prácticamente cada propuesta de reforma a nivel de la UE a través de este prisma distributivo. Los esquemas que no están destinados a convertirse en transferencias estructurales normalmente se analizan minuciosamente hasta que se confirma que no se transformarán en un cajero automático para otros miembros de la UE.
Por ejemplo, los alemanes consideran que un presupuesto conjunto no es una manera de financiar los bienes públicos como la investigación o la infraestructura, sino un dispositivo para obligar a Alemania a cubrir los gastos de otros países. De la misma manera, un seguro de desempleo común es rechazado porque se lo considera un plan para hacer que los alemanes paguen por los trabajadores españoles o franceses desocupados. Y un programa de garantía de depósitos para los bancos es visto como una manera de obligar a los prudentes depositantes alemanes a pagar por préstamos morosos en Italia.
Sin duda, cada uno de estos temores puede ser legítimo. Todas las propuestas por cierto deberían ser analizadas meticulosamente para garantizar que no se abuse de ellas o que no introduzcan un riesgo moral. La solidaridad europea es un camino sin retorno.
Pero, al mismo tiempo, los líderes alemanes deben reconocer que su foco exclusivo en los efectos distributivos es tóxico. Deberían recordar aquel momento, en 1979, cuando la primera ministro británica Margaret Thatcher entró a una cumbre europea y dijo: "Quiero que me devuelvan mi dinero". La misma lógica se aplicó casi 40 años después durante la campaña por el Brexit, cuando los políticos de "Leave" (Salir) erróneamente decían que retirarse de la UE implicaría "recuperar dinero" para el Servicio Nacional de Salud.
¿Por qué Alemania se obsesionó tanto con el miedo de pagar demasiado? El presupuesto de la UE tiene muchas cosas criticables, pero no se puede decir que trate a Alemania de manera injusta. Alemania puede ser el contribuyente neto más importante, pero eso es porque tiene la economía más grande. Como porcentaje del ingreso nacional, países como Bélgica, Francia y Holanda también aportan una porción considerable de su ingreso neto.
Los temores alemanes de que el Mecanismo Europeo de Estabilidad sirva como un canal para transferencias ocultas son igualmente infundados. Es verdad, el MEDE se beneficia de costos de endeudamiento bajos, que se transfieren esencialmente a los países deudores. Si Grecia no puede pagar su deuda, los accionistas del MEDE sufrirán una pérdida; y ese riesgo no se considera en la tasa de interés que paga Grecia. Pero, hasta el momento, el MEDE siempre ha registrado ganancias, y cualquier pérdida que sufra será distribuida entre todos los accionistas -inclusive, por ejemplo, Italia-. El MEDE dista mucho de ser una máquina de subsidios financiada por el contribuyente alemán. 
Algunos en Alemania también cuestionan los llamados balances Target2, que registran excedentes y déficits bilaterales de los bancos centrales nacionales con respecto al Banco Central Europeo. Hans-Werner Sinn de la Universidad de Múnich, por ejemplo, sostiene que el sistema Target se ha vuelto un conducto para operaciones ocultas que benefician a los países deudores en el sur de Europa. Es cierto, en septiembre, el Bundesbank tenía un excedente neto de 878.000 millones de euros (1,2 billón de dólares) frente al BCE, mientras que Italia y España tenían déficits de 432.000 millones de euros y 373.000 millones de euros, respectivamente. Estas posiciones reflejan el grado en que los flujos oficiales siguen sustituyendo los flujos privados.
Pero, una vez más, este acuerdo no le ha costado a Alemania ni un solo euro. Por el contrario, el sistema Target es, esencialmente, un plan de seguro colectivo: si un banco central nacional incurriera en un incumplimiento de pago, la pérdida será compartida entre todos los accionistas del BCE. El sistema, por ende, les permite a los exportadores alemanes seguir vendiendo sus productos en el sur de Europa,  porque garantiza que les pagarán. El reclamo de que con esto Alemania pierde es lisa y llanamente falso.
Siempre a los partidos políticos les interesa responder a los miedos del electorado. Pero los políticos también tienen la obligación de hacerles saber a los votantes cuándo sus miedos son excesivos o infundados. Europa necesita a una Alemania que vete las propuestas mal concebidas. Pero también necesita a una Alemania que pueda superar sus obsesiones estrechas y ofrecer liderazgo. 
Con las conversaciones actuales de la coalición, los líderes alemanes tienen la oportunidad de evaluar los nuevos progresos globales que tendrán implicancias de amplio alcance para Europa y Alemania por igual. Deben decidir si es más riesgoso no hacer nada o tomar la iniciativa. Nadie espera una conversación damasquinada. Pero sí esperamos un gobierno que sea más comunicativo a la hora de ofrecer soluciones.