Der deutsche Anker Europas auf dem Prüfstand
BERLIN – Das Ergebnis der deutschen Bundestagswahl birgt eine entscheidende Lektion für die Europäische Union: nicht einmal das Land, das sich in Krisenzeiten als Stabilitätsanker der EU erwies, ist gegen politische Zersplitterung und Polarisierung immun. Obwohl Kanzlerin Angela Merkel mit ziemlicher Sicherheit eine vierte Amtszeit erringen wird, dürfte ihre neue Regierung auf erheblich schwächeren Beinen stehen als dies bei den drei Regierungen davor der Fall war.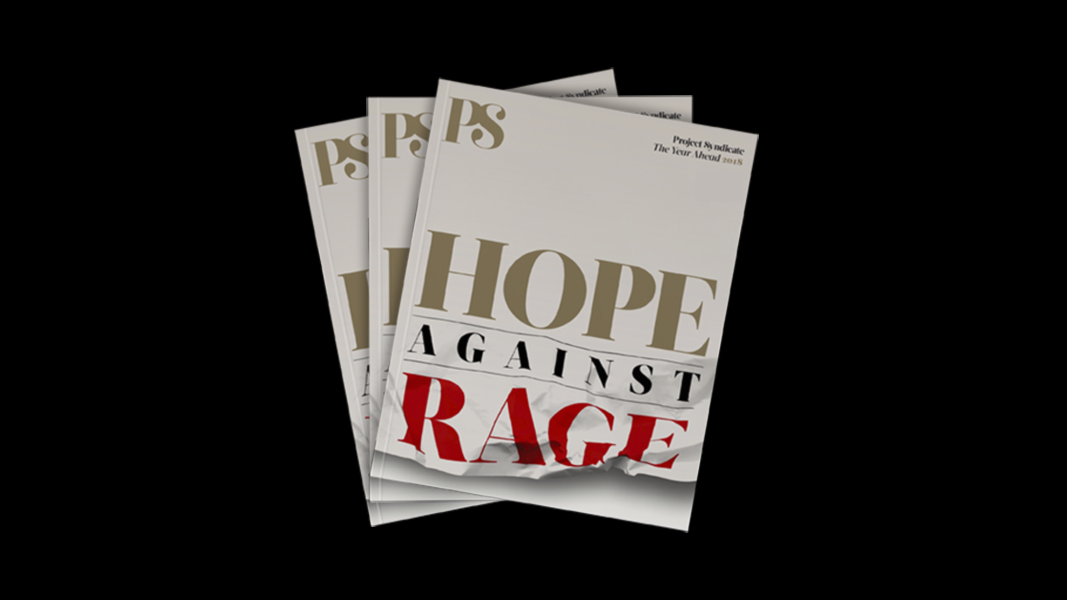 The Year Ahead 2018
The world's leading thinkers and policymakers examine what's come apart in the past year, and anticipate what will define the year ahead.
Im Bundestag sind nun sechs Fraktionen vertreten, während es in der Wahlperiode davor nur vier waren. Mit 33 Prozent der Wählerstimmen erzielte Merkels Christlich Demokratische Union das schlechteste Wahlergebnis seit 1949, obwohl es reichte, um der CDU die meisten Sitze im Bundestag zu sichern. Die Sozialdemokraten (SPD) - Deutschlands zweitgrößte Partei und Koalitionspartner in Merkels letzter Regierung – errangen einen Stimmenanteil von lediglich 20,5 Prozent und sanken damit auf den tiefsten Stand der Nachkriegszeit.
Unterdessen gewann die populistische Alternative für Deutschland (AfD) 12,6 Prozent der Stimmen. Mit dieser prorussischen, stramm fremdenfeindlichen Anti-Euro-Partei wird erstmals seit 60 Jahren wieder eine rechtsextreme Partei im Bundestag vertreten sein. Und die SPD hat bereits das Handtuch geworfen und angekündigt, die nächste Gesetzgebungsperiode in Opposition verbringen zu wollen.  
Daher wird Deutschland wohl von einer so genannten Jamaica-Koalition regiert werden, die ihren Namen von den Farben der Parteien hat, aus denen sie bestehen wird – nämlich CDU, Grüne und Freie Demokraten (FDP). Doch eine derartige Koalition wird aufgrund der heterogenen außenpolitischen Positionen der Parteien schwer zu kontrollieren sein.
Aber auch innerhalb der von der SPD angeführten Opposition werden sich tiefe Gräben auftun. Tatsächlich ist es unwahrscheinlich, dass es mit der AfD in irgendeinem Bereich überhaupt eine Zusammenarbeit geben wird. SPD und AfD verbinden beinahe überhaupt keine gemeinsamen Werte und Letztere hat bereits erklärt, ihr wichtigstes Ziel bestünde darin, die anderen Parteien mit populistischem und nationalistischem Schwulst zu jagen. Aus diesem Grund sind auch jahrzehntealte Regeln des parlamentarischen Anstands und der Kollegialität in Gefahr.  
In Anbetracht der zentralen Rolle des Bundestags bei der Gestaltung der deutschen EU-Politik könnte dies die Fähigkeit der Regierung Merkels schmälern, jene Art Führerschaft zu bieten, die Europa derzeit braucht.
Freilich gibt es auch gute Nachrichten. Der Sieg von Merkels CDU, so mager er auch ausfiel, birgt Elemente der Kontinuität, auf denen es aufzubauen gilt. Merkels umgehend geäußerte Entscheidung, die Verantwortung für die Bildung einer tragfähigen Regierungskoalition zu übernehmen, heißt, dass ihr Engagement zur Erhaltung der EU und ihre standhafte Verteidigung der Demokratie und westlicher Werte weiterhin die Politik in Deutschland bestimmen werden. Mäßigung, Stabilität und internationale Offenheit werden Deutschlands Maxime bleiben, unabhängig davon, wie viel hässliche Rhetorik die AfD von sich gibt.
Im Hinblick auf aktive Maßnahmen als Reaktion auf internationale Herausforderungen werden sich Deutschlands Partner allerdings in Geduld üben müssen. Insbesondere wird erwartet, dass Merkel zwar eng mit dem proeuropäischen französischen Präsidenten, Emmanuel Macron, zusammenarbeitet, um ein neues Modell der EU-Integration für die Zeit nach dem Brexit zu konzipieren, aber das wird wohl nicht auf der Stelle passieren.
Allein die Bildung einer Koalitionsregierung – vor allem einer konservativ-liberal-grünen Koalition – wird wohl Monate in Anspruch nehmen. Die im nächsten Monat stattfindenden Landtagswahlen in Niedersachsen, wo sich die AfD erhebliche Unterstützung sicherte, fügt der Situation noch ein weiteres Element der Unsicherheit hinzu. 
Aber selbst nach dieser Wahl werden sich Kompromisse nicht so leicht erzielen lassen. Der bayrischen Christlich Sozialen Union (CSU) – Schwesterpartei der CDU – stehen im nächsten Herbst Landtagswahlen bevor. Angesichts der Tatsache, dass sie schon den heißen Atem der AfD im Nacken spürt, hat die CSU bereits ihre Kritik an Merkels Einwanderungspolitik verschärft und wird wohl auch versuchen, die Kanzlerin nächstes Jahr noch weiter nach rechts zu drängen.
Das vielleicht heikelste Thema für die Koalitionsparteien wird die Eurozone sein. An dieser Front sind die Haltungen der FDP und der Grünen konträr, insbesondere im Hinblick auf gemeinsames Krisenmanagement, wechselseitige Versicherungsmechanismen und haushaltspolitische Instrumente. Dennoch könnte sich dieses Ringen um gemeinsame Positionen für die EU als nützlich erweisen, da sich ihre Spitzenpolitiker bemühen, ein Gleichgewicht zwischen der Verantwortung der Mitgliedsstaaten und jenen Institutionen der Eurozone zu schaffen, die eine Währungsunion für ihre einwandfreie Funktion braucht.
Für die deutschen Koalitionsparteien – von der französischen und der deutschen Regierung ganz zu schweigen – könnte es sich als einfacher herausstellen, ein neues Rahmenwerk bilateraler und europäischer Sicherheitszusammenarbeit zu schmieden. Umfragen zeigen, dass die Bedenken hinsichtlich Terrorismus und innerer Sicherheit stärker sind als die Ängste vor Immigration. Nimmt man sich dieser drängenden Probleme auf europäischer Ebene an, wie Merkel dies in ihrer Siegesrede vorschlug, könnte man mit der Unterstützung für Europa letztlich die unzufriedenen Wähler zurückgewinnen, die der AfD ihre Stimme gaben. 
Unabhängig von der Regierung, die in Deutschland in den kommenden Wochen gebildet wird, müssen ihre Spitzenvertreter mehr Anstrengungen unternehmen, ihre politischen Entscheidungen den Bürgern und internationalen Partnern gleichermaßen zu erklären. Mit der AfD im Bundestag wird die deutsche Öffentlichkeit radikalere Positionen in auswärtigen Angelegenheiten erleben – von der Führung der EU bis hin zu den Beziehungen mit Russland – als dies seit einer Generation der Fall war. Obwohl die politische Mitte in Deutschland hielt, steht die Konsensfindung noch auf dem Prüfstand.
Aus dem Englischen von Helga Klinger-Groier