L'ancrage allemand de l'Europe mis à l'épreuve
BERLIN – Les résultats des élections fédérales en Allemagne sont une leçon déterminante pour l'Union européenne : même le pays qui a été le fondement de la stabilité de l'UE au plus fort de la crise n'est pas à l'abri de la fragmentation politique ni de la polarisation. Bien que la Chancelière Angela Merkel soit presque certaine de remporter un quatrième mandat, son nouveau gouvernement risque d'être considérablement plus faible que les trois précédents.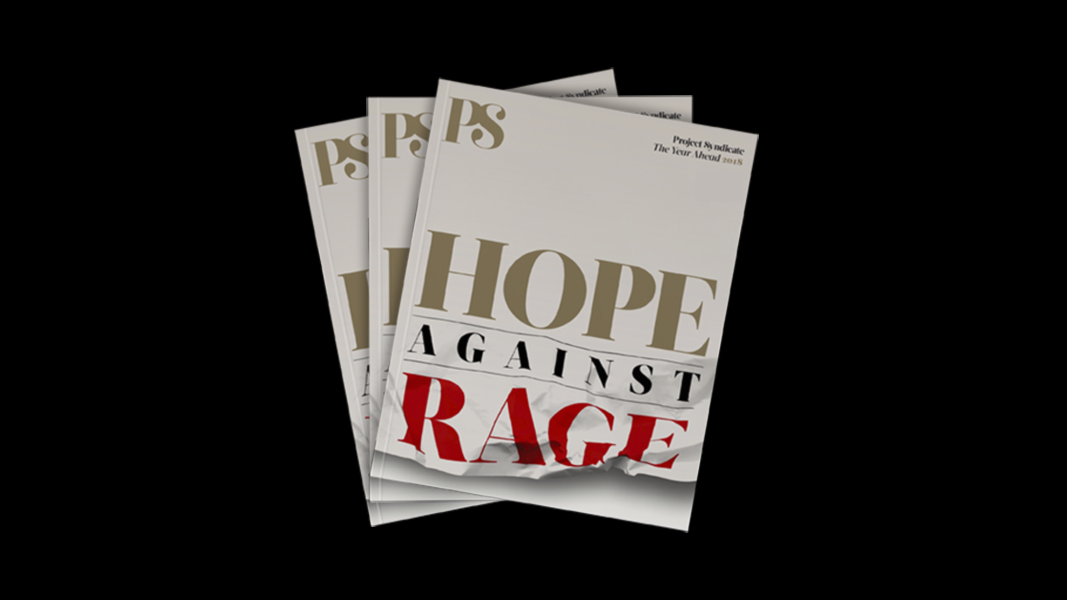 The Year Ahead 2018
The world's leading thinkers and policymakers examine what's come apart in the past year, and anticipate what will define the year ahead.
Le Bundestag compte désormais six factions, contre quatre dans la précédente législature. L'Union démocratique chrétienne (CDU) de centre-droit de Merkel a remporté 33 % des voix, son plus mauvais résultat depuis 1949, bien que cela suffise à donner à la CDU la majorité de sièges au Parlement. Le Parti social-démocrate d'Allemagne (SPD), le deuxième plus grand parti politique, ainsi qu'une partie de la dernière coalition Merkel, a également atteint son plus faible score depuis l'après-guerre, avec seulement 20,5 % des voix.
Entre-temps, le parti populiste Alternative für Deutschland (AfD) a remporté un score de 12,6 %, en faisant de ce parti anti-euro, pro-russe et résolument xénophobe le premier parti d'extrême-droite à entrer au Bundestag depuis près de 60 ans. En outre, le Parti social-démocrate d'Allemagne (SPD) a jeté l'éponge, en promettant de passer la prochaine période électorale dans l'opposition.
Dans ce contexte, l'Allemagne a des chances d'être gouvernée par la coalition « Jamaïque », qui doit ce nom aux couleurs des partis qui la composent : la CDU, les Verts, et le Parti libéral-démocrate (FDP). Mais une telle coalition sera difficile à gérer, en raison de l'hétérogénéité des positions des partis en matière de politique étrangère.
De même, l'opposition menée par le SPD sera accablée par de profondes divisions. En effet, il est peu probable qu'il coopère sur quelque question que ce soit avec ses collègues du parti d'opposition, l'AfD. Le SPD ne partage presque aucune valeur avec l'AfD, qui a déjà déclaré que son principal objectif serait de harceler les autres partis par sa grandiloquence populiste et nationaliste. En conséquence, les normes parlementaires de décorum et de collégialité, vieilles de plusieurs décennies, sont menacées.
Étant donné le rôle central du Bundestag allemand dans l'élaboration de la politique de l'UE, cela pourrait affaiblir la capacité du gouvernement de Merkel à exercer le genre de leadership nécessaire actuellement en Europe.
Il y a bien sûr quelques bonnes nouvelles. La victoire du CDU de Merkel, bien que faible, implique des éléments de continuité sur lesquels il sera possible de s'appuyer. La décision rapide de Merkel d'assumer la responsabilité de former un gouvernement de coalition viable, signifie que son engagement en faveur de la préservation de l'UE et sa défense fervente de la démocratie et des valeurs occidentales vont continuer à guider l'élaboration de la politique allemande. La modération, la stabilité et l'ouverture internationale restent les maîtres mots de l'Allemagne, en dépit de toute la rhétorique déplaisante vomie par l'AfD.
Mais en termes d'action sur les défis internationaux, les partenaires de l'Allemagne devront se montrer patients. En particulier, si Merkel doit coopérer étroitement avec le Président pro-européen Emmanuel Macron, en vue de forger un nouveau modèle d'intégration de l'UE après le Brexit, il est peu probable que cela se produise dans l'immédiat.
La formation d'une coalition à elle seule (en particulier, une coalition conservatrice-libérale-verte), va probablement prendre plusieurs mois. Les prochaines élections nationales en Basse-Saxe, où l'AfD a obtenu un soutien important, viennent y ajouter un nouvel élément d'incertitude.
Même après ces élections, le compromis risque de ne pas être facile. L'Union chrétienne-sociale en Bavière (CSU), le parti frère de la CDU, devra faire face à une élection nationale à l'automne prochain. Talonné de près par l'AfD, la CSU a déjà aiguisé sa critique de la politique d'immigration de Merkel et va sûrement tenter de pousser la Chancelière davantage vers la droite au cours de l'année à venir.
La question probablement la plus épineuse pour les partis de coalition sera celle de la zone euro. Les positions du FDP et des Verts s'opposent sur ce front, en particulier lorsqu'il s'agit de la gestion commune des crises, des mécanismes d'assurance mutuelle et des outils fiscaux. Mais cette lutte pour trouver un terrain d'entente peut s'avérer utile pour l'UE élargie, à l'heure où ses dirigeants tentent de trouver un équilibre entre la responsabilité des gouvernements des États membres et les institutions à l'échelle de la zone euro, dont l'union monétaire a besoin pour fonctionner efficacement.
Il peut s'avérer plus facile pour les partis de la coalition de l'Allemagne (sans parler des gouvernements français et allemand), d'instaurer un nouveau cadre de coopération bilatérale et de sécurité européenne. Des sondages montrent que les préoccupations concernant le terrorisme et la sécurité intérieure l'emportent sur les craintes au sujet de l'immigration. Si l'on pose ces questions pressantes à l'échelle européenne, comme Merkel l'a laissé entendre dans son discours de victoire, le soutien en faveur de l'Europe pourrait finir par regagner les électeurs mécontents qui ont voté pour l'AfD.
Quel que soit le gouvernement qui sera mis en place en Allemagne dans les semaines à venir, ses dirigeants devront consacrer de plus grands efforts à expliquer leurs choix politiques à leurs citoyens et à leurs partenaires internationaux. Avec l'AfD au Bundestag, l'opinion publique allemande va être exposée à davantage de positions radicales sur les affaires étrangères (sur la direction de l'UE et sur les relations avec la Russie), par rapport à ce qu'elle a connu depuis plus d'une génération. Alors que le centre allemand a tenu le choc, son consensus est sur le point d'être mis à l'épreuve.