Las personas no bancarizadas merecen crédito
TORONTO – En un mar de malas noticias, puede que pronto haya una esperanzadora. Se espera que las últimas cifras del Banco Mundial sobre la bancarización de las personas, que se publicarán el año entrante, muestren un aumento de la posesión de cuentas personales en bancos u otras instituciones financieras formales.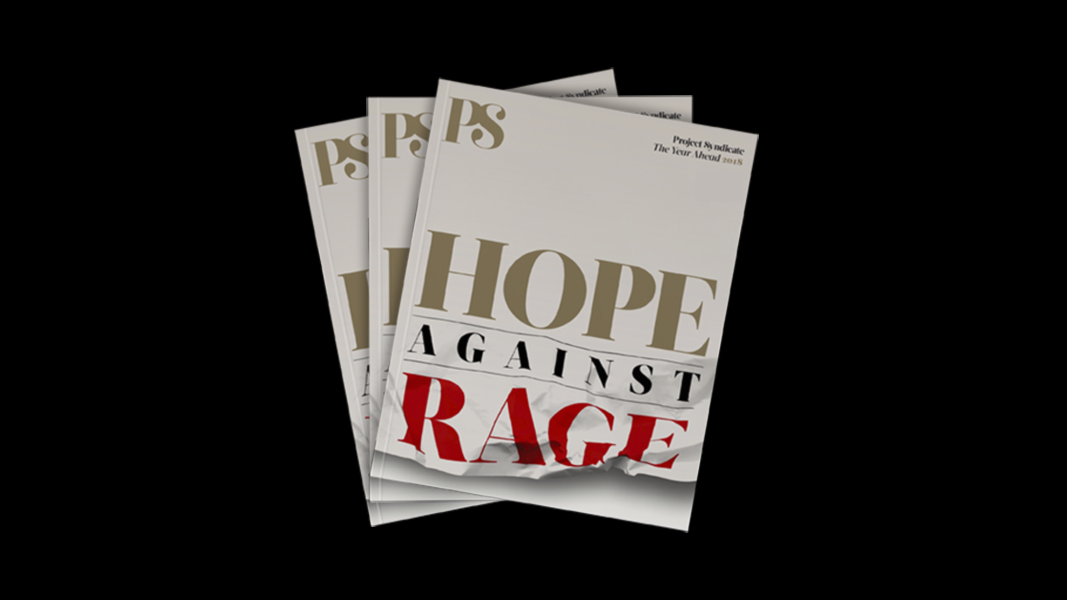 The Year Ahead 2018
The world's leading thinkers and policymakers examine what's come apart in the past year, and anticipate what will define the year ahead.
La última vez que el Banco Mundial publicó el informe Global Findex, en abril de 2015, se calculaba que en los tres años anteriores habían tenido acceso a servicios financieros unos 700 millones de adultos, la mayoría de ellos en países en desarrollo. Eso suponía un aumento de más del 21% en la cifra global de personas "bancarizadas". Ampliar el acceso a servicios financieros es una herramienta en la lucha contra la pobreza, de modo que cualquier aumento de este indicador es una señal positiva en materia de desarrollo humano.
Pero en la Fundación Mastercard no cantamos victoria: digan lo que digan las cifras del Banco Mundial, la inclusión financiera universal de los más pobres del mundo sigue siendo una meta lejana.
Todavía hay unos dos mil millones de adultos sin acceso a servicios financieros formales, lo que se debe a la persistencia de algunos obstáculos que es preciso superar, por ejemplo: demasiadas exigencias de documentación, altas comisiones, falta de cercanía de sucursales bancarias y la idea de que las instituciones financieras son "sólo para los ricos".
En la Fundación Mastercard, estamos comprometidos con ayudar a eliminar estas barreras que perjudican a los más pobres del mundo. Este mes celebramos en Acra (Ghana), por quinto año consecutivo, el Simposio sobre Inclusión Financiera, en el que se reunieron cientos de proveedores de servicios financieros, funcionarios de gobierno, académicos y expertos en desarrollo, para examinar el modo de ampliar y profundizar la inclusión financiera.
Un tema que se repite en todas las ediciones de este congreso internacional, desde la primera en 2013, es que las instituciones financieras deberían hacer más por las necesidades de los clientes más pobres. Los bancos no suelen tener en cuenta las conductas y aspiraciones de estas personas, por lo que no siempre ofrecen los productos y servicios que necesitan. Pero con un cambio de las prioridades de la industria, la exclusión se reduciría.
Modificar la situación actual no debería ser tan difícil; después de todo, cuando a la gente le va bien, a los bancos les va bien. El acceso a cuentas bancarias o al pago móvil facilita el ahorro de las personas pobres, lo que conlleva un aumento general de la prosperidad: cuando los padres no tienen problemas para pagar la cuota de la escuela, a sus hijos les va mejor; las mujeres se empoderan para iniciar empresas; las familias pobres pueden hacer frente mejor a adversidades como una mala cosecha, una enfermedad o un desastre natural.
Los beneficios económicos derivados son obvios. Tener cuenta bancaria permite a emprendedores potenciales demostrar solvencia y recurrir a prestamistas formales responsables. Y la disponibilidad de capital permite a las pequeñas empresas crecer y emplear a más personas, especialmente jóvenes.
Estos últimos años la tecnología ayudó a cerrar la brecha. El éxito de plataformas de pago digital, por ejemplo la aplicación móvil M-Pesa en Kenia, demuestra con qué rapidez los clientes vulnerables adoptan productos y servicios económicos que hayan sido diseñados teniendo en cuenta las necesidades de los usuarios.
Además, empresas de tecnología financiera en África y en Asia están hallando formas innovadoras de analizar los datos generados por las actividades de las personas pobres y usarlos para diseñar y suministrar mejores servicios bancarios. También se están aplicando estrategias no tradicionales, por ejemplo llegar a las personas pobres no bancarizadas por medio de pequeñas empresas independientes cuyos servicios ya usan y en las que confían.
Pero ampliar la inclusión sigue siendo en gran medida responsabilidad de las instituciones financieras. Oigo a menudo decir que el sector de servicios financieros tiene aversión a riesgos (algo que no está del todo mal, dadas las obligaciones fiduciarias de los bancos con sus clientes). Pero los bancos y otras instituciones financieras deben darse cuenta de que es perfectamente posible protegerse de riesgos y al mismo tiempo ofrecer servicios a clientes pobres.
Por no tener en cuenta las necesidades de los pobres, las instituciones financieras descuidan un mercado potencial inmenso. Podrían conseguir cientos de millones de clientes nuevos con sólo ponerse en los zapatos de una persona pobre: descubrirían que no hay que excluir a nadie basándose en supuestos inexactos, obsoletos o injustos.
Hoy hay cada vez más personas con acceso a servicios financieros modernos y responsables, y los datos que publicará el Banco Mundial el año entrante indicarán sin duda nuevos avances. Pero para lograr un mundo sin exclusión, el sector financiero tiene que poner las necesidades de los clientes pobres en el centro de sus estrategias de negocios. Sólo entonces la buena noticia de la inclusión financiera será también una gran noticia.
Traducción: Esteban Flamini