A cobertura do sistema bancário
TORONTO – Num mar de notícias sombrias, um título radiante surge no horizonte. Os últimos números do Banco Mundial sobre as contas bancárias das pessoas (que serão lançados na próxima Primavera) deverão indicar que o número de pessoas que são titulares de contas em bancos ou noutras instituições financeiras formais aumentou.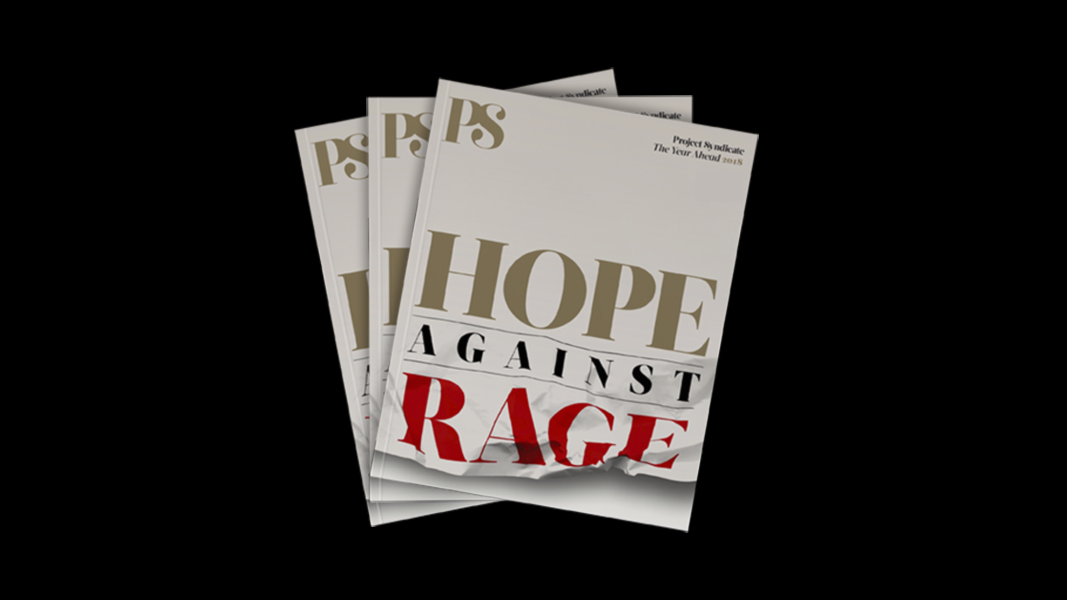 The Year Ahead 2018
The world's leading thinkers and policymakers examine what's come apart in the past year, and anticipate what will define the year ahead.
A última vez que o Banco Mundial publicou o relatório da base de dados Global Findex, em Abril de 2015, cerca de 700 milhões de adultos, principalmente nos países em desenvolvimento, tinham obtido acesso a serviços financeiros nos últimos três anos. Este número representou um aumento de mais de 21% no número de pessoas titulares de uma conta bancária. Uma vez que o acesso mais amplo aos serviços financeiros ajuda a criar uma via para sair da pobreza, qualquer aumento nesta métrica constitui um sinal positivo para o desenvolvimento humano.
No entanto, a minha organização não estará a declarar vitória quando o novo relatório for lançado. Independentemente do que os dados do Banco Mundial revelem, a inclusão financeira universal para os mais pobres do mundo continua a ser um objectivo distante.
Actualmente, cerca de dois mil milhões de adultos permanecem excluídos dos serviços financeiros formais. As exigências excessivas a nível de documentação, as elevadas comissões cobradas sobre as contas, o acesso limitado às agências bancárias e a percepção de que as instituições financeiras são "apenas para os ricos" estão entre os obstáculos mais persistentes a vencer.
Na Fundação Mastercard, empenhamo-nos em ajudar a superar estes obstáculos em prol dos mais pobres do mundo. Este mês, em Accra, no Gana, realizámos o quinto Simpósio anual sobre a inclusão financeira, reunindo centenas de prestadores de serviços financeiros, decisores políticos, académicos e peritos em desenvolvimento para analisar formas de ampliar e intensificar a inclusão financeira.
Acolhemos esta conferência global desde 2013 e, todos os anos, surge uma preocupação bem conhecida: as instituições financeiras poderiam fazer mais para concentrar-se nas necessidades dos seus clientes mais pobres. Tendo em conta que muitas vezes os bancos não têm em consideração os comportamentos e as aspirações dos clientes pobres, nem sempre oferecem os produtos e serviços de que estas pessoas necessitam. Se as prioridades do sector industrial mudassem, os obstáculos à inclusão seriam eliminados.
Inverter esta tendência devia ser mais fácil do que realmente é. Afinal de contas, quando as pessoas prosperam, os bancos também prosperam. As pessoas pobres tendem a economizar mais dinheiro quando têm acesso a contas bancárias ou quando podem efectuar pagamentos através de dispositivos móveis. A poupança gera o aumento da prosperidade global. As crianças obtêm melhores resultados na escola quando os pais conseguem pagar facilmente as propinas. As mulheres tornam-se mais autónomas para criar novas empresas. Os agregados familiares pobres conseguem lidar melhor com choques adversos como as quebras da produção agrícola, as doenças ou as catástrofes naturais.
Os efeitos económicos multiplicadores são óbvios. Sendo titulares de contas bancárias, os potenciais empresários podem estabelecer a sua idoneidade creditícia e recorrer a mutuários responsáveis e formais. Além disso, dotadas de capital, as pequenas empresas podem crescer e tornar-se grandes empresas, criando novos postos de trabalho, especialmente para os jovens.
A tecnologia contribuiu para colmatar a lacuna nos últimos anos. O sucesso das plataformas de pagamento digital, como a aplicação para telemóveis M-Pesa no Quénia, demonstra a rapidez com que os clientes vulneráveis assumirão e utilizarão produtos e serviços baratos se estes forem especificamente concebidos para dar resposta às necessidades dos utilizadores.
Além disso, as empresas no domínio da tecnologia financeira na África e na Ásia estão a explorar formas inovadoras de analisar os dados gerados pelas actividades das pessoas pobres, utilizando esses dados para conceber e prestar melhores serviços bancários. Estão igualmente a surgir abordagens não tradicionais, tais como chegar aos pobres que não estão cobertos pelo sistema bancário através das pequenas empresas independentes cujos serviços estas pessoas já utilizam e em quem confiam.
Contudo, grande parte do ónus da inclusão permanecerá nas instituições financeiras. Um dos argumentos que costumo ouvir é o de que o sector dos serviços financeiros é avesso ao risco. Tendo em conta as obrigações fiduciárias que os bancos têm em relação aos seus clientes, não se trata uma característica inteiramente negativa. No entanto, os bancos e as outras instituições financeiras deviam tomar consciência de que a protecção contra o risco é perfeitamente compatível com a prestação do serviço a clientes pobres.
Ao ignorar as necessidades das pessoas pobres, as instituições financeiras estão a negligenciar um mercado potencial imenso. Para chegar a centenas de milhões de novos clientes, as instituições financeiras do mundo só precisam de "pôr-se na pele" de uma pessoa pobre. Verificariam então que ninguém deveria ser excluído devido a suposições imprecisas, desactualizadas ou injustas.
Hoje em dia, o maior número de pessoas de sempre beneficia de acesso a serviços financeiros modernos e responsáveis. Não restam dúvidas de que os dados do Banco Mundial do próximo ano irão revelar benefícios ainda maiores. No entanto, para alcançar um mundo onde ninguém é excluído, a indústria deve colocar as necessidades dos clientes pobres no centro das suas estratégias de negócio. Só então as boas notícias sobre a inclusão financeira passarão a ser excelentes.