Tres caminos opcionales para la eurozona
WASHINGTON, DC – Después de un año tumultuoso, la política parece estabilizarse en toda Europa. Aunque la extrema derecha Alternative für Deutschland (AfD) ganó casi el 13% de los votos en las recientes elecciones federales en Alemania, no representa una amenaza seria para el liderazgo de la canciller Ángela Merkel. En Francia – el otro pilar del proyecto europeo – el presidente Emmanuel Macron cuenta con una sólida mayoría parlamentaria. Y, a pesar de la incertidumbre que rodea a los detalles de Brexit, hay muy pocas dudas sobre que sea lo que sea que la Unión Europea planifique hacer, lo hará sin el Reino Unido como miembro.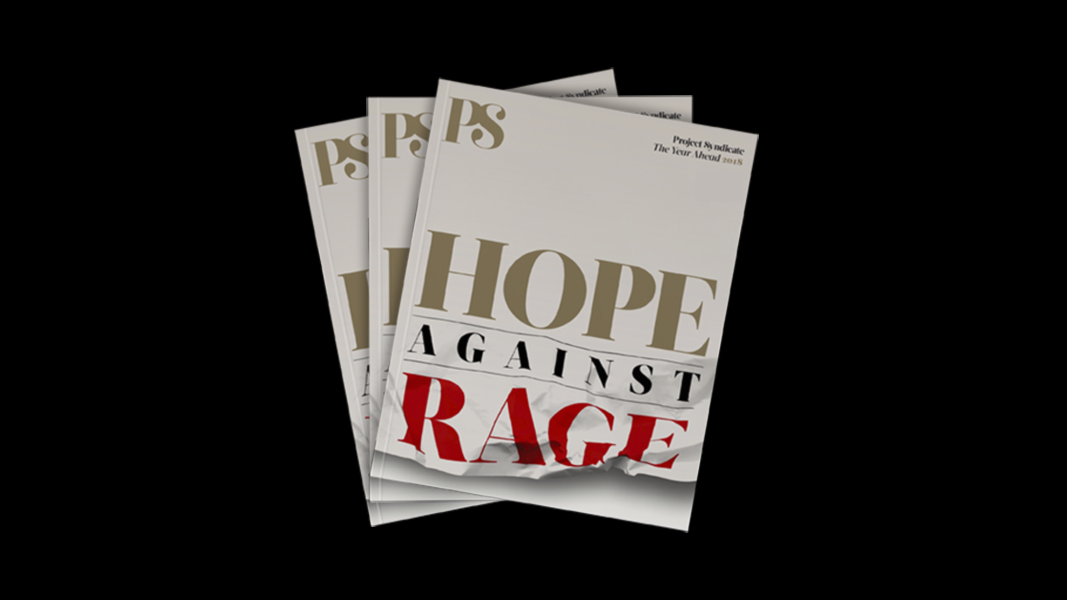 The Year Ahead 2018
The world's leading thinkers and policymakers examine what's come apart in the past year, and anticipate what will define the year ahead.
Por lo tanto, ahora la interrogativa es cómo la UE y, en particular la eurozona, seguirán adelante. Hay tres caminos opcionales.
La primera opción es una "unión más unida", como la describió el mes pasado el presidente de la Comisión Europea, Jean-Claude Juncker, en su discurso sobre el estado de la unión. La visión de Juncker rechaza una Europa que avance a múltiples velocidades, favoreciendo la toma de medidas uniformes por parte de todos los miembros de la UE. Esto significaría, para empezar, ampliar el espacio Schengen sin fronteras interiores para incluir a Bulgaria y Rumania. Juncker también pidió que se hagan avances con dirección hacia una Unión Europea de Normas Sociales que incorpore una comprensión compartida de los derechos de bienestar en el mercado único.
En cuanto al euro, Juncker ha subrayado que está destinado a ser la moneda de toda la UE, no sólo de determinados países. Teniendo esto en cuenta, la UE debe perseguir la creación de una unión bancaria plena, en la que las normas bancarias y la supervisión sean coherentes en todos los Estados miembros. El comisario de Asuntos Económicos y Financieros debería convertirse en ministro europeo de Finanzas y el Mecanismo Europeo de Estabilización debería convertirse en el Fondo Monetario Europeo.
Hace un año, ese integracionismo de "línea dura" habría carecido de credibilidad; al fin y al cabo, el Reino Unido nunca apoyaría tal línea. Sin embargo, con Brexit aparentemente hay algo que sí es seguro: la  visión de Juncker ha ganado cierto grado de credibilidad.
No obstante, el enfoque de "una sola velocidad" de Juncker para la integración sigue siendo muy controvertido. Por lo que Macron ha expuesto su propia visión ambiciosa para Europa, misma que refleja muchas de las propuestas de Juncker, pero parece permitir una mayor diferenciación dentro de la UE, al menos en el mediano plazo. Esta visión sería el segundo camino opcional.
En dicho caso, por ejemplo, si Polonia no quiere adoptar el euro, no debería verse obligada a hacerlo, y esa decisión no debería impedir que otros países de la eurozona sigan adelante con la integración. Por eso Macron quiere un parlamento separado para la eurozona, el cual decidiría sobre asuntos que no pertenecen a todos los miembros del Parlamento Europeo. Las diferencias en el nivel de integración que los países buscan hoy en día no impedirían que cualquiera – o todos – se unan con el transcurso del tiempo al "núcleo" profundamente integrado de la UE.
La tercera opción – y, parece ser, la más probable – es que el camino a seguir para la eurozona sea continuar con las cosas tal como están en la actualidad. La crisis económica que durante mucho tiempo fomentaba las convocatorias a favor de una mayor integración – y, en algunos casos, a favor de una mayor fragmentación – ha atenuado, ya que el crecimiento de PIB de la eurozona en la actualidad es superior a 2% y el desempleo disminuyó significativamente. Incluso Grecia – el único país que permanece, hasta cierto punto, en modo de crisis – continúa saliendo esforzadamente de sus problemas.
En este contexto, los responsables políticos pueden decidir –  como lo han hecho tantas veces antes – ralentizar las reformas ambiciosas para la eurozona, decidiendo que las reformas llevadas a cabo durante la crisis son suficientes. Esto les dejaría más espacio para concentrarse en otras áreas – como la energía, la regulación digital y la migración – que en el contexto actual parecen requerir de atención más urgente.
Si los encargados de formular políticas van por este camino, se presentan riesgos graves. Sí, es verdad, la eurozona está funcionando, y las reformas clave en otras áreas son importantes. Sin embargo, la unión monetaria conserva un defecto fundamental: la ausencia de mecanismos capaces de prevenir las divergencias de costos entre los países que han perdido la capacidad de realizar ajustes al tipo de cambio.
Uno de tales mecanismos sería una mayor movilidad laboral en los servicios. Sin embargo, incluso si los países de la eurozona acordaran seguir adelante con la liberalización del mercado laboral, los trabajadores enfrentarían grandes barreras culturales y lingüísticas. En cualquier caso, sin este mecanismo, las tendencias que culminaron en la última crisis económica podrían conducir hacia otra.
Después de la experiencia de la crisis, si las señales de crecientes divergencias de costos comienzan a surgir en el futuro, los diferenciales de tasas de interés entre los países de la eurozona aumentarán mucho más rápido en comparación con la velocidad con la que aparecieron durante el período anterior a la última crisis, proporcionando una señal temprana de alerta. Sin embargo, si se tiene en cuenta que gran parte de la deuda pendiente se mantiene y gran parte de la munición de rescate se ha gastado, otro shock podría llegar a ser devastador.
Como informa el periodista Martin Wolf: el economista Adam Lerrick propone un esquema mediante el cual los beneficiarios de cambios repentinos en los diferenciales de tasas de interés vayan a transferir la mitad de sus ganancias a una "cuenta de estabilización de costos de financiamiento", mismas que serían pagadas cuando disminuya el shock de la tasa de interés. Pero, al igual que otras reformas en la eurozona, tal esquema tendría que ser acordado entre los miembros de la eurozona.
Debido a que Merkel aún está formando su nuevo gobierno de coalición, es imposible decir con certeza cuál será el abordaje a la integración que Europa que ella tomará durante el transcurso de los próximos años. Pero, dada la probabilidad de que su coalición incluya a los Demócratas Libres que son euroescépticos y a los Verdes que favorecen la integración, junto con sus propios Demócratas Cristianos en el medio de la mezcla, parece poco probable que ella haga grandes esfuerzos dirigidos a una rápida obtención de ambiciosos objetivos de integración para toda la UE.
Una alternativa más realista es un esfuerzo de varias velocidades por el cual los países de la eurozona puedan avanzar, mientras que otros puedan esperar. El resultado no sería perfecto, pero sería un mejor –  un mucho mejor – resultado que el que se lograría manteniendo el statu quo.
Traducción del inglés: Rocío L. Barrientos