Jak zrovnoprávnit dívky
WASHINGTON – V loterii života platí, že když se člověk narodí jako žena v chudé zemi, ocitá se ve dvojí nevýhodě. Mezi ženami v chudých státech je zaznamenán nejvyšší globální výskyt chudoby ze všech demografických skupin v kombinaci s nejhoršími zdravotními podmínkami, nejhorším přístupem ke vzdělání a nejvyšší pravděpodobností, že se stanou oběťmi násilí.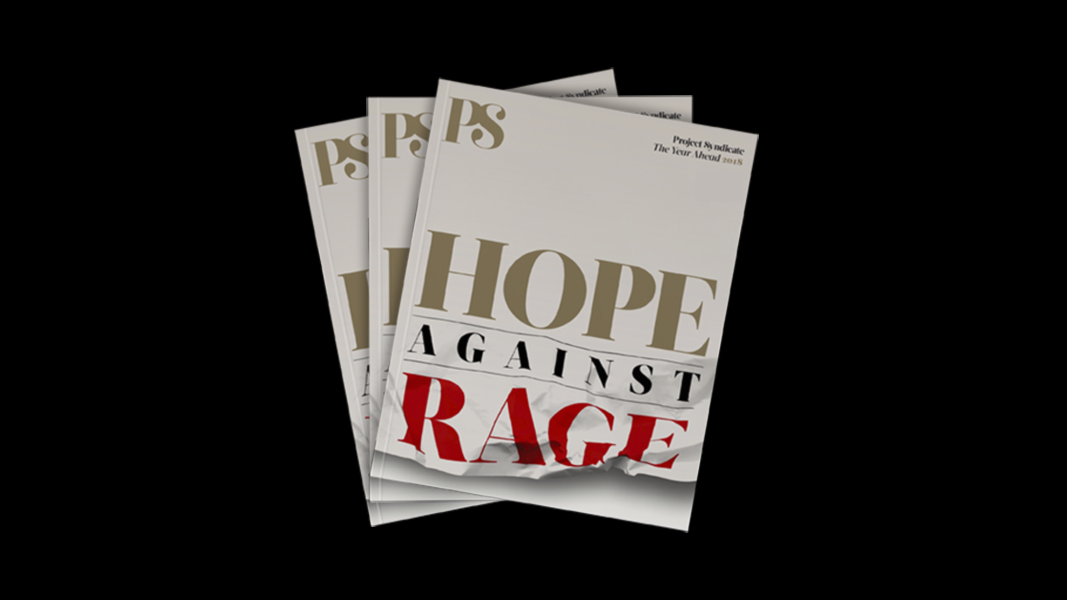 The Year Ahead 2018
The world's leading thinkers and policymakers examine what's come apart in the past year, and anticipate what will define the year ahead.
Nerovnost pohlaví připravuje svět – v důsledku vyčleňování z pracovního procesu a nižší mzdy – o ohromujících 15,5% HDP. Upíráme-li ženám příležitosti k rozvoji jejich potenciálu, znamená to, že se jako společnost zříkáme jejich příspěvku. Skličující realita je však taková, že efektivní řešení nerovnosti pohlaví mohou být obtížně identifikovatelná.
Na nejzazším konci škály bezmoci figuruje 30 milionů dívek, jimž v příštím desetiletí hrozí zmrzačení ženských orgánů ("ženská obřízka" neboli FGM). V Somálsku, Guineji, Džibutsku, Egyptě, Eritreji, Mali, Sieře Leone a Súdánu se tento zákrok provádí téměř plošně. Světová zdravotnická organizace varuje, že takto postižené ženy trpí dlouhodobými zdravotními problémy a vyšší porodní úmrtností.
Popsat tento problém je však snazší než ho vyřešit. Právní reformy mají jen malý dopad. Dokonce i ve Velké Británii, kde ženská obřízka stojí už 30 let mimo zákon, nebyl za její porušení úspěšně souzen jediný člověk. Z vůbec prvních doložených údajů, které byly zveřejněny v červenci, vyplývá, že od dubna 2015 do března 2016 se v Anglii objevilo 5702 nových případů. Nejméně 18 mladých žen a dívek bylo obřezáno přímo ve Velké Británii, přičemž většina jich tento zákrok podstoupila v Africe.
Počet ženských obřízek v posledních třiceti letech celkově klesá. Ne všechny země však zaznamenávají pokrok. Při zachování současných trendů naopak počet dívek a žen podstupujících obřízku v příštích 15 letech výrazně vzroste.
Tím nechci říci, že dobročinné organizace a vlády pracující v této oblasti neodvádějí skvělou práci. Potřebujeme však více kvalitních studií, jak identifikovat a posilovat účinné programy.
Dalším nepřijatelným zvykem, který připravuje dívky o příležitosti, jsou sňatky dětí. Od roku 2011 do roku 2020 se dětskými nevěstami – což Organizace spojených národů definuje jako sňatek před dosažením 18 let věku – stalo nebo stane více než 140 milionů dívek z celého světa. V devíti zemích – Nigeru, Středoafrické republice, Čadu, Bangladéši, Mali, Guineji, Jižním Súdánu, Burkině Faso a Malawi – dokonce UNICEF odhaduje, že podíl dětských sňatků přesahuje 50%.
Pro mladé nevěsty to má dalekosáhlé důsledky: nižší dosažené vzdělání a celoživotní výdělky, vyšší míru domácího násilí, zvýšené riziko úmrtí během těhotenství či porodu a vyšší úmrtnost jejich dětí.
Stejně jako u ženské obřízky ani zde samotné zákony na vyřešení problému nestačí. Vezměme si Bangladéš, kde je 52% dívek provdáno před dosažením plnoletého věku 18 let. Řada zákonů zakazujících sňatky dětí a věno má nedostatečný efekt, a 18% dívek – což je nejvíce na světě – dokonce vstoupí do manželství před dovršením 15 let. Programy komunitních skupin, které se snaží poskytnout dospívajícím dívkám životní dovednosti a výcvik, mají jen omezený dopad.
Analýza situace v Bangladéši, kterou vypracovali ekonomové z Akční laboratoře chudoby Abdula Latifa Jameela při Dukeově univerzitě a MIT, naznačuje, že nejúčinnější strategií by mohlo být poskytování finančních pobídek k odkladu manželství. U dívek představujících nejchudších 20% globální populace totiž existuje více než dvojnásobné riziko sňatku v mladém věku než u nejbohatších 20%.
Jeden slibný program v jižním Bangladéši poskytoval rodičům neprovdaných dívek olej na vaření. Každé čtyři měsíce obdrželi účastníci programu čtyři litry oleje, pokud jejich dohlížitel potvrdil, že dívky jsou stále neprovdané.
Tato skromná pobídka zabrala: u dcer příjemců oleje se o 30% snížila pravděpodobnost, že se vdají před dovršením 16 let věku, což znamenalo přínos ve výši čtyřnásobku nákladů. Slibné je, že program zlepšil také úroveň vzdělání dotyčných dívek: u dcer příjemců bylo o 22% pravděpodobnější, že zůstanou ve škole.
To je důležité, protože jedním z klíčových rozvojových cílů tisíciletí, které vypršely v roce 2015, bylo eliminovat nerovnost pohlaví v oblasti základního a středního vzdělání. U základního vzdělání bylo dosaženo slušného pokroku, avšak u středoškolského a vysokoškolského vzdělání přetrvává značná nerovnost. Rozdíly v přijímání do základních škol se ve všech regionech snížily, nicméně subsaharská Afrika, Blízký východ a severní Afrika stále zaostávají.
Přínosy spojené se snížením nerovnosti pohlaví v oblasti školství by se týkaly i příští generace. Lepší vzdělání pro dívky totiž znamená lepší zdraví a výživu pro jejich děti.
Odpověď na otázku, jak toho dosáhnout, se bude lišit. Například poskytnutí bezplatných školních uniforem na některých místech pomůže, ale ne všude. V Bangladéši měla intervence s cílem omezit sňatky dětí vedlejší přínosy v podobě podpory středního vzdělání. Nový výzkum ukazuje, že v celosvětovém měřítku znamenají peníze vynaložené na snížení nerovnosti pohlaví v oblasti vzdělání přínos v hodnotě zhruba pětinásobku vynaložených nákladů.
Mnoho dobře míněných, ba i nesporně dobrých nápadů, jak snížit nerovnost pohlaví, se analyzuje a kvantifikuje hůře. Zajištění, aby ženy měly stejné právo jako muži zdědit majetek, podepsat smlouvu, založit si firmu nebo si otevřít bankovní účet, by nestálo mnoho a mohlo by být nesmírně přínosné. Navzdory problémům se sběrem dat označil panel složený z nositelů Nobelovy ceny a sestavený Kodaňským konsensem taková opatření za jeden z 19 nejlepších rozvojových cílů, o něž je třeba usilovat – jeden vynaložený dolar zde vytváří užitek v hodnotě přesahující 15 dolarů.
Víme, jak vyřešit jeden problém – a máme dostatek údajů o nákladech a přínosech. Přibližně 225 milionů žen, které se chtějí vyhnout těhotenství, nepoužívá bezpečné a účinné metody plánování rodičovství. Důvody jsou různé, od nedostatečného přístupu k informacím či službám až po absenci podpory ze strany partnerů či komunit.
Zajištění všeobecného přístupu k antikoncepci by stálo 3,6 miliardy dolarů ročně, ale znamenalo by o 150 000 úmrtí matek méně a o 600 000 méně sirotků. Demografická dividenda spojená s nižším počtem závislých osob a vyšším počtem lidí zapojených do trhu práce by navíc urychlila hospodářský růst. Celkové přínosy tudíž převyšují náklady o závratný stodvacetinásobek.
Na řešení nerovnosti pohlaví neexistují rychlé recepty, ale jedna věc je zřejmá: ne všechny přístupy jsou stejně dobré nebo podložené spolehlivými údaji. Z morálních i ekonomických důvodů by politici měli přijímat taková opatření, která poskytnou dívkám a ženám nejvíce práv.
Z angličtiny přeložil Jiří Kobělka.