Dar poder às raparigas
WASHINGTON, DC – Na lotaria da vida, nascer mulher num país pobre constitui uma desvantagem dupla. As mulheres dos países pobres são o grupo demográfico que apresenta a maior incidência global de pobreza, juntamente com as piores condições de saúde, o menor acesso à educação, e a maior probabilidade de se ser vítima de violência.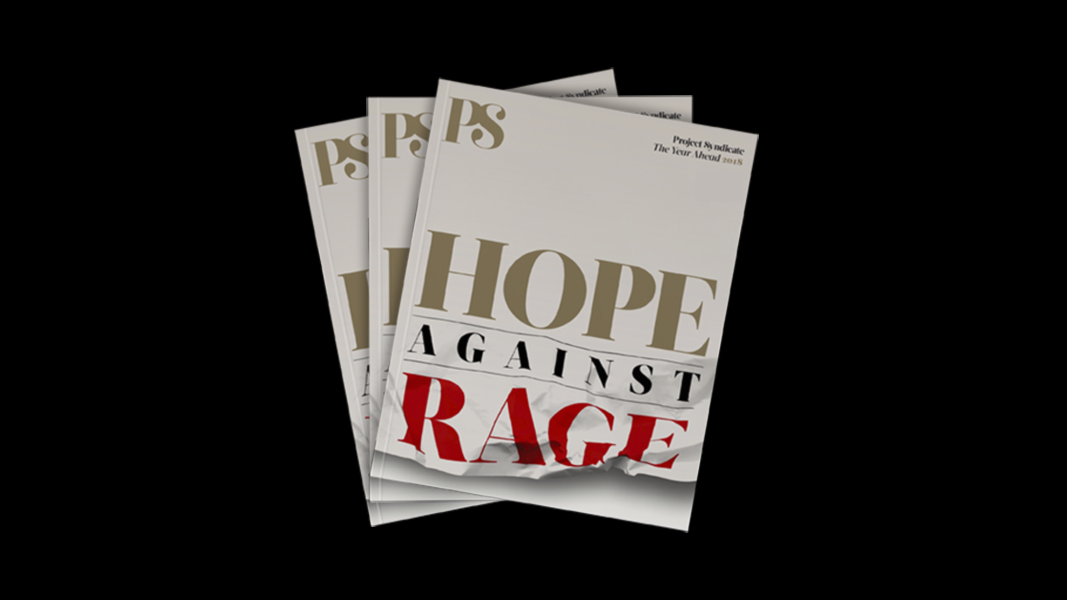 The Year Ahead 2018
The world's leading thinkers and policymakers examine what's come apart in the past year, and anticipate what will define the year ahead.
A desigualdade de género – através da marginalização laboral e de salários inferiores – custa ao mundo uns impressionantes 15,5% do PIB. Ao negarem às mulheres oportunidades de desenvolver o seu potencial, as sociedades renunciam à sua contribuição. Mas a frustrante realidade é que pode ser difícil identificar soluções eficazes para abordar a desigualdade de género.
No posto mais extremo da escala da fragilização encontram-se os 30 milhões de raparigas que se considera estarem sob risco de mutilação genital feminina (MGF) durante a próxima década. O procedimento é quase universal na Somália, Guiné, Djibuti, Egipto, Eritreia, Mali, Serra Leoa, e Sudão. A Organização Mundial de Saúde alerta que as mulheres afectadas sofrem problemas de saúde no longo prazo, e taxas mais elevadas de mortalidade perinatal.
Mas o problema é mais fácil de identificar do que resolver. As reformas legais tiveram pouco impacto. Mesmo no Reino Unido, onde a MGF foi ilegalizada há 30 anos, nem uma única pessoa foi condenada. Os primeiros valores registados, relatados em Julho, mostraram que ocorreram 5 702 novos casos em Inglaterra, entre Abril de 2015 e Março de 2016. Pelo menos 18 mulheres jovens e raparigas foram sujeitas à MGF no Reino Unido, enquanto a maioria foi submetida à operação em África.
Ocorreu um decréscimo global da prevalência da MGF durante as últimas três décadas. Mas nem todos os países evoluíram. Com efeito, segundo a tendência actual, o número de raparigas e mulheres a ser submetidas à MGF aumentará significativamente durante os próximos 15 anos.
Isto não quer dizer que as instituições de caridade e os governos que trabalham nesta área não estejam a fazer um trabalho excelente. Mas precisamos de mais estudos de qualidade sobre o modo de identificar e ampliar programas eficazes.
O casamento infantil é outro costume inaceitável e que priva as raparigas de oportundiades. Entre 2011 e 2020, mais de 140 milhões de raparigas em todo o mundo tornar-se-ão noivas-criança (definição das Nações Unidas associada ao casamento antes dos 18 anos). Em nove países – Níger, República Centro-Africana, Chade, Bangladesh, Mali, Guiné, Sudão do Sul, Burkina Faso, e Malawi – a UNICEF estima que as taxas de casamento infantil sejam superiores a 50%.
Para as jovens noivas, os efeitos são profundos: menor escolaridade e menores rendimentos ao longo da vida, maiores taxas de violência doméstica, maior risco de morrer durante a gravidez ou o parto, e taxas de mortalidade acrescidas para os seus filhos.
Tal como no caso da MGF, as leis não são suficientes, só por si, para resolver o problema. Veja-se o Bangladesh, onde 52% das raparigas estão casadas aos 18 anos, quando atingem a maioridade. Várias leis de proibição do casamento infantil e do sistema de dotes tiveram escassos efeitos, e actualmente 18% das raparigas (a taxa mais elevada do mundo) casam antes de terem 15 anos. Os programas organizados por grupos comunitários, para proporcionar competências para a vida e formação às adolescentes, tiveram um impacto limitado.
Uma análise sobre o Bangladesh desenvolvida por economistas da Duke University, e pelo Abdul Latif Jameel Poverty Action Lab do MIT, sugere que a concessão de incentivos financeiros para atrasar o casamento poderá ser a estratégia mais eficaz. As raparigas nos 20% mais pobres da população global têm mais do dobro de probabilidades de casar jovens do que as raparigas nos 20% mais ricos.
Um prometedor programa no sul do Bangladesh distribuíu óleo alimentar aos pais de raparigas solteiras. De quatro em quatro meses, os participantes receberam quatro litros de óleo, com a condição de que um monitor confirmasse que as raparigas permaneciam solteiras.
Este modesto incentivo funcionou: a probabilidade das filhas dos participantes casarem antes dos 16 desceu até 30%, proporcionando benefícios quatro vezes maiores que o nível de custos. De forma promissora, o programa também melhorou os níveis de escolaridade das raparigas: a probabilidade das filhas dos participantes permanecerem na escola aumentou até 22%.
Isto é importante, porque uma das principais metas dos Objectivos de Desenvolvimento do Milénio, concluídos em 2015, consistia em eliminar a disparidade entre géneros no ensino primário e secundário. Fizeram-se bons progressos no ensino primário, mas o acesso ao ensino de nível secundário e superior permanece ainda bastante desigual. As diferenças nas inscrições do ensino primário diminuíram em todas as regiões, mas a África Subsaariana, o Médio Oriente e a África do Norte estão a ficar para trás.
A redução das diferenças entre géneros na escolaridade traria benefícios que também se estenderiam até à próxima geração. Mais educação para as raparigas traduz-se em melhores resultados para a saúde e nutrição dos seus filhos.
O modo como conseguiremos isto não será constante. Fornecer uniformes escolares gratuitos, por exemplo, ajuda em alguns locais, mas não em todos. No Bangladesh, a intervenção para a redução do casamento infantil teve benefícios adicionais na expansão do ensino secundário. Uma nova investigação demonstra que, globalmente, o dinheiro gasto para reduzir as disparidades de género no ensino produz benefícios que são cerca de cinco vezes maiores que os custos.
Muitas ideias bem-intencionadas, e mesmo inquestionavelmente boas, para a redução da desigualdade entre os géneros, são de análise e quantificação mais difícil. A garantia de que as mulheres tenham direitos iguais a herdar bens, a assinar contratos, a registar uma empresa, ou a abrir uma conta bancária, custaria pouco e poderia ter benefícios de grande impacto. Apesar dos problemas associados à informação, um conjunto de laureados com o Nobel convocados pelo Consenso de Copenhaga identificou essas medidas como um dos 19 melhores objectivos de desenvolvimento a prosseguir, onde cada dólar gasto produz benefícios no valor de mais de $15.
Há um problema que sabemos como enfrentar, e sobre o qual temos ampla informação sobre custos e benefícios. Perto de 225 milhões de mulheres que querem evitar a gravidez não usam meios seguros e eficazes de planeamento familiar. Os motivos vão desde a falta de acesso a informações ou serviços até à falta de apoio dos seus parceiros ou comunidades.
Garantir o acesso universal à contracepção custaria anualmente 3,6 mil milhões de dólares, mas significaria menos 150 000 mortes maternas e menos 600 000 órfãos. Além disso, os dividendos demográficos decorrentes de ter menos dependentes, e mais pessoas no mercado de trabalho, aceleraria o crescimento económico. Os benefícios totais são umas espantosas 120 vezes maiores que os custos.
Não existem soluções rápidas para a desigualdade de género, mas uma coisa é clara: nem todos os esforços são igualmente bons ou se apoiam em dados fidedignos. Por razões morais e económicas, os legisladores devem adoptar as medidas que façam o máximo por dar poder às raparigas e às mulheres.