La locura del rey Donald
WASHINGTON, DC – En la capital de Estados Unidos se siente algo parecido al pánico. La conducta del presidente Donald Trump estos últimos días ha sido más extraña que nunca, y una pregunta ronda las mentes de políticos y ciudadanos por igual, aunque pocos la mencionen en voz alta: ¿qué se hace con este hombre? ¿Puede Estados Unidos darse el lujo de esperar a que el fiscal especial Robert Mueller concluya su investigación (suponiendo que hallará que el presidente es culpable de algo)? Eso todavía llevará algún tiempo.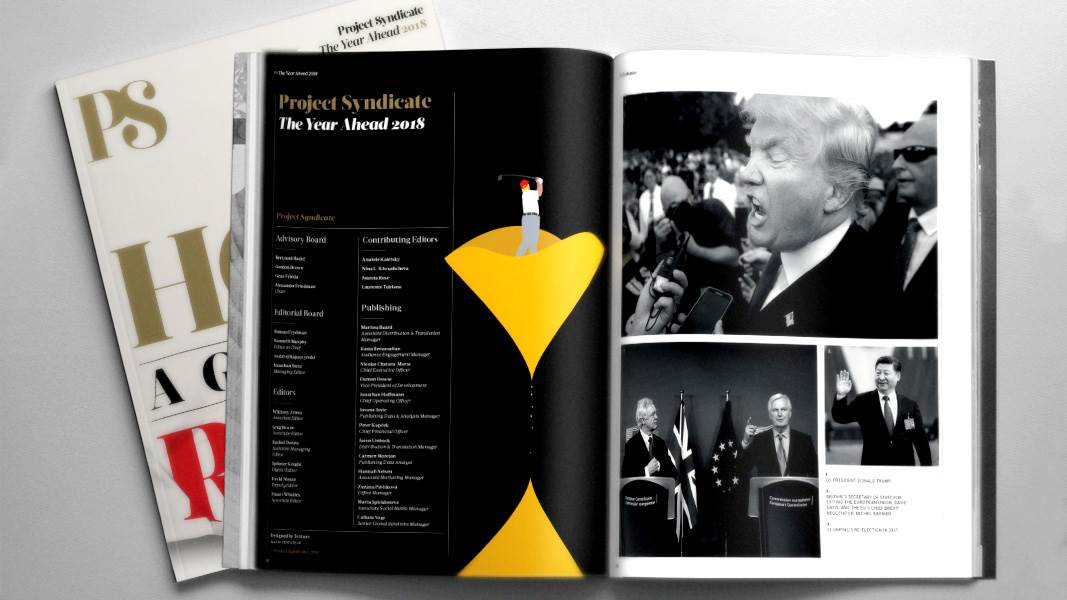 The Year Ahead 2018
The world's leading thinkers and policymakers examine what's come apart in the past year, and anticipate what will define the year ahead.
Lo del tiempo es cada vez más apremiante, porque ha aumentado el riesgo de que Estados Unidos acabe metido, por error o deliberadamente, en una guerra con Corea del Norte. Ese riesgo, sumado a la conducta cada vez más peculiar de Trump, tiene a Washington en un nivel de tensión que yo nunca había visto (ni siquiera en los oscuros días del Watergate). Digámoslo sin rodeos: el temor es que un presidente mentalmente desequilibrado pueda llevar a Estados Unidos a una guerra nuclear.
Sólo la semana pasada, las pruebas de la inestabilidad de Trump se acumularon. Durante una ceremonia en la Oficina Oval en honor de excombatientes navajos de la Segunda Guerra Mundial, pronunció un ofensivo comentario racista. Inició una pelea inédita e innecesaria con la primera ministra del Reino Unido (supuestamente el mayor aliado de Estados Unidos) al retuitear comentarios antimusulmanes de un grupo neofascista británico. Para conseguir que una senadora demócrata votara a favor de su proyecto de rebajas impositivas, viajó al estado que representa y dijo mentiras sobre el historial de la senadora (pero el proyecto es tan favorable al 1% de estadounidenses más ricos que ningún senador demócrata lo votó). Y siguió provocando al líder norcoreano, Kim Jong-un, quien parece igual de inestable.
En tanto, el Washington Post y el New York Times publicaron noticias preocupantes sobre la conducta privada del presidente. Este habría dicho a personas de su entorno que cree que la infame filmación donde aparece bromeando fuera de cámara acerca de manosear genitales femeninos está fraguada, pese a que cuando el Post la publicó, en el último tramo de la campaña presidencial, admitió que era auténtica y pidió disculpas por ella.
Trump también volvió a insistir con la mentira que lanzó su carrera política y a la que, bajo presión de sus asesores, renunció antes de la elección: que Barack Obama no nació en Estados Unidos. Tuiteó que la revista Time le ofreció nombrarlo "Personaje del Año" 2017, pero que rechazó la propuesta porque no era segura (Trump da mucha importancia a esas apariciones en la tapa de Time). Un representante de la revista negó que eso hubiera ocurrido.
La posibilidad de que Trump padezca algún trastorno mental creó un dilema para psiquiatras, políticos y periodistas. La Asociación Estadounidense de Psiquiatría tiene por regla que sus miembros no pueden diagnosticar a personas que no examinaron. Pero en vista de lo que algunos psiquiatras ven como una emergencia nacional, muchos ignoraron la regla y expresaron públicamente su evaluación profesional del estado mental de Trump, incluso por escrito.
La opinión más aceptada es que sufre un trastorno de personalidad narcisista (lo cual es mucho más grave que ser simplemente narcisista). Mayo Clinic define ese trastorno como "una afección mental en la que las personas tienen una idea exagerada de su importancia, una profunda necesidad de atención y admiración excesivas, relaciones turbulentas y falta de empatía". Además, "tras esta máscara de extrema seguridad se oculta una autoestima frágil incapaz de aceptar la menor crítica".
Esta definición se parece demasiado a lo que Trump muestra todo el tiempo. Otra idea, defendida por numerosos profesionales médicos sobre la base de comparar entrevistas que Trump dio a fines de los ochenta con la falta de vocabulario y fluidez con que se expresa en la actualidad, es que el presidente está en la fase inicial de la demencia. Según UpToDate, una base de datos clínicos por suscripción muy usada y respetada por profesionales, los síntomas de la demencia incluyen agitación, agresión, delirios, alucinaciones, apatía y desinhibición.
Numerosos congresistas republicanos ya están muy preocupados por la capacidad de Trump para manejar la presidencia (un trabajo increíblemente demandante). Incluso el secretario de Estado, Rex Tillerson (a quien los rumores dan por destituido en breve), habría calificado a Trump de "imbécil".
Algunos atribuyen la cada vez más errática conducta reciente de Trump a que está preocupado por la investigación de Mueller sobre la campaña y la posible colusión con Rusia para inclinar la elección de 2016 a su favor, que podría dar lugar a cargos de conspiración (Trump parece ser la única figura importante en Washington que no admite las interferencias rusas). Y el presidente ya se comportaba raro antes del 1 de diciembre, cuando se publicó que el primer asesor de seguridad nacional y miembro del comando de campaña de Trump, general retirado Michael Flynn, aceptó declararse culpable de un cargo de perjurio ante el FBI y cooperar con la investigación.
La importancia de este hecho está en que Flynn es, lejos, el exfuncionario de más alto rango al que Mueller consiguió convertir en "arrepentido". De hecho, el generoso acuerdo con que Flynn conseguirá una sentencia menor deja claro que está dispuesto a dar nombres de personas con rango superior al que él tenía en la campaña y en la Casa Blanca.
Esas personas no son muchas. Algunos especulan, fundadamente, con que Flynn señalará al yerno y alto asesor de Trump, Jared Kushner. Pero los varios intentos que hizo Trump de desviar la investigación de Flynn son una señal clara de que este sabe algo que Trump quiere evitar a toda costa que los fiscales descubran. Tal vez sepamos muy pronto de qué se trata.
En tanto, Estados Unidos y el mundo aguardan con nerviosismo la reacción de Trump a este último giro de los acontecimientos que lo deja muy mal parado.
Traducción: Esteban Flamini