La folie du roi Donald
WASHINGTON, DC – Un vent de panique souffle sur la capitale des États-Unis. Ces derniers temps, le comportement du président Donald Trump est plus étrange que jamais et la question que se posent les politiciens comme les citoyens, le plus souvent en leur for intérieur, est : Que faire de ce personnage ? Les États-Unis peuvent-ils vraiment se permettre d'attendre les conclusions de l'enquête du procureur spécial Robert Mueller (en supposant qu'il trouve le président coupable d'un quelconque acte criminel) ? Cette procédure risque de prendre du temps pour aboutir.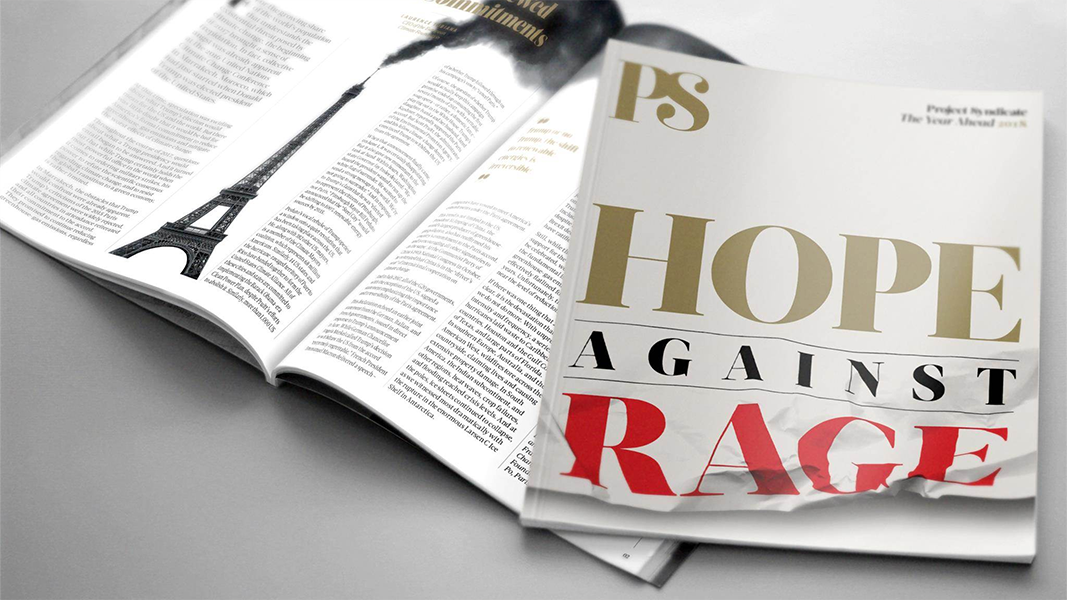 The Year Ahead 2018
The world's leading thinkers and policymakers examine what's come apart in the past year, and anticipate what will define the year ahead.
La question du temps imparti se pose de plus en plus urgemment compte tenu du risque croissant que les États-Unis entrent, délibérément ou accidentellement, en guerre avec la Corée du Nord. En raison de ce risque, couplé à la conduite de plus en plus insolite de Trump, je n'ai jamais connu un climat aussi tendu à Washington, y compris durant les jours sombres du Watergate. Pour le dire crûment : la crainte est qu'un président souffrant de troubles mentaux provoque une guerre nucléaire avec la Corée du Nord.
Rien qu'au cours de la semaine écoulée, les preuves de l'instabilité de Trump se sont accumulées : lors d'une cérémonie dans le Bureau Ovale en honneur des anciens combattants amérindiens de la Seconde guerre mondiale, il les insultés en proférant un commentaire raciste sur la sénatrice démocrate Elizabeth Warren qu'il surnomme Pocahontas. Il a créé une polémique injustifiée et sans précédent avec la Première ministre du Royaume-Uni, supposé être le plus proche allié des États-Unis, en retweetant des  vidéos anti-musulmanes véhiculées par un groupuscule britannique d'extrême droite. Dans l'espoir d'obtenir le vote d'une sénatrice démocrate en faveur de son projet de réforme fiscale, il s'est rendu dans l'État qu'elle représente et a menti sur son bilan (le projet de loi était toutefois tellement biaisé en faveur du 1% des Américains les plus riches qu'aucun sénateur démocrate n'a voté pour). Et il a continué à provoquer le dirigeant nord-coréen Kim Jong-un, qui semble tout aussi instable.
Dans le même temps, les journaux Washington Post et The New York Times ont publié des articles comprenant des anecdotes troublantes sur le comportement du président en privé. Trump aurait confié à des proches qu'il pense que la tristement célèbre vidéo de l'émission « Access Hollywood », qui le montre en train de tenir des propos obscènes sur les femmes, est un faux, alors même qu'il avait admis qu'elle était authentique et qu'il s'était excusé après sa publication dans les dernières semaines de sa campagne présidentielle.
Trump est également revenu sur son allégation mensongère affirmant que Barack Obama ne serait pas né aux États-Unis – ce propos fallacieux qui a lancé sa carrière politique et auquel il avait renoncé avant son élection, sous la pression de ses conseillers. Il a posté un tweet disant qu'il avait décliné une offre du magazine américain Time pour être désigné « Personnalité de l'année » 2017, parce que la proposition du magazine n'aurait pas été définitive (Trump fait grand cas de telles parutions en couverture de Time). Mais un responsable du magazine a démenti que le président avait été contacté.
Que Trump semble souffrir d'un trouble mental, ou de plusieurs, a créé un dilemme pour les psychiatres, les politiciens et les journalistes. La règle Goldwater du code de déontologie de l'American Psychiatric Association interdit à ses membres de poser un diagnostic concernant des personnalités qu'ils n'ont pas examinées en personne. Mais compte tenu de ce que certains psychiatres considèrent comme une urgence nationale, plusieurs d'entre eux ont enfreint cette règle et parlé publiquement ou par écrit de leur avis professionnel concernant l'état de santé mentale de Trump.
Le point de vue le plus largement accepté est qu'il souffre du trouble de la personnalité narcissique, un trouble autrement plus grave que le simple fait d'être narcissique. Selon la définition donnée par la clinique Mayo, une institution hospitalo-universitaire de réputation mondiale, une personne souffrant de ce trouble manifeste « un sens grandiose de sa propre importance, un besoin excessif d'être admirée, elle exploite l'autre dans les relations interpersonnelles et manque d'empathie envers autrui ». De plus, « derrière ce masque d'extrême confiance en soi se cache une estime de soi fragile et vulnérable à la moindre critique ».
Cette définition ne reflète que trop bien les traits de caractère régulièrement manifestés par Trump. Un autre point de vue avancé par plusieurs membres du corps médical, basé sur la comparaison entre la manière dont s'exprimait Trump dans des interviews des années 1980 et la manière dont il s'exprime aujourd'hui – avec un vocabulaire bien plus pauvre et moins d'aisance – est que le président américain souffre d'un début de démence. Selon UpToDate, la ressource de référence mondiale en matière d'aide à la prise de décision médicale, un service disponible par abonnement pour les médecins, les symptômes de la démence comprennent l'agitation, l'agression, les idées délirantes, les hallucinations, l'apathie et la désinhibition.
De nombreux membres républicains du Congrès sont profondément préoccupés par la capacité de Trump à assumer ou non les charges de la présidence – une fonction extrêmement exigeante. Le secrétaire d'État Rex Tillerson, qui à en croire la rumeur sera prochainement remplacé, aurait qualifié Trump de « moron » (débile).
La nature de plus en plus erratique du comportement du président américain ces derniers temps a été attribuée à son anxiété croissance concernant l'enquête du procureur spécial Mueller sur les soupçons de collusion entre lui-même et l'entourage de sa campagne présidentielle et la Russie, et sur l'interférence du Kremlin pour faire pencher la balance de l'élection de 2016 en sa faveur – une enquête qui pourrait aboutir à des poursuites pour complot. (Trump semble être la seule personnalité éminente de Washington à ne pas admettre l'idée de l'ingérence de la Russie). Et le président américain a manifesté un comportement de plus en plus étrange avant même de prendre connaissance du fait que le général à la retraite et éphémère secrétaire d'État à la sécurité nationale Michael Flynn a accepté le 1er décembre de plaider coupable d'avoir menti au FBI en échange d'une peine plus clémente et de sa coopération dans l'enquête.
Ce nouveau développement est particulièrement significatif parce que Flynn est de très loin l'ancien haut-fonctionnaire le plus haut placé que Mueller ait « retourné ». En fait, le généreux marché conclu avec le procureur spécial laisse entendre que Flynn est préparé à nommer des personnes plus haut placées que lui, à la fois durant la campagne présidentielle et à la Maison Blanche.
Elles ne sont pas légion. L'hypothèse a déjà été émise, à juste titre, que Flynn pointerait du doigt le genre et conseiller principal du président, Jared Kushner. Mais les tentatives faites précédemment par Trump pour mettre fin aux investigations des agences fédérales concernant Flynn laissent fortement supposer que Flynn sait des choses que Trump souhaite désespérément que les enquêteurs ne découvrent pas. Il est possible que nous apprenions sous peu de quoi il s'agit.
Dans l'intervalle, les Américains et le reste du monde attendent avec nervosité la réaction de Trump à ce dernier revers.