König Donalds Wahnsinn
WASHINGTON – Amerikas Hauptstadt ist zu einem großen Teil in Panik verfallen. In den letzten Tagen hat sich Präsident Donald Trump bizarrer verhalten als je zuvor, und die selten ausgesprochene Frage, die sich Politiker und Bürger gleichermaßen stellen, ist: Was kann man mit diesem Mann tun? Können es sich die Vereinigten Staaten wirklich leisten zu warten, bis Sonderermittler Robert Mueller seine Untersuchungen abschließt (angenommen, er beweist, dass der Präsident sich etwas hat zuschulden kommen lassen)? Das kann noch dauern.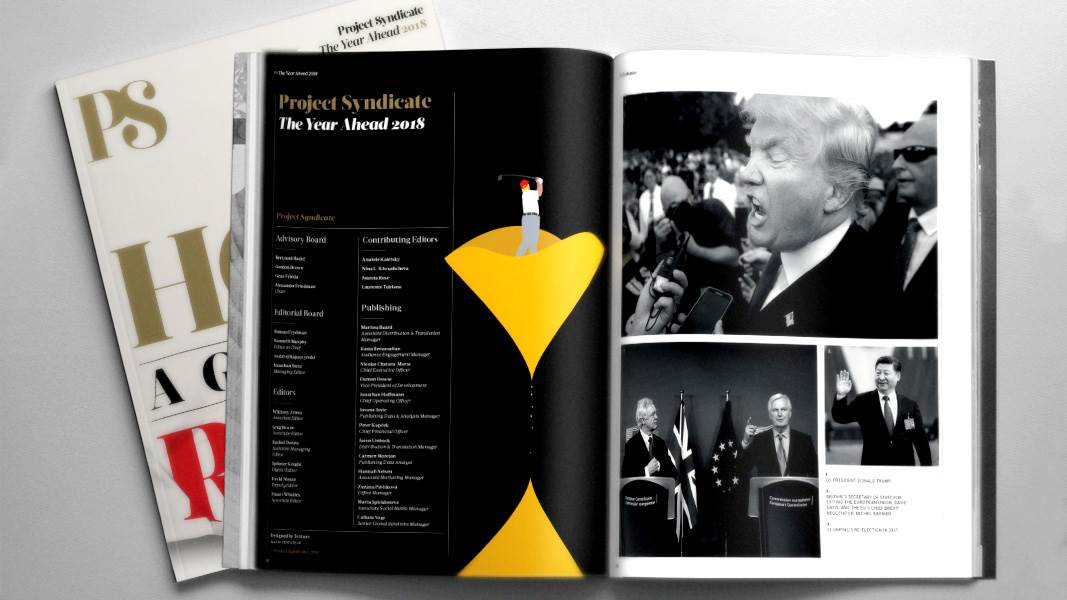 The Year Ahead 2018
The world's leading thinkers and policymakers examine what's come apart in the past year, and anticipate what will define the year ahead.
Die Zeitfrage wird immer dringender angesichts der erhöhten Gefahr, dass die USA absichtlich oder unabsichtlich ein einen Krieg mit Nordkorea geraten. Dieses Risiko, zusammen mit Trumps zunehmend eigenartigem Verhalten macht Washington nervöser als ich es jemals zuvor gesehen habe, einschließlich der dunklen Tage von Watergate. Um es beim Namen zu nennen: es herrscht die Sorge, dass ein geistig umnachteter Präsident die USA in einen Atomkrieg führt.
Allein in der vergangenen Woche häuften sich die Beweise für Trumps Instabilität. Bei einer Zeremonie zu Ehren von Navajo-Veteranen des Zweiten Weltkriegs, beleidigte er die Kriegshelden mit einem rassistischen Kommentar. Er brach einen beispiellosen und unnötigen Streit mit der Premierministerin von Großbritannien vom Zaun, eigentlich Amerikas engste Verbündete, indem er die anti-muslimischen Posts einer neofaschistischen britischen Gruppe via Twitter teilte. Mit der Absicht, die Stimme einer demokratischen Senatorin für seine bevorstehende Steuerreform zu gewinnen, ist er in ihren Bundesstaat gereist und hat Lügen über sie verbreitet (obwohl die Steuerreform das reichste eine Prozent der Amerikaner begünstigt, sodass kein demokratischer Senator zugestimmt hat). Und er provoziert weiterhin den nordkoreanischen Machthaber Kim Jong-un, der ähnlich labil zu sein scheint.
Gleichzeitig veröffentlichten sowohl die Washington Post als auch die The New York Times Artikel mit verstörenden Geschichten über das private Verhalten des Präsidenten. Trump hat angeblich ihm nahestehenden Personen gegenüber behauptet, die berüchtigte "Access Hollywood"-Aufnahme von ihm, auf der man hört, wie er mit sexueller Belästigung prahlt, sei ein Betrug, obwohl er in den letzten Wochen des Wahlkampfes nach der Veröffentlichung der Aufnahmen durch die Post deren Authentizität zugab und sich entschuldigte.
Trump hat auch seine verlogene Behauptung, Barack Obama sei nicht in den USA geboren, wiederaufgenommen, die freie Erfindung, mit der seine politische Karriere begann und die er unter dem Druck seiner Berater kurz vor der Wahl zurücknahm. Dann schrieb er in einem Tweet, er habe einen Vorschlag des Time Magazins, ihn "Persönlichkeit des Jahres" zu ernennen, zurückgewiesen, weil er nicht definitiv gewesen sei. (Trump legt großen Wert darauf, auf dem Cover von Time zu erscheinen). Ein Sprecher von Time gab jedoch an, es sei nichts dergleichen vorgefallen.
Die Tatsache, dass Trump eine psychische Störung zu haben scheint, treibt Psychiater, Politiker und Journalisten gleichermaßen um. Einer Regel der amerikanischen psychiatrischen Vereinigung zufolge dürfen ihre Mitglieder keine Ferndiagnosen erstellen. Aber angesichts einer Situation, die für einige Psychiater eine nationale Notsituation darstellt, haben viele diese Regel gebrochen und öffentlich über ihre professionelle Bewertung seines geistigen Zustands gesprochen oder geschrieben.
Weitgehend akzeptiert ist, dass er an einer narzisstischen Persönlichkeitsstörung leidet, die viel ernster ist als einfach ein Narzisst zu sein. Laut der Mayo Clinic handelt es sich bei Störungen dieser Art um "einen mentalen Zustand, bei welchem die Betroffenen eine übertriebene Meinung von ihrer eigenen Bedeutung, ein tiefes Bedürfnis nach Aufmerksamkeit und Bewunderung, ein gestörtes Verhältnis zu anderen und fehlende Empathie haben." Zudem "liegt hinter dieser Maske extremen Selbstvertrauens ein schwaches Selbstbewusstsein, das durch Kritik leicht verwundbar ist."
Diese Definition stimmt nur allzu genau mit Eigenschaften überein, die Trump regelmäßig zeigt. Eine andere Ansicht, die verschiedene Ärzte teilen, und die auf dem Vergleich von Interviews beruht, die Trump in den späten 1980ern und heute gegeben hat, ist, dass der Präsident, der heute mit viel beschränkterem Vokabular und viel weniger flüssig spricht, an den Anfängen von Demenz leidet. Nach der hoch respektierten medizinischen Referenz UpToDate, einem Abonnementservice für Ärzte, gehören zu den Symptomen von Demenz Unruhe, Aggressivität, Wahnvorstellungen, Halluzinationen, Apathie und Enthemmung.
Zahlreiche republikanische Kongressmitglieder sind zutiefst besorgt über Trumps Fähigkeit, mit der Präsidentschaft umzugehen – einem enorm anspruchsvollen Job. Man erzählt sich, der Außenminister Rex Tillerson, der bald abgesetzt wird, habe Trump einen Idioten genannt.
Trumps verstärktes fehlerhaftes Verhalten in den letzten Tagen wurde seiner wachsenden Sorge über die Ermittlungen von Mueller zugeschrieben, der eine mögliche Absprache von Trump und seiner Kampagne mit Russland untersucht. Der Kreml soll versucht haben, die Wahl von 2016 zu beeinflussen. Die Ermittlungen können zu der Anklage eines abgestimmten Vorgehens führen. (Trump scheint die einzige einflussreiche Person in Washington zu sein, die nicht akzeptieren mag, dass Russland die Wahlen beeinflusst hat.) Und dieses zunehmend bizarre Verhalten kam noch vor der Nachricht am 1. Dezember, dass Trumps erster nationaler Sicherheitsberater und vertrauter Wahlkampfberater, der ehemalige General Michael Flynn, mit dem FBI kooperieren will.
Was dies äußerst bedeutsam macht, ist die Tatsache, dass Flynn bei weitem der höchste Beamte ist, den Muller gedreht hat. Die Abmachung macht klar, dass Flynn bereit ist, Namen aus dem Wahlkampf und aus dem Weißen Haus zu nennen, die in der Hierarchie höher stehen als er.
Das sind nicht sehr viele. Es gibt Grund dazu, anzunehmen, dass Flynn mit dem Fingere auf Trumps Schwiegersohn und Berater Jared Kushner zeigen wird. Aber Trumps verschiedene frühere Versuche, Staatsanwälte von Flynn wegzulocken, waren starke Anzeichen dafür, dass Flynn etwas weiß, was Trump unbedingt vor den Ermittlern verbergen will. Vielleicht finden wir relativ schnell heraus, was das genau ist.
Bis dahin warten Amerika und die Welt nervös auf Trumps Reaktion auf diese letzte, für ihn sehr schlechte Wendung der Ereignisse.
Aus dem Englischen von Eva Göllner.