Безумие короля Дональда
ВАШИНГТОН – В американской столице многие находятся сейчас в состоянии, близком к панике. В последние дни президент Дональд Трамп ведёт себя ещё страннее, чем обычно, а на ум политикам и гражданам приходит вопрос, который, впрочем, редко задают вслух: А что можно сделать с этим человеком? Могут ли Соединённые Штаты реально позволить себе выжидать, пока специальный прокурор Роберт Мюллер завершит своё расследование (рассчитывая, что он обнаружит виновность президента в чём-нибудь)? Ведь это может занять довольно много времени.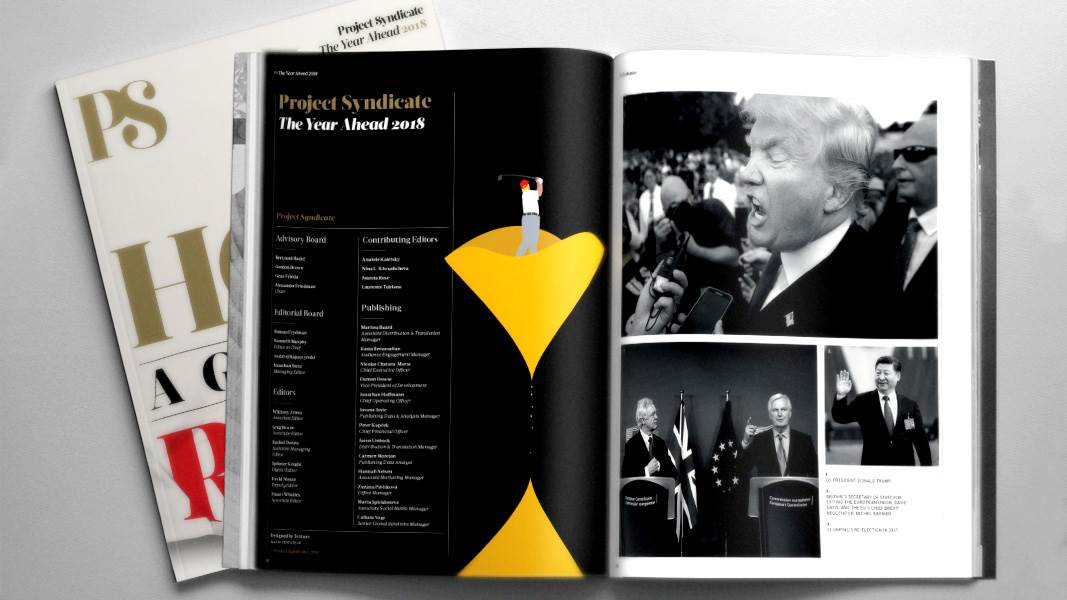 The Year Ahead 2018
The world's leading thinkers and policymakers examine what's come apart in the past year, and anticipate what will define the year ahead.
Вопрос времени становится всё более актуальным на фоне возрастающей угрозы, что США намеренно или случайно вступят в войну с Северной Кореей. Эта угроза, наряду со всё более странным поведением Трампа, сделала Вашингтон таким напряжённым, каким я его никогда не видела, в том числе в мрачные дни Уотергейта. Если говорить прямо, беспокойство вызывает перспектива, что психически больной президент может втянуть США в ядерную войну.
Буквально за одну только прошлую неделю появилась масса доказательств нестабильности Трампа. В Овальном кабинете во время церемонии в честь американских героев Второй мировой войны он оскорбил их расистским комментарием. Он развязал беспрецедентный и совершенно ненужный конфликт с премьер-министром Великобритании, считающейся самым близким союзником Америки, сделав ретвит антимусульманских публикаций британской неофашистской группировки. Пытаясь заручиться голосом сенатора-демократа в пользу своего подвисшего законопроекта о снижении налогов, он съездил в её штат, где начал рассказывать лживые факты о её биографии (впрочем, этот законопроект насколько сильно перекошен в пользу 1% самых богатых американцев, что ни один сенатор-демократ не стал за него голосовать). И он продолжал дразнить северокорейского лидера Ким Чен Ына, который выглядит столь же нестабильным человеком.
Тем временем, сразу две газеты – Washington Post и The New York Times – опубликовали статьи с вызывающими беспокойство рассказами о поведении президента в частной жизни. Как сообщается, Трамп заявлял близким людям, что считает печально знаменитую запись во время программы «Access Hollywood», где он за камерой шутит о том, как хватал женщин за гениталии, фальшивкой. И это несмотря на то, что он признал аутентичность этой записи и даже принёс свои извинения, после того как Post опубликовала её в последние недели президентской избирательной кампании.
Кроме того, Трамп вспомнил свои лживые утверждения, будто Барак Обама родился не в США. С этих фальшивых обвинений началась его политическая карьера, однако под давлением советников он отказался от них накануне выборов. В одном из твитов он также заявил, что отверг предложение журнала Time объявить его «Человеком года», поскольку это было не окончательное решение. (А Трамп очень верит в важность появления на обложке журнала Time). Однако официальный представитель журнала заявил, что ничего подобного в реальности не было.
Тот факт, что Трамп выглядит человеком с психическим расстройством, или даже расстройствами, создает дилемму для психиатров, политиков, а также журналистов. У Американской психиатрической ассоциации есть правило: её члены не могут ставить диагноз людям, которых они лично не обследовали. Однако в ситуации, которую некоторые психиатры воспринимают как чрезвычайную для страны, многие решили нарушить это правило и обнародовали – письменно или устно – свою личную оценку психического состояния Трампа.
Согласно наиболее общепринятому мнению, он страдает от нарциссического расстройства личности, что намного серьёзней, чем просто быть самовлюбленным нарциссом. По данным медицинского центра Mayo Clinic, данное расстройство – это «психическое состояние, в котором людям свойственны раздутое чувство собственной значимости, глубокая необходимость в преувеличенном внимании и поклонении, проблемы в отношениях и отсутствие эмпатии к другим». Кроме того, «за маской невероятной уверенности в себе прячется низкая самооценка и уязвимость к малейшей критике».
Данное определение очень точно описывает качества, которые Трамп регулярно демонстрирует. Иного мнения придерживаются некоторые профессиональные медики, которые проанализировали речь Трамп в различных интервью конца 1980-х и то, как он говорит сейчас: словарный запас сильно сократился, а связность речи заметно уменьшилась. Согласно этому мнению, президент страдает от начинающегося слабоумия. По данным весьма уважаемого в медицинских кругах сайта UpToDate, который на условиях подписки предоставляет услуги профессиональным врачам, в числе симптомов слабоумия – возбуждённость, агрессивность, маниакальность, галлюцинации, апатия и потеря тормозов.
Многие члены Конгресса от Республиканской партии глубоко обеспокоены вопросом, насколько Трамп способен справиться с президентской властью – ведь это невероятно ответственная работа. Рассказывают, что госсекретарь Рекс Тиллерсон, которого, по слухам, скоро заменят, назвал Трампа «дебилом».
Повышение эксцентричности в поведении Трампа в последние дни объясняют его растущим беспокойством из-за расследования Мюллером возможного сговора Трампа и его предвыборного штаба с Россией: Кремль пытался склонить избирательную кампанию 2016 года в пользу Трампа. Данное расследование может завершиться предъявлением обвинений в заговоре. (Трамп, похоже, остался единственной значимой фигурой в Вашингтоне, кто не признаёт факт вмешательства России в выборы). Между прочим, возрастающая странность в его поведении началась даже того, как 1 декабря появилась новость о том, что первый советник Трампа по национальной безопасности и его близкий помощник в период выборов, отставной генерал Майкл Флинн, согласился признать себя виновным в том, что лгал ФБР, в обмен на сотрудничество со следствием.
Это исключительно важное событие, поскольку Флинн – бывший чиновник самого высокого ранга, которого Мюллеру удалось «разговорить». Более того, щедрость сделки с обвиняемым позволяет сделать вывод, что Флинн готов назвать более высокие, чем он сам, фигуры в предвыборном штабе и Белом доме.
Таких людей не очень много. Уже появились спекулятивные рассуждения (и не без причины), что Флин покажет пальцем на зятя и старшего советника Трампа – Джареда Кушнера. Впрочем, предыдущие неоднократные попытки Трамп оградить Флинна от внимания следователей были довольно мощным сигналом: Флинн знает нечто такое, что Трампу отчаянно хочется скрыть от следователей. Мы можем узнать, что же это такое, уже довольно скоро.
А тем временем, американцы и весь мир нервно ждут реакции Трампа на этот новейший и очень плохой для него поворот событий.