El patriota versus el presidente
NUEVA YORK – Fue un espectáculo extraordinario: el teniente coronel Alexander Vindman, oficial del ejército norteamericano, vestido de uniforme condecorado con el Corazón Púrpura, brindando testimonio en las audiencias de juicio político de la Comisión de Inteligencia de la Cámara el 19 de noviembre. Consciente de que su testimonio bien podría arruinar su carrera militar, Vindman creyó que era su obligación expresar su preocupación por el supuesto intento del presidente Donald Trump de minar los intereses nacionales de Estados Unidos en beneficio político propio.
Los principales medios norteamericanos han descripto exhaustivamente –aunque, muchas veces, de manera partidaria- los detalles del esfuerzo de Trump durante varios meses por persuadir al presidente ucraniano, Volodymyr Zelensky, de anunciar una investigación penal de su rival político Josehp Biden y del hijo de Biden, Hunter, y el efecto de ese esfuerzo en la política estadounidense en la región. Lo que fue extraordinario sobre el testimonio de Vindman fueron las reacciones a su expresión de patriotismo. "Cuando era joven", le dijo a la comisión, "decidí que quería pasar la vida sirviendo a esta nación que le dio refugio a mi familia de una opresión autoritaria. En los últimos 20 años ha sido un honor representar y proteger a este gran país".
Esto debería haber convertido a Vindman en un modelo a seguir republicano, dada la invocación habitual al amor por el país y las alabanzas al valor militar que hace el partido. Todavía tiene esquirlas en el cuerpo por sus giras de combate en Irak. Sin embargo, fueron los republicanos los que lo insultaron sembrando dudas sobre su lealtad. Vindman nació en Ucrania de padres judíos y se trasladó a Estados Unidos con su padre y hermanos cuando apenas tenía tres años. Pero el defensor republicano insinuó que podría sentir una lealtad particular hacia Ucrania. Vindman inclusive tuvo que corregir al miembro de rango de la comisión, el republicano Devin Nunes, por no dirigirse a él por su rango y las insinuaciones cínicas de la cadena de televisión Fox News de que era un doble agente.
Recayó en los demócratas agradecer a Vindman por su servicio al país y por los sacrificios que hizo. Las razones para estas profundas diferencias en la retórica hacia un oficial militar con un antecedente de servicio impecable fueron, por su puesto, políticas. Los republicanos intentaban proteger a Trump de las acusaciones de una mala conducta digna de un juicio político y Vindman minaba esos esfuerzos al afirmar las acusaciones.
A pesar de los esfuerzos republicanos por sembrar sospechas sobre la lealtad nacional de Vindman –una línea común de ataque contra los judíos-, su patriotismo parece estar más allá de toda duda. Me recordó a mi abuelo materno, un patriota británico nacido en Londres en el seno de una familia de inmigrantes judíos alemanes. Si bien no era un soldado profesional, Bernard Schlesinger fue voluntario para servir en el ejército por primera vez en 1915, cuando todavía estaba en la escuela, y finalmente quizás en la Crisis de Misiles cubana en 1962, cuando se le dijo amablemente que ya había demostrado suficiente lealtad hacia la reina y el país.
El motivo del fervor patriota de mi abuelo no era sólo que, como hijo de inmigrantes judíos, sintiera la necesidad de demostrar su lealtad porque los antisemitas de otra manera podrían haberla cuestionado. Como en el caso de Vindman, su patriotismo también surgía de una sensación de gratitud. Gran Bretaña, su país, lo había mantenido a salvo de la persecución nazi. También había antisemitismo en Gran Bretaña: ciertos clubes que se negaban a admitir judíos, hospitales que no aceptaban pacientes judíos y demás. Pero nunca lo oí quejarse de eso. Por el contrario, sentía una extraordinaria lealtad a las instituciones que lo habían aceptado, incluido el Cuerpo Médico del Ejército Real, y esa fidelidad se extendía a su país de nacimiento.
Subscribe now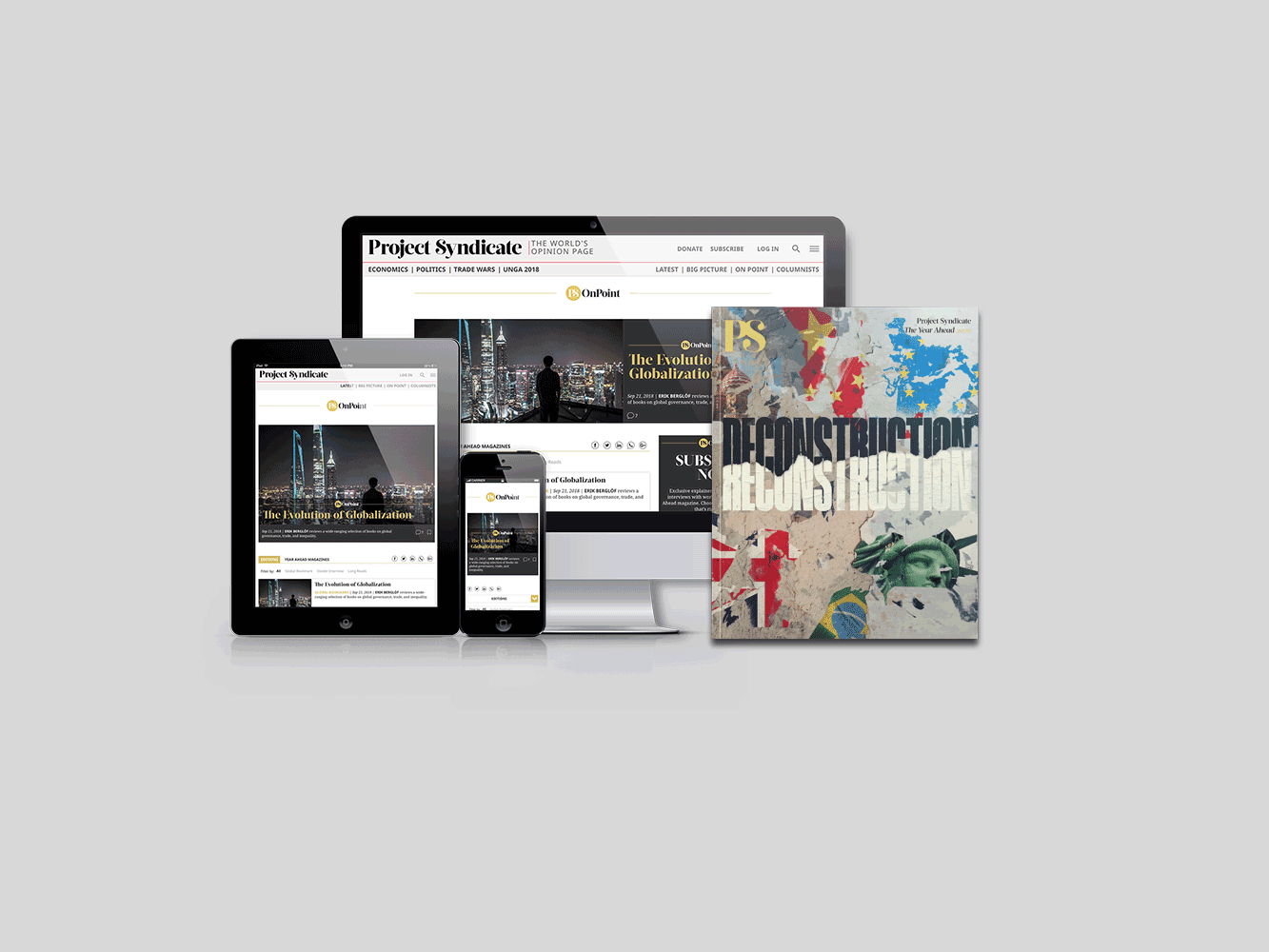 Subscribe now
Subscribe today and get unlimited access to OnPoint, the Big Picture, the PS archive of more than 14,000 commentaries, and our annual magazine, for less than $2 a week.
El tipo de gratitud manifestada por Vindman y mi abuelo no es algo que le ocurriría naturalmente a una persona que puede dar por sentada su nacionalidad, o cuya nacionalidad no es cuestionada por los demás. Quienes nunca han sentido el extremo punzante de la discriminación inclusive podrían encontrarla ligeramente ofensiva. ¿Por qué alguien debería ser agradecido por pertenecer a una nación en particular? Orgullo, puede ser, ¿pero gratitud? En verdad, el patriotismo basado en la gratitud tal vez sea la forma más fuerte que exista.
No debería confundirse el patriotismo agradecido con el celo chauvinista manifestado por algunas personas de las minorías nacionales o de regiones fronterizas marginales: Napoleón de Córcega, Hitler de las zonas fronterizas austríacas, Stalin de Georgia. Algunos de los nazis más fanáticos provenían de zonas de habla germana fuera de la madre patria, como Checoslovaquia y el Tirol del Sur. Esas personas no están tan motivadas por la gratitud como por un deseo de aceptación de la mayoría.
Para la familia de Vindman, Estados Unidos ofreció un refugio contra la amenaza de un régimen autoritario. No puede haber un vínculo de lealtad más fuerte. Ver a Vindman brindar testimonio fue estar ante la mayor esperanza para Estados Unidos. Todavía cree que, a pesar de las amenazas y las difamaciones y la atmósfera tóxica del Washington de Trump, "estará a salvo si dice la verdad".
Las palabras grabadas en una placa en el pedestal de la Estatua de la Libertad suelen citarse, pero no siempre se las entiende correctamente: "Dame tu pobre, tu agotado, tus innumerables masas aspiran a vivir libres". El principal asesor de Trump sobre inmigración, Stephen Miller -él mismo descendiente de una familia de inmigrantes judíos-, ha menospreciado estas palabras. Los inmigrantes tienen que hablar inglés, dijo, y el poema de Emma Lazarus "El nuevo coloso" no representa los "valores norteamericanos".
En verdad, en términos ideales, el famoso poema de Lazarus es la apoteosis de los valores norteamericanos. Esas innumerables masas que aspiran a vivir en libertad son los verdaderos patriotas. Tradicionalmente han sido la mayor fortaleza de Estados Unidos, ya que encarnan el tipo de lealtad que es más difícil de quebrar. Si la estrategia frente a los refugiados cansados y pobres es acusarlos de ladrones, asesinos y violadores, encerrarlos y separarlos de sus hijos, la lealtad firme dará lugar a hostilidad, violencia y hasta terrorismo. Como resultado de ello, la fortaleza tradicional de Estados Unidos se debilitará cada día un poco más, hasta que no quede nada a qué aspirar.