Как создать гендерную инклюзивность на рабочем месте
НЬЮ-ЙОРК – Волна резонансных случаев сексуальных домогательств, которая началась с признаний в Голливуде, начала оказывать серьёзное влияние на значительно менее гламурные места работы. Не только крупные киностудии вынуждены предпринимать конкретные действия против насилия; аналогичная революция, спровоцированная движением выступающих с признаниями женщин #MeToo, охватила рабочие места повсюду.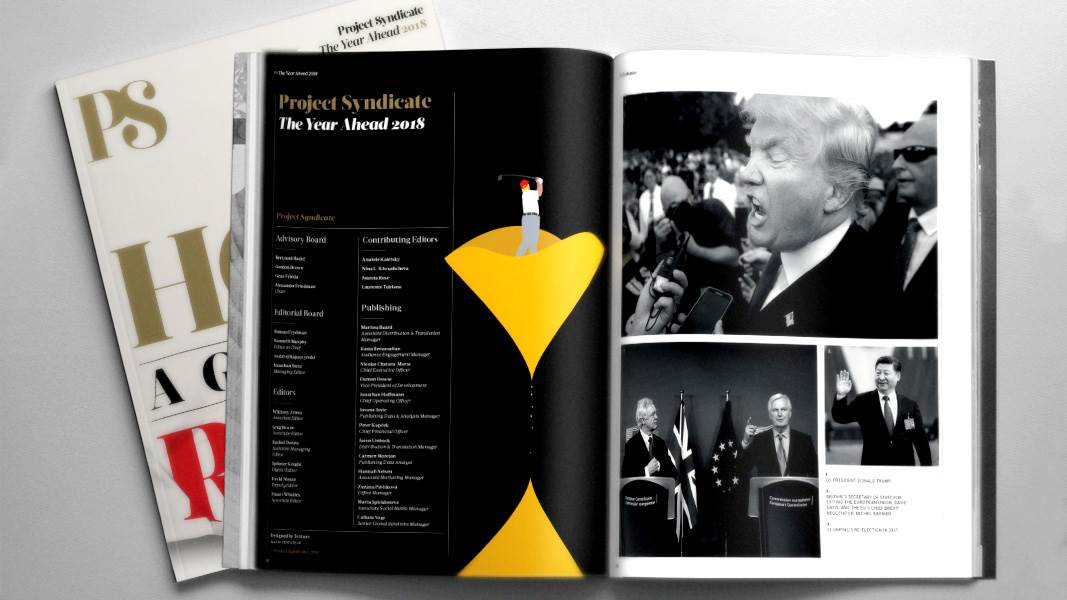 The Year Ahead 2018
The world's leading thinkers and policymakers examine what's come apart in the past year, and anticipate what will define the year ahead.
Было страшно узнавать о том насилии, которому подвергались женщины в руках обладавших властью мужчин, подобных Харви Вайнштейну, Мэтту Лауэру и Элу Франкену. Но весьма обнадёживает то, что корпоративный мир серьёзно воспринял эту проблему и пытается теперь выстроить «общее будущее» для сотрудников-женщин. Коллективная реакция на движение #MeToo, возможно, станет поворотным моментом в отношении работодателей к сексуальным домогательствам и другим гендерным проблемам, в том числе размерам зарплат и полномочий.
Впрочем, революция на рабочих местах далека от завершения. Нужны новые стратегии, чтобы помочь здоровому взаимодействию между сотрудниками. При правильных подходах гендерное равенство помогает росту бизнеса и производительности, в то время как сексуальная дискриминация – в случае её игнорирования – способна разрушить корпоративную культуру (и далеко не только её).
Компании традиционно выбирали бюрократический подход к проблеме домогательств, вводя зафиксированные на бумаге правила и проводя тренинги в тщетной попытке создать атмосферу взаимоуважения. Но такой подход сверху-вниз оказался неэффективным, как наглядно показали скандалы в Uber и других технокомпаниях. Для прекращения насилия на рабочих местах лидерам бизнеса и топ-менеджерам нужны свежие подходы.
Приоритет номер один – добиться гендерного баланса в руководстве. Разнородность руководства стимулирует сотрудничество между сотрудниками и способствует улучшению здоровья организаций. Это не новая идея. Согласно результатам исследования, опубликованным в 2016 году в журнале Harvard Business Review, компании, в которых на высоких постах больше женщин-менеджеров, генерируют больше прибыли. По данным других исследований, женщины лучше работают в условиях стресса, часто принимая более разумные решения. Но, несмотря на все эти очевидные выгоды, женщины по-прежнему недостаточно широко представлены на руководящих позициях в компаниях по всему миру.
Необходимы перемены и в виртуальной рабочей среде. Хищники могут притаиться в офисе за кулером с водой, но они активны и в онлайн-сообществах, в чатах и форумах. Вопросы, которые поднимало движение #MeToo, массово распространялись в социальных сетях в течение буквально нескольких часов. Аналогичная волна гнева может поглотить любую организацию в любой момент. Именно поэтому компании должны сделать акцент на продвижении онлайн-корректности, им следует серьёзно относиться ко всем комментариям и опасениям, выражаемым сотрудниками. Большинство компаний уже занимаются мониторингом социальных сетей с точки зрения репутационных рисков и улучшения обслуживания клиентов; им следует делать то же самое для защиты своих сотрудников.
Наконец, компании должны внимательней относиться к заботам наиболее молодых сотрудников, которым предстоит работать в офисе будущего. В состав рабочей силы вступает всё больше представителей поколения «миллениал». Они требуют повышения равенства, и сейчас голос этих молодых работников слышен на рабочих местах уже сильнее, чем голоса предыдущих поколений. Согласно недавнему исследованию Boston Consulting Group, молодые сотрудники-мужчины часто придерживаются более широких взглядов, чем их руководители, в таких вопросах, как семейный отпуск или разнородность персонала. Это означает, что подлинными лидерами в процессе установления гендерного равенства могут стать именно молодые сотрудники компаний.
Кроме того, исследователи из Ратгерского университета выяснили, что более 50% представителей поколения миллениал готовы согласиться на меньшую зарплату, если речь идёт о работе на компанию, которая разделяет их ценности. А Ассоциация специалистов по управлению человеческими ресурсами (SHRM) отмечает, что 94% молодых работников хотели бы использовать свои навыки для благих дел. Вместо сопротивления данным тенденциям, компании должны стремиться использовать щедрость молодых талантов.
Для повышения инклюзивности на рабочих местах менеджменту надо заявлять о поддержке изменений, требуемых сотрудниками. Очень важно помнить о том, что работникам нужны ролевые модели. Когда знаменитости, например, Сальма Хайек, Роуз Макгоуэн, Риз Уизерспун, готовы делиться своими историями о сексуальных домогательствах, женщины самого разного социального положения начинают чувствовать в себе силы тоже сделать признание. Изменение культуры в рабочей среде потребует столь же сильных примеров лидерства.
Перемены уже видны на горизонте, и я вдохновляюсь теми женщинами и мужчинами, которые призывают будущие поколения работать вместе на более равных условиях. Сложность этих проблем может легко испугать, но если менеджеры и сотрудники обязуются создавать инклюзивную, целеустремлённую обстановку на рабочем месте, перемены будут неизбежны.
Процесс, обернувшийся глобальным призывом к расширению равенства в труде, был начат женщинами Голливуда, но революция на рабочем месте не менее важна и для тех из нас, кто ходит по менее ярким дорожкам.