Construir un lugar de trabajo con inclusión de género
NUEVA YORK – La ola de casos de acoso sexual de alto perfil que comenzara con las revelaciones de Hollywood está teniendo un profundo efecto en entornos laborales mucho menos glamorosos. Al igual que esos importantes estudios de cine se han visto obligados a tomar medidas contra el abuso, una revolución similar barre los lugares de trabajo en todo el mundo, potenciada por el movimiento #MeToo (#YoTambién) de mujeres que se atreven a hacer públicas sus experiencias de acoso.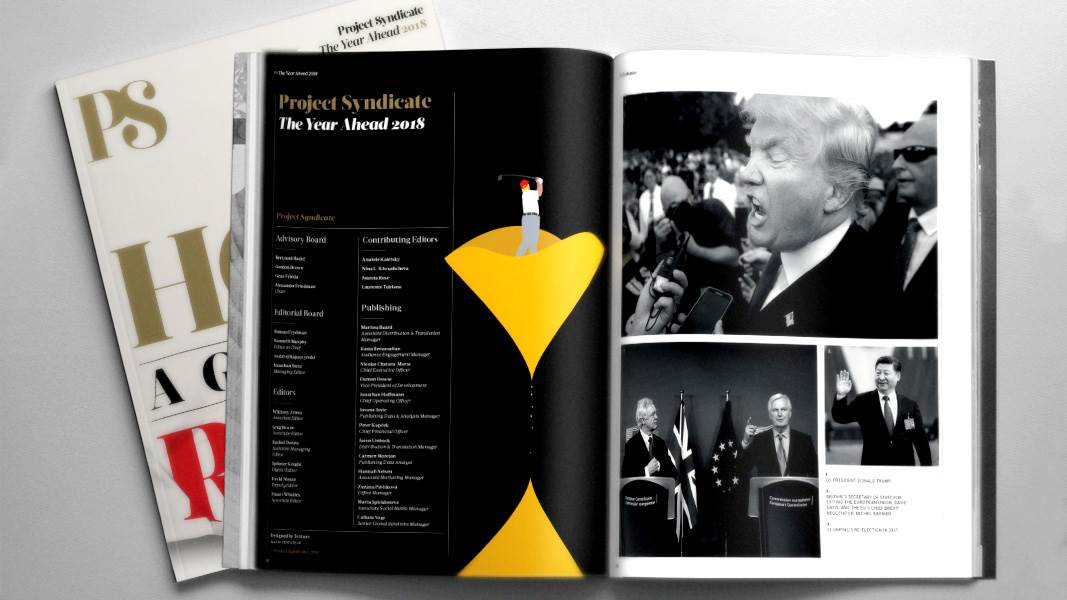 The Year Ahead 2018
The world's leading thinkers and policymakers examine what's come apart in the past year, and anticipate what will define the year ahead.
Ha sido terrible conocer los abusos sufridos por mujeres a manos de hombres poderosos como Harvey Weinstein, Matt Lauer y Al Franken, pero también es profundamente motivador ver que el mundo corporativo se ha tomado el problema en serio al intentar crear un "futuro en común" para sus empleadas mujeres. La respuesta colectiva al movimiento #MeToo podría marcar un punto de inflexión sobre la manera en que los empleadores ven el acoso sexual y otros asuntos de género, como la brecha salarial y el poder.
Pero la revolución en el lugar de trabajo está lejos de ser cosa del pasado. Se precisan nuevas estrategias para promover interacciones saludables entre los empleados. Si se maneja adecuadamente, la igualdad de género promueve la productividad y los resultados de negocios, mientras que si se pasa por alto la discriminación sexual puede destruir la cultura de una oficina, y muchísimo más.
Tradicionalmente, las compañías han adoptado un enfoque de elaborar listas para abordar el acoso, usando políticas escritas y capacitaciones en un débil intento de promover el respeto. Pero este método verticalista ha demostrado ser ineficaz, como los escándalos en Uber y otras firmas tecnológicas lo atestiguan. Si se ha de limitar el abuso en el lugar de trabajo, los líderes empresariales y principales ejecutivos precisan de un enfoque nuevo.
La primera prioridad es lograr un balance de género en la dirección. La diversidad en los puestos de liderazgo fomenta la cooperación de los empleados y conduce a organizaciones más saludables. No se trata de una idea nueva: un estudio de 2016 publicado en la revista Harvard Business Review demostró que las compañías con más mujeres en altos cargos ejecutivos generan mayores utilidades. Otros estudios han mostrado que las mujeres se desempeñan mejor bajo estrés y, a menudo, toman decisiones más inteligentes. Pero a pesar de los obvios beneficios que aporta el sexo femenino, sigue subrepresentado en los puestos de liderazgo sénior en compañías de todo el mundo.
El cambio también se necesita en el lugar de trabajo digital. Puede que los predadores acechen en los puntos de encuentro de la oficina, pero también son activos en las comunidades en línea, salas de chat y foros. Las inquietudes planteadas por el movimiento #MeToo se volvieron virales en las redes sociales en cuestión de horas, y en cualquier momento una ira similar podría arrastrar a una organización. Por consiguiente, las compañías deben promover activamente la buena educación en línea y tomarse en serio todo comentario e inquietud expresado por sus empleados. La mayoría de las compañías ya monitorean las redes sociales para medir los riesgos a la reputación y la satisfacción del cliente, y deberían hacer lo mismo para proteger a su personal.
Para terminar, las compañías deben dar respuesta a las inquietudes de sus empleados más jóvenes, que heredarán la oficina en el futuro. A medida que más millennials entran a la fuerza laboral y exigen una mayor igualdad, los empleados más jóvenes ya cuentan con una voz más fuerte que en el caso de las generaciones pasadas. Un estudio reciente del Boston Consulting Group determinó que los empleados jóvenes varones a menudo son más abiertos de mente que sus superiores en asuntos como licencias familiares y diversidad, lo que sugiere que el verdadero liderazgo sobre igualdad de género en realidad viene de los empleados más jóvenes.
Más aún, los investigadores de la Universidad Rutgers han demostrado que más de un 50% de los millennials considerarían un recorte a su salario si eso significa trabajar para una compañía que compartiera sus valores, mientras que la Sociedad para la Administración de Recursos Humanos nota que un 94% de los trabajadores jóvenes desea usar sus habilidades para una buena causa. En lugar de resistirse a estas tendencias, las compañías deberían ver maneras de aprovechar las buenas intenciones de sus talentos más jóvenes.
Para crear un lugar de trabajo más inclusivo, la dirección debe idear narrativas que apoyen los cambios que piden sus empleados. Lo que es más importante, los empleados necesitan modelos de rol. La disposición de famosas como Salma Hayek, Rose McGowan y Reese Witherspoon para compartir sus historias de acoso sexual empoderaron a mujeres de muy diferentes ámbitos a abrirse también. Los cambios en la cultura del lugar de trabajo exigirán un liderazgo de una solidez similar.
Ese cambio se atisba en el horizonte y me siento inspirada por las mujeres y los hombres que llaman a las generaciones futuras a trabajar juntos de manera más equitativa. Es fácil sentirse abrumados por la complejidad de estos problemas, pero el cambio es inevitable si los directivos y empleados se pueden comprometer a desarrollar ambientes de trabajo inclusivos y orientados a objetivos.
Puede que las mujeres de Hollywood hayan iniciado lo que se ha convertido en un llamado global por la igualdad en el trabajo, pero esa revolución no es menos significativa para aquellos de nosotros que caminamos sobre alfombras menos coloridas.
Traducido del inglés por David Meléndez Tormen