Fechar o fosso entre géneros na educação
WASHINGTON, DC –Completar o ensino básico em Níger nunca foi uma certeza para Aishetu Mahmoudu Hama, tendo em conta todos os obstáculos que se atravessaram no seu caminho. "Foi duro estudar", relembra. "Sentávamo-nos no chão –às vezes num tapete, outras vezes diretamente em cima do pó".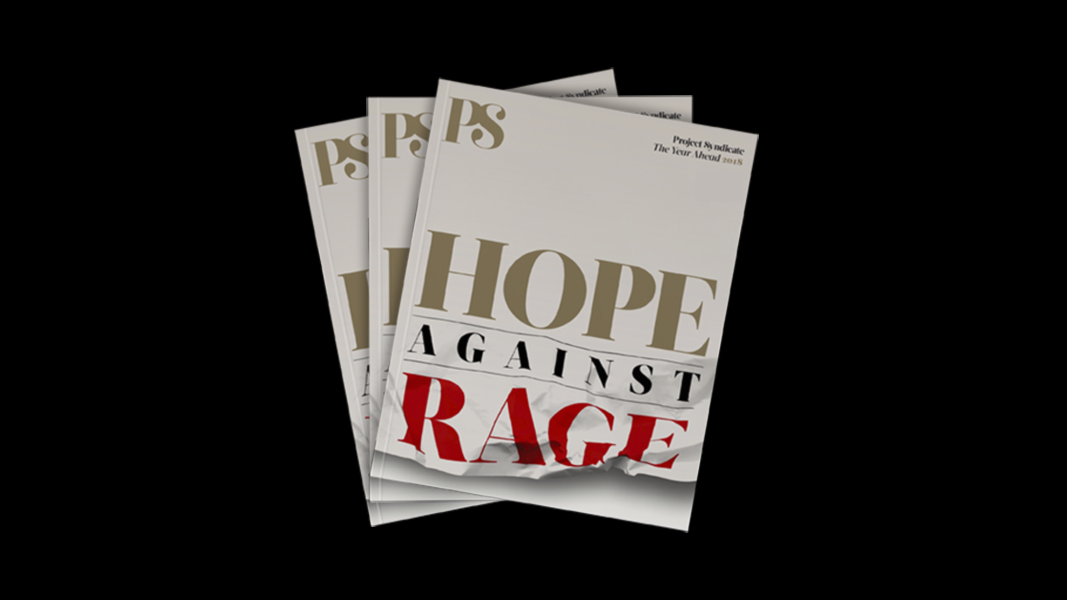 The Year Ahead 2018
The world's leading thinkers and policymakers examine what's come apart in the past year, and anticipate what will define the year ahead.
Mas Aishetu persistiu e ela é hoje uma estudante universitária com 23 anos de idade. Aishetu sabe que sem a escola, as suas oportunidades de vida resumir-se-iam provavelmente à pastorícia, à agricultura, casar e ter um monte de filhos. Simplesmente, não haveria outras oportunidades para ela explorar.
À semelhança das professoras que a inspiraram a estudar, Aishetu quer ser um exemplo para as raparigas e para as suas irmãs. Ela espera que a sua história irá motivá-las a completar também os seus estudos.
Neste Dia Internacional da Rapariga, Aishetu é a prova da diferença que a educação pode fazer às raparigas e às pessoas à sua volta. Mas as lutas que a Aishetu superou também nos recordam que a educação escolar continua inatingível para demasiadas raparigas.
Vejamos uma estatística aterradora: o número de raparigas que não frequentam a escola, apesar de ter diminuído cerca de 40%, desde 2000, ainda se situa nos 130 milhões. Isto ajuda a explicar o porquê de as mulheres se debaterem mais do que os homens para encontrarem trabalhos mais relevantes e melhor remunerados, e o porquê de a percentagem de mulheres no mercado de trabalho ser persistentemente inferior à dos homens.
Para piorar as coisas, mesmo onde as habilitações escolares das raparigas cresceram rapidamente, as melhorias apropriadas para as mulheres no mercado de trabalho continuam fugidias. De acordo com um estudo de 2015, levado a cabo pelo Fórum Económico Mundial, "embora haja mais mulheres do que homens a matricular-se na universidade em 97 países, as mulheres constituem a maioria dos trabalhadores qualificados em apenas 68 países e a maioria dos líderes somente em quatro".
Este fosso entre géneros representa um grande desafio tanto para as grandes empresas como para as pequenas. A nível mundial, as empresas já têm dificuldade em encontrar trabalhadores qualificados, em número suficiente, para os seus processos de trabalho cada vez mais automatizados. A Comissão Internacional para o Financiamento de Oportunidades Educativas Globais divulgou no ano passado que cerca de 40% dos empregadores estão com dificuldade em contratar trabalhadores com as competências adequadas.
As empresas que investem nos países com rendimentos mais baixos também precisam que os seus trabalhadores sejam saudáveis. Este cenário tem mais probabilidade de acontecer quando as mães são instruídas: elas e as suas famílias tendem a ser mais saudáveis do que quando as mães têm menos instrução. Na verdade, a investigação mostra que se todas as mulheres em idade fértil completassem o ensino secundário, o número de crianças que morrem antes dos cinco anos de idade cairia em cerca de 350 mil por ano.
As empresas que investem países em vias de desenvolvimento e com mercados emergentes, que são o lar de muitas raparigas que não andam na escola, têm assim interesse em ajudar as raparigas a obter a educação escolar que elas merecem. Se os resultados educacionais melhorarem, iremos, provavelmente, ver muitas mais mulheres a prosseguir com a formação técnica de nível superior que hoje os postos de trabalho estão a exigir.
Para colocar mais 130 milhões de raparigas na escola, teremos de transpor uma série de barreiras resistentes. Em muitos países, proporcionar instrução às raparigas não é considerado importante, devido às expectativas de que elas irão trabalhar exclusivamente como donas de casa ou nas explorações agrícolas familiares. Casamentos precoces, abusos sexuais, falta de instalações sanitárias para as raparigas durante o período menstrual e crises humanitárias, são apenas alguns dos fatores que tornam a conclusão dos estudos mais difícil para as raparigas do que para os rapazes. E nas áreas remotas, em particular, os encargos escolares e as difíceis deslocações diárias lançam mais desafios.
Mesmo que estes obstáculos culturais, políticos e geográficos possam ser eliminados, os países mais ricos terão de se comprometer em mobilizar muitos mais recursos para instruir as raparigas nas economias em vias de desenvolvimento, em comparação com o que fizeram no passado. Escandalosamente, a parcela de ajuda internacional ao desenvolvimento proveniente de países doadores, atribuída à educação encolheu nos últimos seis anos e é agora mais pequena do que era em 2010. Os países doadores precisam urgentemente de inverter esta tendência.
A Parceria Global para a Educação tem sido um dos principais catalisadores na educação escolar das raparigas na última década e meia. Graças ao financiamento da PGE, mais 38 milhões de raparigas nos países em vias de desenvolvimento matricularam-se no ensino básico entre 2002 e 2014.
Para desenvolver esse progresso, a PGE irá realizar uma conferência sobre o financiamento, coorganizada pelos governos senegalês e francês, no dia 8 de fevereiro de 2018, em Dacar. Apelamos aos doadores de todo o mundo que nos ajudem a conseguir dois mil milhões de dólares em fundos anuais, até 2020.
Com um financiamento suficiente, a PGE pode apoiar as necessidades de educação de 870 milhões de crianças em mais de 80 países. E pode ajudar os países em vias de desenvolvimento a criar sistemas de educação que darão às raparigas, como a Aishetu, a oportunidade de realizarem o seu potencial. Quando as raparigas e as mulheres são empoderadas através da educação escolar, elas podem e transformam efetivamente o mundo para melhor. O investimento no seu potencial é uma aposta que não se pode perder.