Johnsons Sieg bedeutet einen britischen Machtverlust
LONDON – Weil der Brexit die quälenden Parlamentswahlen im Vereinigten Königreich in diesem Monat beherrschte, wurden eine Reihe bedeutungsvoller politischer Vorschläge kaum oder gar nicht erörtert. Dies betrifft vor allem den Plan rechter Konservativer zur Abschaffung des britischen Ministeriums für internationale Entwicklung. Nachdem Premierminister Boris Johnson eine parlamentarische Mehrheit errungen hat, könnte das Ministerium für internationale Entwicklung bald im britischen Außenministerium aufgehen, das dann die Verantwortung für die Verwaltung des jährlichen Hilfsbudgets von 14 Milliarden Pfund (16,8 Milliarden Euro) übernehmen würde.
Wie ich vor ein paar Monaten ausführte würde der Plan der Konservativen im Wesentlichen ein großes Problem lösen – den Niedergang des britischen diplomatischen Dienstes – und gleichzeitig ein viel größeres Problem schaffen: nämlich den Verlust der britischen weichen Macht.  Das bahnbrechende Engagement des Vereinigten Königreichs zur Beendigung der Armut auf der Welt bringt weitreichende Vorteile mit sich und das britische Hilfsprogramm ist einer der wertvollsten globalen Aktivposten des Landes. Seit der Schaffung des Ministeriums für internationale Entwicklung vor 22 Jahren wurden Millionen Menschen aus der Armut befreit, Millionen Kindern der Schulbesuch ermöglicht und Millionen Leben gerettet – nicht zuletzt durch die Führungsrolle des Ministeriums bei einer Initiative, im Rahmen derer 700 Millionen Kinder geimpft wurden. In jüngster Zeit ist das Ministerium weltweit führend bei der Bereitstellung von Entwicklungshilfe für arme Länder, die von den Auswirkungen des Klimawandels betroffen sind.
Johnson geht davon aus, dass das Vereinigte Königreich nach dem Brexit ein stärkeres Außenministerium brauchen wird, um im Ausland Einfluss auszuüben. Doch die Eingliederung des Entwicklungsministeriums in das Außenministerium wird die globale Position des Vereinigten Königreichs untergraben und auch keine Effizienzgewinne mit sich bringen. Anders als die Diplomatie, die oftmals auf Geheimhaltung angewiesen und daher von spärlich vorhandenen Prüfpfaden gekennzeichnet ist, erfordern Entwicklungsbemühungen Transparenz und sind am effektivsten, wenn sie externen Prüfungen unterzogen werden.
Durch seine Vorreiterrolle bei der Erreichung der Ziele für nachhaltige Entwicklung der Vereinten Nationen ergeben sich für das Vereinigte Königreich Vorteile im Bereich weicher Macht. Die britischen Wähler erkennen jedoch nicht immer, was die britischen Entwicklungsbemühungen bewirken und was nicht. Auf Nachfrage gehen sie tendenziell davon aus, dass rund 20 Prozent des Staatshaushalts für Auslandshilfe ausgegeben werden, obwohl der tatsächliche Wert bei 1 Prozent liegt. Noch schockierter zeigen sich die Wähler in der Regel, wenn sie erfahren, dass ein typisches afrikanisches Schulkind weniger als 50 Pence (60 Euro-Cent) aus den britischen Hilfsausgaben bekommt. Das reicht kaum für Stifte oder ein Schulheft.
Johnson sollte auf den parteiübergreifenden Konsens hören, den die Coalition for Global Prosperity äußerte. Diesem Konsens zufolge sind Diplomatie und Entwicklung unterschiedliche Aufgaben von gleicher Bedeutung. Hilary Benn, früherer Chef des Ministeriums für internationale Entwicklung und mittlerweile Vorsitzender des Brexit-Ausschusses betont, dass "die Leute, die sich bei den Ausgaben [für Entwicklung] auskennen, diese Aufgabe auch übernehmen sollten." Auch Dame Margaret Beckett, ehemalige Außenministerin und derzeit Mitglied des nationalen Sicherheitsausschusses, vertritt die Ansicht, dass die Kombination aus "Führerschaft in den Bereichen Verteidigung, Entwicklung und Diplomatie von absolut entscheidender Bedeutung für Großbritanniens nationale Sicherheit ist."
Dem stimmen sogar Diplomaten zu. Simon Fraser, ehemaliger Staatssekretär im Außenministerium, verweist darauf, dass es "grundsätzlich keine Lösung ist", mit dem Geld des Ministeriums für internationale Entwicklung die Budgetlücke des Außenministeriums zu schließen. Die Diplomaten des Außenministeriums sollten sich weiterhin auf Diplomatie konzentrieren, so Fraser, während das Ministerium für internationale Entwicklung mit seinen  internen Experten für Armutsbekämpfung weiterhin jene Aufgaben im Blick haben sollte, deren Erledigung sie "sehr gut wahrnehmen."  Damit hat er recht. Großbritannien spielt auf der Welt genau deshalb eine so unverhältnismäßig große Rolle in diesen Bereichen, weil es jedem Schlüsselministerium möglich war, sich auf seine Hauptaufgabe zu konzentrieren.
Subscribe now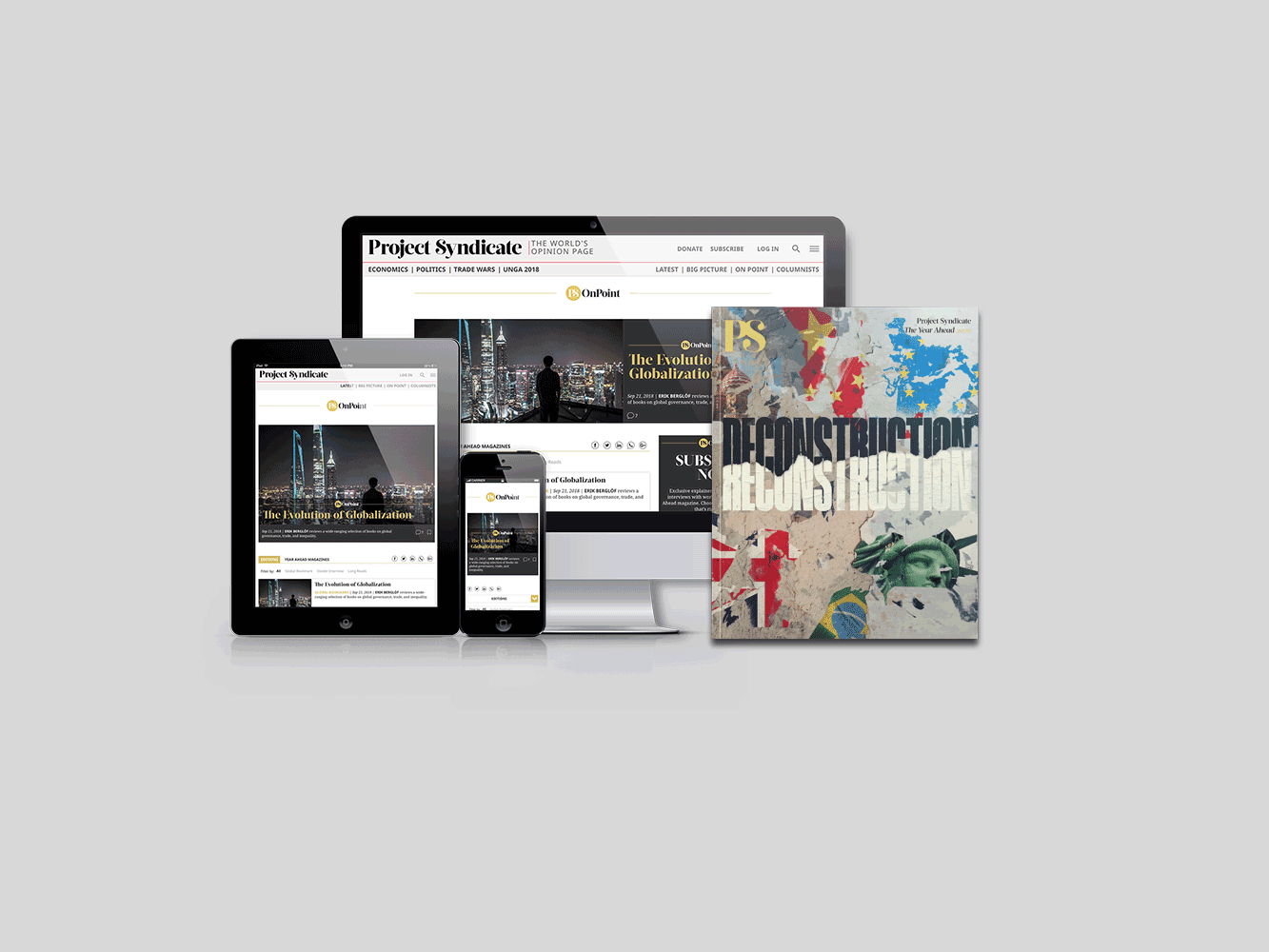 Subscribe now
Subscribe today and get unlimited access to OnPoint, the Big Picture, the PS archive of more than 14,000 commentaries, and our annual magazine, for less than $2 a week.
Allerdings besteht ein noch stärkeres und vordringlicheres Argument zugunsten des Ministeriums für internationale Entwicklung.  Nach dem Zweiten Weltkrieg definierte Premierminister Winston Churchill drei britische Einflussbereiche, die miteinander in Zusammenhang standen. Seitdem konzentrierte Großbritannien seine diplomatischen Bemühungen auf Amerika, den Commonwealth und Europa. Einen vierten Einflussbereich hat Großbritannien allerdings vernachlässigt: seine Rolle in internationalen Institutionen, angefangen beim Internationalen Währungsfonds, der Weltbank und der Welthandelsorganisation bis hin zu den Vereinten Nationen und Gremien wie dem Umweltprogramm der Vereinten Nationen.
Aus einer Vielzahl von Gründen – wie etwa der Befürchtung, dass eine mächtigere UNO antikoloniale Kräfte stärken könnte – hat Großbritannien weniger Zeit und Energie aufgewendet als möglich gewesen wäre, um die Entwicklung dieser Institutionen zu gestalten. Im Gegensatz dazu konzentrierte sich Frankreich auf den IWF, und die skandinavischen Länder wurden zu unverzichtbaren Akteuren bei den Bemühungen der Vereinten Nationen um Frieden und Entwicklung. Großbritanniens Haltung der relativen Zurückhaltung fand erst in den Jahren von 1997 bis 2010 ein Ende, als die Regierungen, denen ich angehörte, eine Kursänderung versuchten und eine Vorreiterrolle bei der Schaffung der G20 und des globalen Finanzstabilitätsrates einnahmen.
Die einzige Möglichkeit für ein Großbritannien außerhalb der EU, irgendwie globalen Einfluss auszuüben, besteht in der Zusammenarbeit mit internationalen Organisationen. Nur durch Finanzierungen und eine Führungsrolle im Bereich Entwicklungsbemühungen hat "Brexit-Großbritannien" überhaupt eine Chance wieder ein "globales Großbritannien" zu werden. Ohne das Ministerium für internationale Entwicklung werden britische Minister und Diplomaten an den weltweiten Verhandlungstischen erscheinen und noch weniger – statt mehr – anzubieten haben.
Schließlich stand das Ministerium für internationale Entwicklung an der Spitze der Zusammenarbeit in den Bereichen Gesundheit, Bildung und Umwelt. Es hat zur Gründung neuer weltweiter Initiativen beigetragen – darunter die Internationale Finanzfazilität für Impfungen, Global Partners for Health sowie den Advanced Market Commitments fund zur Entwicklung neuer Medikamente in armen Ländern. Durch das Ministerium für internationale Entwicklung wurde das Vereinigte Königreich zu einem führenden Mitglied des Globalen Fonds sowie zu einem der größten Unterstützer der neuen Internationalen Finanzfazilität für Bildung (an deren Schaffung ich und andere Persönlichkeiten aus Großbritannien beteiligt waren).
US-Präsident Donald Trump hat die Welt in Nationalisten und Globalisten gespalten, aber nicht einmal die Nationalisten können an diesen nicht geregelten Bereiche außerhalb der Reichweite der Nationalstaaten vorbei. Ohne internationale Zusammenarbeit zur Bekämpfung von Umweltverschmutzung, Armut und Konflikten auf der ganzen Welt werden die weltweiten Folgen dieser Probleme weiterhin spürbar bleiben. Das Ministerium für internationale Entwicklung aus der Gleichung zu entfernen, bedeutet für das Vereinigte Königreich einen doppelten Verlust: es ist weder in der Lage zu helfen noch eine Führungsrolle einzunehmen.
Aus dem Englischen von Helga Klinger-Groier