Hvordan Biden unilateralt kan gjenopprette multilateralismen
NEW YORK – Vi har mye å feire på starten av det nye året. Trygge, effektive COVID-19-vaksiner har ankommet. Det betyr at det er lys i enden av den pandemiske tunnelen (selv om de neste månedene vil være redselsfulle). Like viktig er det at USAs løgnaktige, inkompetente og ondskapsfulle president vil bli erstattet av sin rake motsetning: en anstendig, profesjonell og ærlig mann.
Men det er ingen tvil om at den påtroppende presidenten, Joe Biden, har mye å ta fatt i. Trumps presidentskap — og pandemien presidenten gjorde så lite for å bekjempe — etterlater seg dype sår. Det vil ta tid før økonomien henter seg inn igjen. Uten omfattende hjelp — inkludert hjelp til kommuner og delstater i pengenød — vil de økonomiske utfordringene vedvare.
Gamle samarbeidspartnere kan prise seg lykkelige over at USA igjen vil kjempe for demokrati og menneskerettigheter. Igjen kan man samarbeide om globale problemer som pandemier og klimaendringene. Men vi må ikke tro at verden har endret seg fundamentalt. USA har tross alt vist seg som en upålitelig samarbeidspartner.
Det amerikanske konstitusjonelle systemet (for føderasjonen og dens 50 delstater) overlevde og beskyttet riktignok det amerikanske demokratiet fra Trumps mest ondsinnede impulser. Men det at 74 millioner amerikanere stemte på fire nye år med hans groteske vanstyre er foruroligende. Hva kan vi vente oss ved neste valg? Hvordan kan andre nasjoner stole på et land som muligens vil forkaste alt det står for om fire år?
Verden behøver noe mer enn Trumps snevre transaksjonsbaserte tilnærming. Det samme gjør USA. Den eneste veien fremover er ekte multilateralisme, der USAs eksepsjonalisme reelt sett underlegges felles interesser og verdier, internasjonale institusjoner og en form for rettsstatstenkning som landet selv ikke er fritatt for. Dette vil i så fall være et stort utenrikspolitisk skifte som betyr at USA vil opptre mindre hegemonisk og mer basert på partnerskap.
En slik tilnærming har historiske røtter. Etter andre verdenskrig så man at det var i USAs interesse å gi fra seg noe innflytelse og bemyndige internasjonale organisasjoner som Verdensbanken og Det internasjonale pengefondet (IMF). Problemet er at USA ikke gikk langt nok. John Maynard Keynes tok klokelig til orde for opprettelsen av en global valuta — en ide som senere ble nedfelt i IMFs Special Drawing Rights (SDR). Men USA krevde vetorett og ga ikke fondet den myndighet det burde ha hatt.
Subscribe to Project Syndicate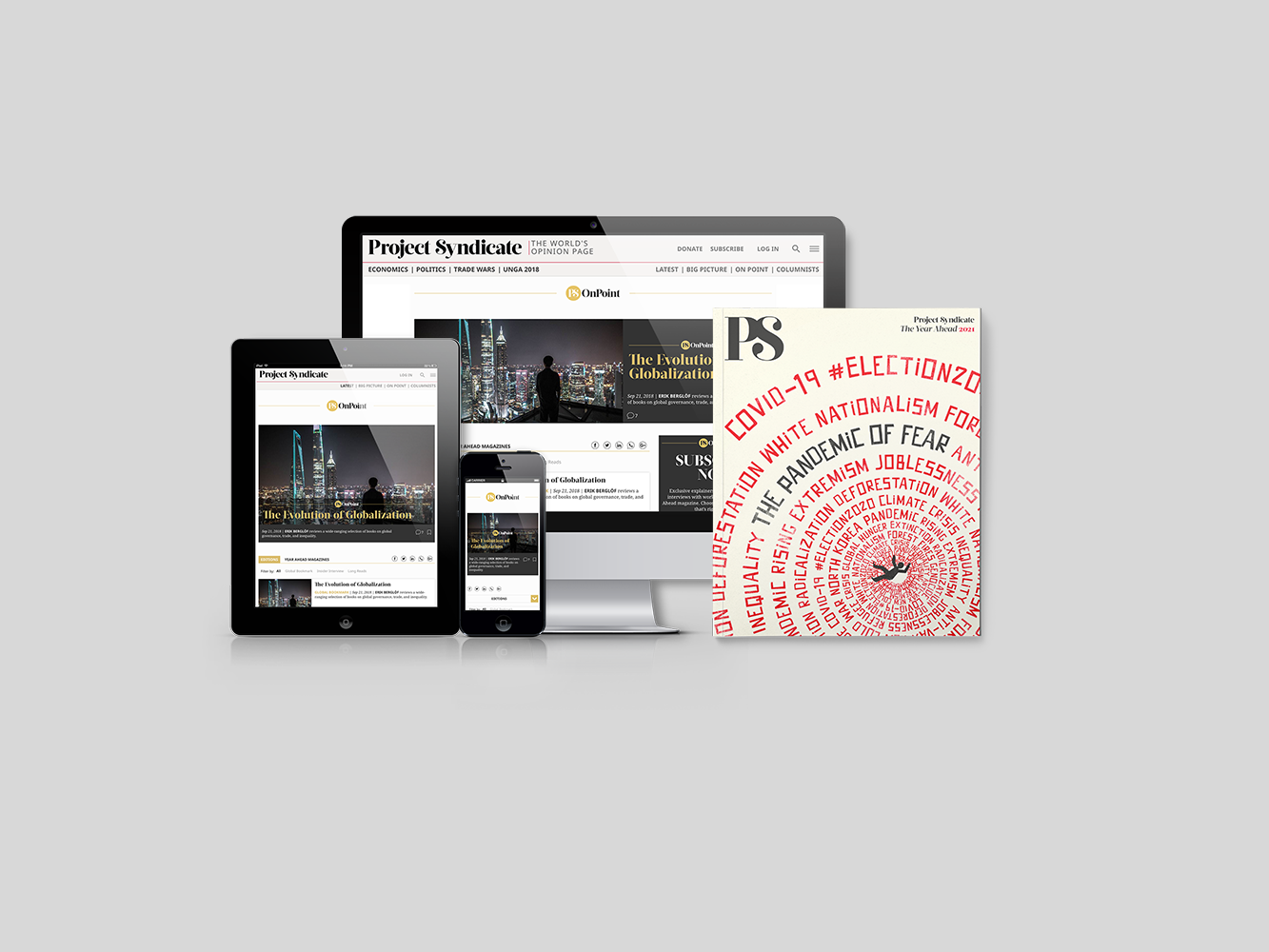 Subscribe to Project Syndicate
Enjoy unlimited access to the ideas and opinions of the world's leading thinkers, including weekly long reads, book reviews, and interviews; The Year Ahead annual print magazine; the complete PS archive; and more – All for less than $9 a month.
Men hvor mye Biden vil være i stand til å gjøre som president avhenger av omvalget i Georgia 5. januar, som står om delstatens to seter i Senatet. Selv uten et samarbeidsvillig Senat, har presidenten stor innflytelse i utenrikspolitikken. Det er mye Biden kan gjøre på egen hånd, og han kan gjøre det med en gang han kommer til makten.
En åpenbar prioritet vil være den post-pandemiske økonomien. Den økonomiske innhentingen vil ikke være sterk noe sted inntil den er sterk over alt. Vi kan ikke regne med at Kina vil spille en avgjørende rolle som pådriver for den globale etterspørselen, slik landet gjorde i kjølvannet av finanskrisen i 2008. Utviklingsland og fremvoksende økonomier mangler, på sin side, ressursene til å iverksette de massive stimuleringstiltakene som har funnet sted i USA og Europa. Det som må til, og som lederen av Det internasjonale pengefondet Kristalina Georgieva har pekt på, er en massiv utstedelse av SDR. Rundt 500 milliarder av disse globale «pengene» kan utstedes nærmest over natten hvis bare den amerikanske finansministeren godkjenner dette.
Trump-administrasjonen har blokkert utstedelsen av SDR. Men Biden kan gi grønt lys, og han kan støtte Kongressens forslag om å utvide størrelsen på utstedelsen betydelig. I tillegg kan USA gjør det samme som andre rike land: gi bort eller låne bort sin andel av disse «pengene» til land som virkelig trenger dem.
Biden-administrasjonen kan også lede an i kampen for å restrukturere statsgjeld. Flere utviklingsland og fremvoksende økonomier er allerede rammet av offentlige gjeldskriser, og flere kriser kan være på vei. Nå, mer enn noensinne, bør USA gå i bresjen for global gjeldssanering.
De siste fire årene har Trump-administrasjonen fornektet vitenskapen og vist forakt for grunnleggende rettsstatsprinsipper. En viktig prioritet bør derfor være å finne tilbake til opplysningstidens normer. Både internasjonale regler og vitenskapelige prinsipper er viktige for amerikaneres velstand — og for en velfungerende verdensøkonomi.
Vi kan gjenoppbygge den internasjonale handelen med utgangspunkt i rammeverket til Verdens handelsorganisasjon (WTO). I dag er det i for stor grad basert på maktkamp og nyliberal ideologi. Men det kan endre seg. Det er stadig flere som støtter kandidaturet til Ngozi Okonjo-Iweala som ny sjef for WTO. Han er en høyt ansett tidligere nigeriansk finansminister og tidligere visepresident i Verdensbanken. Hans utnevnelse har kun blitt holdt tilbake av Trump-administrasjonen.
Handelssystemet kan ikke fungere uten en mekanisme for å løse handelsdisputter. Trump-administrasjonen har nektet å godkjenne nye dommere i WTOs rettsmekanisme som kan ta over for de som har gått av. Med dette har institusjonen blitt handlingslammet. Men til tross for at Trump har gjort alt han kan for å svekke internasjonale institusjoner og regler, har han, uten å være klar over det, gjort det mulig å forbedre amerikansk handelspolitikk.
Med reforhandlingen av den nordamerikanske frihandelsavtalen (NAFTA) har USA, Mexico og Canada kvittet seg med investeringsbestemmelsene, som var noe av det mest skadelige vi har sett i internasjonale økonomiske relasjoner. Og i dag bruker Trumps handelsrepresentant, Robert Lighthizer, tiden han har igjen på å ta til orde for «anti-dumping»-sanksjoner mot land som har latt sine bedrifter se bort fra globale miljøstandarder. Med tanke på at jeg inkluderte et tilsvarende forslag i min egen bok Making Globalization Work (2006), virker det som om tiden er inne for en ny tverrpolitisk enighet om handel.
De fleste av de ovennevnte tiltakene kan iverksettes i starten av Bidens presidenttid — uten Kongressens godkjenning. Dersom disse tiltakene iverksettes, vil det langt på vei vise at USA igjen støtter opp om multilateralt samarbeid — og bidra til at vi kan legge de siste fire års katastrofe bak oss.
Oversatt av Marius Gustavson