Como Biden pode restaurar o multilateralismo unilateralmente
NOVA YORK – Há muito que comemorar com o ano novo. A chegada de vacinas de covid-19 seguras e eficientes significa que há luz no fim do túnel pandêmico (embora os próximos meses sejam terríveis). Igualmente importante, o mentiroso, incompetente e mal-intencionado presidente dos EUA será substituído pelo seu completo oposto: um homem com decência, honestidade e profissionalismo.
Mas não devemos alimentar ilusões sobre o que o presidente eleito Joe Biden vai enfrentar no cargo. Haverá cicatrizes profundas do governo Trump, e de uma pandemia que o governo de saída fez muito pouco para combater. O trauma econômico não vai passar de uma hora para outra, e sem uma assistência significativa neste momento crítica de necessidade – inclusive com auxílio a governos locais e estaduais com pouco dinheiro –, a dor será prolongada.
Sem dúvida, os antigos aliados da América aceitarão de bom grado a volta a um mundo em que os Estados Unidos representam democracia e direitos humanos, além de cooperação internacional para abordar problemas globais como pandemias e mudanças climáticas. Porém, de novo, seria tolice fingir que o mundo não mudou de um modo fundamental. Os EUA, afinal, tem se mostrado um aliado indigno de confiança.
É verdade que a Constituição americana e as de seus 50 Estados sobreviveram e protegeram a democracia americana do pior dos impulsos malignos de Trump. Mas o fato de que 74 milhões de americanos votaram a favor de mais quatro anos deste desgoverno grotesco causa arrepio. O que a próxima eleição pode trazer? Por que os outros deveriam confiar em um país que pode repudiar tudo que representa daqui a apenas quatro anos?
O mundo precisa de mais do que a abordagem transacional tacanha de Trump; os EUA também. O único jeito de ir em frente é por meio de multilateralismo verdadeiro, em que o excepcionalismo americano está genuinamente subordinado aos interesses e valores comuns, instituições internacionais e uma forma do estado de direito da qual os EUA não estão isentos. Isto representaria uma grande mudança para os EUA, de uma posição de hegemonia antiga para uma fundamentada em parcerias.
Tal abordagem não seria inédita. Após a Segunda Guerra Mundial, os EUA descobriram que ceder alguma influência a organizações internacionais como o Banco Mundial e o Fundo Monetário Internacional era na verdade do interesse do país. O problema é que a América não foi longe o bastante. Enquanto John Maynard Keynes sabiamente defendeu a criação de uma moeda global – ideia mais tarde manifesta nos Direitos Especiais de Saque (DES) do FMI –, os EUA exigiram poder de veto no FMI, e não deram ao fundo a quantidade de poder que ele deveria ter.
Subscribe to Project Syndicate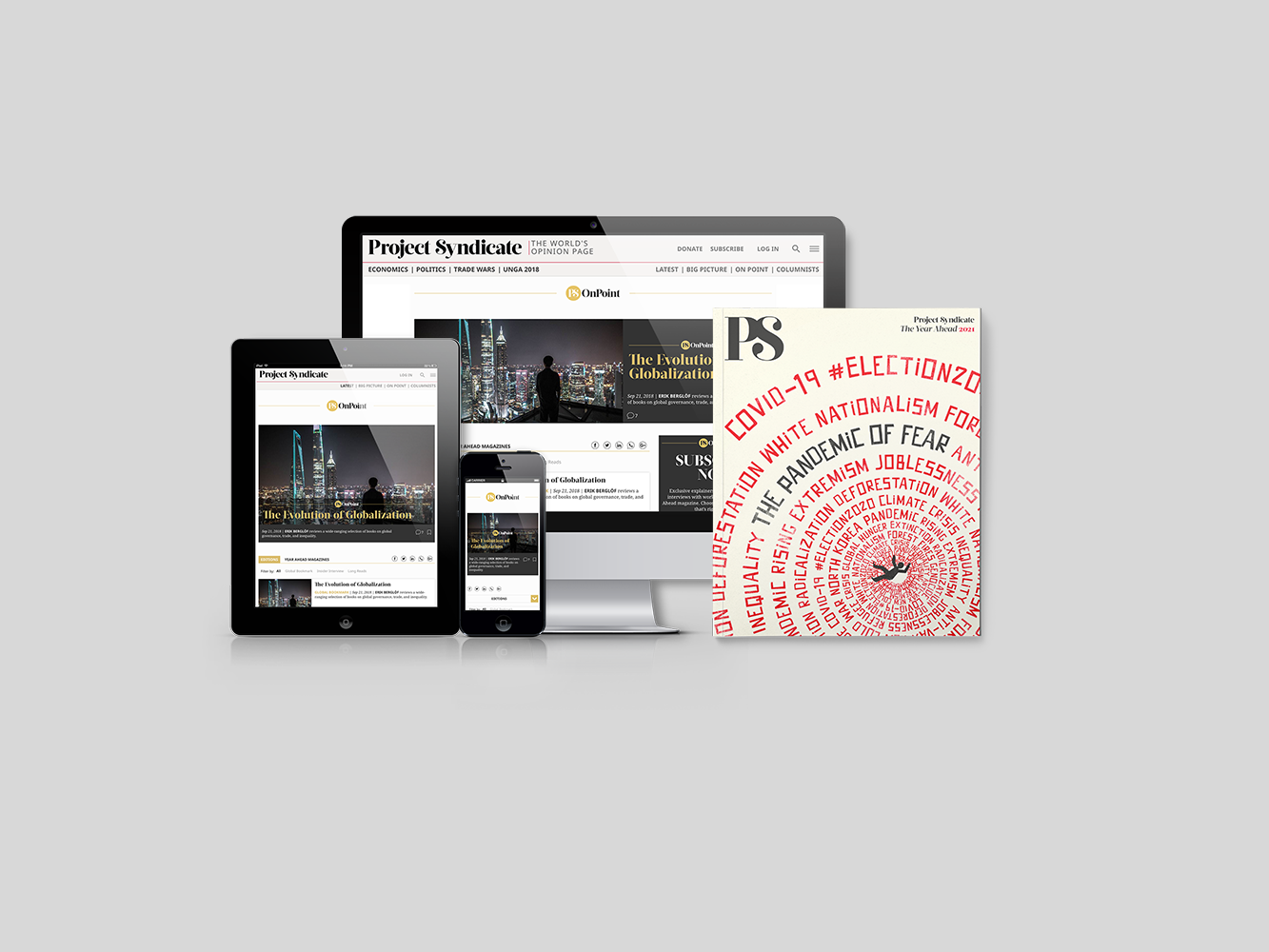 Subscribe to Project Syndicate
Enjoy unlimited access to the ideas and opinions of the world's leading thinkers, including weekly long reads, book reviews, and interviews; The Year Ahead annual print magazine; the complete PS archive; and more – All for less than $9 a month.
Em todo caso, muito do que Biden será capaz de fazer no governo depende dos resultados do segundo turno das eleições para as duas vagas no Senado americano em 5 de janeiro. Contudo, mesmo sem um parceiro receptivo no Senado, o presidente tem enorma influência em assuntos internacionais. Há muita coisa que Biden será capaz de fazer sozinho, começando já.
Uma prioridade óbvia será a recuperação pós-pandêmica, que não será robusta em lugar algum até que seja robusta em qualquer lugar. Não podemos contar que a China tenha um papel tão pronunciado em direcionar a demanda global desta vez como foi no rescaldo da crise financeira de 2008. Além disso, economias em desenvolvimento e emergentes não têm os recursos para os programas de incentivos de grande escala que EUA e Europa estão oferecendo às suas economias. O que é necessário, como tem destacado a diretora executiva do FMI Kristalina Georgieva, é uma emissão enorme de DES. Cerca de US$ 500 bilhões deste "dinheiro" global poderia ser lançado da noite para o dia se pelo menos a Secretaria do Tesouro americano aprovasse.
Enquanto o governo Trump vem barrando uma emissão de DES, Biden poderia dar o sinal verde, ao mesmo tempo que apoiasse propostas existentes no Congresso para expandir de modo significativo o tamanho das emissões. Os EUA poderiam então se juntar aos outros países ricos que já concordaram em doar ou emprestar recursos a países que necessitem.
O governo Biden também pode ajudar a liderar o movimento pela reestruturação da dívida soberana. Vários países em desenvolvimento e mercados emergentes já vêm passando por crises de dívidas, e muitos outros podem passar pelo mesmo. Se já houve um momento em que os EUA tiveram interesse em reestruturação da dívida global, é agora.
Nos últimos quatro anos, o governo Trump tem negado a ciência elementar e zombado do estado de direito. Restaurar as normas do Iluminismo é, portanto, outra grande prioridade. O estado de direito internacional, tanto quanto a ciência, é tão importante para a própria prosperidade dos EUA quanto é para o funcionamento da economia mundial.
Em termos de mercado, a Organização Mundial do Comércio oferece um pilar sobre o qual reconstruir. Atualmente, a ordem da OMC é bastante definida pela política de poder e ideologia neoliberal; mas isso pode mudar. Há um consenso crescente de apoio à candidatura de Ngozi Okonjo-Iweala para atuar como próximo diretor-geral da OMC. Um destacado ex-ministro da Fazenda nigeriano e ex-vice-presidente do Banco Mundial, a indicação de Okonjo-Iweala tem sido impedida apenas pelo governo Trump.
Nenhum sistema comercial consegue funcionar sem um método de resolução de disputas. Ao se recusar a aprovar quaisquer novos juízes para o mecanismo de resolução de disputas da OMC em substituição àqueles cujos mandatos terminaram, o governo Trump tem deixado a instituição sem quórum e paralisada. Mesmo assim, ainda que Trump tenha feito tudo que pudesse para enfraquecer as instituições internacionais e o estado de direito, sem querer ele também abriu as portas para melhorar a política comercial americana.
Por exemplo, a renegociação que o governo Trump fez do Acordo de Livre Comércio Norte Americano com o México e o Canadá em grande medida abriu mão das cláusulas de investimentos que estavam entre os aspectos mais nocivos das relações econômicas internacionais. E agora, o representante de Trump para o comércio, Robert Lighthizer, está usando o trempo de que ainda dispõe no cargo para defender sanções "anti-dumping" contra países que deem às suas empresas vantagens por ignorar critérios ambientais globais. Levando em conta que eu incluí proposta semelhante em meu livro de 2006, Globalização: Como Dar Certo, parece agora haver espaço amplo para um novo consenso bipartidário sobre comércio.
A maioria das ações que eu venho descrevendo não requer atuação do Congresso e pode ser implementada nos primeiros dias de Biden no cargo. Buscar estas metas teria enorme impacto no sentido de reafirmar o compromisso da América com o multilateralismo e de deixar o desastre dos quatro últimos anos para trás de nós.
Tradução por Fabrício Calado Moreira