Wie Biden unilateral den Multilateralismus erneuern kann
NEW YORK – Im neuen Jahr gibt es so viel zu feiern: Sichere, effektive COVID-19-Impfstoffe sind ein Licht am Ende des pandemischen Tunnels (obwohl es die nächsten Monate noch einmal schlimm werden könnte). Ebenso wichtig ist, dass Amerikas lügnerischer, inkompetenter, böswilliger Präsident von seinem genauen Gegenteil abgelöst wird: einem Mann, der sich durch Anstand, Ehrlichkeit und Professionalität auszeichnet.
Aber wir sollten uns über das, was den zukünftigen US-Präsidenten Joe Biden im Amt erwartet, keine Illusionen machen: Die Trump-Präsidentschaft und auch die Pandemie, die von der scheidenden Regierung so unzureichend bekämpft wurde, werden tiefe Narben hinterlassen. Das wirtschaftliche Trauma wird nicht über Nacht heilen, und ohne massive Hilfe in dieser entscheidenden und schwierigen Zeit – zu der auch die Unterstützung klammer bundesstaatlicher und lokaler Regierungen gehört – werden die Schmerzen nur noch verlängert.
Die traditionellen Verbündeten Amerikas werden es natürlich begrüßen, wenn wir in eine Welt zurückkehren, in der die Vereinigten Staaten für Demokratie und Menschenrechte eintreten und international zusammenarbeiten, um globale Probleme wie Pandemien und den Klimawandel zu lösen. Aber auch hier sollten wir nicht vergessen, dass sich die Welt grundlegend geändert hat. Immerhin hat sich Amerika letztlich nicht gerade als vertrauenswürdiger Bündnispartner erwiesen.
Sicherlich haben die Verfassungen der USA und ihrer fünfzig Bundesstaaten überlebt und die amerikanische Demokratie vor den schlimmsten Folgen der bösartigen Trumpschen Impulse bewahrt. Aber die Tatsache, dass 74 Millionen Amerikaner für weitere vier Jahre dieser grotesk schlechten Regierung gestimmt haben, lässt einen schaudern. Was könnte die nächste Wahl bringen? Wer soll einem Land vertrauen, das alles, wofür es heute steht, in nur vier Jahren wieder rückgängig machen könnte?
Die Welt und auch die USA selbst brauchen mehr als Trumps engen transatlantischen Ansatz. Der einzige Weg nach vorn führt über einen echten Multilateralismus, bei dem sich der amerikanische Exzeptionalismus den gemeinsamen Interessen und Werten internationaler Institutionen unterordnet – und einer Rechtsstaatlichkeit, von der die USA nicht ausgenommen sind. Dies wäre für Amerika ein großer Wandel – von einer Politik der Hegemonie hin zu einer, die auf Partnerschaften beruht.
Ein solcher Ansatz hat durchaus historische Vorbilder: Nach den Zweiten Weltkrieg erkannten die USA, dass es auch in ihrem eigenen Interesse lag, einen Teil ihres Einflusses an internationale Organisationen wie die Weltbank und den Internationalen Währungsfonds abzugeben. Das Problem ist, dass dies nicht weit genug ging. Obwohl sich John Maynard Keynes klugerweise für eine weltweite Währung einsetzte – eine Idee, die sich später in den IWF-Sonderziehungsrechten (SZR) manifestierte – bestanden die USA beim IWF auf ihr Vetorecht und statteten den Fonds mit weniger Macht aus, als er eigentlich haben sollte.
Subscribe to Project Syndicate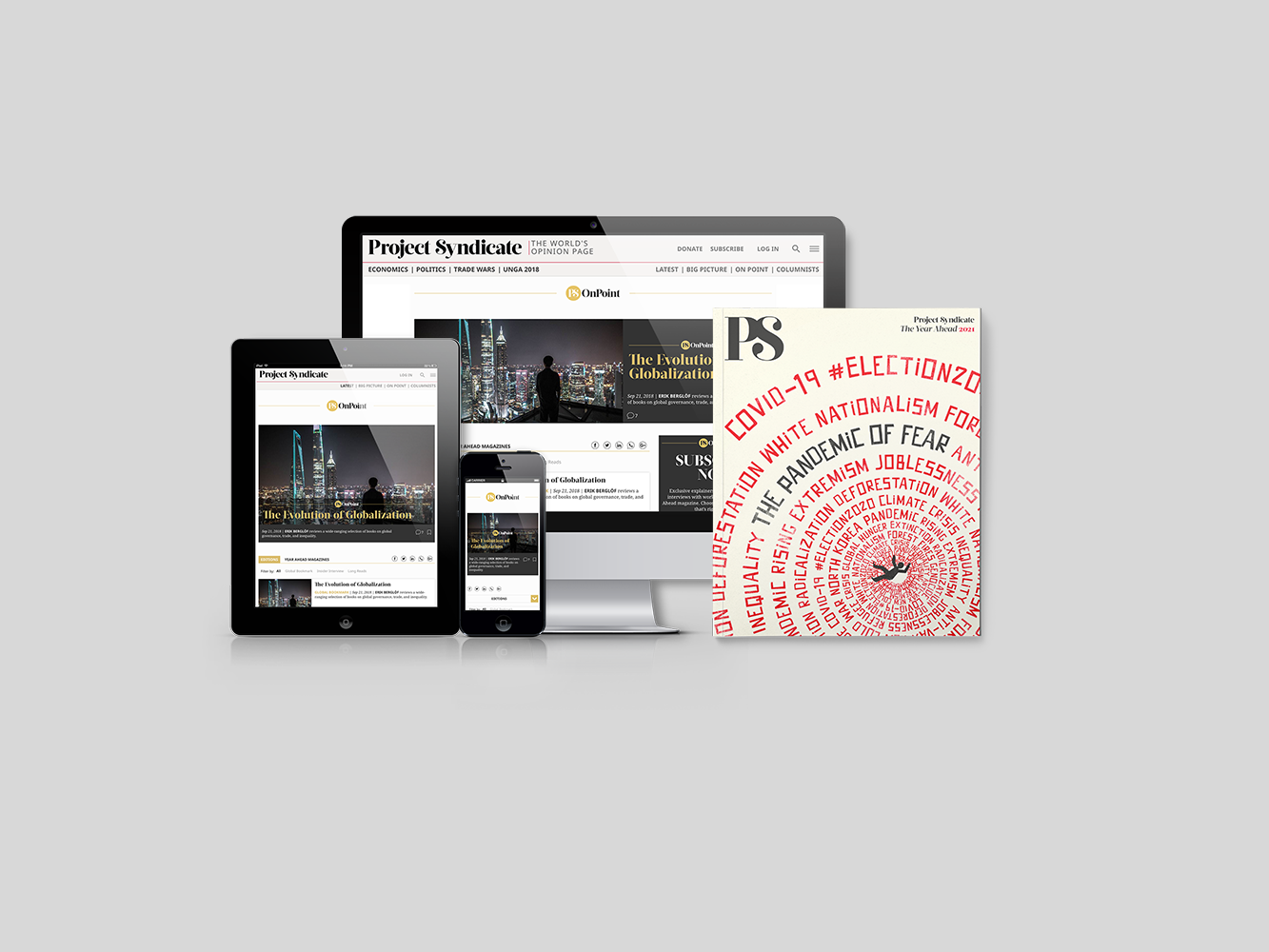 Subscribe to Project Syndicate
Enjoy unlimited access to the ideas and opinions of the world's leading thinkers, including weekly long reads, book reviews, and interviews; The Year Ahead annual print magazine; the complete PS archive; and more – All for less than $9 a month.
Auf jeden Fall hängt viel von dem, was Biden im Amt tun kann, von den Ergebnissen der Stichwahlen für die beiden US-Senatssitze in Georgia am 5. Januar ab. Aber auch ohne die Hilfe des Senats hat der Präsident einen enormen Einfluss auf die internationalen Angelegenheiten. Biden allein kann schon eine Menge tun, und er kann sofort damit beginnen.
Eine offensichtliche Priorität liegt auf der Erholung nach der Pandemie – eine Erholung, die nirgends stark sein wird, wenn sie nicht überall stark ist. Diesmal können wir uns nicht darauf verlassen, dass China die globale Nachfrage derart massiv unterstützt wie nach der Finanzkrise von 2008. Darüber hinaus mangelt es den Entwicklungs- und Schwellenländern an den nötigen Ressourcen für die massiven Hilfsprogramme, mit denen die USA und Europa ihre Volkswirtschaften gestützt haben. Was wir brauchen, ist, wie IWF-Direktorin Kristalina Georgiewa kürzlich dargelegt hat, eine massive Ausgabe von Sonderziehungsrechten. Wenn das US-Finanzministerium endlich zustimmt, könnte über Nacht solches globales "Geld" im Umfang von etwa 500 Milliarden Dollar bereitgestellt werden.
Die Trump-Regierung hat diese SZR blockiert, aber Biden könnte grünes Licht dafür geben und gleichzeitig Vorschläge des Kongresses aufgreifen, ihr Volumen noch einmal deutlich zu vergrößern. Dann könnten sich die USA den anderen reichen Ländern anschließen, die bereits jetzt versprochen haben, ihre eigenen SZR-Anteile an bedürftige Länder zu spenden oder zu verleihen.
Außerdem kann sich die Biden-Regierung für die Umstrukturierung von Staatsschulden einsetzen. Bereits jetzt stecken einige Entwicklungs- und Schwellenländer in einer Schuldenkrise, und bald könnten viele weitere folgen. Wenn es jemals eine Zeit gegeben hat, in der eine solche weltweite Umschuldung im Interesse der USA lag, ist es heute.
In den letzten vier Jahren hat die Trump-Regierung grundlegende wissenschaftliche Erkenntnisse geleugnet und das Rechtsstaatsprinzip missachtet. Eine weitere Priorität ist es daher, die Normen der Aufklärung wiederherzustellen. Zusätzlich zur Wissenschaft ist auch die internationale Rechtsstaatlichkeit wichtig – nicht nur für den eigenen Wohlstand der USA, sondern auch für die Gesundheit der globalen Wirtschaft.
In der Handelspolitik bietet die Welthandelsorganisation WTO eine Basis, auf der neu aufgebaut werden kann. Bis jetzt war diese Organisation zu stark durch Machtpolitik und neoliberale Ideologie geprägt, aber dies kann sich ändern. Immerhin gibt es einen wachsenden Konsens der Unterstützung für Ngozi Okonjo-Iweala, die als nächste Generaldirektorin der WTO kandidiert. Als angesehene ehemalige nigerianische Finanzministerin und ehemalige Vizepräsidentin der Weltbank wurde Okonjo-Iweala dabei bisher nur von der Trump-Regierung blockiert.
Kein Handelssystem kann ohne Streitschlichtungsverfahren funktionieren. Indem sie sich weigerte, neue Richter für den Konfliktlösungsmechanismus der WTO zu akzeptieren, hat die Trump-Regierung diese Institution beschlussunfähig gemacht und gelähmt. Aber obwohl Trump alles getan hat, was er konnte, um internationale Institutionen und die Rechtsstaatlichkeit zu untergraben, hat er auch unbeabsichtigt die Tür für eine Verbesserung der US-Handelspolitik geöffnet.
Beispielsweise hat die Neuverhandlung des Nordamerikanischen Freihandelsabkommens mit Mexiko und Kanada die Investitionsvorschriften beseitigt, die vorher zu den schädlichsten Aspekten internationaler Wirtschaftsbeziehungen gehörten. Und jetzt nutzt Trumps Handelsvertreter Robert Lighthizer seine restliche Amtszeit dafür, zu "Anti-Dumping"-Sanktionen gegen Länder aufzurufen, die ihren Unternehmen einen Vorteil verschaffen, indem sie globale Umweltstandards ignorieren. Bereits 2006 habe ich in meinem Buch Making Globalization Work einen ähnlichen Vorschlag gemacht, und nun scheint es gute Aussichten auf einen neuen parteiübergreifenden Handelskonsens zu geben.
Die meisten Maßnahmen, die ich hier beschrieben habe, erfordern keine Zustimmung im Kongress und könnten bereits in den ersten Tagen von Bidens Amtszeit umgesetzt werden. So könnte entscheidend dazu beigetragen werden, Amerikas Engagement für den Multilateralismus neu zu bestätigen und die Katastrophe der letzten vier Jahre hinter uns zu lassen.
Aus dem Englischen von Harald Eckhoff