Dapatkah Amerika Memimpin Kembali?
ANN ARBOR – Pelantikan Presiden terpilih Amerika Serikat (AS) Joe Biden yang akan dilaksanakan beberapa hari lagi memberi harapan bahwa pemerintahannya akan "membuat AS memimpin lagi." Jika AS mengubah rivalitas dengan Tiongkok menjadi persaingan yang membangun, maka ini adalah jalan yang benar. Tapi apakah Biden bisa mengembalikan dan mempertahankan kepemimpinan global AS tergantung pada seberapa efektif dia memulihkan keretakan-keretakan dalam negeri dan mengatasi kekhawatiran yang mendalam tentang globalisasi yang dimiliki oleh berbagai kelompok masyarakat AS.
Biden berulang kali berjanji mengembalikan reputasi dan posisi AS di hadapan dunia, yang rusak parah di bawah kepemimpinan Donald Trump. Untuk mencapai hal itu, dia akan segera bergabung kembali ke dalam lembaga-lembaga multilateral (seperti Organisasi Kesehatan Dunia/WHO) dan perjanjian internasional (mulai dari kesepakatan iklim Paris) yang ditinggalkan AS di bawah kepemimpinan Trump.
Janji-janji ini menunjukkan visi kembalinya AS ke tampuk kepemimpinan orde internasional yang liberal, posisi yang membuat AS lebih efektif dalam bersaing – dan bekerja sama – dengan Tiongkok. Tapi ada tanda-tanda yang menunjukkan banyak warga AS yang tidak ingin negaranya memimpin kembali.
Kemenangan Biden dalam pemilu presiden bulan November lalu tidak menunjukkan penolakan yang besar terhadap Trump dan populisme busuknya seperti yang diharapkan kaum liberal. Memang benar bahwa Biden menang dengan mendapatkan lebih dari 81 juta suara – paling tinggi dalam sejarah pemilu presiden AS. Tapi Trump mendapatkan lebih dari 74 juta suara – kedua terbesar dalam sejarah – dan mendapatkan lebih banyak suara dari kelompok-kelompok minoritas dibanding pemilu tahun 2016. Hal tersebut terjadi walaupun ada banyak skandal dan pandemi yang ditangani dengan sangat buruk.
Apa yang menyebabkan bertahannya popularitas Trump? Salah satu penjelasan yang dikemukakan oleh Peter Singer pada bulan November adalah bahwa hampir separuh orang AS sudah "kehilangan jiwanya." Diagnosis ini tentu benar mengenai kelompok paling buruk dalam basis masa Trump, yang mencakup kaum nasionalis kulit putih dan neo-Nazi yang menyerang Capitol Hill (Kawasan Gedung Parlemen AS) pada tanggal 6 Januari lalu. Dan mereka yang tidak masuk dalam kelompok tersebut tetap memilih presiden yang terang-terangan rasis, yang tidak mau mengecam supremasi kulit putih.
Tapi, jika kita menganggap dukungan terhadap Trump hanya berupa dukungan terhadap kefanatikan kelompok, maka hal ini akan terlalu menyederhanakan keadaan. Kita perlu ingat bahwa 13% pemilih Trump pada tahun 2016 adalah pemilih Barack Obama pada tahun 2012. Dan Trump mendapatkan 10 juta suara tambahan pada tahun 2020 dibanding tahun 2016.
Subscribe to Project Syndicate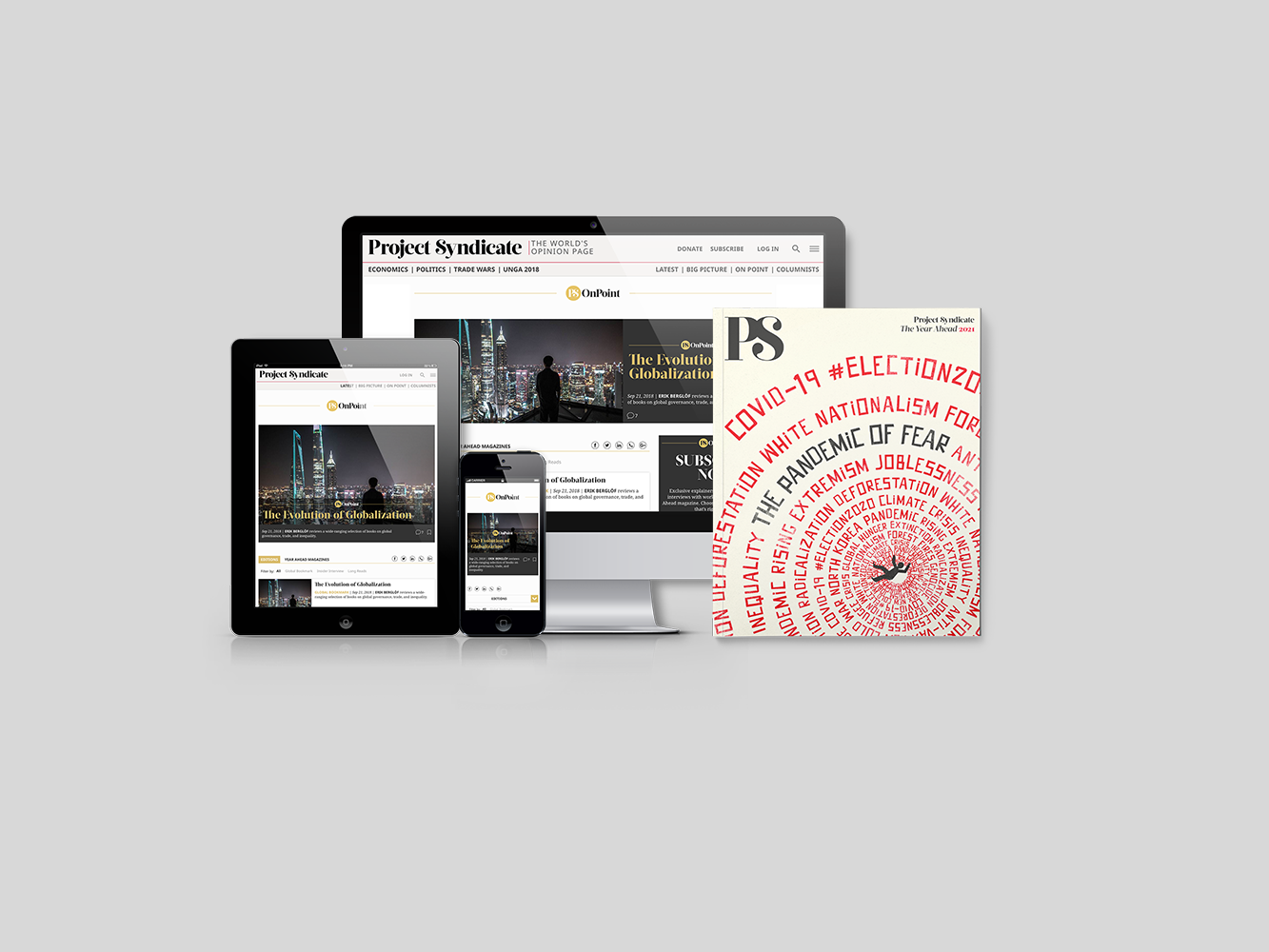 Subscribe to Project Syndicate
Enjoy unlimited access to the ideas and opinions of the world's leading thinkers, including weekly long reads, book reviews, and interviews; The Year Ahead annual print magazine; the complete PS archive; and more – All for less than $9 a month.
Trump mendapatkan dukungan dari beraneka ragam sumber. Rasisme dan xenofobia, menjadi beberapa sumbernya, tapi demikian juga kemarahan para pemilih pedesaan dan kelas pekerja terhadap penghasilan yang stagnan dan kesenjangan yang meningkat. Sebagian pemilih keturunan Asia juga terperdaya pada sikap agresifnya terhadap Tiongkok. Sebagai orang yang berasal dari luar dunia politik, Trump mampu memanfaatkan kebencian terhadap para politisi yang sudah ada, menyabotase sistem Partai Republik, dan mencitrakan dirinya sebagai pejuang bagi kaum yang kecewa terhadap pemerintah.
Para pemilih ini diperdaya agar percaya pada Trump, yang tidak pernah berniat memecahkan permasalahan mereka dengan sungguh-sungguh, dan tidak ragu menghasut mereka agar melakukan pemberontakan lalu meninggalkan mereka. Salah satu faktor struktural yang membantu Trump dan para pembantunya dalam memperdaya pemilih-pemilih ini adalah globalisasi sudah memberikan dampak buruk bagi banyak orang, meskipun ada juga yang mendapatkan keuntungan.
Mereka yang mendapatkan keuntungan dari globalisasi di antaranya adalah perusahaan-perusahaan besar yang memindahkan pabrik-pabriknya ke tempat-tempat yang lebih murah sehingga meningkatkan labanya, dan negara-negara berkembang – terutama Tiongkok – yang menjadi negara tujuan pindahnya pabrik-pabrik tersebut. Pihak-pihak yang mendapatkan dampak buruk globalisasi di antaranya adalah jutaan pekerja manufaktur AS yang kehilangan mata pencahariannya. Hal-hal tersebut dicampur dengan warisan rasisme dan persebaran berita bohong di media sosial akan menjadikan orang-orang mudah dihasut.
Tapi bukan hanya kelas pekerja yang kecewa pada globalisasi. Seiring dengan pergeseran pusat perekonomian dunia menuju negara-negara berkembang seperti Tiongkok, negara-negara tersebut mendapatkan daya tawar yang meningkat dalam lembaga-lembaga internasional, yang seharusnya mewakili semua negara, bukan hanya mewakili para arsitek lembaga tersebut. Bagi banyak pengambil kebijakan di AS, hal ini tidak bisa diterima: jika AS menanggung biaya untuk menjaga ketertiban dunia, mereka percaya bahwa kepentingan AS harus diutamakan.
Sesuai dengan janjinya "Amerika yang Utama," Trump mengeluarkan AS dari komitmen-komitmen kepemimpinan global sebelumnya, mengurangi partisipasi dalam hubungan luar negerinya, dan membangun tembok. Dia melakukan apa yang diinginkan para pemilihnya. Tapi kebijakannya jelas menghasilkan akibat yang tidak bisa diterima para pemimpin AS: meningkatnya profil Tiongkok karena negara tersebut mengisi kekosongan kepemimpinan yang ditinggalkan AS.
Menanggapi hal ini, pemerintahan Trump menggambarkan Tiongkok sebagai musuh bebuyutan AS, melancarkan perang dagang yang merugikan, dan menerapkan serangkaian sanksi. Bagi Beijing, permusuhan tersebut membenarkan kecurigaan yang sudah lama bahwa AS tidak akan menerima kebangkitan Tiongkok begitu saja, maka Tiongkok bereaksi dengan mempertahankan diri. Lingkaran setan kecurigaan dan permusuhan yang diakibatkan hal ini masih belum terpatahkan.
Bagi pemerintahan Biden, ada dua pelajaran yang penting. Pertama, AS selalu menghadapi sebuah pilihan. AS tidak bisa mundur dari kepemimpinan global dan menolak negara lain mengisi kedudukan tersebut; jika AS memaksa, maka konfrontasi dan ketegangan akan terjadi. Kedua, perseteruan AS dan Tiongkok selama empat tahun terakhir tidak hanya memutus hubungan antara kedua negara ini tapi juga menjadi penghalang bagi AS dalam globalisasi.
Hal ini berarti bahwa jika AS ingin mengambil kembali kendali kepemimpinan yang membantu AS melakukan persaingan yang membangun dengan Tiongkok – dan mempertahankan hal tersebut selama lebih dari satu masa jabatan presiden saja – maka pemerintahan Biden harus mengatasi kesenjangan perekonomian dan dampak-dampak buruk yang diakibatkan globalisasi. Jika tidak, Trump – atau, lebih parahnya lagi, seseorang yang lebih kompeten daripada Trump – bisa merebut kursi kepresidenan pada tahun 2024 atau 2028, dan membalikkan kemajuan yang dihasilkan pemerintahan Biden dalam masa jabatan ini.