Le renminbi doit échapper aux discussions commerciales Amérique-Chine
CAMBRIDGE – Un accord commercial potentiellement imminent entre la Chine et les États-Unis pourrait-il aggraver les cycles économiques mondiaux, voire semer les graines de la prochaine crise financière asiatique ? Si l'accord final – à supposer qu'il émerge – contraignait la Chine à s'accrocher indéfiniment à son régime de taux de change excessivement rigide et obsolète, la réponde pourrait alors être affirmative.
Le maintien d'une stabilité du taux de change du renminbi par rapport au dollar américain exigerait des autorités chinoises soit qu'elles suivent le changement des taux d'intérêt américains, soit qu'elles procèdent à des contorsions en termes de contrôle des capitaux, afin de compenser d'une autre manière les pressions de taux de change. Or, la Chine est tout simplement trop imposante et trop globale pour adhérer à une politique de change adaptée à une économie ouverte d'envergure plus réduite.
Par ailleurs, aucune de ces deux approches de maintien de la stabilité du renminbi – conservation d'une parité des taux d'intérêt, ou mise en œuvre de contrôles sur les capitaux – ne revêt de logique pour une économie dont les cycles commerciaux coïncident rarement précisément avec ceux des États-Unis. À l'heure du déclin de ses performances économiques tendancielles, d'une surconstruction de logements dans le pays, et du surendettement de ses gouvernements régionaux, la Chine rencontrera inévitablement des problèmes de croissance politiquement délicats. Et lorsque ces problèmes surviendront, la Banque populaire de Chine devra pouvoir assouplir les conditions monétaires sans avoir à s'inquiéter de la nécessité de soutenir le taux de change.
Lorsqu'un pays subit d'importantes pressions financières et macroéconomiques, le maintien d'un taux de change inflexible constitue souvent la recette du désastre. Le Fonds monétaire international, ainsi que la plupart des économistes universitaires, soulignent ce point depuis de nombreuses années.
Un tel accord entre l'Amérique et la Chine autour du taux de change s'inscrirait en discordance avec d'autres éléments d'un potentiel accord commercial bilatéral, pour la plupart « gagnant-gagnant ». La Chine s'est par exemple engagée à faire respecter plus activement les droits de propriété intellectuelle, bien que la mesure de cette action reste à observer. Une plus grande rigueur chinoise dans ce domaine pourrait à moyen terme bénéficier aux entreprises américaines et européennes, et permettrait en même temps à long terme d'alimenter la concurrence et l'innovation au sein des propres secteurs manufacturier et technologique de la Chine.
Après tout, dans les années 1800, et à l'instar de la Chine actuelle, les États-Unis n'avaient pas intérêt à protéger les droits de propriété intellectuelle des sociétés étrangères (à l'époque principalement britanniques), dont les Américains ont largement copié les idées et projets. Mais lorsque les innovateurs américains ont rencontré le succès, ils ont eux aussi eu besoin de protéger leurs droits, et les États-Unis n'ont pas tardé à élever leurs lois sur les brevets et la propriété intellectuelle au niveau des principales normes mondiales.
Subscribe now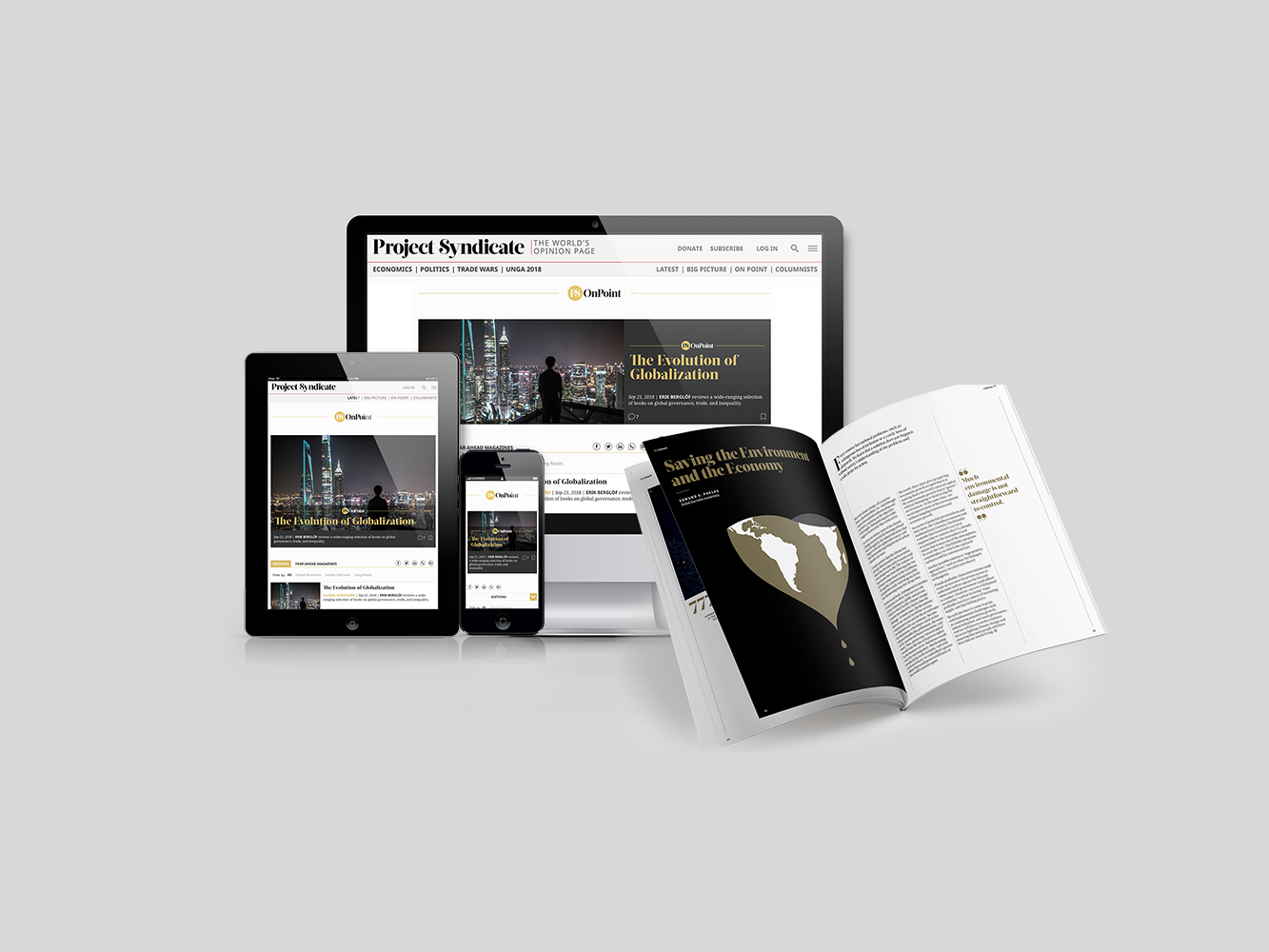 Subscribe now
Get unlimited access to OnPoint, the Big Picture, and the entire PS archive of more than 14,000 commentaries, plus our annual magazine, for less than $2 a week.
Un autre aspect gagnant-gagnant pourrait résulter de l'insistance de l'Amérique dans sa volonté de voir le gouvernement chinois cesser de subventionner si généreusement ses exportateurs. La plupart de ces subventions s'adressent aux entreprises d'État inefficaces de la Chine, siphonnant le crédit et d'autres ressources à l'écart d'un secteur privé plus dynamique.
Plus généralement, un accord commercial pourrait bien conférer un nouvel élan aux réformes économiques en Chine, qui semblent au point mort voire en marche arrière depuis quelques années. En déplacement à Pékin récemment pour assister au Forum sur le développement de la Chine, j'ai interrogé un haut dirigeant chinois sur la question de ce ralentissement. Je m'attendais à ce qu'il m'énumère une longue liste de réformes peu conséquentes, en phase avec la ligne habituelle d'une Chine qui fait les choses très progressivement au fil du temps. J'ai donc été surpris lorsqu'il a reconnu avec franchise : « Nous procédons à des réformes économiques majeures uniquement en périodes de crise, et aucune crise suffisamment importante n'est survenue dernièrement ».
En ce sens, le président américain Donald Trump s'apparente au remède parfait, puisqu'il contraint les autorités chinoises à réaliser qu'elles ne peuvent plus compter sur la demande des consommateurs américains pour maintenir en mouvement la locomotive de la croissance chinoise. Certains observateurs s'amusent en effet à décrire Trump comme le sauveur de l'économie de la Chine, dans la mesure où la panique face à une possible guerre commerciale contribue à accélérer des réformes structurelles longtemps reportées.
En revanche, la pression exercée par l'Amérique pour que la Chine s'engage autour d'un taux de change renminbi-dollar plus stable, et cesse de dévaluer sa monnaie à des fins de compétitivité, pourrait mettre à mal des réformes économiques nouvelles. Un tel régime empêcherait notamment la Chine d'adopter progressivement la plus grande souplesse de change nécessaire à une politique monétaire plus indépendante.
L'équipe de Trump semble considérer, à tort, que la Chine œuvrerait pour maintenir une monnaie faible, afin de favoriser ses exportations. Cette vision fréquemment martelée par certains commentateurs, selon laquelle la Chine manipulerait sa monnaie, néglige le fait que l'hypercompétitivité de la Chine puise depuis longtemps sa source dans les salaires relativement peu élevés du pays.
Plus fondamentalement, l'accusation selon laquelle la Chine manipulerait le taux de change s'inscrit en totale déconnexion avec l'histoire récente. Ces dernières années, les pressions sur le renminbi ont été principalement baissières, et le gouvernement a répondu par des restrictions beaucoup plus fermes sur les flux sortants de capitaux, officiels et officieux. Loin de fixer un plafond sur le taux de change du renminbi, les autorités chinoises établissent un seuil sous-jacent, notamment par crainte de voire une dépréciation trop rapide conduire à l'exode massif des capitaux.
La rigidité du taux de change pourrait ne pas constituer la seule fragilité potentielle en cas d'accord commercial entre les États-Unis et la Chine. Les négociateurs américains semblent en effet ne pas apprécier non plus la règle comptable que veut que la balance courante d'un pays (mesure large de sa balance commerciale) soit toujours égale à l'épargne nationale moins l'investissement national. Si la croissance de la consommation américaine est solide, et que le gouvernement américain enregistre un déficit budgétaire massif, le pays doit bel et bien emprunter quelque part. Et si la Chine se trouve contrainte de réduire son excédent commercial bilatéral vis-à-vis des États-Unis, elle délocalisera tout simplement les phases finales de la production de biens, de sorte que les importations américaines seront inscrites comme provenant d'un autre pays asiatique, tel que le Vietnam.
Oui, le fait de pousser la Chine à se conformer aux pratiques commerciales internationales conventionnelles est important pour le monde entier. Les récents discours du président chinois Xi Jinping sont encourageants à cet égard (même si l'on souhaiterait que les discussions commerciales abordent la protection de l'environnement). En revanche, si l'éventuel accord final empêche la Chine de gagner en autonomie monétaire, il pourrait engendrer des difficultés majeures lorsque frappera la prochaine grande récession asiatique – auquel cas les négociateurs américains auront démontré leur pouvoir de négociation, mais pas leur sagesse.
Traduit de l'anglais par Martin Morel