El yuan no debe estar en las negociaciones sinoestadounidenses
CAMBRIDGE – Es posible que un acuerdo comercial entre Estados Unidos y China sea inminente. ¿Hay riesgo de que agrave los ciclos económicos globales o incluso siembre las semillas de la próxima crisis financiera asiática? La respuesta puede ser afirmativa si el acuerdo (suponiendo que se concrete) obliga a China a seguir por tiempo indeterminado un régimen cambiario anticuado y excesivamente rígido.
Para mantener estable el tipo de cambio del yuan con el dólar, las autoridades chinas tendrían que equiparar las variaciones de los tipos de interés estadounidenses, o implementar complicados controles de capitales para tratar de compensar las presiones cambiarias por otra vía. Pero China es demasiado grande y global para seguir un régimen cambiario más adecuado a una pequeña economía abierta.
Además, ninguna de esas dos estrategias para mantener estable el yuan (paridad de tipos de interés o control de capitales) tiene sentido para un país cuyos ciclos económicos rara vez coinciden exactamente con los de Estados Unidos. China sigue una tendencia de desempeño económico declinante, tiene exceso de capacidad en el sector de la vivienda y sus gobiernos regionales están demasiado endeudados, de modo que le esperan problemas de crecimiento políticamente delicados. Cuando lleguen, el Banco Popular de China necesitará margen para flexibilizar las condiciones monetarias sin tener que preocuparse por sostener el tipo de cambio.
En los países que enfrentan presiones financieras y macroeconómicas importantes, la rigidez cambiaria es una receta conocida para el desastre (algo que el Fondo Monetario Internacional y la mayoría de los economistas académicos vienen diciendo hace rato).
Un pacto cambiario de esa naturaleza entre Estados Unidos y China no estaría en sintonía con otros elementos de un posible acuerdo comercial bilateral (que en muchos casos son mutuamente ventajosos). Por ejemplo, China se comprometió a un cumplimiento mucho más estricto de los derechos de propiedad intelectual (aunque hasta dónde lo hará todavía está por verse); una medida que en el corto plazo puede beneficiar a las empresas estadounidenses y europeas, pero que en el largo plazo estimulará la competencia y la innovación en el sector fabril y tecnológico chino.
No olvidemos que a inicios del siglo XIX, Estados Unidos (como China en la actualidad) tenía poco interés en proteger los derechos de propiedad intelectual de empresas extranjeras (en aquel tiempo mayoritariamente británicas), cuyas ideas y planos copiaba con amplitud. Pero al prosperar, los innovadores estadounidenses también necesitaron que se protegieran sus derechos, y finalmente Estados Unidos puso su legislación de patentes y propiedad intelectual a la altura de los más altos estándares del mundo.
Subscribe now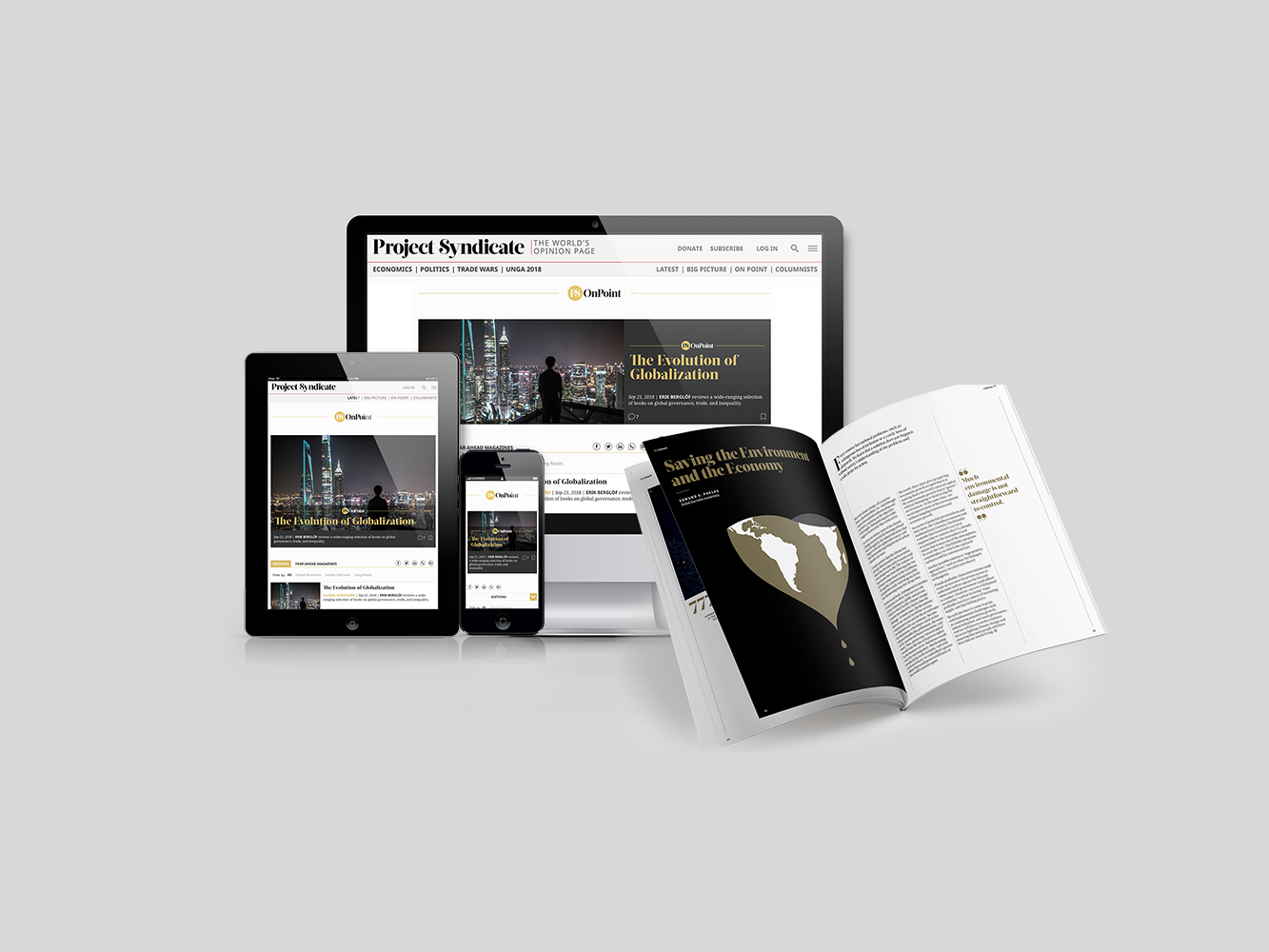 Subscribe now
Get unlimited access to OnPoint, the Big Picture, and the entire PS archive of more than 14,000 commentaries, plus our annual magazine, for less than $2 a week.
Otro hecho que puede generar un resultado mutuamente ventajoso es la insistencia estadounidense en que Beijing deje de dar a los exportadores chinos generosos subsidios que, en su mayoría, se destinan a empresas estatales ineficientes y compiten por el crédito y otros recursos con el más dinámico sector privado.
Más en general, un acuerdo comercial puede reactivar las reformas económicas en China (que los últimos años parecen haberse detenido o incluso revertido). Durante un viaje que hice hace poco a Beijing para asistir al Foro de Desarrollo de China, consulté sobre esta desaceleración a un funcionario de muy alta jerarquía. Esperaba que me respondiera con una larga lista de reformas intrascendentes (en la línea habitual de que China hace cosas todo el tiempo, pero muy gradualmente). Para mi sorpresa, mi interlocutor admitió francamente que "sólo hacemos reformas económicas importantes en tiempos de crisis, y últimamente no hubo ninguna crisis suficientemente grande".
En este sentido, el presidente estadounidense Donald Trump parece ser justo lo que las autoridades chinas necesitaban, porque las obligó a reconocer que ya no pueden depender de la demanda de los consumidores estadounidenses para mantener andando la locomotora del crecimiento chino. De hecho, algunos observadores bromean con que Trump será el salvador de la economía china: el pánico a una guerra comercial obra como catalizador de reformas estructurales que llevan mucho tiempo detenidas.
Pero la presión estadounidense para que China se comprometa a mantener más estable el tipo de cambio del yuan con el dólar y se abstenga de devaluaciones competitivas puede limitar la capacidad de reforma económica. En particular, ese régimen impediría a China la gradual flexibilización cambiaria que es necesaria para una política monetaria más independiente.
Los negociadores de Trump parecen creer, erradamente, que China manipula el tipo de cambio del yuan para mantenerlo subvaluado y así promover las exportaciones. Esa tesis, muy exagerada por algunos analistas, subestima el hecho de que la hipercompetitividad china siempre se basó en el nivel relativamente bajo de sus salarios.
En un sentido más básico, la acusación a China de manipular el tipo de cambio no tiene ningún asidero en la historia reciente. Los últimos años, las presiones sobre el yuan han sido en gran medida a la baja, y el gobierno respondió con restricciones mucho más estrictas a la salida (formal e informal) de capitales. Más que ponerle un techo al tipo de cambio del yuan, las autoridades chinas le han puesto un piso, en parte por temor a que una devaluación acelerada provoque un éxodo masivo de capital.
Pero además de la inflexibilidad cambiaria, es posible que el eventual acuerdo comercial sinoestadounidense tenga otra debilidad. Al parecer, los negociadores estadounidenses tampoco aprecian la regla contable que dice que la cuenta corriente de un país (una medida amplia de su saldo comercial) es siempre igual al ahorro nacional menos la inversión nacional. En un contexto de fuerte crecimiento del consumo interno e inmenso déficit fiscal, es inevitable que Estados Unidos recurra al crédito externo. Y si a China se la obliga a reducir su superávit comercial bilateral con Estados Unidos, simplemente trasladará a otros países las etapas finales de la producción de bienes, de modo que las importaciones de Estados Unidos se registrarán como procedentes de otro país asiático, por ejemplo Vietnam.
Es verdad que presionar a China para que se adapte a las prácticas convencionales del comercio internacional es importante para todo el mundo. En este sentido, discursos recientes del presidente chino Xi Jinping son alentadores (aunque sería deseable que las conversaciones sobre comercio también incluyan la cuestión medioambiental). Pero si el acuerdo final impide a China obtener una mayor autonomía en su política monetaria, puede haber grandes problemas cuando se declare la próxima gran recesión asiática. Si eso ocurre, los representantes estadounidenses habrán demostrado poder de negociación, pero no sabiduría.
Traducción: Esteban Flamini