De transformerende kracht van de Afrikaanse jeugd
TORONTO – Een paar jaar geleden, tijdens een gesprek met jongeren uit de armste gemeenschappen van Senegal, vertelden twee sociale ondernemers me over de projecten waar ze mee bezig waren om hun leeftijdsgenoten te helpen slagen in het leven. Eén jonge man zei dat hij van plan was meer computers op basisscholen te introduceren; de andere had een netwerk opgezet om werkzoekenden van het platteland met elkaar in verbinding te brengen in het stedelijke tumult van Dakar, de hoofdstad van Senegal.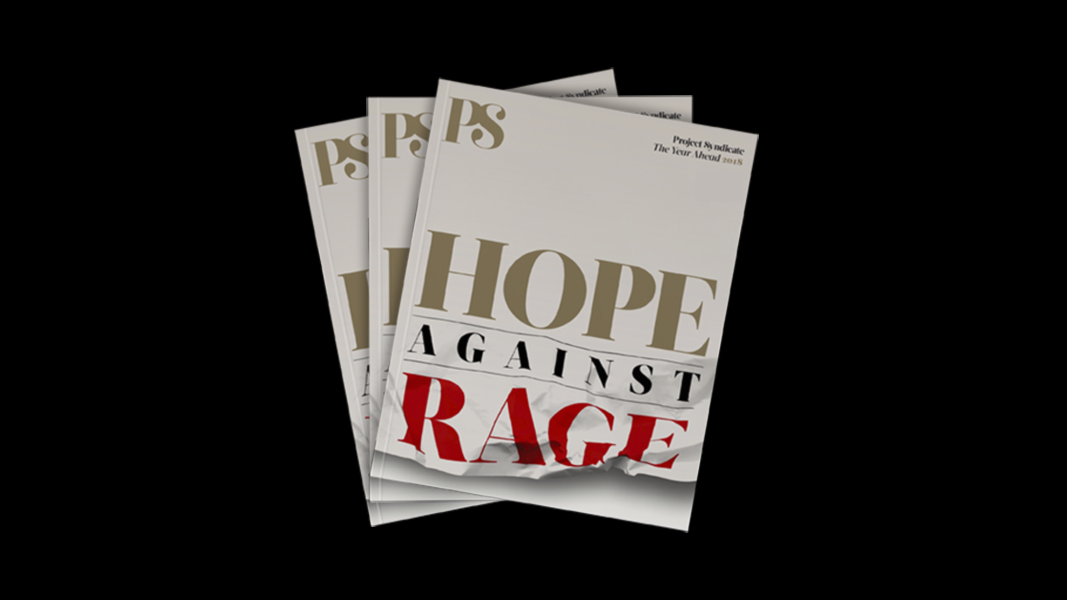 The Year Ahead 2018
The world's leading thinkers and policymakers examine what's come apart in the past year, and anticipate what will define the year ahead.
Nadat ze hun plannen gedeeld hadden feliciteerde ik ze en zei dat hun ouders vast erg trots op ze waren. Maar in plaats van het compliment te accepteren, protesteerden ze. 'Mijn ouders zijn het niet eens met wat ik doe,' zo zeiden ze eenstemmig, voordat ze uitlegden dat jonge mensen te maken hebben met druk uit hun familie om bij de overheid te gaan werken of hun vaardigheden in Engels te gebruiken om als gids aan het werk te gaan – en geen ondernemer te worden met alle risico's van dien.
Voor veel ambitieuze jonge Afrikanen zijn er veel obstakels voor succes. Het traject naar een baan –  formeel of informeel, ondernemend of traditioneel – is vaak eenzaam. Veel jonge mensen hebben geen toegang tot opleidingen of zelfs maar tot een gunstige sociale omgeving om iets nieuws uit te proberen. Ik werd er die dag in Senegal aan herinnerd dat het helpen van jonge mensen om een goede baan te vinden het belangrijkste is dat de internationale gemeenschap kan doen om Afrika te helpen ontwikkelen.
Afrika is thuis van het grootste aantal jongeren ter wereld. Over plusminus 25 jaar zullen deze jongeren onderdeel zijn van de grootse beroepsbevolking ter wereld, met meer dan 1,1 miljard mensen in de werkzame leeftijd. Volgens sommige voorspellingen zullen de komende tien jaar jaarlijks 11 miljoen mensen de Afrikaanse arbeidsmarkt betreden, waarvan de meeste starters zullen zijn.
Wanneer Afrikaanse landen de banengroei weten aan te jagen en er voor zorgen dat jonge mensen arbeidsbekwaam zijn qua vaardigheden zal dit jongerenoverschot snelle, inclusieve, en duurzame economische groei voor het hele continent opleveren. Hierop zouden miljoenen de kans krijgen om zichzelf uit de armoede te tillen.
Maar Afrika kan deze toekomst niet alleen bewerkstelligen. Bij de Mastercard Foundation geloven we dat wanneer Afrika zijn volle potentieel wil bereiken er op twee gebieden kloven moeten worden gedicht.
Het eerste is toegang tot financiële producten en diensten. Volgens de Wereldbank beschikken ongeveer twee miljard mensen over de hele wereld momenteel niet over deze toegang. In Sub-Sahara-Afrika heeft slechts 34% van de volwassenen een bankrekening, wat het moeilijk maakt voor mensen om geld opzij te zetten voor onvoorziene gebeurtenissen zoals een slechte oogst, of om te sparen voor scholing. Dit moet veranderen, waarbij Afrikanen niet alleen meer toegang tot banken krijgen, maar ook beter financieel geletterd worden.
De tweede cruciale uitdaging die moet worden tegemoet getreden is uitsluiting van middelbaar en hoger onderwijs. Alhoewel er in sommige regio's vooruitgang is geboekt behaalt slechts ongeveer een derde van de Afrikaanse jeugd een eindexamen. Vooral meisjes hebben het nakijken: volgens de Unesco zijn in Sub-Sahara-Afrika een geschatte negen miljoen meisjes onder de 11 jaar nog nooit naar school geweest, vergeleken met zes miljoen jongens.
Om deze kwesties op te lossen heeft de Mastercard Foundation partnerschappen opgezet met lokale organisaties om programma's voor onderwijs en financiële geletterdheid op te zetten die erop zijn gericht om jongeren te helpen een baan te vinden en te behouden. Door aan een beter opgeleide beroepsbevolking te werken helpen de programma's van onze stichting om de volgende generatie van leden van de Afrikaanse gemeenschap en hun leiders in staat te stellen hun families, gemeenschappen, en landen te helpen een gelukkiger en welvarender toekomst op te bouwen.
Er is al een nieuwe generatie van geschoolde en betrokken ondernemers, zoals die ik sprak in Senegal, in opkomst in Afrika die een diepgaand engagement om een sterker Afrika op te bouwen demonstreren. Wanneer ik bijvoorbeeld aan jonge mensen die meedoen aan ons Scholars Program vraag wat ze van plan zijn te gaan doen met hun nieuw verworven vaardigheden antwoordden ze vrijwel altijd dat ze na het vinden van een baan van plan zijn iemand anders te gaan helpen door naar hun middelbare school terug te keren om als mentor voor jongere leerlingen te fungeren.
Sommige van de afgestudeerden van ons programma hebben zelfs gemeenschapsprojecten opgezet in hun woonplaats om hiv/aids aan te pakken of om opvanghuizen te bouwen voor wezen en jonge kinderen. Ieder van deze getalenteerde jonge Afrikanen – voorbeelden van wat de Mastercard Foundation 'transformerend leiderschap' in actie noemt – heeft de potentie om verandering in hun eigen land en gemeenschap aan te drijven.
Zij van ons die werkzaam zijn op het gebied van internationale ontwikkeling kunnen het speelveld helpen nog verder gelijk te trekken, door jonge Afrikanen uit alle achtergronden een kans te geven om op transformerende manieren de leiding te nemen. Als we hier in slagen zullen de Afrikaanse dromers van vandaag de katalysatoren van verandering van morgen worden.
Vertaling Melle Trap