A rentabilidade do financiamento de infra-estruturas em África
JOANESBURGO – Enquanto a Reserva Federal dos EUA embarca começa a "abandonar" do programa de estímulo que iniciou há quase uma década, as economias emergentes estão a manifestar uma preocupação crescente relativamente à possibilidade de o reforço do dólar vir a ter consequências negativas sobre a sua capacidade para assegurar o serviço da dívida denominada em dólares. Este facto preocupa especificamente o continente africano, onde — desde a primeira emissão de euro-obrigações nas Seicheles em 2006 — a dívida total em euro-obrigações em circulação aumentou para quase 35 mil milhões de dólares.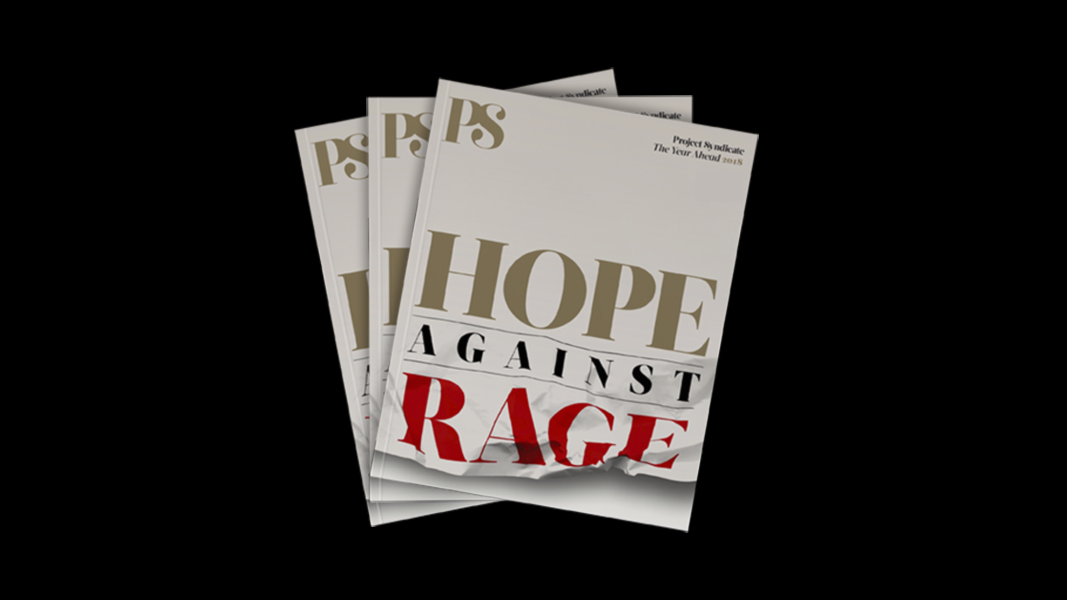 The Year Ahead 2018
The world's leading thinkers and policymakers examine what's come apart in the past year, and anticipate what will define the year ahead.
No entanto, embora o início da retirada do programa de estímulo da Reserva tenha desgastado os nervos africanos, também incentivou ao reconhecimento de que existem formas mais inteligentes de financiar o desenvolvimento do que contrair dívida em dólares. Entre as opções disponíveis, destaca-se em particular uma categoria de activos: as infra-estruturas.
A África, que, de acordo com as estimativas, terá uma população de 2,6 mil milhões de pessoas em 2050, necessita urgentemente de fundos para construir e manter estradas, portos, redes eléctricas, etc. De acordo com o Banco Mundial, a África tem de gastar anualmente 93 mil milhões de dólares para actualizar as suas infra-estruturas actual; A grande maioria desses fundos (cerca de 87%) são necessários para melhorias em serviços básicos como energia, água, saneamento e transportes.
No entanto, a julgar pela história recente, não será fácil assegurar o capital necessário. Entre 2004 e 2013, os estados africanos apenas conseguiram concluir 158 acordos de financiamento para projectos de infra-estruturas ou industriais, no valor de 59 mil milhões de dólares (apenas 5% do total necessário). Perante este contexto, como poderá a África financiar sequer uma parte das necessidades previstas pelo Banco Mundial?
A fonte de financiamento óbvia é o investimento institucional e estrangeiro. Mas, até ao momento, os fundos para projectos de infra-estruturas no continente têm sido limitados por uma percepção de risco excessivo, que obedece a muitos factores, entre os quais a parca expectativa de benefícios e a incerteza política.
Felizmente, é possível trabalhar no sentido de superar esta percepção, como já o demonstraram alguns investidores como o Banco Africano de Desenvolvimento, o Banco de Desenvolvimento da África Austral e o Trade & Development Bank. Há igualmente empresas do sector privado que financiam projectos no continente de forma rentável. Por exemplo, o Black Rhino, um fundo criado pela Blackstone, uma das maiores empresas multinacionais de participações privadas a nível mundial, dedica-se ao desenvolvimento e à aquisição de projectos de energia, como o armazenamento de combustíveis, os oleodutos e redes de transmissão.
No entanto, isto constitui a excepção, não a regra. Para garantir o financiamento total das infra-estruturas em falta na África, será necessário atrair muitos outros investidores - e a muito curto prazo.
Para o efeito, é necessário que a África desenvolva uma abordagem mais coerente e coordenada para atrair o capital, reduzindo simultaneamente o risco para os investidores. Os acordos de colaboração entre o sector público e o sector privado são uma possibilidade. Por exemplo, no sector de energia, há produtores independentes que trabalham com os governos para fornecer electricidade a 620 milhões de africanos que não têm ligação às redes existentes. Estes produtores (entidades com financiamento provado, mas regulamentados pelo Estado), funcionam através de contractos mediante os quais as empresas de serviços públicos e as entidades reguladoras acordam a aquisição de electricidade a um determinado preço; na África subsariana existem aproximadamente 130 produtores deste tipo, cujo valor ascende a mais de 8 mil milhões de dólares. Só na África do Sul, estão em curso 47 projectos, que equivalem a uma produção adicional de 7000 megawatts.
Igualmente noutros sectores, estão a ser estabelecidas parcerias público-privadas semelhantes, por exemplo no sector dos transportes. Um dos casos mais promissores é a construção de estradas com portagem com fundos privados, um modelo iniciado na África do Sul. Este projectos (que começam lentamente a surgir noutras regiões do continente) são não só mais rentáveis do que a maioria dos investimentos do mercado financeiro, como também estão literalmente a preparar o caminho para o crescimento futuro.
É evidente que a África necessita de mais empreendimentos desta natureza para solucionar os seus problemas de infra-estruturas. É por esta razão que vários dirigentes empresariais e decisores políticos instaram os investidores institucionais do continente a atribuir 5% dos seus fundos a infra-estruturas locais. Consideramos que, com os incentivos adequados, as infra-estruturas podem constituir uma categoria de activos inovadora e atractiva para as entidades que têm passivos de longo prazo. Os fundos de pensões, cujo conjunto em todo o continente ascende a cerca de 3 biliões de dólares, poderiam assumir a liderança neste compromisso.
A campanha Agenda 5%, lançada no mês passado em Nova Iorque, sublinha que só uma estratégia de colaboração entre os sectores público e privado poderá dar resposta às insuficiências do continente africano em matéria de infra-estruturas. Durante muitos anos, a falta de projectos rentáveis constituiu um desincentivo para o financiamento internacional. Contudo, em 2012, a União Africana adoptou o Programa para o Desenvolvimento de Infra-estruturas em África, que iniciou mais de 400 projectos de energia, transportes, água e comunicações. Foi um bom começo, e a Agenda 5% propõe-se dar-lhe continuidade.
Contudo, são necessárias algumas reformas fundamentais. Uma das prioridades mais elevadas da Agenda 5% é ajudar a actualizar os quadros regulamentares nacionais e regionais que orientam o investimento institucional em África. É igualmente necessário criar novos produtos financeiros para que os detentores de activos tenham capacidade para afectar capital directamente a projectos de infra-estruturas.
O desbloqueamento de novas fontes de capital contribuirá para criar emprego, incentivar a integração regional e dotará a África dos meios necessários para dar resposta às necessidades das gerações futuras. No entanto, tudo isto depende de se conseguir convencer os investidores a investir o seu dinheiro em projectos africanos. Enquanto dirigentes empresariais e decisores políticos, devemos garantir que as condições para a rentabilidade e para o impacto social não sejam mutuamente exclusivas. Quando os objectivos de desenvolvimento e os benefícios económicos estão alinhados, todos ganham