Verdienen aan Afrikaanse infrastructuur
JOHANNESBURG – Nu de Amerikaanse Federal Reserve is begonnen aan het 'grote afbouwen' van het stimuleringsprogramma waar ze bijna tien jaar geleden mee begon zijn opkomende economieën ongerust dat een sterkere dollar hun vermogen om hun in dollars gedenomineerde schulden af te betalen aan zal tasten. Dit is in het bijzonder een zorg voor Afrika, waar sinds de Seychellen in 2006 haar eerste eurobond uitbracht de totale waarde van uitstaande eurobonds is gegroeid tot bijna 35 miljard dollar.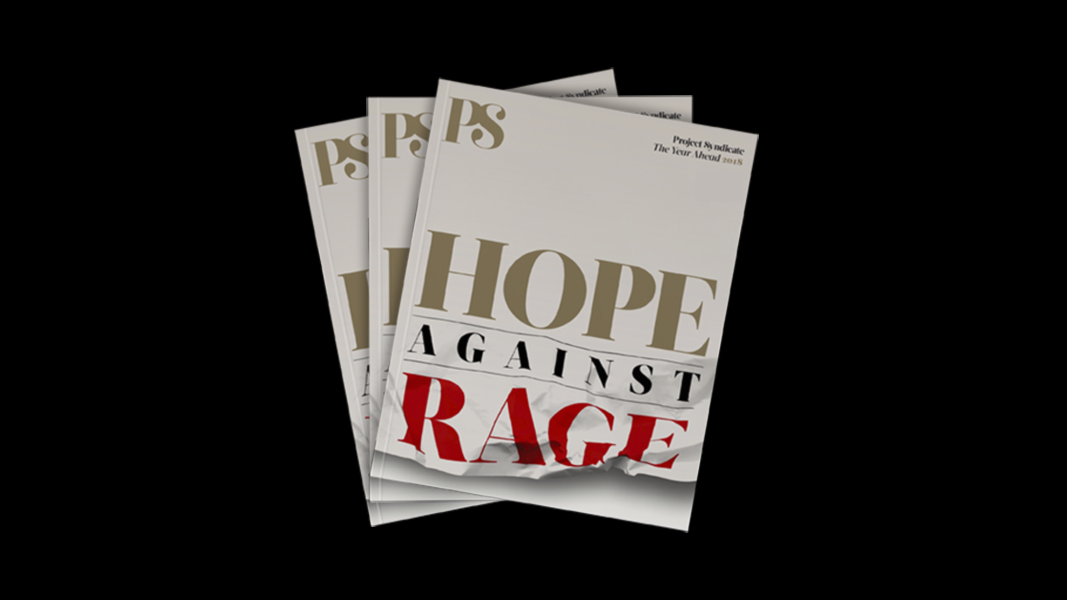 The Year Ahead 2018
The world's leading thinkers and policymakers examine what's come apart in the past year, and anticipate what will define the year ahead.
Maar ondanks dat de voortgaande intrekking van stimuli door de Fed de Afrikanen zenuwachtig maakt heeft deze ook het inzicht gebracht dat er slimmere manieren zijn om ontwikkeling te financieren dan lenen in dollars. Van alle beschikbare opties is er één specifieke klasse van activa die eruit springt: infrastructuur.
Afrika, dat tegen 2050 een geschatte 2,6 miljard mensen zal herbergen, heeft dringende behoefte aan fondsen om wegen, havens, energienetwerken etc. op te bouwen en in stand te houden. Volgens de Wereldbank moet Afrika jaarlijks een duizelingwekkende 93 miljard dollar uitgeven om zijn huidige infrastructuur te moderniseren; de overgrote meerderheid van deze fondsen – ongeveer 87% – is nodig voor basisdiensten zoals energie, water, sanitatie, en transport.
Maar het benodigde kapitaal zal wanneer het recente verleden enige leidraad biedt moeilijk bijeen te krijgen zijn. Tussen 2004 en 2013 sloten Afrikaanse staten slechts 158 financieringsovereenkomsten voor infrastructuur of industriële projecten, gewaardeerd op 59 miljard dollar – slechts 5% van het benodigde totaal. Hoe zal Afrika gegeven deze historie zelfs maar een fractie van de door de Wereldbank geprojecteerde uitgaven kunnen financieren?
Institutionele en buitenlandse investeringen zijn hier het overduidelijke antwoord. Maar tot nu toe hebben vele factoren, inclusief slechte winstverwachtingen en politieke onzekerheid, dit soort financiering voor infrastructuurprojecten op het continent belemmerd. Investeren in Afrikaanse infrastructuur wordt als simpelweg te riskant gezien.
Gelukkig kan er aan gewerkt worden om deze perceptie te veranderen, zoals sommige investeerders als de Afrikaanse Ontwikkelingsbank, de Ontwikkelingsbank van Zuid-Afrika, en de Handels- en Ontwikkelingsbank al hebben laten zien. Ook bedrijven uit de private sector financieren winstgevend projecten op het continent. Zo richt Black Rhino, een fonds opgezet door Blackstone één van de grootste multinationale private vermogensbeheerders ter wereld, zich bijvoorbeeld op de ontwikkeling en acquisitie van energieprojecten, zoals de opslag van brandstof, pijpleidingen, en transportnetwerken.
Maar dit zijn de uitzonderingen op de regel. Het volledig financieren van de achterstand in de Afrikaanse infrastructuur zal het aantrekken van veel meer investeerders vergen – en snel ook.
Om hierin te slagen moet Afrika een meer samenhangende en beter gecoördineerde aanpak van het aantrekken van kapitaal ontwikkelen, en er tegelijkertijd aan werken om de blootstelling aan risico van de investeerders te reduceren. Publiek-private samenwerkingen zijn één mogelijkheid. In de energiesector bijvoorbeeld werken onafhankelijke stroomproducenten samen met regeringen om in elektriciteit te voorzien voor 620 miljoen Afrikanen die niet aangesloten zijn. Privaat gefinancierd maar door de overheid gereguleerd opereren deze producenten aan de hand van overeenkomsten voor de aankoop van energie, waarbij publieke instellingen en regulatoren overeenkomen om elektriciteit aan te kopen voor een van te voren vastgestelde prijs. Er zijn ongeveer 130 van dit soort producenten in Sub-Sahara-Afrika, die worden gewaardeerd op meer dan 8 miljard dollar. In Zuid-Afrika alleen al zijn er 47 projecten gaande die verantwoordelijk zijn voor de productie van 7000 megawatt extra stroomopwekking.
Gelijksoortige privaat-publieke partnerschappen zijn ook in andere sectoren in opkomst, zoals in het transport. Onder de meest veelbelovende zijn tolwegen gebouwd met private gelden, een model dat uit Zuid-Afrika afkomstig is. Niet alleen zijn deze projecten, die langzamerhand ook elders op het continent verschijnen, winstgevender dan de meeste investeringen in de financiële markten; ze plaveien ook letterlijk de weg voor toekomstige groei.
Het is helder dat Afrika meer van dit ondernemingen nodig heeft om haar infrastructurele uitdagingen te overkomen. Daarom heb ik samen met andere Afrikaanse captains of industry en beleidsmakers een beroep gedaan op alle institutionele investeerders van Afrika om 5% van hun geld in lokale infrastructuur te steken. We geloven dat infrastructuur met de juiste stimuli een innovatieve en aantrekkelijke klasse van activa kan zijn voor degenen met langetermijnverplichtingen. Een sector die het voortouw zou kunnen nemen in dit engagement zijn de pensioenfondsen van het werelddeel, die samen over een balans van ongeveer 3 biljoen dollar beschikken.
De 5% Agenda campagne die afgelopen maand in New York werd gelanceerd onderstreept de overtuiging dat slechts een collaboratieve publiek-private aanpak de tekorten in de Afrikaanse infrastructuur op kan lossen. Jarenlang heeft een gebrek aan rendabele projecten internationale financiering afgeschrokken. Maar in 2012 nam de Afrikaanse Unie het Programma voor Infrastructuurontwikkeling in Afrika aan, dat meer dan 400 energie-, transport-, water-, en communicatieprojecten heeft aangezwengeld. Dit was een solide start – één waarop de 5% Agenda verder wil bouwen.
Maar er zijn enkele cruciale hervormingen nodig. Het is een topprioriteit van de 5% Agenda om de nationale en regionale regelgevende kaders die institutionele investeringen in Afrika begeleiden te helpen vernieuwen. Overeenkomstig moeten er nieuwe financiële producten worden ontwikkeld om beleggers de mogelijkheid te geven om kapitaal direct naar infrastructuurprojecten te alloceren.
Het ontsluiten van nieuw kapitaal zal banen helpen creëren, regionale integratie aanmoedigen, en garanderen dat Afrika over de faciliteiten beschikt om aan de behoeften van toekomstige generaties te voldoen. Maar dit alles hangt af van het overtuigen van investeerders om hun geld in Afrikaanse projecten te stoppen. Als leiders uit het zakenleven en beleidsmakers moeten we verzekeren dat de condities voor winstgevendheid en sociale impact elkaar niet wederzijds uitsluiten. Wanneer ontwikkelingsdoelen en winst samenkomen wint iedereen.
Vertaling Melle Trap