Werden die Gelbwesten den Braunhemden eine Absage erteilen?
PARIS – Von dem Moment an, als die französische Regierung ihre geplante Erhöhung der Kraftstoffsteuer angesichts massiver Proteste absagte, war offensichtlich, dass der Schritt als unzureichend, unbedeutend und vor allem als nicht in der Lage aufgefasst würde beruhigende Wirkung zu entfalten. Ehre, wem Ehre gebührt: Die "Gelbwesten" behaupten, Ausdruck des souveränen Volkes zu sein. Allerdings tragen sie nun große Verantwortung.
Zunächst einmal müssen sie ein Moratorium für Demonstrationen und Blockaden für einen Zeitraum ankündigen, der lang genug ist, um den von Premierminister Édouard Philippe vorgeschlagenen Dialog aufzunehmen, wenn nicht sogar länger. Insbesondere sollte die Bewegung auf den "4. Akt" am 8. Dezember verzichten, zu dem seit Samstagabend auf Facebook aufgerufen wird und von dem allseits erwartet wird noch gewalttätiger, zerstörerischer und tragischer zu sein als die vorangegangenen Proteste. Es hat genug Todesfälle, Verletzungen und Schäden gegeben (unter anderem an einigen der berühmtesten Denkmäler in Paris).
Wenn die Gelbwesten entscheiden, dass sie von der Maschinerie, die sie entfesselt haben, überrollt werden, und sie den 4. Akt nicht mehr stoppen können, müssen sie während der Proteste bereit sein, der Polizei beim Aufstöbern der gewalttätigen "braunen Westen" zu helfen, die sich in ihre Reihen mischen werden. Denn die Randalierer der extremen Rechten und der extremen Linken werden gewiss erneut auftauchen, um zu verwüsten, zu terrorisieren und zu schänden. Es obliegt den Gelbwesten erneut, und dieses Mal so, als ob sie es wirklich meinen, zu sagen: Nicht in unserem Namen. Ob die Gelbwesten ein Moratorium aussprechen oder weiter protestieren: Nichts würde ihrer Sache einen besseren Dienst erweisen, als sich – entschlossen und unmissverständlich – von allen politischen Profiteuren zu distanzieren, die aus ihrer Misere Kapital schlagen wollen.
Die Gesichter der Opportunisten sind altbekannt. Da wäre Jean-Luc Mélenchon, der nach dem vierten Platz bei den von Emmanuel Macron gewonnenen Präsidentschaftswahlen 2017 verzweifelt nach einer neuen Anhängerschaft sucht. Dann François Ruffin, Anführer der gegen die Sparpolitik gerichteten Bewegung Nuit debout, mit seinen unverantwortlichen, anti-republikanischen Aufrufen "Tritt zurück, Macron!" Und natürlich Marine Le Pen, die zwischen Stolz und Reue hin- und herschwankt angesichts ihres Aufrufs vom letzten Samstag auf die Champs Élysées zu ziehen, was sie für das Schlimmste, was dort gesagt und getan wurde verantwortlich macht.
Und dann die Intellektuellen, die wie Luc Ferry und Emmanuel Todd andeuten, dass es vielleicht "kein Zufall" sei, dass es die Randalierer so leicht hatten sich dem Arc de Triomphe zu nähern, diesen zu stürmen und zu plündern. Eine solche Rhetorik führt eine Volksbewegung in die schlimmste aller Fallen: die Falle des Verschwörungsdenkens.
Anders ausgedrückt befinden sich die Gelbwesten an einem Scheideweg. Entweder sie sind mutig genug, um innezuhalten und sich die Zeit zu nehmen sich zu organisieren. So würden sie einem Weg folgen, der dem von Macrons eigener Bewegung La République en Marche ! nicht unähnlich ist, die man rückblickend für den erstgeborenen Zwilling der Gelbwesten halten könnte. Auch Macrons Bewegung hatte rechte und linke Flügel. Und sie wusste, dass sie eine neue politische Instanz war, die in einen Dialog oder sogar eine Konfrontation eintreten würde, die in einer ehrlichen Bestandsaufnahme in Sachen Armut und hohen Lebenshaltungskosten münden würde. Wenn die Gelbwesten eine Bewegung aufbauen, die ähnliche Höhen erreicht wie die von Macron, könnten sie letztendlich eine Seite in der Geschichte Frankreichs schreiben.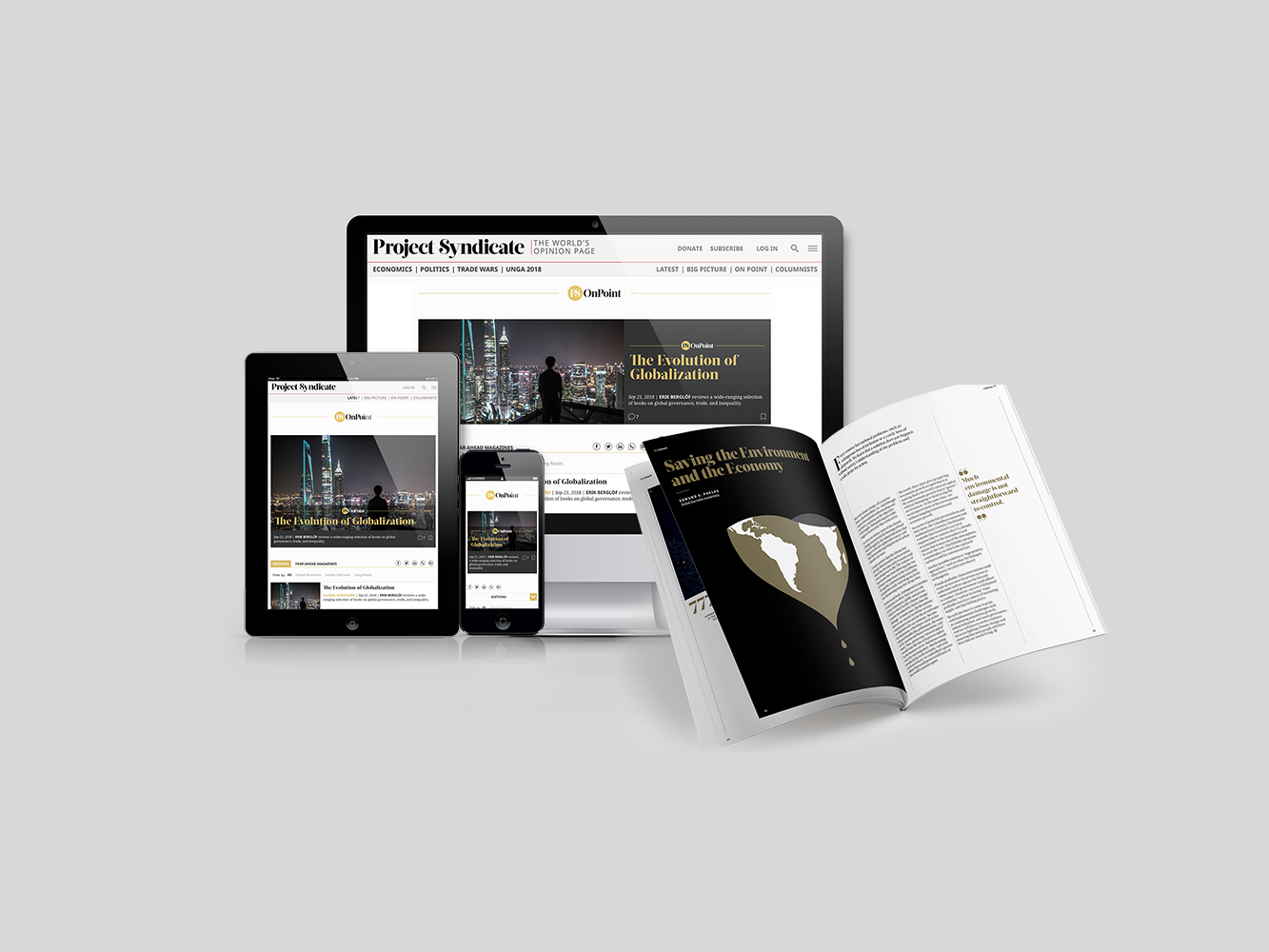 Subscribe now
For a limited time only, get unlimited access to On Point, The Big Picture, and the PS Archive, plus our annual magazine, for less than $2 a week.
Oder die Gelbwesten könnten diesen Mut vermissen lassen und sich mit dem armseligen Vergnügen zufrieden geben, im Fernsehen gesehen zu werden. Sie werden sich am Anblick von Berühmtheiten und Experten der französischen Elite ‒ la France d'en haut ‒ weiden, die ihnen scheinbar aus der Hand fressen und an ihren Lippen hängen.
Aber wenn die Gelbwesten zulassen, dass leidenschaftlicher Hass über echte Brüderlichkeit obsiegt und wenn sie Zerstörung Reformen vorziehen, werden sie im Leben der einfachen und schutzbedürftigen Menschen lediglich Chaos anrichten, anstatt Verbesserungen zu bewirken. Sie werden in die dunkelste Seite der politischen Nacht abgleiten und im Mülleimer der Geschichte landen, wo sie auf die anderen Gelben des frühen zwanzigsten Jahrhunderts treffen werden, die "Gelben Sozialisten" des protofaschistischen Syndikalisten Pierre Biétry.
Die Gelbwesten müssen sich entscheiden: demokratische Neuerfindung oder eine Neuauflage nationalsozialistischer Bünde; der Wille zur Nachbesserung oder der Drang zur Zerstörung. Die Entscheidung wird von der historischen Substanz der Bewegung abhängen – ob sie reflexhaft gut oder böse sind und letztlich, ob sie politischen und moralischen Mut besitzt.
Somit sind die Gelbwesten am Zug. Die Initiative liegt ebenso sehr bei ihnen wie bei Macron. Werden sie sagen: "Ja, wir glauben an die republikanische Demokratie"? Und werden sie es laut und deutlich sagen, ohne Ausflüchte? Oder werden sie sich in die Tradition des paranoiden Nihilismus stellen und ihre Reihen mit den politischen Vandalen besudeln, die Frankreich immer noch im Überfluss hervorbringt?
Aus dem Englischen von Sandra Pontow.