Ist London nach dem Brexit noch zu retten?
EDINBURGH – Es ist nun gut drei Jahre her, dass sich das Vereinigte Königreich mit einer knappen, aber deutlichen Mehrheit dafür entschied, die Europäische Union zu verlassen. Aber immer noch haben wir keine Ahnung, welche Art wirtschaftlicher Beziehungen das Land danach zu den 27 verbleibenden EU-Mitgliedstaaten haben wird. (Ein Teil der Debatte in London erinnert in ihrer Engstirnigkeit an die zweifelhafte Schlagzeile aus den 1930ern: "Nebel über dem Kanal: Kontinent abgeschnitten.") Wenn man überhaupt eine Vermutung äußern kann, wird es wahrscheinlich auf eine lockerere Beziehung hinauslaufen, als es die "Leave"-Befürworter im Wahlkampf vor der Volksabstimmung behauptet und die meisten Kommentatoren kurz nach der Abstimmung prognostiziert hatten.
Aber trotz dieses Richtungswechsels und des sicheren Verlusts des so genannten "Passports", der den freien Verkauf finanzieller Dienstleistungen in der gesamten EU ermöglicht hätte, scheint der befürchtete umfassende Exodus von Unternehmen und Finanziers aus London nicht stattzufinden. Die französischen Bäckereien und deutschen Wurstverkäufer sind immer noch hervorragend im Geschäft. Warum?
Während die Politiker weiter diskutieren, gibt es zwei sehr aktuelle Hinweise darauf, was tatsächlich geschieht: Die Buchhaltungsfirma EY beobachtet seit drei Jahren die öffentlich geäußerten Absichten der Unternehmen bezüglich des Brexit. Die letzte Umfrage von Mitte September lässt darauf schließen, dass 40% der Unternehmen planen, einen Teil ihrer Aktivitäten und Mitarbeiter aus London abzuziehen. Bei größeren Konzernen liegt dieser Anteil sogar bei 60%.
Aber bis jetzt liegt die Anzahl der Arbeitsplätze, die von London in andere europäische Städte verlegt werden sollen, bei lediglich 7.000 – weit weniger als noch vor zwei Jahren geschätzt. Interessanterweise sind die beiden Städte, die laut EY bis jetzt davon am meisten profitiert haben, Dublin und Luxemburg. Für London sind das gute Nachrichten, weil beide Städte eher kleinere Zentren sind und im Wettbewerb um das gesamte Spektrum finanzieller Aktivitäten wahrscheinlich keine mächtigen Rivalen werden. Hätten hauptsächlich Paris oder Frankfurt profitiert, wären die langfristigen Folgen viel bedrohlicher. Die Marketing-Kampagnen dieser beiden Metropolen waren bis jetzt jedenfalls nur mäßig erfolgreich.
Aus der Umfrage ergeben sich für London aber auch beunruhigendere Neuigkeiten: Die Unternehmen bestätigen, dass sie wahrscheinlich in großem Umfang finanzielle Mittel aus Großbritannien abziehen. Die letzte Schätzung beläuft sich auf verwaltete Vermögenswerte in Höhe von etwa einer Billion Pfund (1,1 Billionen Euro), die im Fall eines Brexit in andere Finanzzentren verlegt würden. Viele Angestellte, die für diese Vermögenswerte verantwortlich sind, werden zunächst in London bleiben, aber dies könnte sich mit der Zeit ändern.
Und weitere Daten legen nahe, dass Londons Ruf zu leiden beginnt: Eine Beraterfirma namens Z/Yen veröffentlicht seit zehn Jahren jedes halbe Jahr einen Index der weltweiten Finanzzentren. Die letzte Rangfolge von Mitte September zeigt, dass London zwar hinter New York weltweit an zweiter Stelle bleibt, seine relative Position aber gelitten hat. Der Abstand zu New York hat sich in den letzten sechs Monaten mehr als verdoppelt. Londons relativer Rückgang war unter allen großen Zentren am stärksten, und Paris konnte seine Position verbessern.
Subscribe now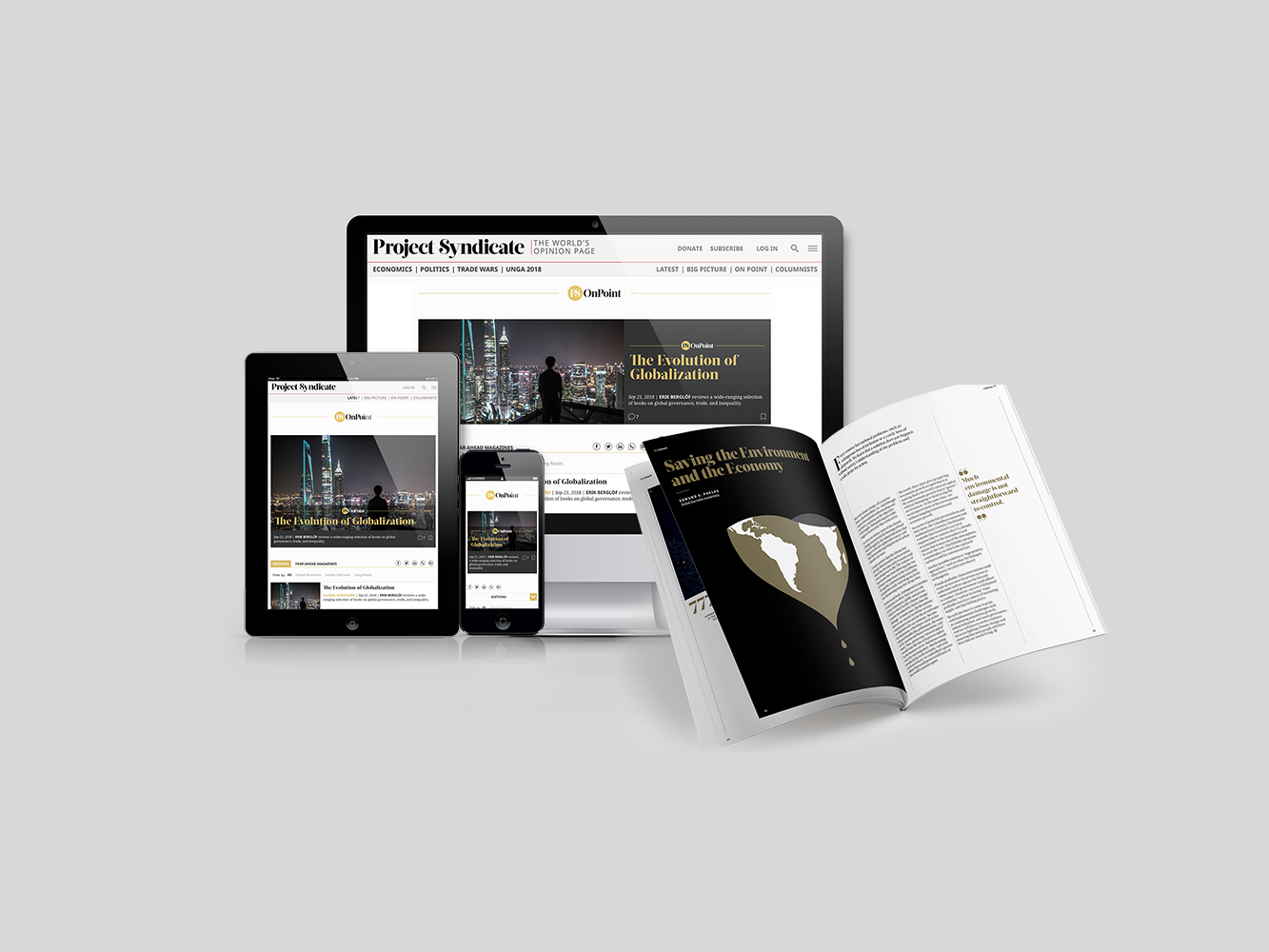 Subscribe now
Subscribe today and get unlimited access to OnPoint, the Big Picture, the PS archive of more than 14,000 commentaries, and our annual magazine, for less than $2 a week.
Tatsächlich ist der Abstand zwischen London und Paris, der im März noch 88 Punkte betrug, jetzt auf 45 gefallen (der Spitzenwert liegt bei etwas unter 800). Die Hauptfaktoren hinter dieser veränderten Wahrnehmung sind wahrscheinlich der Umzug der Europäischen Bankenaufsichtsbehörde nach Paris und die Entscheidung der Bank of America, ihren Eurohandel von dort aus abzuwickeln.
Wenn wir von den Umfragen in den Bereich der Anekdoten wechseln, finden wir Manager, denen es schwerer fällt, ihre leitenden Mitarbeiter zum Umzug zu bewegen, als erwartet. Sogar Italiener und Franzosen, die gebeten wurden, zurück nach Mailand oder Paris zu gehen, sträuben sich häufig dagegen. Ihre Kinder fühlen sich in der britischen Schule wohl, ihre Lebenspartner haben einen ortsgebundenen Job in London, oder sie können es nicht ertragen, wieder so nah bei Mutter und Vater zu sein!
Entscheidender ist aber wohl, dass ein globaler Markt ein komplexes Ökosystem ist: Die Händler werden umziehen, aber wird die IT-Infrastruktur und die technische Unterstützung anderswo ebenso gut sein wie in London? Werden, falls nötig, ähnlich fähige Berater und Anwälte zur Verfügung stehen wie in der Londoner City?
Wegen solcher Faktoren zögern die Firmen, große Umzüge zu planen. Statt dessen suchen viele nach Alternativen, um die Regulierungsprobleme zu lösen, denen sie, wenn Großbritannien den Gemeinsamen Markt verlässt, sicherlich begegnen werden.
Darüber hinaus ist die Politik des Brexit weiterhin angespannt und komplex, und es besteht eine minimale Chance, dass das Land eine weitere Volksabstimmung durchführt und seinen Kurs noch einmal ändert. Dann müssten die Unternehmen auf die 4,2 Milliarden Pfund, die die Regierung für die Notfallplanung versprochen hat, verzichten. Aber das wahrscheinlichste Ergebnis ist, dass Großbritannien zum Ausgang stolpert und ungeordnet über die Klippe stürzt – ohne strukturelle neue Beziehungen oder eine lange Übergangsphase.
Wie sich die europäischen Finanzmärkte in diesem Fall entwickeln, werden wir erst danach sehen. Aber angesichts dessen, was wir bis jetzt erlebt haben, müssen wir damit rechnen, dass sich Europa hin zu einem multipolaren Finanzmodell entwickelt, in dem verschiedene große und kleine Zentren ihre jeweiligen Wettbewerbsvorteile nutzen. Dublin und Luxemburg werden insbesondere bei der Vermögensverwaltung ihre Position verbessern. Die Europäische Zentralbank wird als Magnet für Frankfurt dienen. Und in Euro abgewickelte Transaktionen werden zunehmend in der Eurozone stattfinden, während London den Eindruck macht, es werde in absehbarer Zukunft Europas Fenster zur großen weiten Welt bleiben.
Da ein dominantes einzelnes Zentrum mit ziemlicher Sicherheit effizienter und günstiger ist, werden die Nutzer finanzieller Dienstleistungen einen gewissen Preis bezahlen müssen. Nach dem Brexit wird London dafür nicht mehr zur Verfügung stehen, und unter den anderen 27 Ländern gibt es sicherlich keinen Konsens für eine einzelne Alternative.
Aus dem Englischen von Harald Eckhoff