Hoe moet het verder met Londen als financieel centrum na de Brexit?
EDINBURGH – Het is nu ruim drie jaar geleden dat het Verenigd Koninkrijk, met een kleine maar belangrijke marge, heeft gestemd vóór een vertrek uit de Europese Unie ("Brexit"). Toch hebben we nog steeds geen idee wat voor soort economische relatie het Verenigd Koninkrijk zal hebben met de 27 landen die het achter zich laat (een deel van het insulaire karakter van het debat in Londen doet denken aan deze apocriefe krantenkop uit de jaren dertig: "Fog in Channel: Continent Cut Off"/"Mist in het Kanaal: Continent Afgesneden"). Voor zover we een gokje mogen wagen lijkt de meest waarschijnlijke uitkomst een afstandelijker relatie dan waar de pleitbezorgers van "Leave" het tijdens de campagne voor het referendum over hadden en waar de meeste commentatoren vlak na de stemming van uit gingen.
Maar ondanks die verandering van richting, en het zekere verlies van het zogenoemde "paspoort," dat het mogelijk zou hebben gemaakt dat financiële diensten vrijelijk in de hele EU zouden zijn verkocht, lijkt de gevreesde grootschalige uittocht van bedrijven en financiers uit Londen niet aan de orde te zijn. De Franse banketbakkers en de Duitse worstenverkopers gaat het nog steeds voor de wind. Waarom?
Twee zeer recente stukken bewijsmateriaal geven een idee van wat er werkelijk gaande is, nu de politici ruzie blijven maken. De accountancyfirma EY heeft de intenties van bedrijven in reactie op de Brexit de afgelopen drie jaar gedocumenteerd. Het jongste onderzoek, dat halverwege september werd gepubliceerd, duidt erop dat 40% van de bedrijven van plan is activiteiten en stafleden uit Londen te verplaatsen, terwijl 60% van de grotere bedrijven dergelijke verhuizingen heeft aangekondigd.
Maar het aantal banen dat op het punt staat van Londen naar een andere Europese stad te worden verplaatst bedraagt nu nog slechts zevenduizend, veel minder dan de schattingen van een paar jaar geleden. Interessant genoeg zijn de twee locaties die volgens EY tot nu toe het meest hebben geprofiteerd Dublin en Luxemburg. Dat is goed nieuws voor Londen, want dat zijn allebei niche-centra waarvan het onwaarschijnlijk is dat ze zullen opduiken als sterke concurrenten, dwars door het hele spectrum van financiële activiteiten heen. Als Parijs en Frankfurt de voornaamste begunstigden zouden zijn geweest, dan hadden de gevolgen op de langere termijn veel bedreigender kunnen zijn. Hun marketingcampagnes leveren tot nu toe echter slechts een bescheiden rendement op.
Toch is er in het onderzoek ook zorgwekkender nieuws voor Londen. Bedrijven bevestigen dat ze waarschijnlijk op grote schaal bezittingen uit het Verenigd Koninkrijk zullen verhuizen. De jongste schatting is dat zo'n  £1 bln aan bezittingen onder beheer kan worden verplaatst naar andere centra als het Verenigd Koninkrijk de EU verlaat. Veel werknemers die verantwoordelijk zijn voor deze bezittingen zullen voorlopig in Londen blijven, maar dat zou in de loop der tijd wel eens kunnen veranderen.
En een tweede set gegevens duidt erop dat de reputatie van Londen begint af te brokkelen. Een consultancy genaamd Z/Yen heeft gedurende ruim tien jaar iedere zes maanden een Global Financial Centres Index gepubliceerd. De jongste ranschikking, die van midden september, liet zien dat hoewel Londen mondiaal gezien alleen New York hoeft te laten vóórgaan, de relatieve positie van de stad aan het wegglijden is. New York heeft zijn leidende positie de afgelopen zes maanden ruimschoots verdubbeld. De relatieve daling van Londen is scherper geweest dan die van welk ander centrum ook, en Parijs is omhoog geklommen.
Subscribe now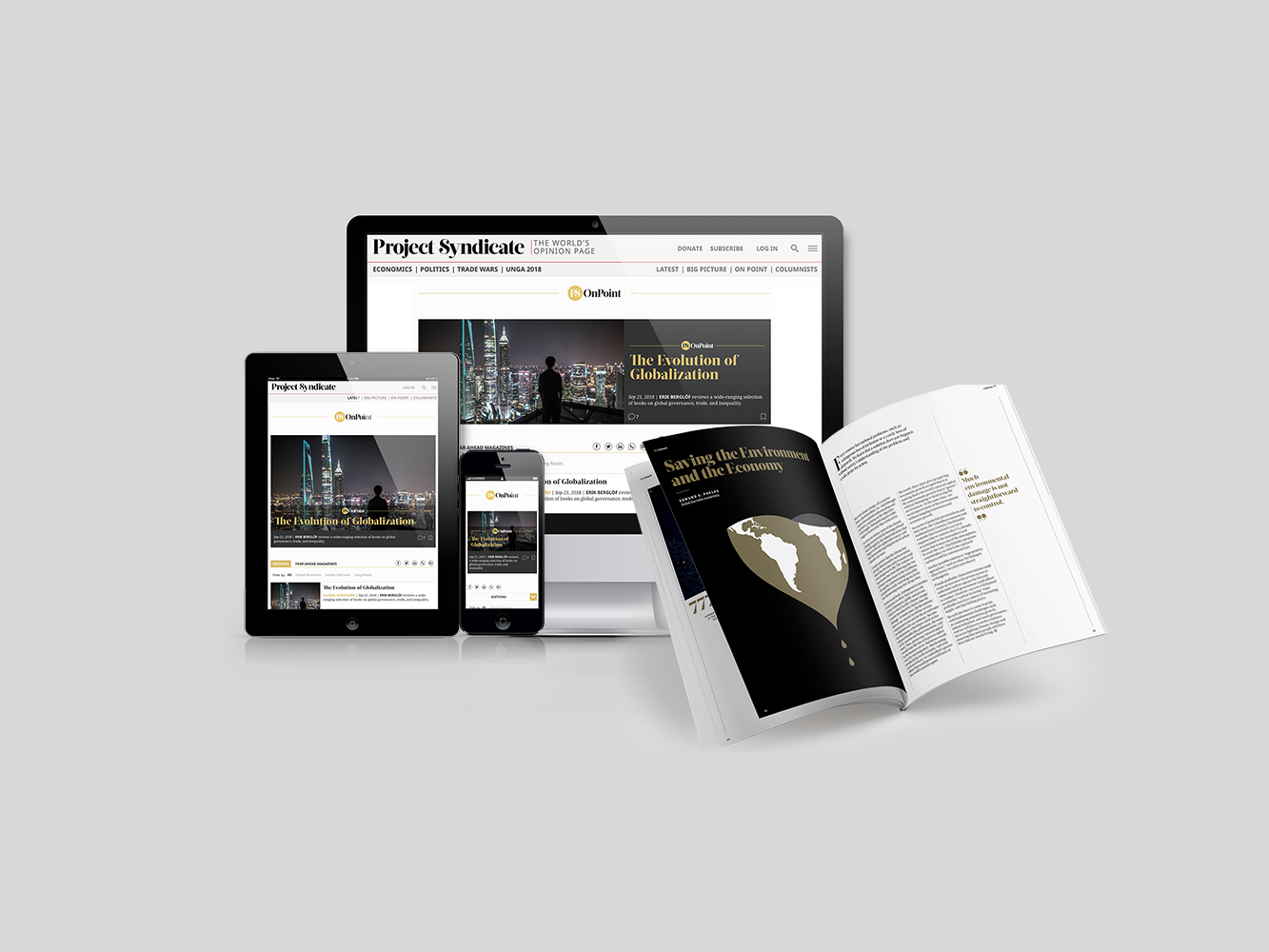 Subscribe now
Subscribe today and get unlimited access to OnPoint, the Big Picture, the PS archive of more than 14,000 commentaries, and our annual magazine, for less than $2 a week.
Het gat tussen Londen en Parijs is in maart gedaald van 88 punten naar 45 punten (de topnotering is net iets lager dan 800 punten). De verhuizing van de European Banking Authority naar Parijs, en het besluit van Bank of America om zijn handelscentrum voor eurotransacties daarheen te verplaatsen, zijn waarschijnlijk de voornaamste factoren achter deze verandering van perceptie.
In de meer anekdotische sfeer zeggen managers dat het moeilijker is gebleken dan verwacht om hoger personeel te overreden om te verhuizen. Zelfs Italianen en Fransen, aan wie werd gevraagd terug te keren naar Milaan of Parijs, aarzelen dikwijls om daarmee in te stemmen. Hun kinderen hebben het naar hun zin op school, hun echtgenoten of partners hebben een niet-mobiele baan in Londen, of ze kunnen het zelf niet aan om weer zo dicht bij papa en mama te gaan wonen!
Nog belangrijker is wellicht dat een mondiale markt een complex ecosysteem is. De handelaren kunnen verhuizen, maar zal de IT-infrastructuur en de ondersteuning elders net zo geavanceerd zijn als die in Londen? Zullen ervaren consultants en advocaten op afroep beschikbaar zijn, net als in de City?
Deze factoren zorgen ervoor dat bedrijven aarzelen over grootschalige verhuizingen. In plaats daarvan hebben veel bedrijven gezocht naar manieren om de problemen van het toezicht te overwinnen waar zij zeker op zullen stuiten als het Verenigd Koninkrijk de gemeenschappelijke markt verlaat.
Bovendien blijft de politiek van de Brexit beladen en complex, en er is nog steeds een kleine kans dat het Verenigd Koninkrijk nóg een referendum zal houden en van koers zal veranderen, waardoor de £4,2 mrd die de regering heeft beloofd te zullen uitgeven aan noodvoorzieningen overbodig zal zijn. Maar de meest waarschijnlijke uitkomst is dat het Verenigd Koninkrijk naar de uitgang strompelt en op rommelige wijze over de drempel struikelt, zonder structurele nieuwe relatie of lange overgangsperiode.
Daarna zullen we wel zien hoe de financiële markten van Europa zich zullen ontwikkelen. Maar de centrale verwachting, tegen de achtergrond van wat we tot nu toe hebben gezien, is dat Europa zal overstappen op een multi-polair financieel model, met verschillende centra, klein en groot, die hun respectievelijke relatieve voordeel zullen uitbuiten. Dublin en Luxemburg zullen hun posities versterken, met name op het gebied van het vermogensbeheer. De Europese Centrale Bank zal optreden als een magneet voor Frankfurt. Eurotransacties zullen in toenemende mate in de eurozone plaatsvinden, terwijl Londen waarschijnlijk voor de nabije toekomst Europa's venster op de wijdere wereld zal blijven.
Gebruikers van financiële diensten zullen een prijs moeten betalen, omdat één dominant centrum vrijwel zeker efficiënter en goedkoper zal zijn. Maar na de Brexit zal die oplossing niet langer verkrijgbaar zijn in Londen, en er is zeker geen consensus onder de 27 overige landen over één gemeenschappelijk alternatief.
Vertaling: Menno Grootveld