Como estancar a corrupção na Ucrânia
CAMBRIDGE – No momento de euforia imediatamente após o colapso da União Soviética, poucos imaginariam que a Ucrânia, um país industrializado com uma mão-de-obra qualificada e vastos recursos naturais, sofreria de estagnação durante os próximos 28 anos. A vizinha Polónia, que era mais pobre que a Ucrânia em 1991, conseguiu quase triplicar o seu PIB per capita (em paridade do poder de compra) nas três décadas seguintes.
A maioria dos ucranianos sabe porque ficaram para trás: o seu país é um dos mais corruptos do mundo. Mas a corrupção não cai do céu, e por isso a verdadeira questão reside no que a provoca.
Tal como nas restantes repúblicas Soviéticas, há muito que o poder da Ucrânia estava concentrado nas mãos das elites do Partido Comunista, que eram frequentemente nomeadas pelo Kremlin. Mas o Partido Comunista da Ucrânia era quase um transplante do próprio Partido Comunista da Rússia, e funcionava normalmente às custas dos ucranianos nativos.
Além disso, tal como na maioria das antigas repúblicas Soviéticas (com a excepção notável dos países do Báltico), a transição da Ucrânia a partir do comunismo foi liderada pelas antigas elites comunistas, que se reinventaram como líderes nacionalistas. Isto não funcionou bem em lugar algum. Mas no caso da Ucrânia a situação foi agravada por uma luta constante pelo poder entre elites comunistas rivais e os oligarcas que ajudaram a criar e a disseminar.
Devido ao domínio das várias facções em confronto, a Ucrânia foi capturada por aquilo que denominámos de instituições extractivas: acordos sociais que delegam poderes a um reduzido segmento da sociedade e que privam os restantes de representação política. Ao enviesarem permanentemente a igualdade no campo económico, estes acordos há muito que desencorajaram o investimento e a inovação necessários ao crescimento sustentado.
A corrupção não pode ser entendida sem compreendermos este contexto institucional mais amplo. Mesmo que os subornos e as negociatas tivessem sido controlados na Ucrânia, as instituições extractivas ainda impediriam o caminho do crescimento. Foi o que aconteceu em Cuba, por exemplo, onde Fidel Castro tomou o poder e acabou com a corrupção do anterior regime, mas definiu um tipo diferente de sistema extractivo. Tal como uma infecção secundária, a corrupção amplifica as ineficiências criadas pelas instituições extractivas. E esta infecção foi especialmente virulenta na Ucrânia, devido à completa perda de confiança nas instituições.
Subscribe now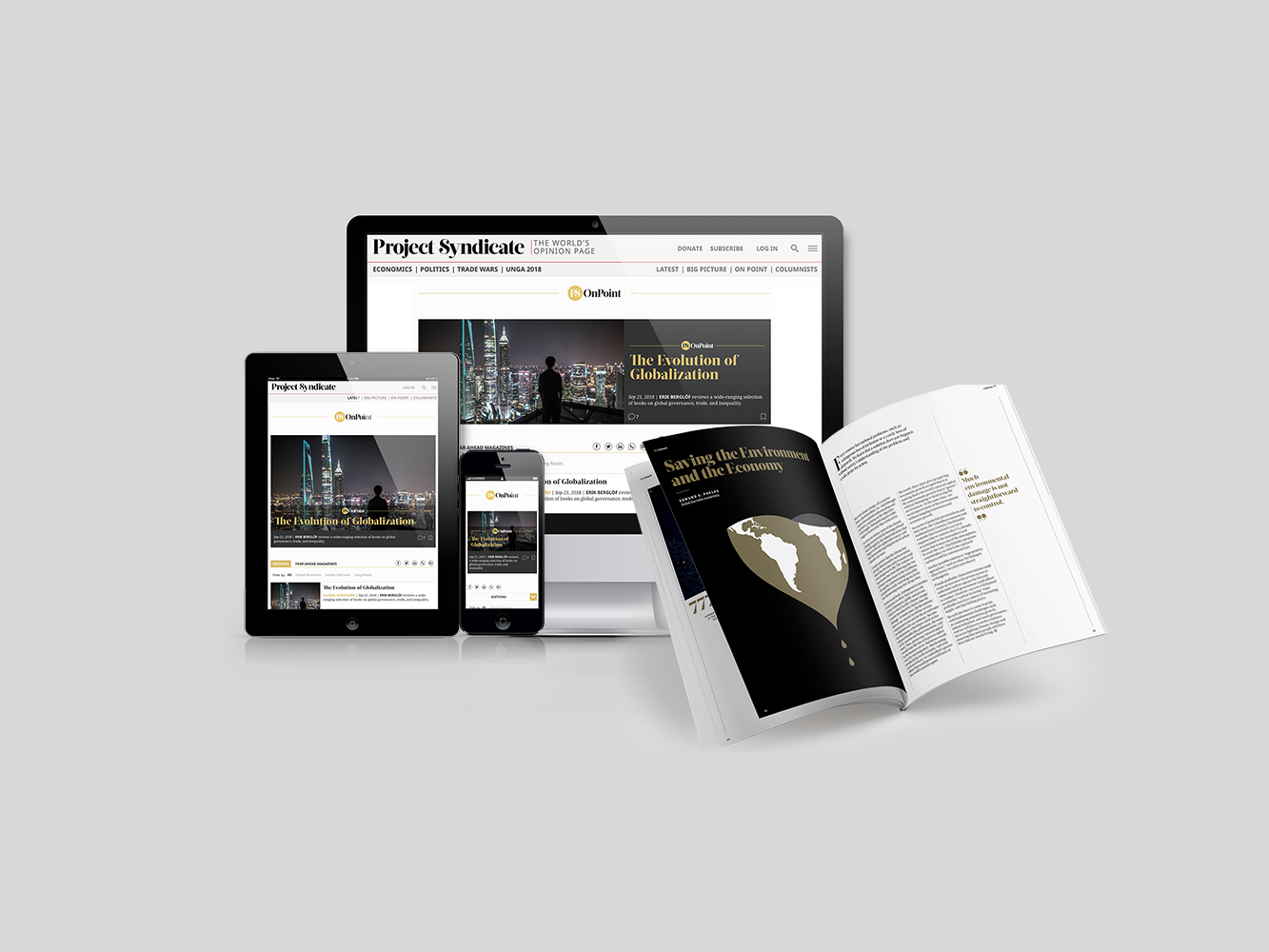 Subscribe now
Subscribe today and get unlimited access to OnPoint, the Big Picture, the PS archive of more than 14,000 commentaries, and our annual magazine, for less than $2 a week.
As sociedades modernas dependem de uma rede complexa de instituições para adjudicar disputas, regular mercados e distribuir recursos. Sem a confiança do público, estas instituições não podem cumprir as suas devidas funções. Quando os cidadãos normais começam a assumir que o êxito depende de contactos e subornos, esse pressuposto torna-se numa profecia que se cumpre a si própria. Os mercados ficam viciados, a justiça torna-se transaccional, e os políticos vendem-se pela melhor oferta. A seu tempo, esta "cultura da corrupção" difundir-se-á pela sociedade. Na Ucrânia, até as universidades estão comprometidas: os diplomas são regularmente comprados e vendidos.
Embora a corrupção seja mais sintoma do que causa dos problemas da Ucrânia, a cultura da corrupção terá de ser erradicada antes das condições poderem melhorar. Poderíamos assumir que para isso será apenas preciso um estado forte, com os meios necessários para extirpar os políticos e empresários corruptos. Infelizmente, não será tão simples. Como ilustra o ímpeto anticorrupção do presidente chinês Xi Jinping, a acção descendente transforma-se frequentemente numa caça às bruxas dirigida aos opositores políticos do governo, em vez de um ataque geral à ilegalidade. Escusado será dizer que a aplicação de um padrão moral duplo não é um modo propriamente eficaz de reforçar a confiança.
Em vez disso, o combate eficaz à corrupção requer o envolvimento robusto da sociedade civil. O êxito depende da melhoria da transparência, de garantir a independência do poder judicial, e de capacitar os cidadãos normais para afastarem os políticos corruptos. Afinal, a característica diferenciadora da transição pós-comunista na Polónia não foi uma liderança descendente eficaz nem a introdução de mercados livres. Foi o envolvimento directo da sociedade polaca na criação, a partir do zero, das instituições pós-comunistas.
É certo que muitos dos economistas ocidentais que caíram sobre Varsóvia após a queda do Muro de Berlim defendiam a imposição da liberalização de mercado. Mas estas primeiras rondas de "terapia de choque" ocidental resultaram em despedimentos e falências generalizadas, que provocaram uma resposta social abrangente e liderada pelos sindicatos. Os polacos saíram para a rua, e a frequência das greves disparou – desde perto de 215 em 1990 para mais de 6000 em 1992 e mais de 7000 em 1993.
Desafiando os especialistas ocidentais, o governo polaco recuou nas suas políticas descendentes, e concentrou-se na criação de um consenso político em torno de uma visão partilhada de reforma. Os sindicatos foram convidados à negociação, foram atribuídos mais recursos ao sector estatal, e foi introduzido um novo imposto progressivo sobre os rendimentos. Foram estas respostas do governo que incutiram confiança nas instituições pós-comunistas. E, com o tempo, foram estas instituições quem evitou que os oligarcas e as antigas elites comunistas sequestrassem a transição e difundissem e normalizassem a corrupção.
Pelo contrário, a Ucrânia (tal como a Rússia) recebeu a dose completa de "privatizações" e "reformas do mercado" impostas. Sem mesmo uma aparência de delegação de poderes à sociedade civil, a transição foi previsivelmente sequestrada por oligarcas e pelos resquícios do KGB.
Será ainda possível uma mobilização de toda a sociedade num país que sofre com líderes corruptos e instituições extractivas há tanto tempo quanto a Ucrânia? A resposta curta é que sim. A Ucrânia possui uma população jovem e politicamente envolvida, como vimos na Revolução Laranja de 2004-2005 e na Revolução Euromaidan de 2014. De forma igualmente importante, o povo ucraniano compreende que a corrupção tenha de ser erradicada para poder construir melhores instituições. O seu novo presidente, Volodymyr Zelensky, prometeu durante a sua campanha lutar contra a corrupção, e obteve uma vitória eleitoral esmagadora. Terá agora de iniciar o processo de limpeza.
As tentativas do presidente dos EUA, Donald Trump, de envolver a Ucrânia nos seus próprios esquemas corruptos deram a Zelensky a oportunidade perfeita para um gesto simbólico. Ele deveria recusar publicamente qualquer acordo com os americanos até que estes resolvam os sues próprios problemas de corrupção (mesmo que isso signifique recusar ajuda contaminada).
Afinal, os Estados Unidos são hoje um dos últimos países que deveriam dar sermões sobre corrupção à Ucrânia. Para voltarem a desempenhar essa função, os seus tribunais e eleitores terão de deixar claro que as práticas incorrectas, as investidas contra as instituições democráticas e as violações da confiança pública da administração Trump não serão toleradas. Só então os EUA serão um modelo que valerá a pena copiar.
,