I rischi amplificati di un rallentamento dell'economia statunitense
CAMBRIDGE – L'economia degli Stati Uniti sta accelerando e la crescita del Pil al di sopra del trend sembra destinata a continuare nel 2018 e nel 2019. Anche se l'espansione è al suo nono anno, non vi è alcun segnale di un calo imminente.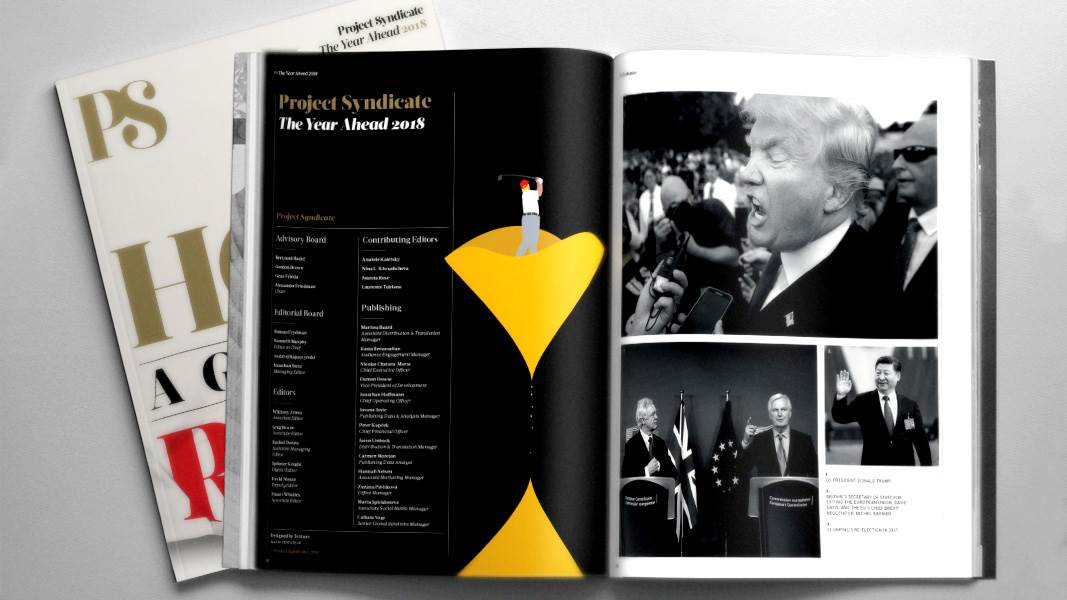 The Year Ahead 2018
The world's leading thinkers and policymakers examine what's come apart in the past year, and anticipate what will define the year ahead.
Il maggior rischio per l'espansione economica è la fragilità del settore finanziario. Un decennio di tassi di interesse eccessivamente bassi ha spinto i prezzi delle attività a livelli estremi. Il rendimento reale dei titoli del Tesoro decennali è vicino allo zero. Il rapporto prezzo-utili dell'indice azionario S&P 500 è più alto del 70% rispetto alla media storica. Se questi e altri prezzi delle attività tornassero ai loro benchmark storici, gli investitori subirebbero perdite superiori a 10.000 miliardi di dollari, con la conseguente diminuzione della spesa per i consumi e degli investimenti delle imprese.
L'attività economica potrebbe anche rallentare a causa del conflitto internazionale in Corea, delle accresciute dispute commerciali o degli eventi politici interni negli Stati Uniti.
Le flessioni sono una caratteristica normale dell'economia statunitense, che ha registrato nove recessioni negli ultimi 50 anni. Ciò che rende la situazione attuale insolita e più preoccupante rispetto al passato è il basso livello dei tassi di interesse a breve termine, che limita la capacità della Federal Reserve di portare la politica monetaria a contrastare la prossima recessione.
La Fed tradizionalmente reagisce a un rallentamento riducendo drasticamente il tasso dei fondi federali a breve termine. Durante l'ultima fase recessiva, la banca centrale americana ha abbassato il tasso di riferimento da oltre il 5% a luglio 2007 a solo lo 0,16% a dicembre 2008, una riduzione totale di oltre cinque punti percentuali. A solo l'1,4% oggi, la Fed ha poche possibilità di attuare una significativa riduzione dei tassi. Durante la riunione di dicembre, le previsioni del Federal Open Market Committee relative al tasso dei fondi federali alla fine del 2019 si attestavano ancora a un bassissimo 2,9%.
Per stimolare la domanda nell'ultima recessione, la Fed ha anche praticato quella che viene chiamata "politica monetaria non convenzionale", promettendo di mantenere bassi i tassi a breve termine per un lungo periodo e acquistando obbligazioni a lungo termine per il proprio portafoglio. Tale strategia mirava a mantenere i tassi di interesse a lungo termine sufficientemente bassi da stimolare la domanda di azioni e immobili, aumentando in tal modo ricchezza e spesa. Non è chiaro se questa strategia fornirebbe lo stimolo auspicato fino a quando i tassi di interesse reali rimarranno bassi.
La responsabilità di stimolare l'economia nella prossima recessione ricadrà quindi sulla politica fiscale: cambiamenti nelle tasse e nella spesa pubblica.
Un nuovo taglio temporaneo delle imposte non funzionerebbe. L'esperienza mostra che una riduzione temporanea delle imposte sul reddito delle persone fisiche fornirebbe uno stimolo molto limitato, poiché la maggior parte dei contribuenti utilizzerebbe il risultante reddito netto extra per pagare il debito o aumentare i risparmi, piuttosto che per spendere di più.
Ma la legge fiscale del 2017 offre l'opportunità di effettuare un taglio fiscale permanente preservando i tagli che sono in scadenza nel 2025. I repubblicani che hanno progettato e votato la legge del 2017 prevedevano di estendere tali tagli oltre il 2025 nella legislazione successiva. Una crisi economica nei prossimi anni sarebbe un buon momento per mettere in atto i tagli permanenti.
L'altro modo per invertire una crisi economica sarebbe quello di aumentare la spesa pubblica. Vi è ora un ampio sostegno bipartisan per l'aumento della spesa su infrastrutture di ogni tipo, proprio come nella crisi del 2007. Sebbene l'amministrazione Obama abbia parlato di progetti "shovel ready" (progetti immediatamente attuabili) quando promuoveva la sua politica di stimolo presunto, la realtà era che molto poco del denaro era speso per le infrastrutture, a causa dei lunghi ritardi nell'attuazione di tali progetti.
Il Congresso degli Stati Uniti e la Casa Bianca dovrebbero iniziare ora a sviluppare un inventario di progetti infrastrutturali che potrebbero essere implementati quando l'economia rallenta. Se non si registrano flessioni nel corso dei prossimi anni, sarebbe comunque auspicabile avviare alcuni di questi progetti.
Un'altra forma di spesa per stimolare l'economia consisterebbe in maggiori spese per il settore della difesa. A causa della regola del "sequestro" nel Budget Control Act del 2011, il livello delle spese di difesa è destinato a diminuire dal 4,3% del Pil nel 2012 a solo il 2,8% del Pil nel 2023, la quota più bassa del Pil dalla seconda guerra mondiale. Gli esperti di difesa concordano sul fatto che questo livello è troppo basso per le esigenze di difesa dell'America. Un aumento degli esborsi al 4% o più del Pil rappresenterebbe una fonte significativa di aumento della domanda complessiva e un contributo cruciale alla sicurezza nazionale.
L'elevato livello del debito nazionale – che oggi si attesta al 77% del Pil ma che viaggia verso il 97% alla fine dei prossimi dieci anni - creerebbe una forte resistenza a tagli fiscali o un aumento delle spese. Ma una significativa recessione economica con una portata limitata per l'azione della Fed lascerebbe al Congresso poca scelta.
La necessità di un futuro stimolo fiscale chiarisce che gli Stati Uniti devono iniziare ora a sviluppare una strategia per rallentare la crescita del debito nazionale. Questo è l'unico modo per creare uno spazio sufficiente per la politica fiscale espansiva di cui l'economia alla fine avrà bisogno.